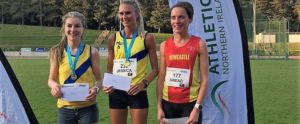 Friday 18th saw the latest run out of the Les Jones 10k race which starts in Mary Peter's track and makes it's way along the Lagan towpath before climbing the Barnett's Demesne hill on the way to the finish.
The North Down ladies made the headlines when Jessica Craig won the ladies event, which was also the first ND runner home, while Melissa Eccles had a great 3rd place finish.
Andrew Muir clocked 43:11 while Clair Quigley recorded 45;36 on her return to competitive running. Jane Stevenson fulfilled her "speedy" title as she recorded 47:13, John Ferguson wasn't far behind in 47:51 and Mick Hall also dipped under 48 with 47:57. Cliff McCausland returned to the MP track with a 50:53 time followed by Ian McCreary in 52:29
James Barr finished on 53:40, Sandra Hall stopped the clock on 55:00 and then Glenn Frazer recorded 1:01:51.