NBH 5K races – Cliff McCausland ran in the North Belfast organised "Afternoon of 5k pb's" at their own track. There were races from 16-18 mins to over 25 mins with Cliff featuring in the 23-24 mins category and more than justified his position with a 5k track pb of 22:48.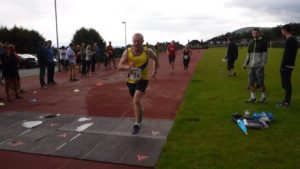 Full results Afternoon of 5k pb's
Cookstown Half Marathon – The latest race in the Half marathon series was over the undulating countryside of Cookstown. Catherine Roberts was our only entrant and succeeded in returning as first O40 in a time of 1:37:41.