The Four Season's Hotel in Monaghan was the venue for the Ulster Athletics Council's annual Star Awards dinner held on Friday 13th November.  Saskia Greer, Murphy Miller & Zac Moraghan became the latest in a long line of North Down AC junior track & field athletes to be receive a Star of County Down award.  Saskia succeeded Sarah Connolly when she collected the award in the Girls 16-19yrs category and Zac succeeded Aaron Sexton when receiving his award in the Boys 13-15yrs age group while Murphy picked up the star award in the Girls 13-15yrs category.
Saskia Greer's year began when she took silver in the U18 60m & bronze in the 200m at the NI & Ulster Indoor Championships. She won the district schools 100m and was then 5th at the Ulster Schools.  At the NI & Ulster Age Group Championships she claimed bronze in the U18 100m final which was followed with a new PB to win gold in the U18 200m.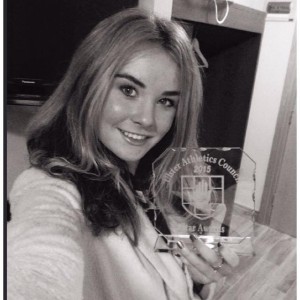 Zac Moraghan consistently displayed outstanding talent as multi-eventer competing in sprints, hurdles, jumps & throws events throughout the year.  He took a clean sweep of gold medals in the U13 boys 80m, 60m hurdles & javelin at NI & Ulster Children's Games in Donegal and went on to win silver in the javelin & bronze in the 60m hurdles at the Irish Age Group Championships.  Later in the year he displayed his versatility by winning the U13 boys combined events at the NI & Ulster Age Group Championships.
Murphy Miller repeatedly demonstrated that she is a class act at both cross-country and track & field as she brushed aside virtually all opposition in both disciplines.  She won the girls U15 race at the IAAF Antrim International XC event, took bronze at the Irish Schools cross-country and was invited to take part in the Virgin London Mini Marathon.  Murphy was equally formidable on the track, leading from start to finish in the Junior girls 800m to win gold at both Ulster & Irish Schools and she went on to win the U14 800m at the NI & Ulster Age Group Championships.