Ards Five Miler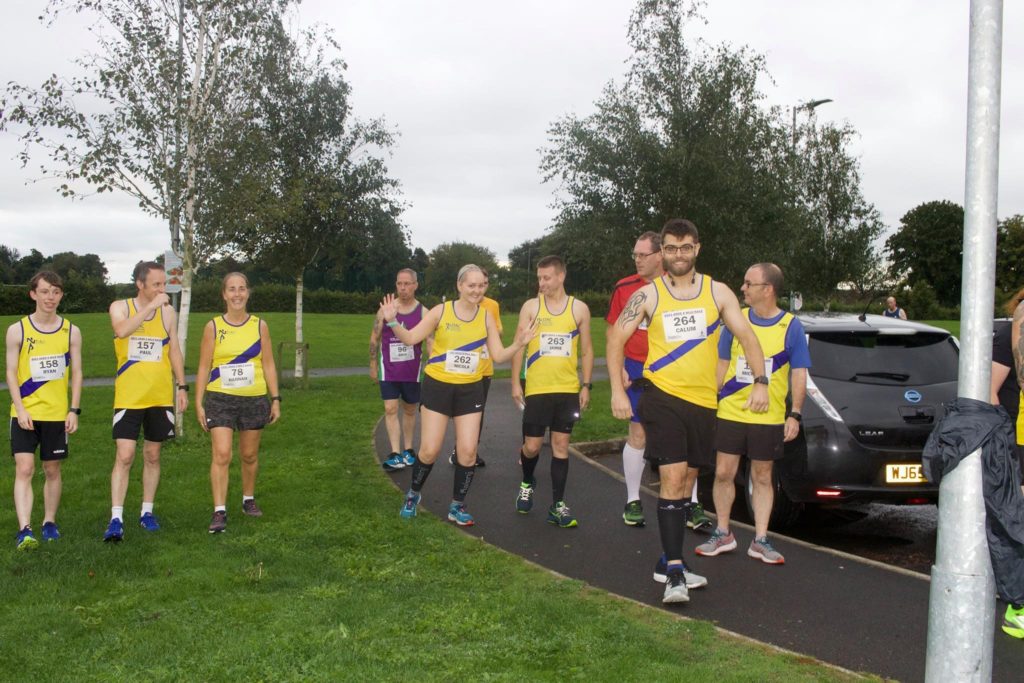 Almost 300 athletes toed the line in Londonderry Park on Friday night as Scrabo Striders delivered another efficiently run five mile road race, with a couple of punishing hill to conquer on a one lap course.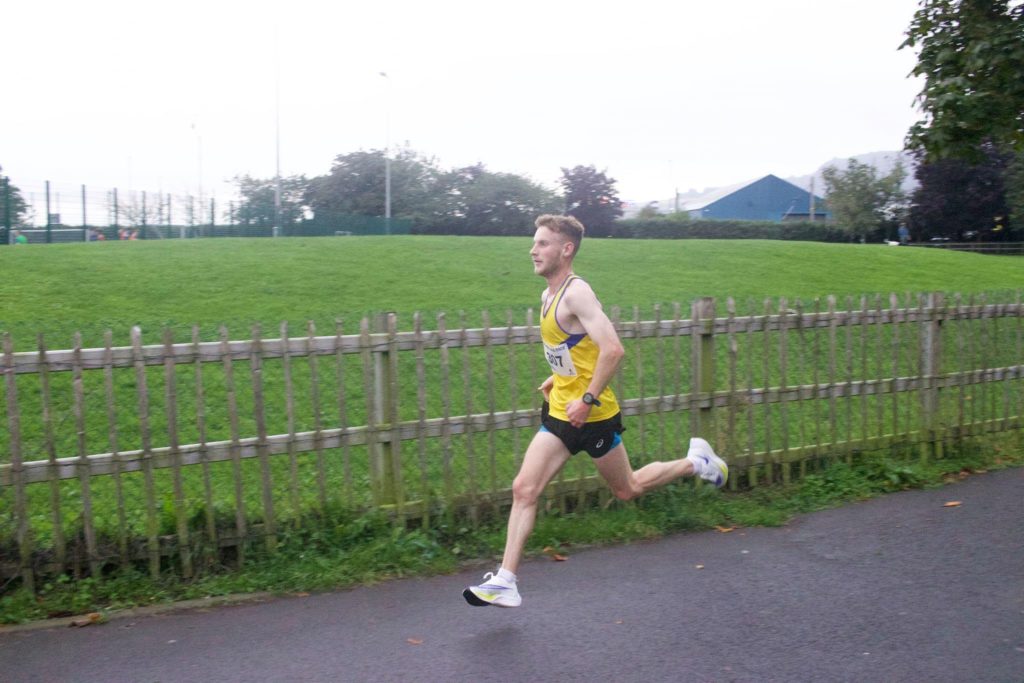 In mild conditions, with more than a threat of rain, North Down AC was represented throughout the field, Jamie McMeechan running superbly to cross the line in 27:17, the first of the club members home and second overall. Francis Marsh (28:48) took an age category win, whilst placing tenth overall, Steven Donegan continued marathon preparations with a new PB of 30:50 (22nd), while Les Boyd (32:28) was third in age category and Clair Quigley (33:49) was third lady overall.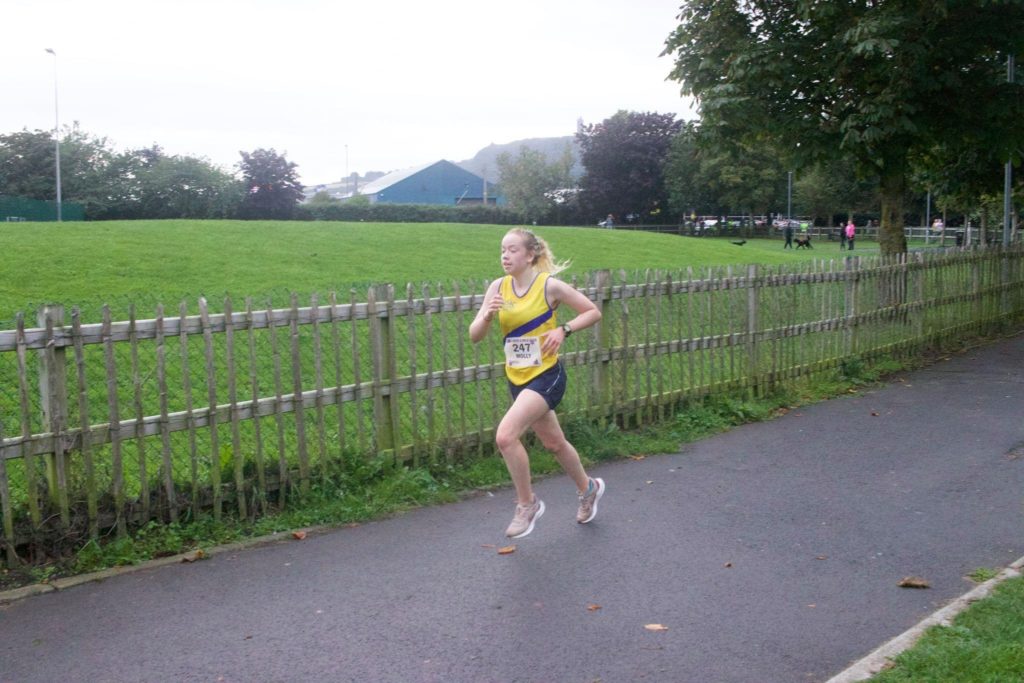 Keith Gilmore (34:45) dipped just under 35 minutes, Molly Rogers (35:05) was just outside that mark, but had the consolation of being the first junior girl, while Alastair Hamilton (35:52) and Ryan Lynas (36:05) were both in good form. The procession of yellow and blue vests continued with Andrew Muir (36:38) and Paul Lynas (38:04), before a group containing Mick Hall (43:24), Caroline Steele (43:35) and Callum Stevenson (43:45), with Jamie Stevenson (43:59) and Hannah Dunne (44:09) not far behind.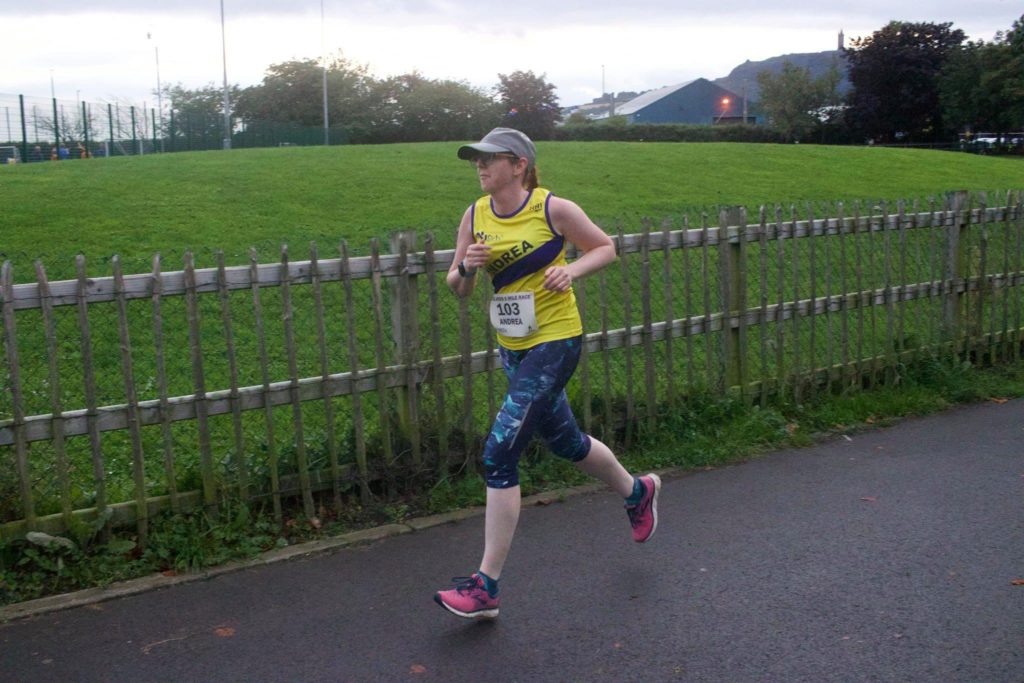 Sandra Hall (45:35) and Nicola Stevenson (45:45) were joined by Emma Mair (45:48) in a blanket finish, Andrea Green (48:09) crossing the line a short time later, with James Barr rounding out club representation in a time of 50:04.
Washingbay Green Run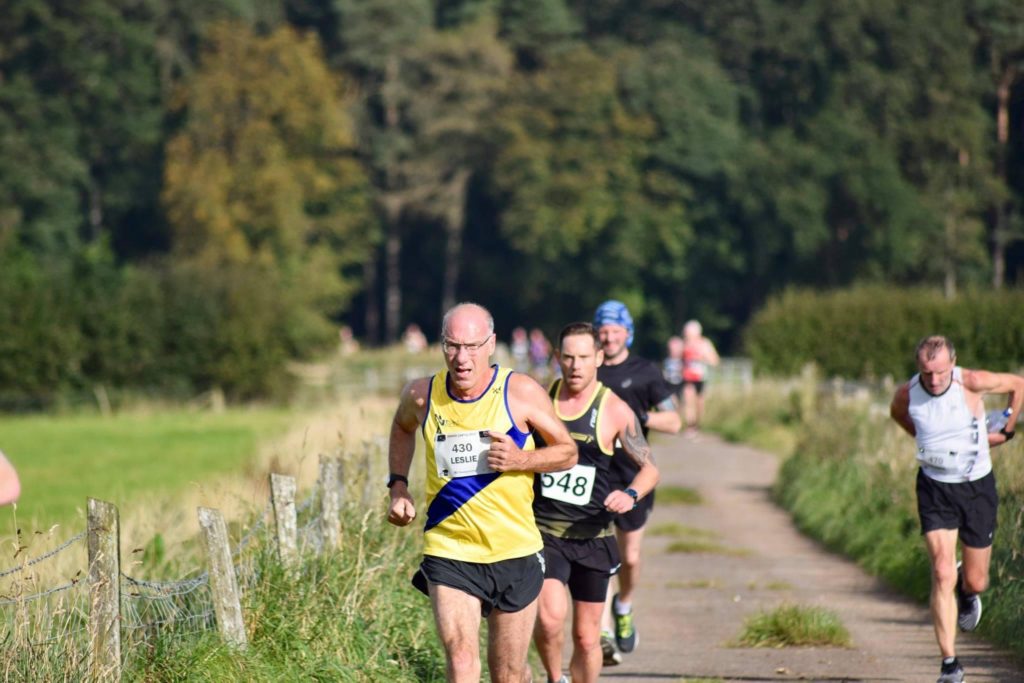 After several false starts due to COVID restrictions, the fifth annual Washingbay Run finally got the green light for go on Saturday, and offered options at 5k, 10k and half marathon, with over 350 athletes lining up for the various races. North Down had representation over the two longest distances, David Massey placing second in age category with 37:50 (8th) in a 10k race which also featured a M60 win for Brian Geddis (43:54/25th).
Les Wilkinson (1:36:43) and Helen Byers (1:36:47) both placed second in age category amongst the half marathon athletes, the former having just enough in the tank to pip the latter by a margin of only four seconds.
Inter-pro Schools Athletics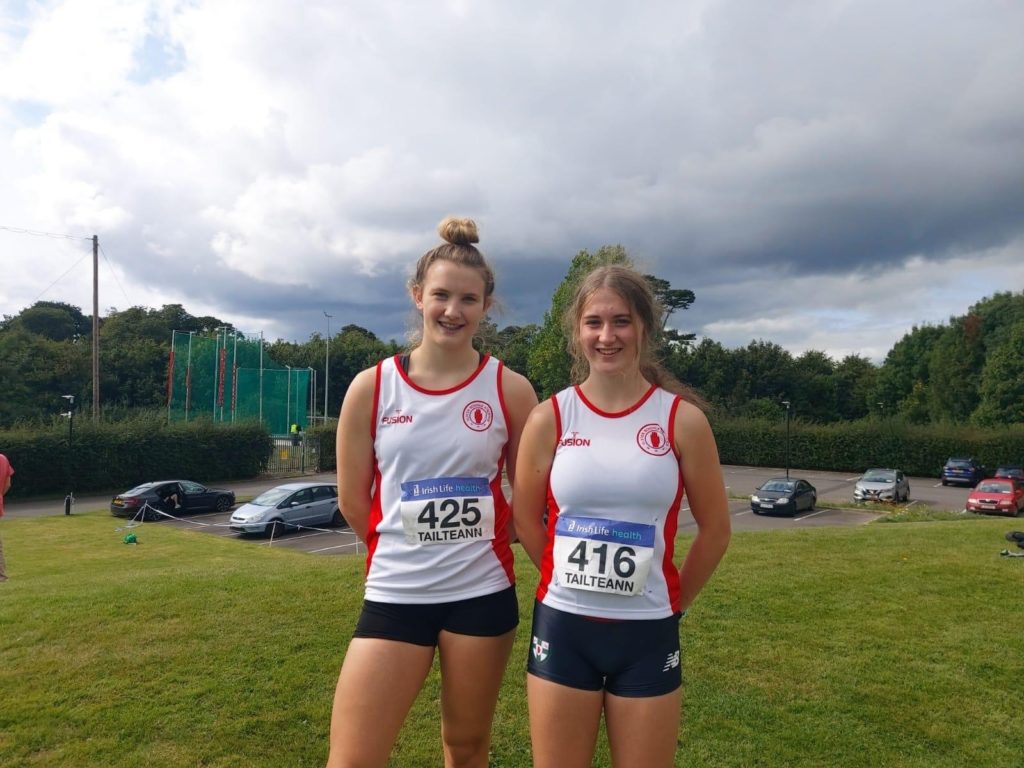 Congratulations to all six North Down athletes who represented Ulster Schools at the Inter-pro Championships in Santry over the weekend. Whilst being selected was an excellent achievement, all went on to perform to their highest standards, with several PB's along the way.
Competing in the shot put, Beth Hammond threw a best effort of 10.71 for fifth overall, Niamh Fenlon (10.03) was sixth, whilst Lucy Cheatley just missed out on a medal in the 1500m steeplechase (4th), but had the consolation of a big PB (5:35.61).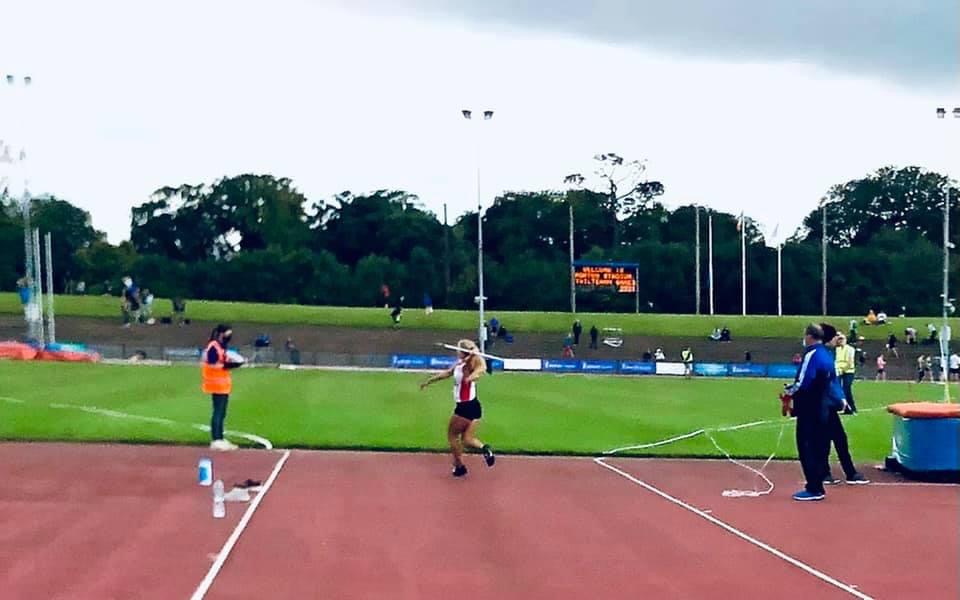 Callum Spain was sixth in the discus, with a PB effort of 33.16m, Charlie Lawden placed fifth in the javelin with a PB of 50.24m, while Morgan Wilson was fifth in the pole vault (also with a PB of 1.95m) and later returned to claim seventh in the javelin with a best effort of 27.77m
Belfast International Athletics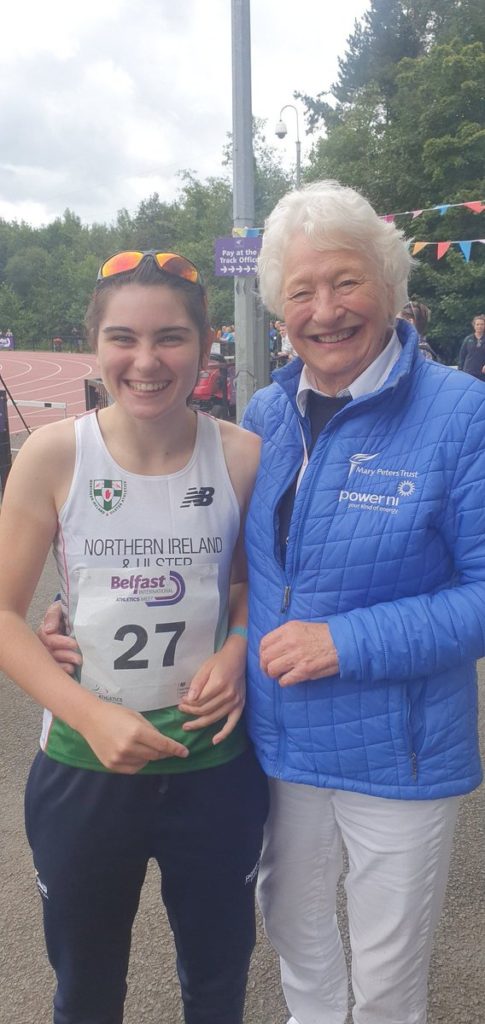 An afternoon of quality athletics provided a fitting finale to the track and field season on Saturday, with the Mary Peters Track bathed in sunshine and a number of North Down athletes in action.
Eve Walsh Dann must be wishing the season could be extended, 14.26 in the 100m representing an excellent new PB, while Seb Holley has also made significant progress this season and ran a mature 800m, sticking to his own gameplan amongst a field of older boys before crossing in a time of 2:12.60, for fifth in the U15 800m.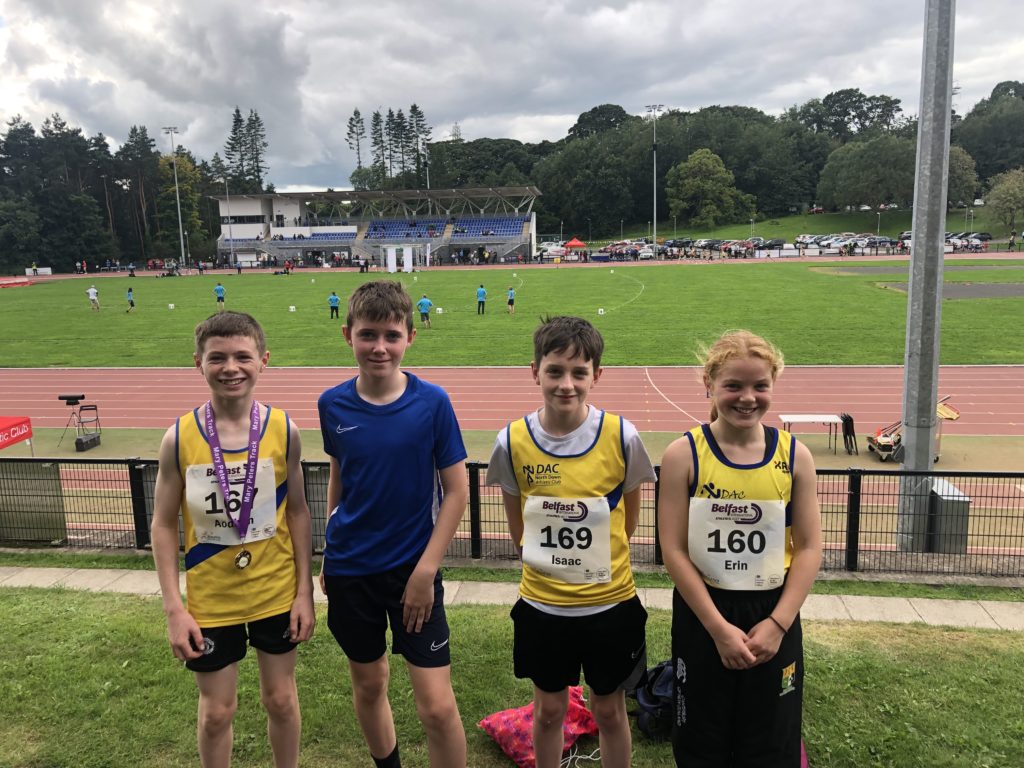 Congratulations also to Aodhan Keag, Alex Downey, Isaac Dunne and Erin Plyfair who got a taste of the big time having been invited along as part of the Flahavans Squad. The kids took in some high quality athletics, with inspiring performances from the likes of Katie Kirk, before lining up for their 1000m races in which Aodhan claimed a bronze medal with a time of 3:10.72, followed by Isaac (3:23.49), Alex (3:28.82) and Erin (who clocked 3:48.65 in the girls race).
Belfast International – Results