Once again, Tullamore, in Co. Offaly, hosted the Irish Schools Championships where the best schools' athletes from across the four provinces battled for titles under blues skies and glorious sunshine on the newly resurfaced track but with the standards required to win a medal as high as ever, only two NDAC athletes were able to make the podium.
Charlie Lawden (Sullivan Upper) couldn't quite match the PB distance he threw when taking the Ulster Schools' title, a couple of weeks ago, but his best effort of 50.84m was still enough to win a superb silver medal in the Senior Boys' javelin (800g). Jamie Moffatt (Bangor Grammar) continued his remarkable start to the season, improving his 100m time for the fifth time in two months in the Senior Boys' race. Second and third were both given a time of 10.88s but it was Jamie who was awarded the bronze, having lost out on the dip by less than one hundredth of a second.
Ethan Isles (Our Lady's & St. Pats, Knock) finished 5th in the Senior Boys' 800m, setting a new PB of 2:00.80.
Morgan Wilson (Strangford College) finished 6th in the Senior Girls pole vault with a best clearance of 2.25m and went on to throw a new lifetime best in the javelin (600g), finishing just outside the medals in fourth place with a best effort of 29.27m. Cameron McCracken has been injured since the Ulster Schools so did well to run just outside his PB when finishing 6th in the Inter Boys' 100mH in a time of 15.42s. Andrew Brown equalled his PB to finish 7th in the Senior Boys' pole vault with a best clearance of 2.20m. Maisie Christie (Glenlola) was 8th in the Minor Girls' 100m with a time of 13.67s and Hannah Lawden (Sullivan Upper) threw 26.89m to finish 10th in the Inter Girls' javelin (500g).
[photo: Charlie Lawden]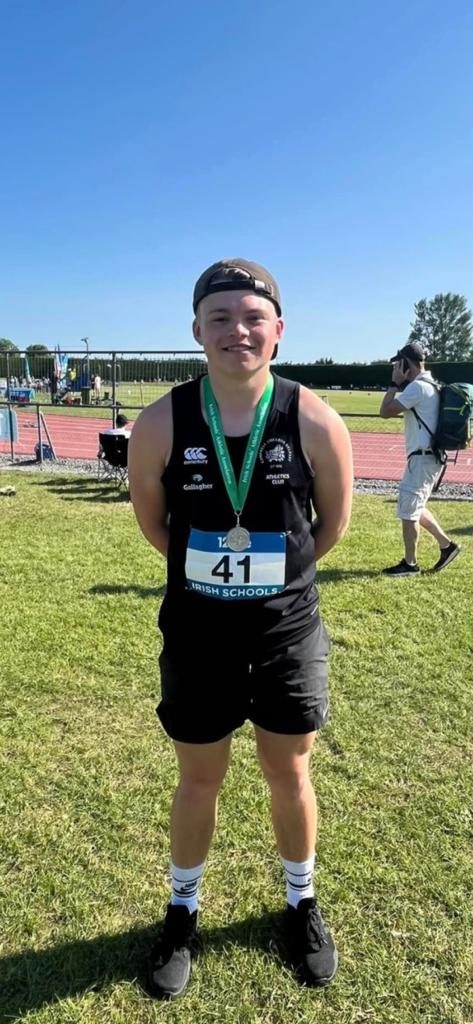 [photo: Jamie Moffatt]