Masters Medal for Roberta Dornan
Following on from Rachel McCann's success in the senior track championships, there was further recognition for coach Michael Roberts' training group at the weekend, with the news that Roberta Dornan had claimed a hard fought bronze at the masters event in Santry, County Dublin.
Competing in the W45 800m race, the North Down athlete put behind her a difficult opening to 2020, having been sidelined by a nasty injury received at the start of the Armagh Road Race back in February, reset her goals and received reward for her efforts, taking third place in a time of 2:41.88.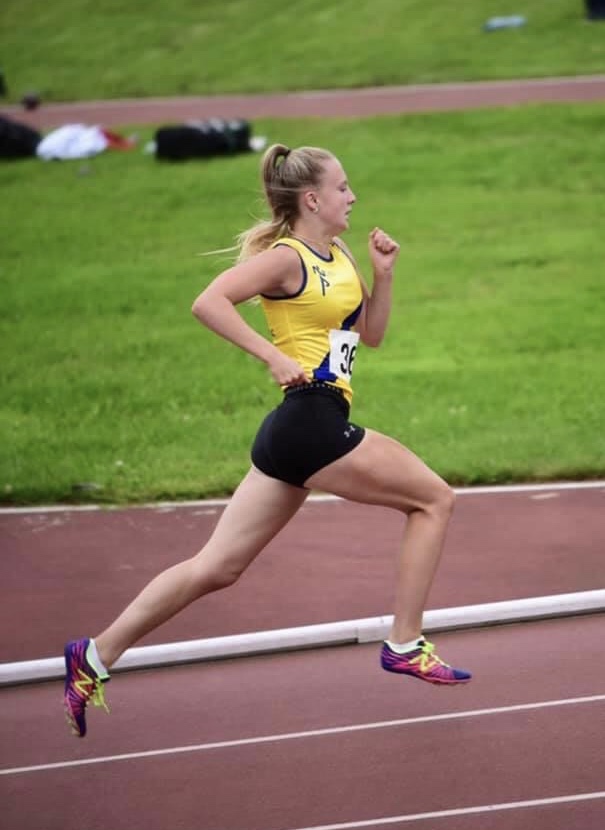 Unfortunately, given the present circumstances, there were no spectators permitted inside the venue, meaning Roberta's husband was allowed no closer than the car park and missed out on the occasion, as did the family of Aimee Stitt, the young North Down athlete who 24 hours earlier scorched around the same track to post a new 400m PB of 60.16 (5th overall) in the Irish Junior Championships, but all things considered a very successful weekend for both ladies.
Down Royal Races
*With thanks to John T Glover for the photos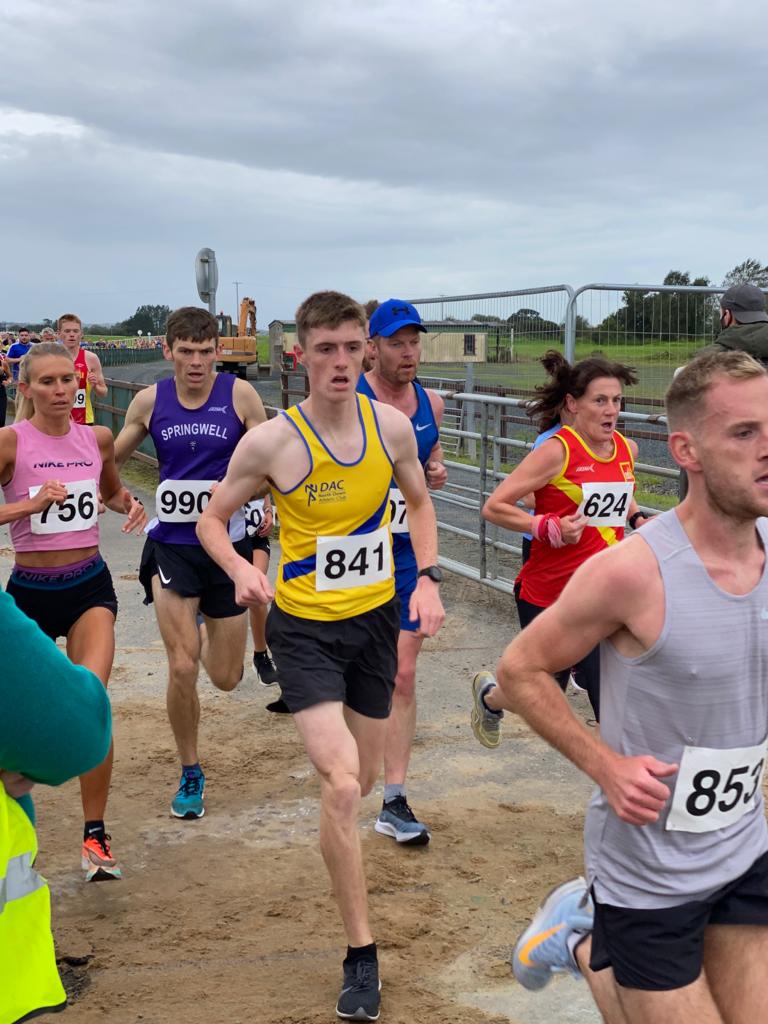 The now familiar territory of Down Royal horse racing circuit was again the venue for the latest round of the Championchip Ireland Series, with options at 5k, 10k and 10 miles and a host of fast times in windy but otherwise decent conditions.
Series regulars Jessica Craig and Mark Carberry were again at the sharp end of proceeding, and once more there was little to separate them, Jessica taking the ladies honours (12th place overall) and Mark just one place back, with both athletes achieving brilliant new personal bests and awarded the same time of 16:18.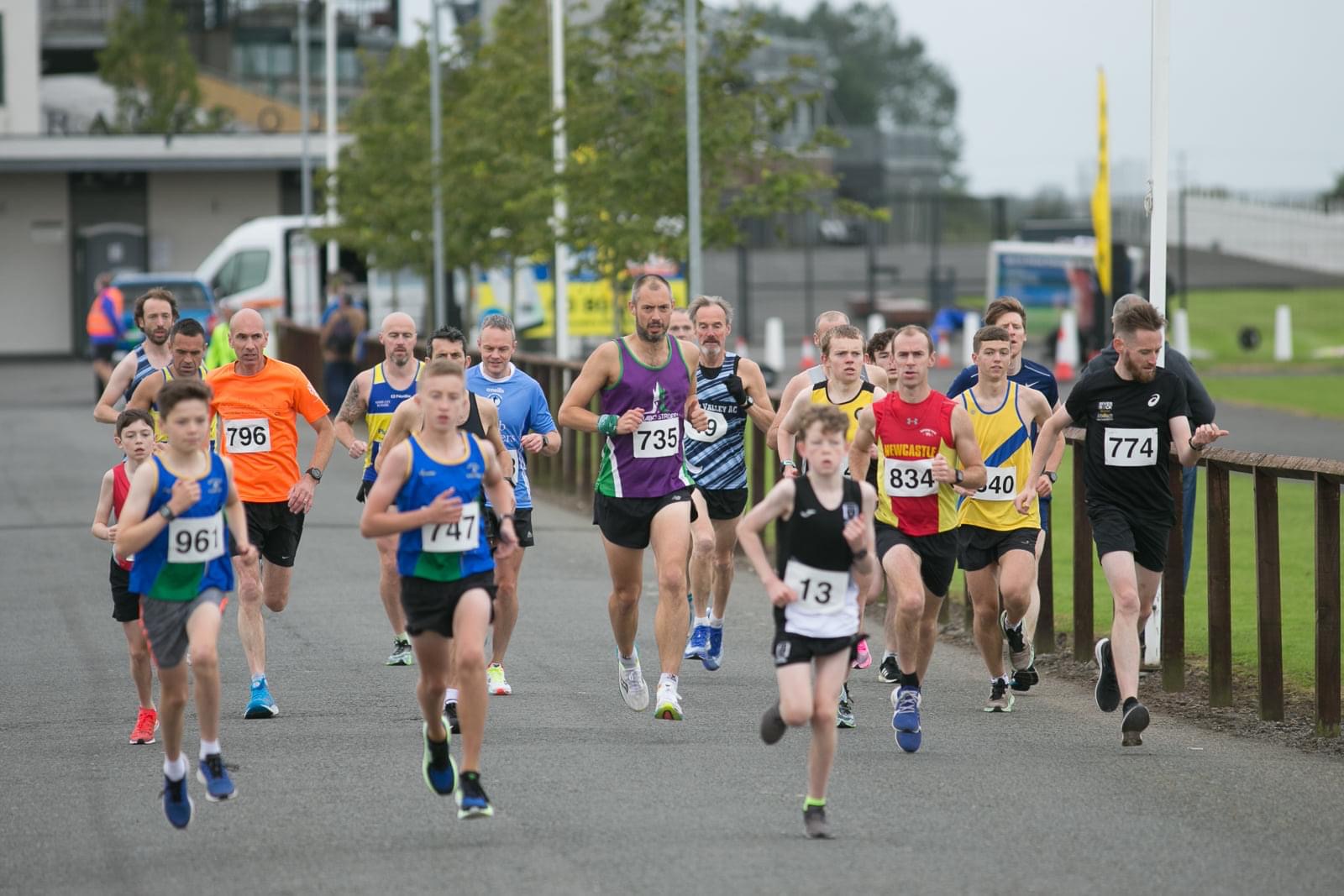 Dale Murray (17:04/25th) and Matty McParland (17:39/43rd) continued reaping the rewards of Francis Marsh's training group with excellent efforts, while Ben Jenkins (18:43/69th) and Nick Anderson (19:35/92nd) should be delighted with their days work, as should Terry Eakin (20:01) who will, no doubt, be disappointed to miss out on another sub twenty, but will be content with another astronomical age graded effort.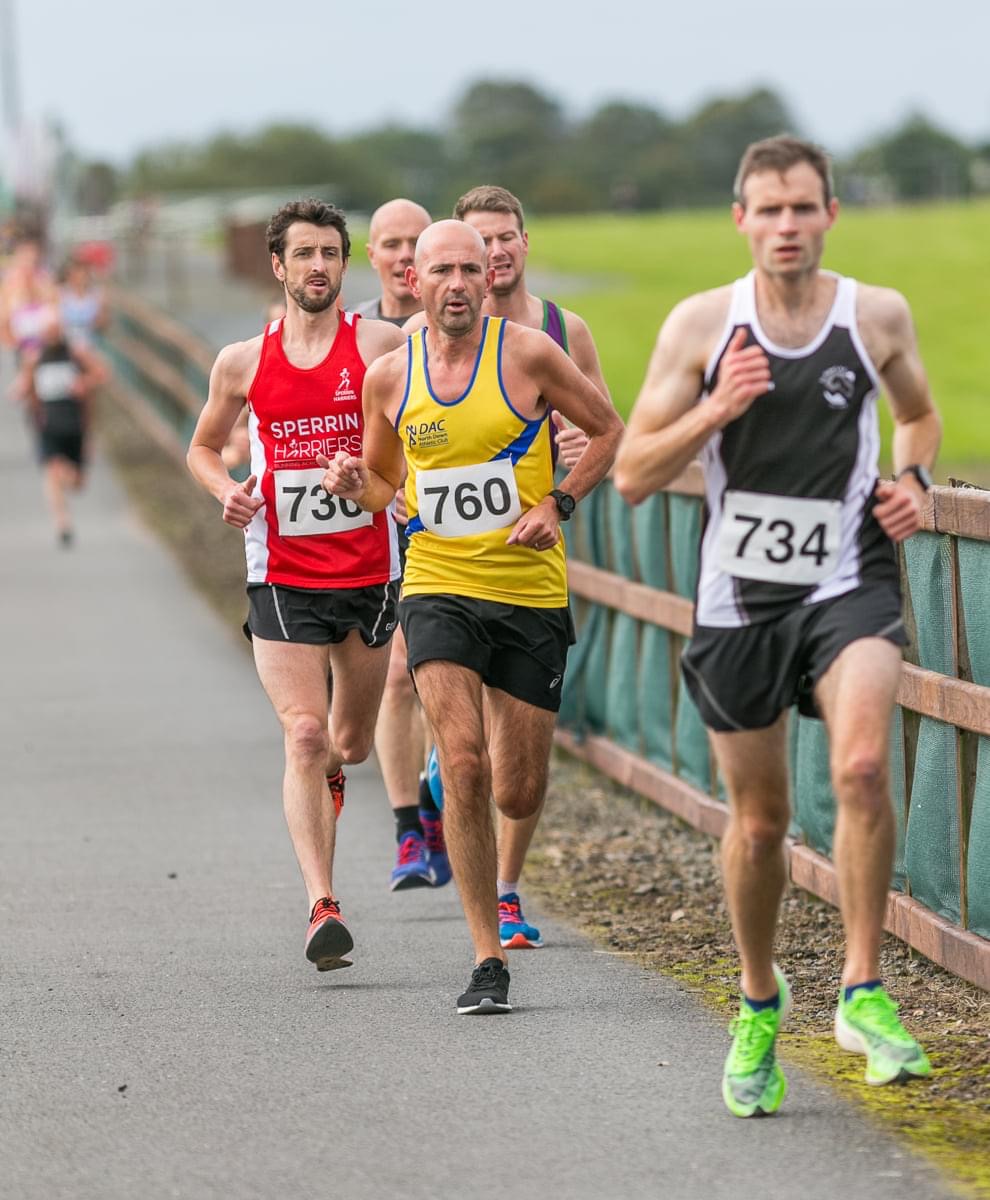 The ever consistent David Massey (37:39) was the club's sole representative in the 10k event, and kept his run of sub 38's going with a fine 12th place finish, while in the 10 mile race, the evergreen Tommy Hughes (54:40) may have pipped his son, Eoin (55:09), to the top spot on the rostrum, but the real battle was played out further down the field between friends, rivals and clubmates, Les Wilkinson and Frankie Rea.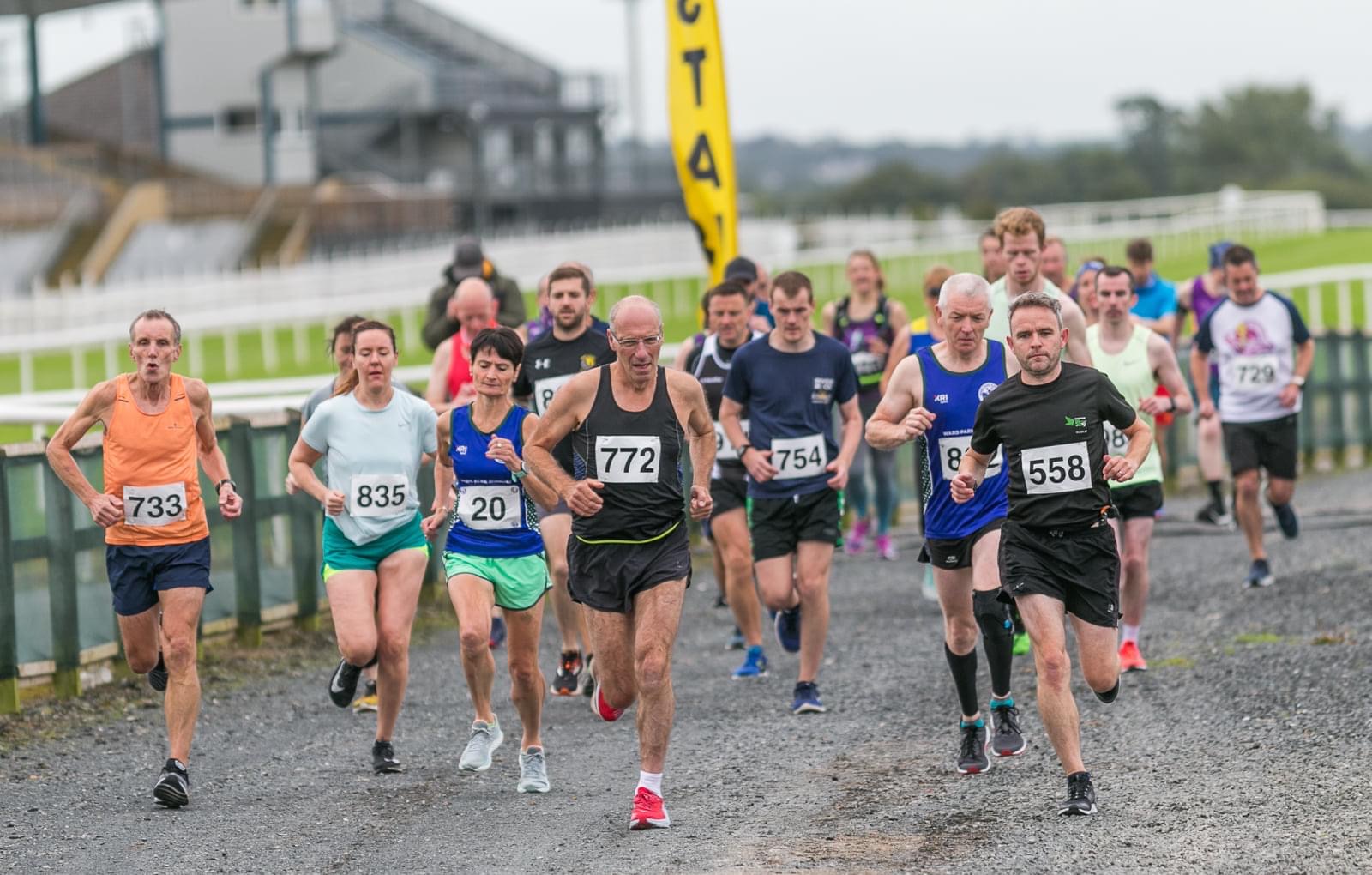 On this occasion it was Les (1:10:00) who prevailed over Frankie (1:11:03), but with the former finishing in 28th and the latter in 31st, both of the flying masters showed up well on another excellent day for Glen Grant and his team of event organisers.
We Run Wild – Mystery Race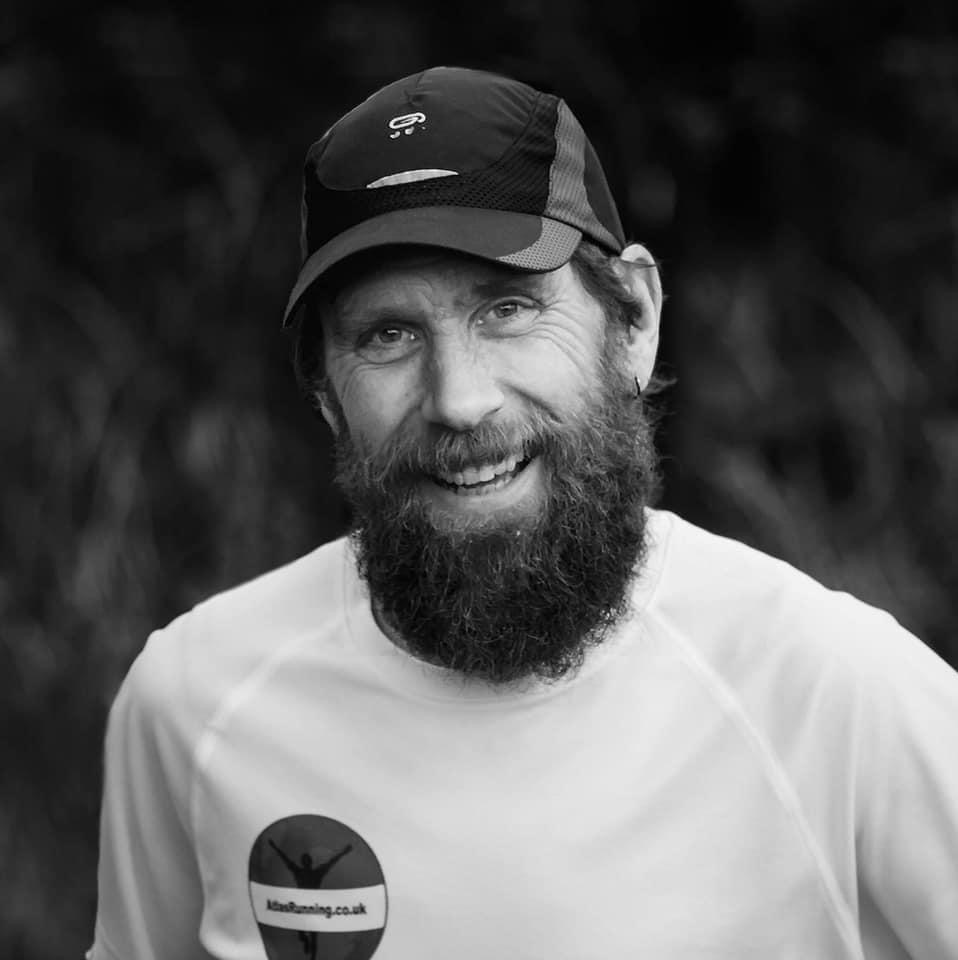 The innovative folks at 'We Run Wild' (whose previous offerings include the one way distance event 'Escape from the Crum') served up another alternative treat over the weekend with participants in their 50k mystery race given the single instruction to turn up at the South Street car park in Ards for an 8am briefing about their race.
Obviously the intrigue was enough to catch Seán Nickell's attention, and so it was that the North Down ultra runner found himself deposited at the side of a road on the Maghaberry side of Lisburn, with instructions to make his way back to the aforementioned car park, along a pre planned route of 50km with thirty other participants to keep him company.
Taking instructions from their race issued notebooks, competitors followed a route towards and along the Lagan towpath, continuing through Victoria Park, and onto the Comber Greenway, before following the carriageway from Comber to their initial meeting point.
Despite the cancellation of his targeted race, the 100k Anglo Celtic Plate, Seán has obviously maintained his fitness levels, as demonstrated by his time of 4:14:32 and a well deserved third place and an enjoyable event that the man himself described as 'something a wee bit different'.
World Triathlon Championships – Hamburg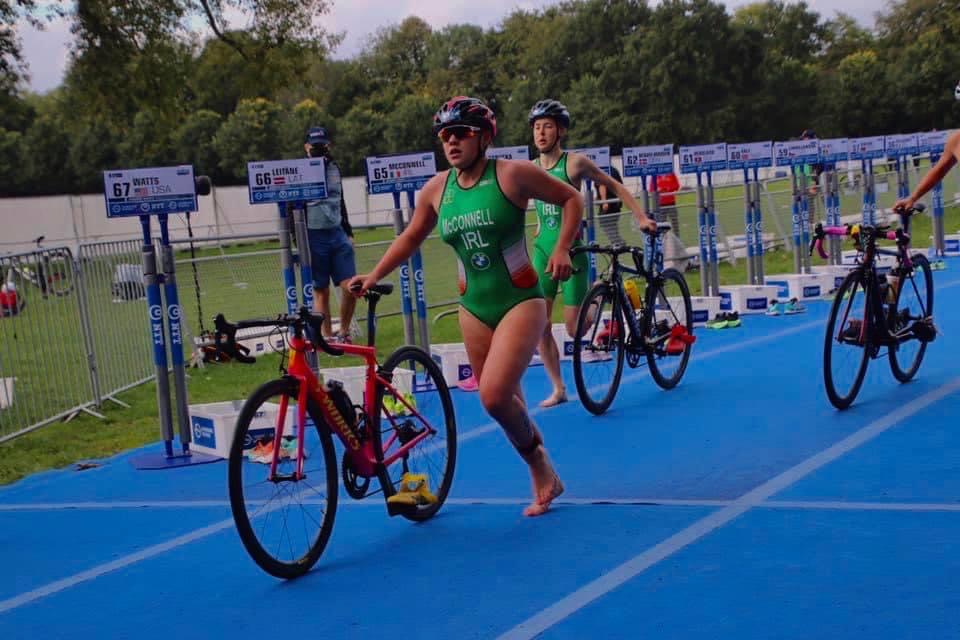 Congratulations to North Down athlete, Erin McConnell, who represented Ireland at the World Triathlon Championships in the German city of Hamburg over the weekend. At the first foray back into the world of competitive triathlon, the Bangor lady was able to soak up the atmosphere of the individual championships on Saturday, before toeing the line with some of the world's greatest athletes in the relay event on Sunday, and it would appear that rubbing shoulders with the likes of Jessica Learmonth and Katie Zaferes certainly made an impression on our rising star. "It has allowed me to come away with invaluable experience." Commented McConnell "New goals and dreams, more to come, but this is where it starts."
Virtual Boston Marathon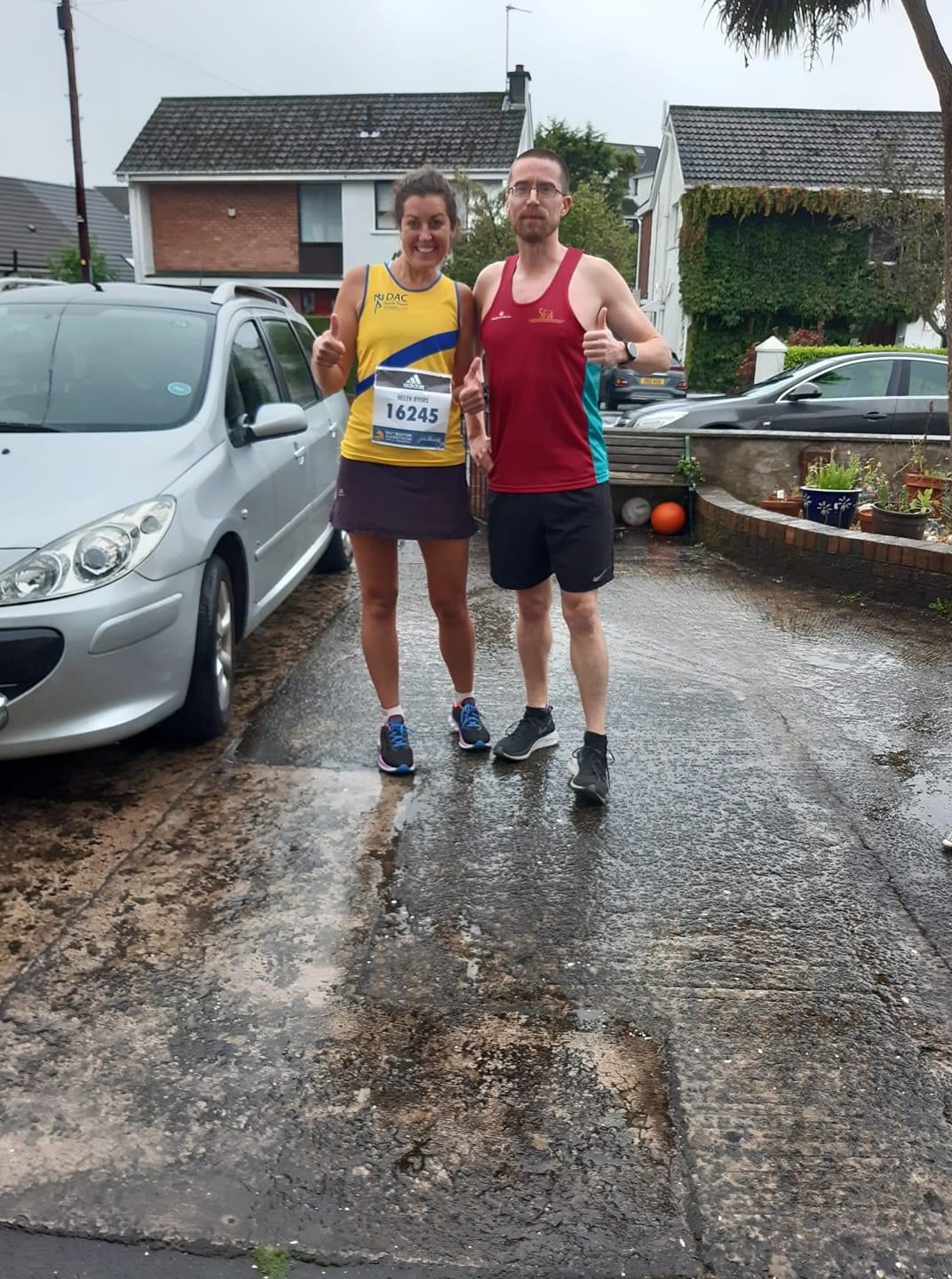 It's not likely that a wet and windy Bangor morning could ever equate to the experience of running a world famous marathon, but in this year of virtual reality it was the next best thing for North Down athlete, Helen Byers, as the Boston class of 2020 were encouraged to clock up their scheduled 26.2 miles as part of a coordinated worldwide effort.
Setting off in horizontal rain, accompanied by Roy Roulston of Victoria & Connswater AC, Helen maintained a steady pace from Bangor to Belfast, via Ards and Comber before returning along the coastal path, taking on the steep incline at Grey Point Fort, North Down's own version of Boston's Heartbreak Hill, before crossing the virtual finish line at Crawfordsburn in an excellent time of 3:42:50.