Athletics Ireland – Junior Track & Field Championships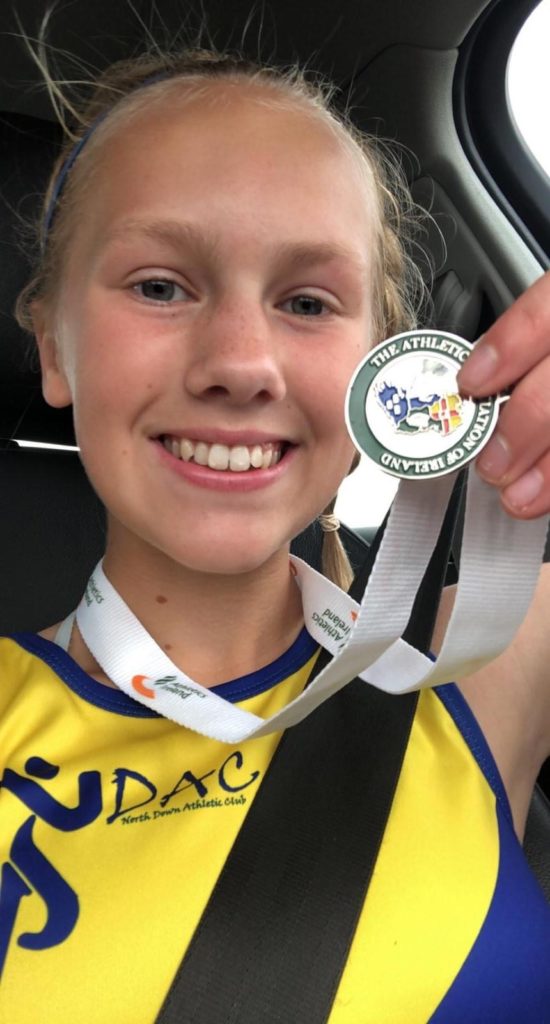 Tullamore Harriers played host to the cream of junior track and field athletes over the weekend, with a string of fine performances and an impressive haul of two silvers and a bronze medal for North Down athletes.
A packed schedule of events, spread over three days, got off to the best possible start for the Bangor contingent, with a bronze medal for Morgan Wilson in the U17 pole vault on Friday evening, after a beat clearance of 1.95m.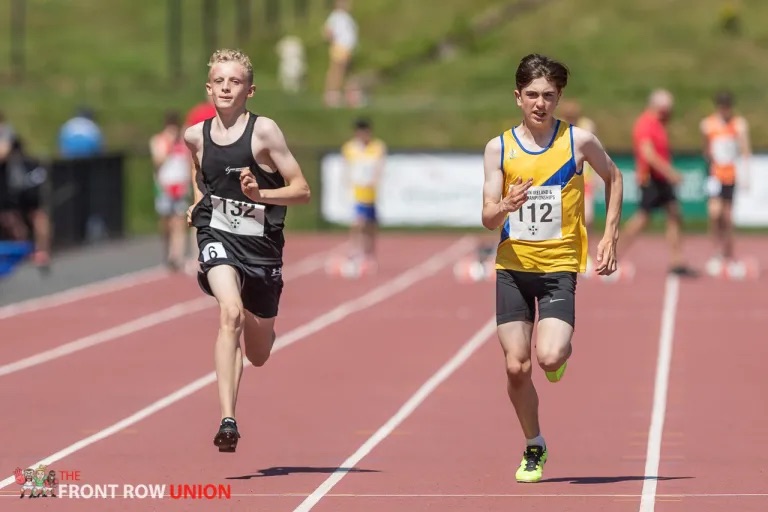 The following morning Ryan Hamilton was in action amongst the 80m sprinters, qualifying fourth out of his heat in 10.59 before placing seventh in the final (10.65) in an impressive showing at his first national championships. Callum Spain was well up the field in the U17 discus, a best throw of 31.87m placing him fifth overall, Beth Hammond was unfortunate to miss out on a medal in the U17 shot put, despite a best effort of 10.48m claiming fourth place, while Hannah Lawden was also fourth, in the U16 javelin, with a fine effort of 28.58m.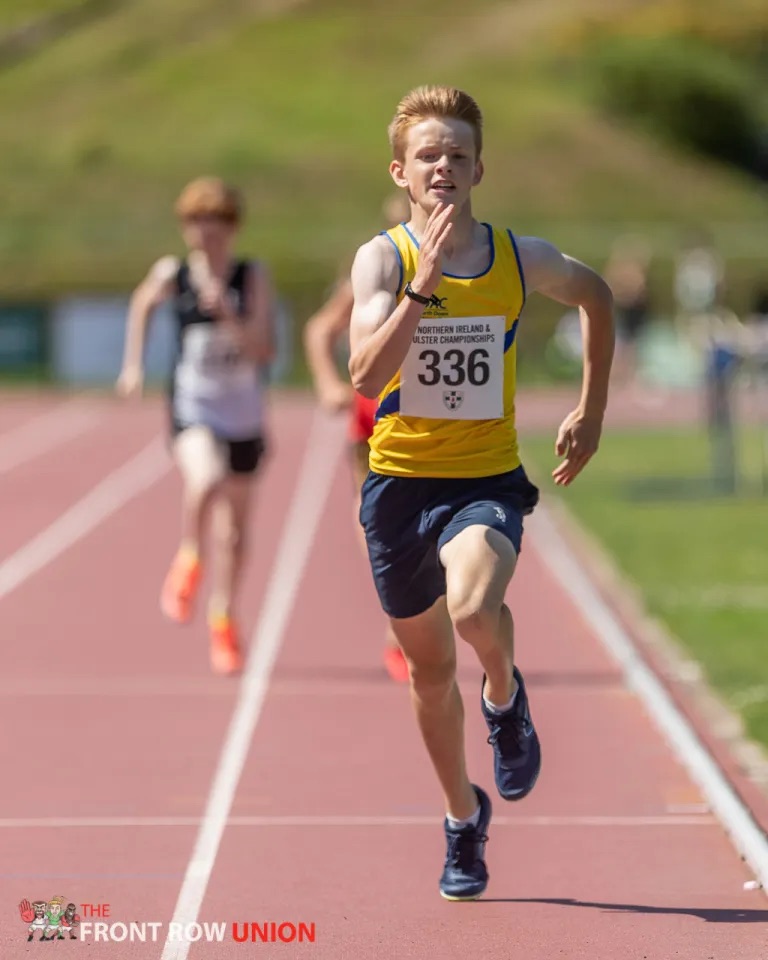 Seb Holley came within inches of a national title in the 800m, a fantastic time of 2:12.06 delivering a hard earned silver medal, but had little time to let his achievement soak in before lining up for the U14 shot put. A PB effort of 10.91m claiming sixth overall on a busy day for the young athlete. In another close run battle, Mac Eager delivered a brilliant PB in the U16 3000m, and was duly rewarded with second place and a well deserved national medal.
Junior T&F – Day 1 & 2 Results
Night of Sprints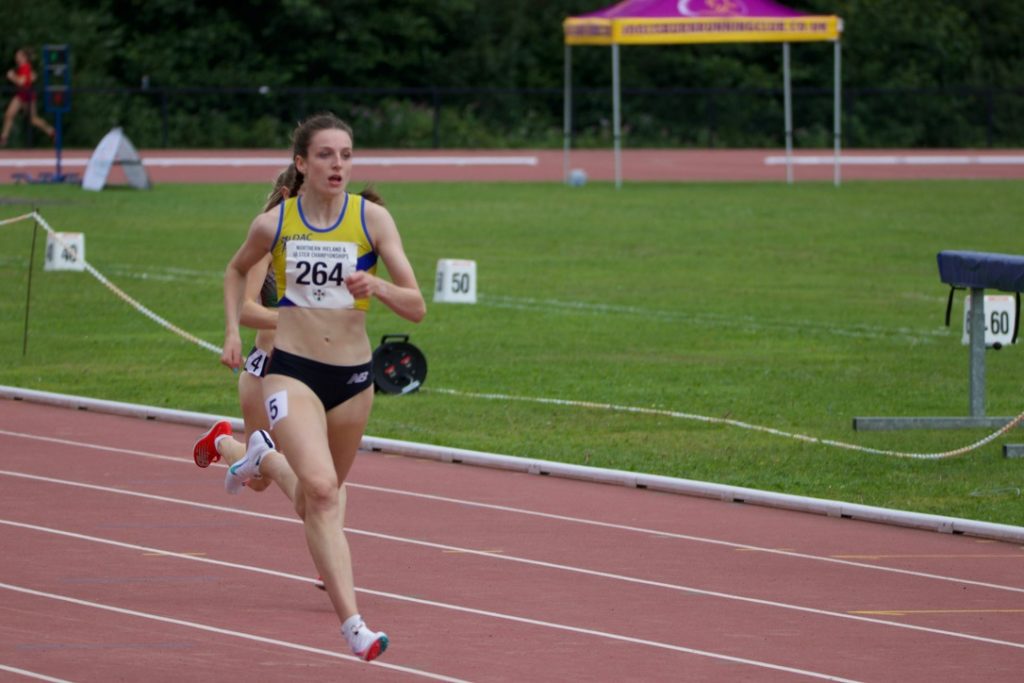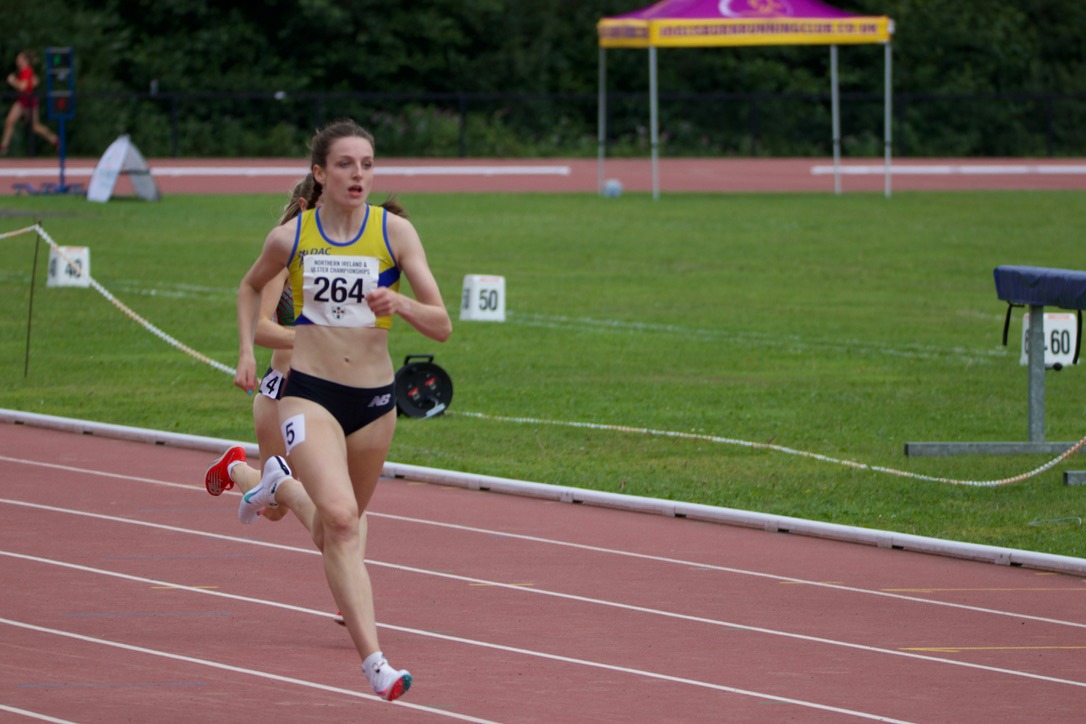 Billed as a 'night of sprints' but with a side order of middle distance, several North Down athletes were in action at the Mary Peters Track last Wednesday, in events ranging from 100m to 800m.
Morgan Wilson was third in her heat of the U17 100m with a time of 14.27, Stephanie Bell claimed fifth in hers with 13.94, while Rachel McCann was in action over her less favoured distance of 200m, but showed up well in the senior race, stopping the clock on 25.94 for third place.
Mallusk 5 Mile Road Race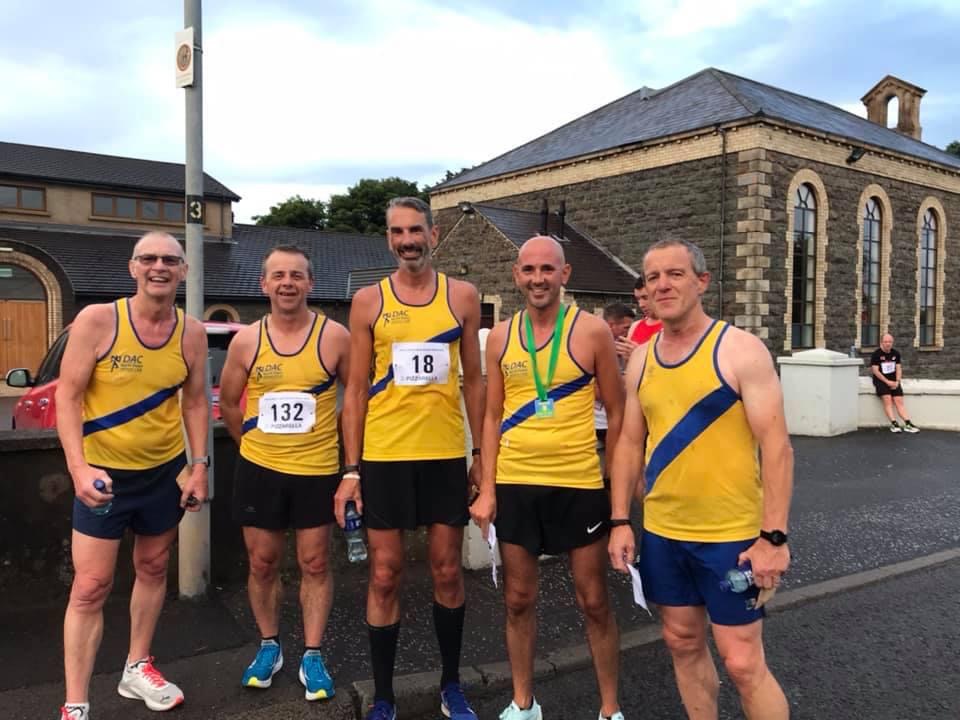 'Completely flat, apart from the big hill' is the tried and tested formula for Mallusk Harriers, the host club of the ever popular five miler, which challenged 148 athletes to dodge the showers on Friday evening.
Setting off from outside the Academy Social Club on the edge of Mallusk industrial estate, the eight North Down representatives were faced with their biggest hurdle in the opening stages, a punishing first mile and a half up the Sealstown Road. A downhill section along the Boghill Road provide an opportunity to 'regain their legs', before the loop was completed by the Hydepark Road and a short finishing section back to the social club.
David Massey (30:59) was the first of the club contingent to cross the line, in an impressive 20th overall, while Simon Boyle (31:58) and Philip Mulligan (32:16) battled all the way before crossing in 29th and 30th respectively.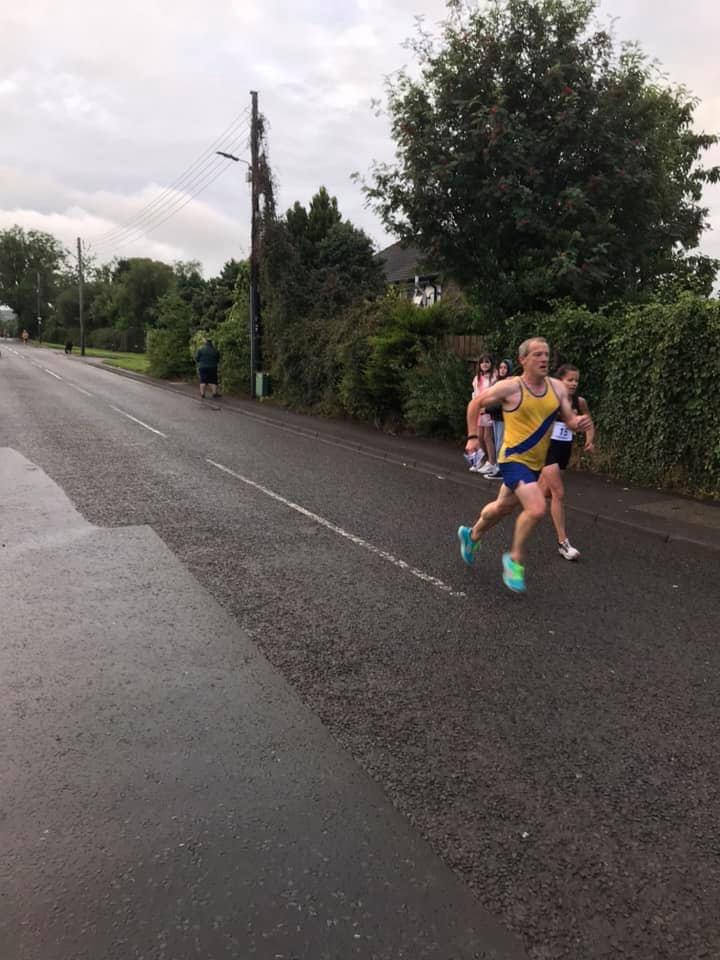 Steve Wise and Brian Geddis fought it out in another inter club battle, which doubled as the M60 contest, the former eventually prevailing in 34:37, from the latter in 34:49, Molly Rogers crossed in 37:46, James Barr recorded 53:28 and Pat O'Driscoll rounded out another successful step towards racing normality with 55:35.
Mallusk 5 Mile Road Race – Results
Combined Events Championships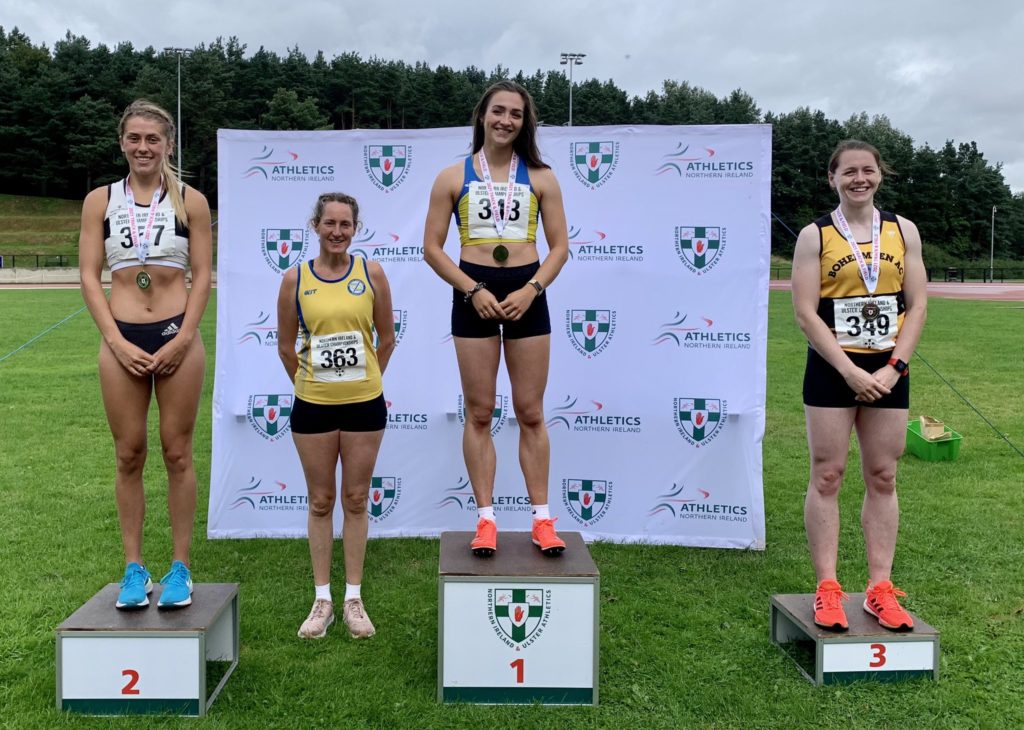 On a busy week for track and field athletes, none were as hard pressed as the combined events competitors, who converged on the Mary Peters Track to run, jump and throw their way to glory over the weekend.
Competing in the U13 girls event, Caoimhe Fenlon opened up with 14.10 in the 70m hurdles, before a strong shot put effort of 6.31m and 3.62m in the long jump. A best clearance of 1.21m in the high jump was followed by a time of 3:12.58 in the 800m for a fine total of 1485 points and seventh place overall.
Sarah Connolly was the star of the senior women's competition, opening with a narrow victory in the 100m hurdles (14.39), before dominating the high jump (1.78m) and shot put (11.08m) disciplines to stretch her lead. Victories in the 200m (25.77), long jump (5.55m) and javelin (27.86m) followed, before a narrow win in the 800m (2:24.52) completed an impressive clean sweep and a title winning total of 5208 points.
Combined Events Championship – Results