NI & Ulster Uneven Age Group XC Championships & Bobby Rea 2019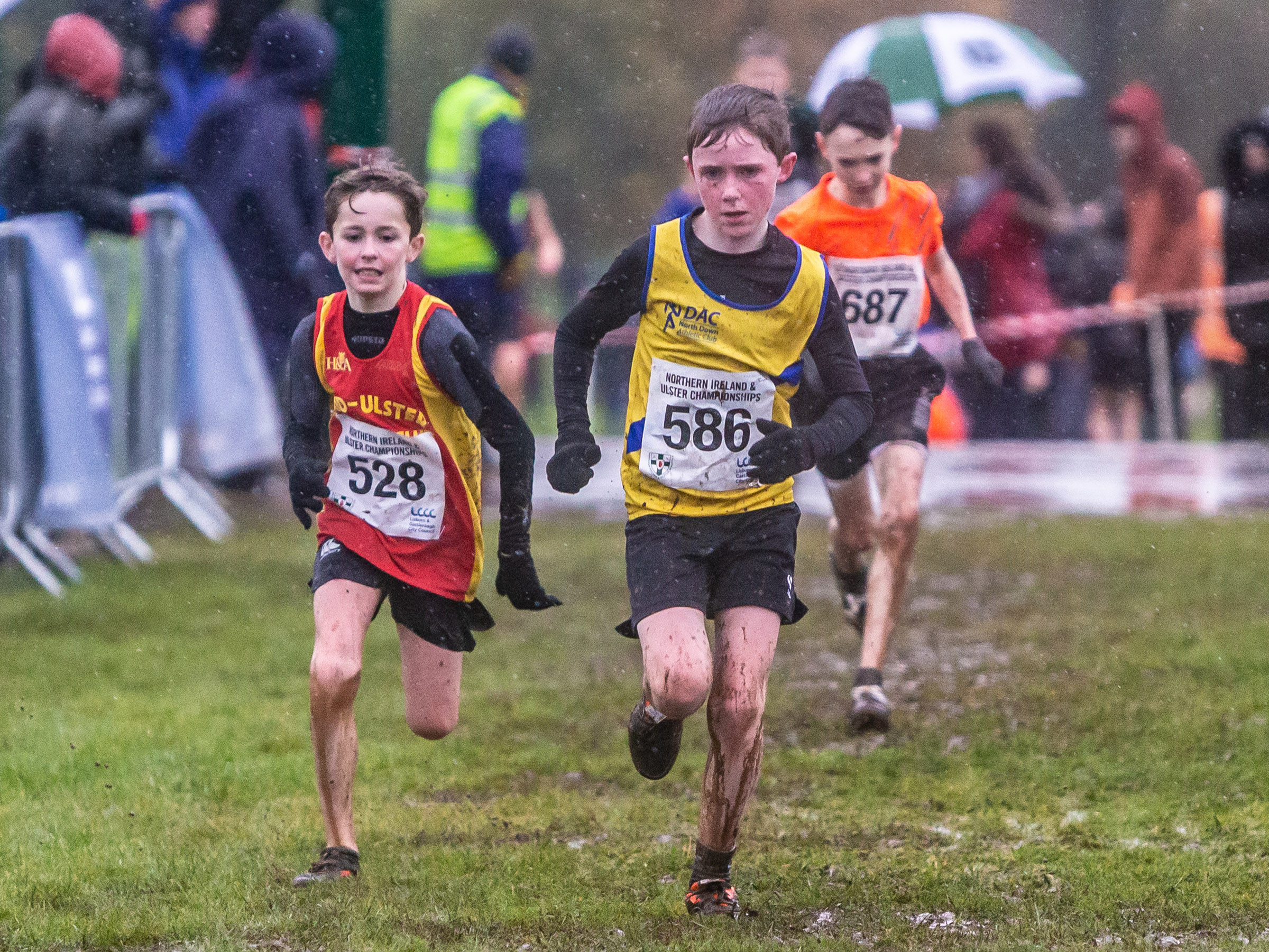 In conditions that many seasoned campaigners described as the worst they'd ever encountered, the mud encrusted Billy Neil Playing Fields played host to the age group championships on Saturday, with the latest round of the senior cross country league tagged on for good measure. A schedule change to accommodate the first round of AQE exams meant the under 11's started a little later in the day, but it didn't deter Erin Playfair who qualified for the Irish age group championships with a fantastic 8th place finish in the girls race, whilst Cara McCurley was 23rd and Hannah James placed 37th. The corresponding boys race provided perhaps the highlight of the day, with Alex Downey finding an extra gear in the home straight to move ahead of his two nearest rivals, and stride clear for his first significant victory. Bailey Duncan showed great character to finish well up the field in 38th, despite not feeling well on the day, whilst James Blease was 69th and Conor McClements 89th, on a morning when all the juniors can take great credit for 'toughing it out' in the face of incessant wind and rain.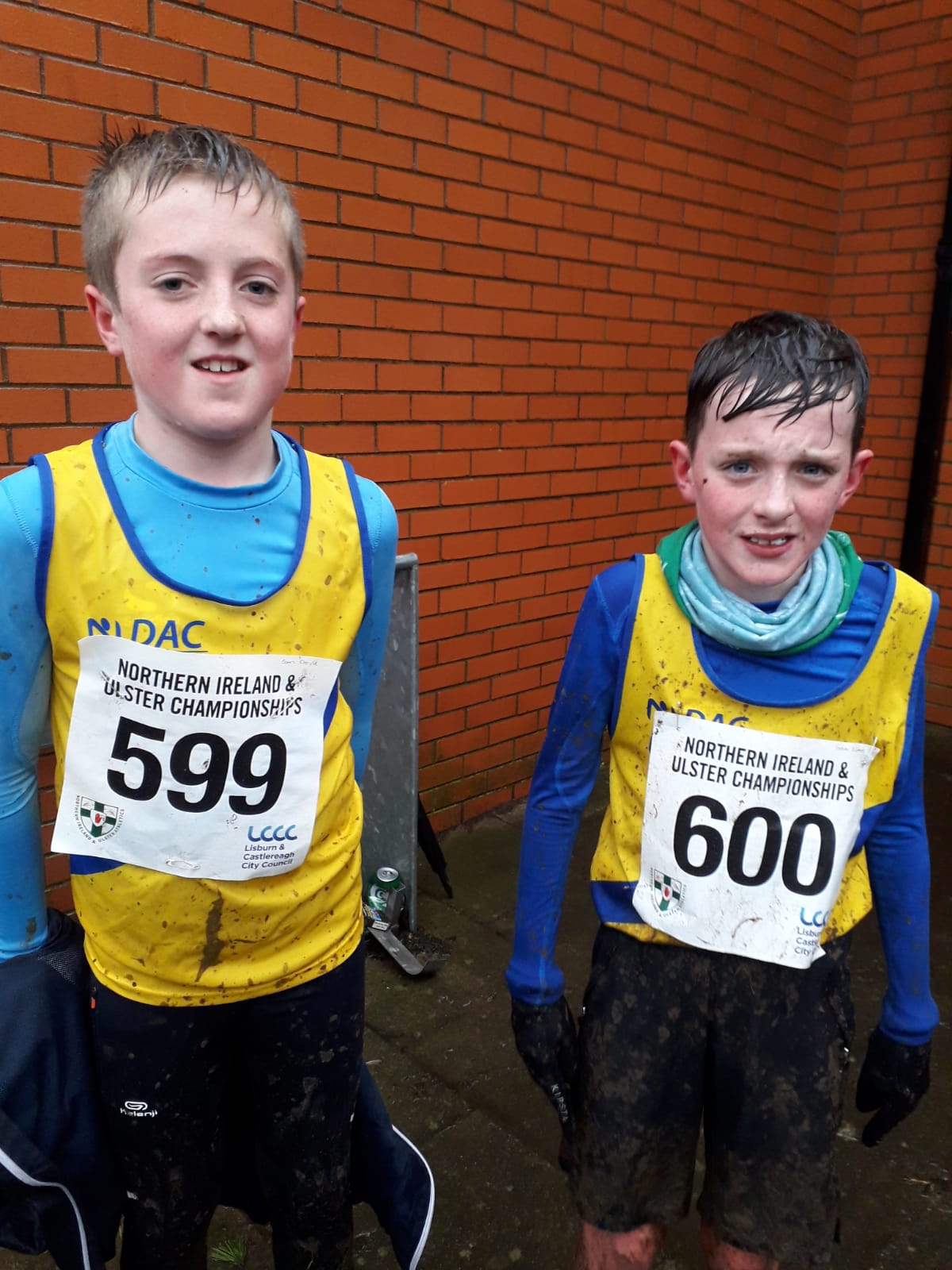 The U13's took on 2km of mud and puddles, with Rebekah Laffin (33rd) leading home the North Down contingent, from Lauren Cheatley (35th), Ella Riddell (38th), Zoe Kirk (45th) and Eimear Mulligan (65th), whilst in the boys race, Oliver Playfair was 29th, with Isaac Dunne (53rd) finishing just in front of Sam Doyle, and Frank Tweedie completing North Down representation in 71st. Next up, the U15's had the dubious honour of racing over an extra kilometre to their next youngest counterparts, Lucy Cheatley (21st) the best of the bunch, followed by Hollie Massey (24th), Niamh Fenlon (32nd) and Amy McMullan (54th). Naomi Dunne crossed the line in 70th and Morgan Wilson 80th, with the team placing 7th overall. Unfortunately the U15 boys could not field a scoring quartet, but had fine individual performances from Ryan Lynas (35th), Ben Riddell (15th) and in particular from the consistently excellent Jamie Gaw (4th), who will now go on to represent Ulster at the All Ireland Championships.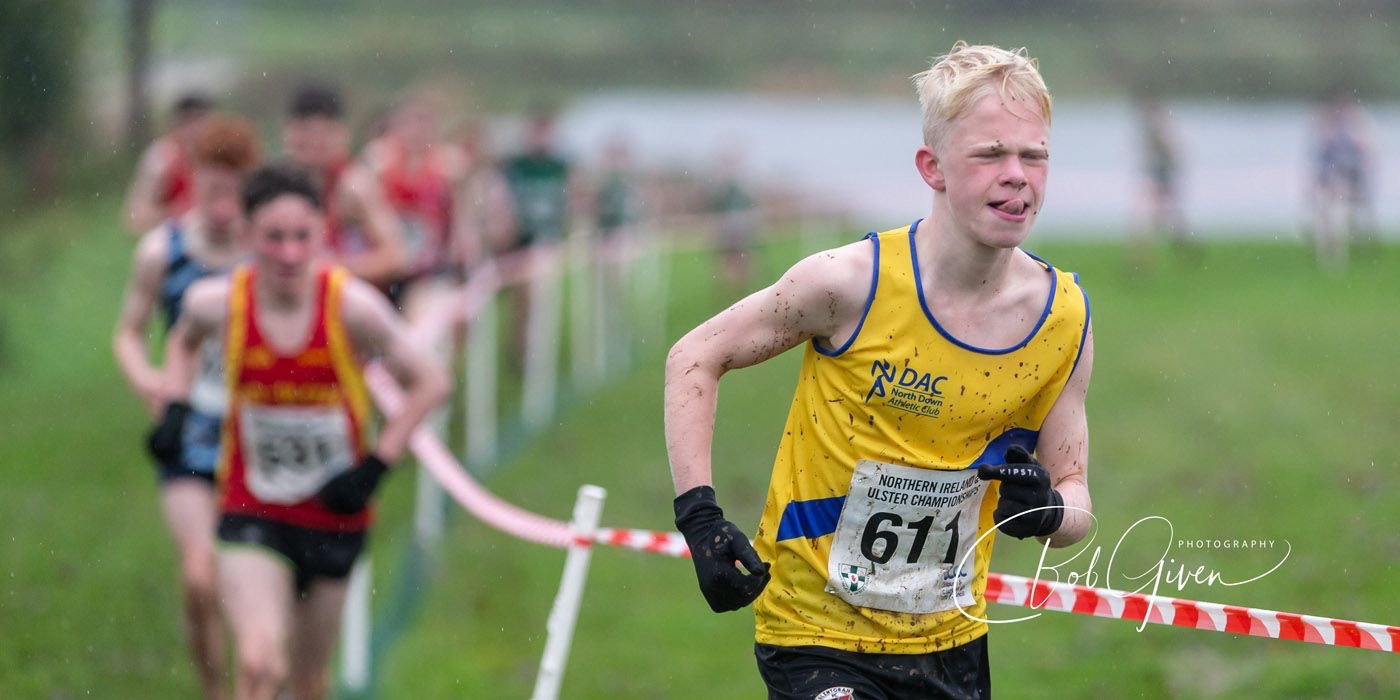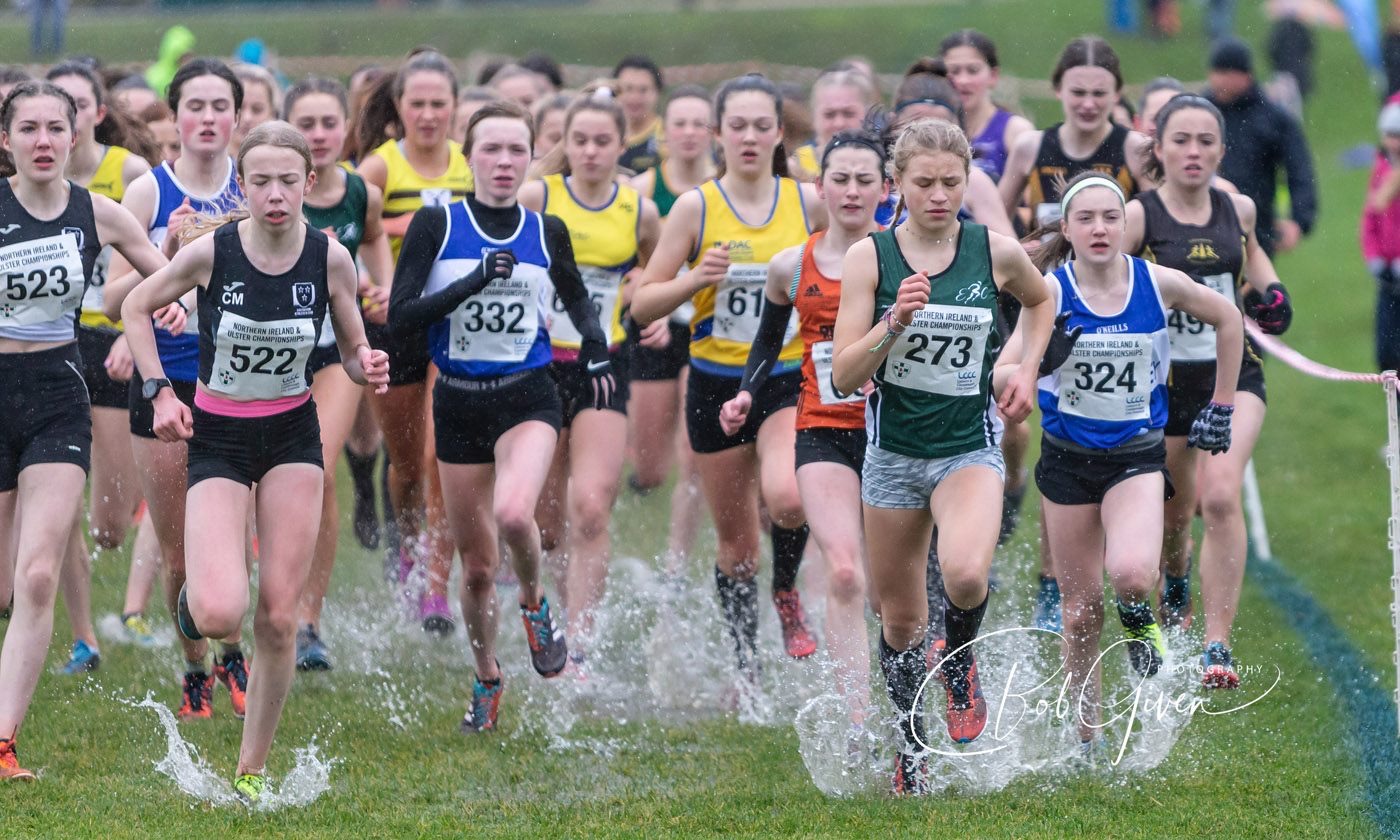 The U17 girls proved to be the North Down team of the day, with Tara McDonough (7th) providing the foundations on which to build a title winning effort, receiving great support from Amelia Tyler (11th), Tori Galloway (14th) and the all important fourth to score, Amy Ellison (32nd).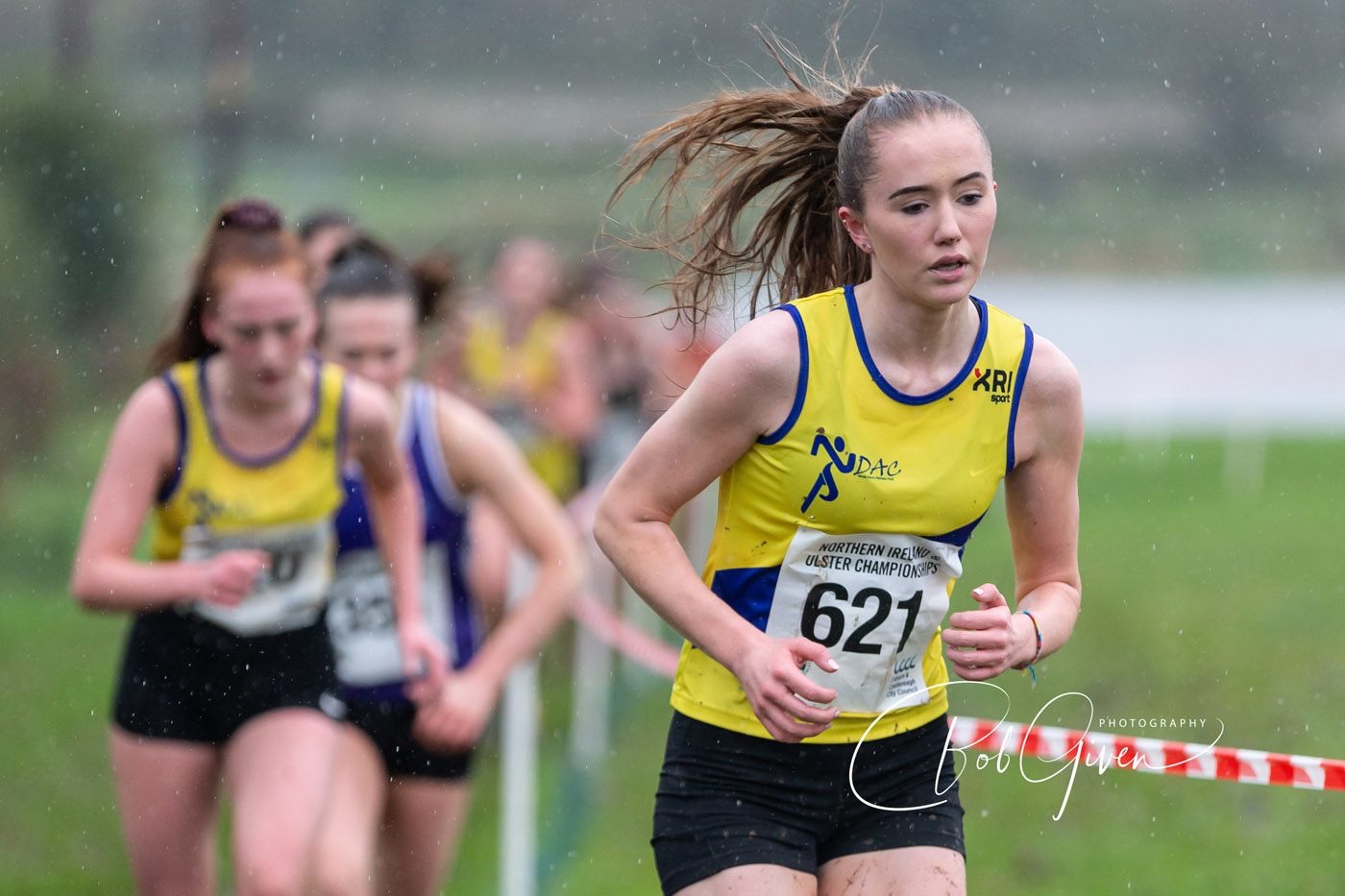 There was more success in the U19 competition with Caitlyn Turner (9th), Rachel Gillespie (11th), Bryanna Catney (14th) and Alisha Tuner (15th) all contributing to team silver, whilst the U19 boys had to endure 6000m of paddy field punishment, but were rewarded with team bronze, Jack Logan running a particularly strong last lap to place 10th, with Thomas Patterson (12th) not far behind, while Mark Carberry (19th) and Jakob Swann (27th) both made vital contributions to a 3rd place finish for the second year in a row.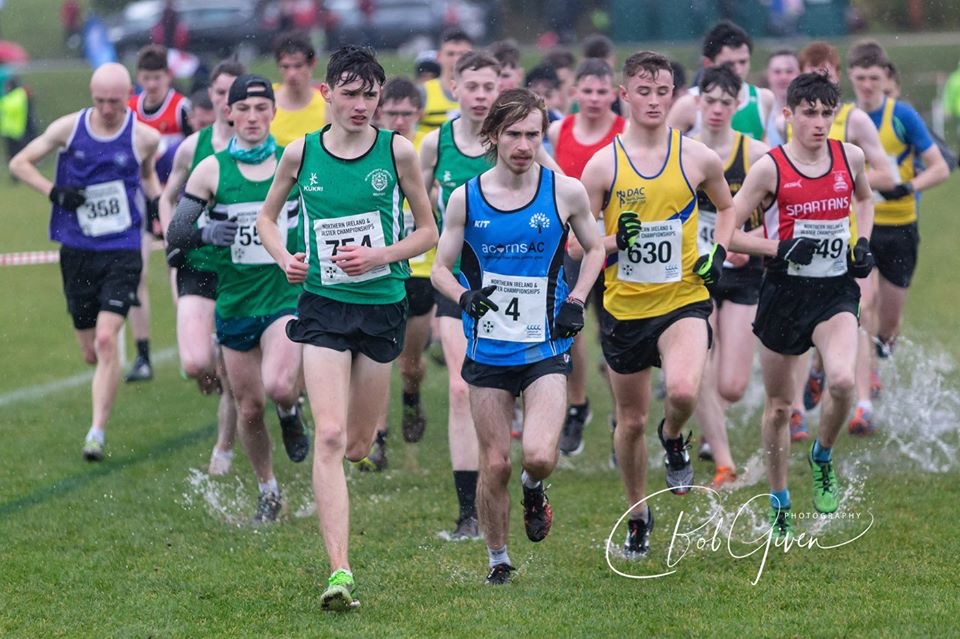 Amongst a high calibre ladies field (including Irish Olympian Michelle Finn) the North Down women were as efficient as ever, gathering the maximum 12 participation points and also taking the team title, with Katie Moore holding her own amongst the representative athletes and finishing a particularly impressive 13th. Erin McConnell (20th) was always at the sharp end of proceedings, whilst Roberta Dornan (31st) and Clair Quigley (34th) both ran strongly to complete the scoring quartet. Claire Scott (42nd) led home a tightly bunched group, which included a fast finishing Lindsay Doulton (47th), Valerie McDonough (48th) and Helen Byers (49th), while Terry Eakin finished just in front of Helen, but was classified in the results as 3rd in the Masters competition, for everyone over 60. Laura Neely (68th) picked a hell of a day to make her cross country debut, but performed admirably, as did June McMinn (75th) and Julie Wilson (77th), while Nicola Downey (90th), Louise Watson (104th), Hannah Dunne (146th) and Paula Simpson (161st) all contributed to yet another day when the North Down ladies represented the club with distinction.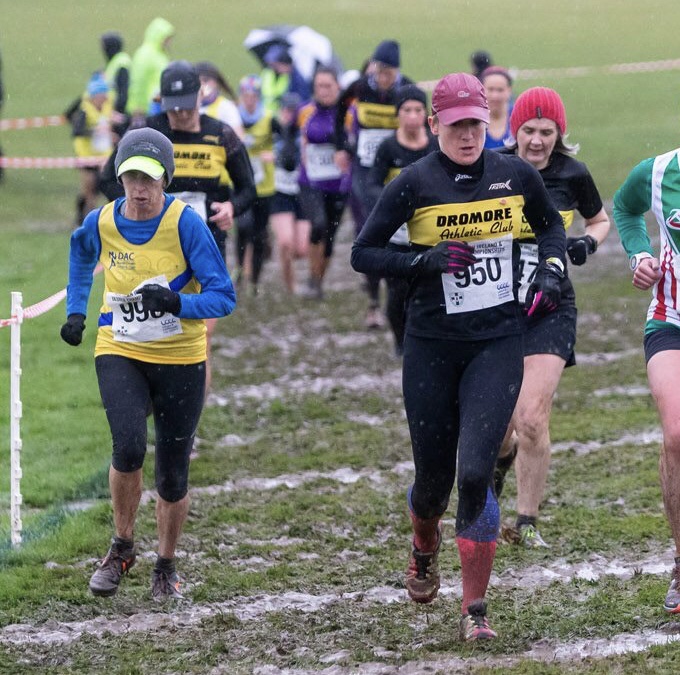 By contrast, the men have had better days, the majority of the team failing to present themselves at the start line until after the scheduled gun time, resulting in them having to join in as back markers. In fairness, several teams made the same mistake due to the misheld belief that the race would be delayed until the course had been cleared from the previous event, but on a day when results timings appeared to be out of sync by at least three minutes, the best approach was probably to let one hand wash the other, and chalk it up to experience. Amongst the muddy madness, Jamie McMeechan (40th) brought a modicum of stability and was well placed amongst a high quality field, whilst Chris Downey (84th) finishing ahead of Mark Weir (87th) suggests the former got a head start! Robert Eadie (92nd) revelled in the difficult conditions, while James Budde placed 98th and David Massey (100th). Phillip (132nd) won the battle of the Mulligans from brother, Kevin (141st), with the inspirational Andrew Nicholson just behind in 143rd.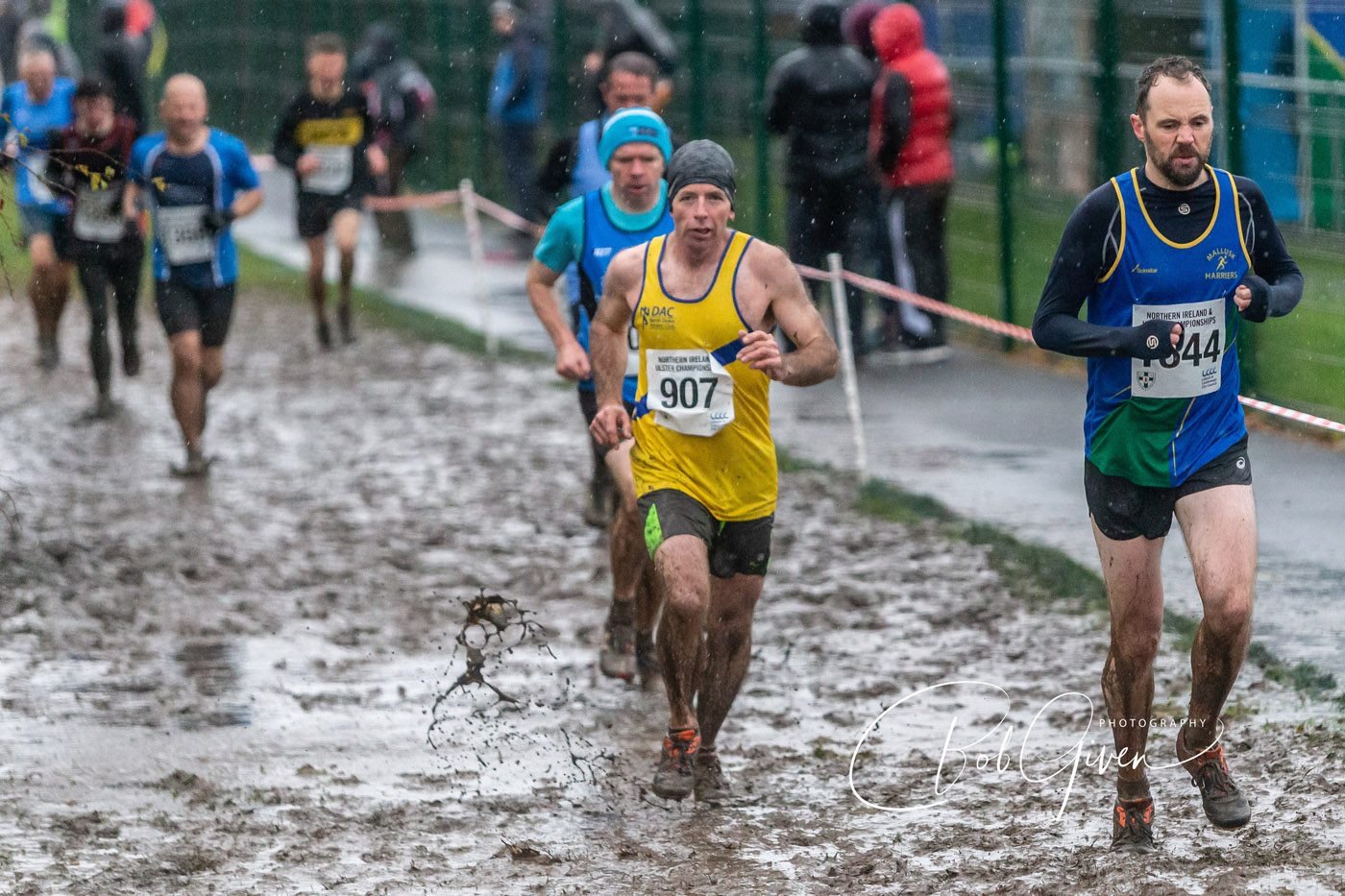 Alan Massey, Dougie Gordon, Richard Garrad and Michael Taylor all claimed a vital point from their team, whilst James Barr ran with as much determination as anyone and ensured that the participation quota was covered on a memorable day of damage limitation.
Sperrin Harriers Winter League – Davagh Forest 10k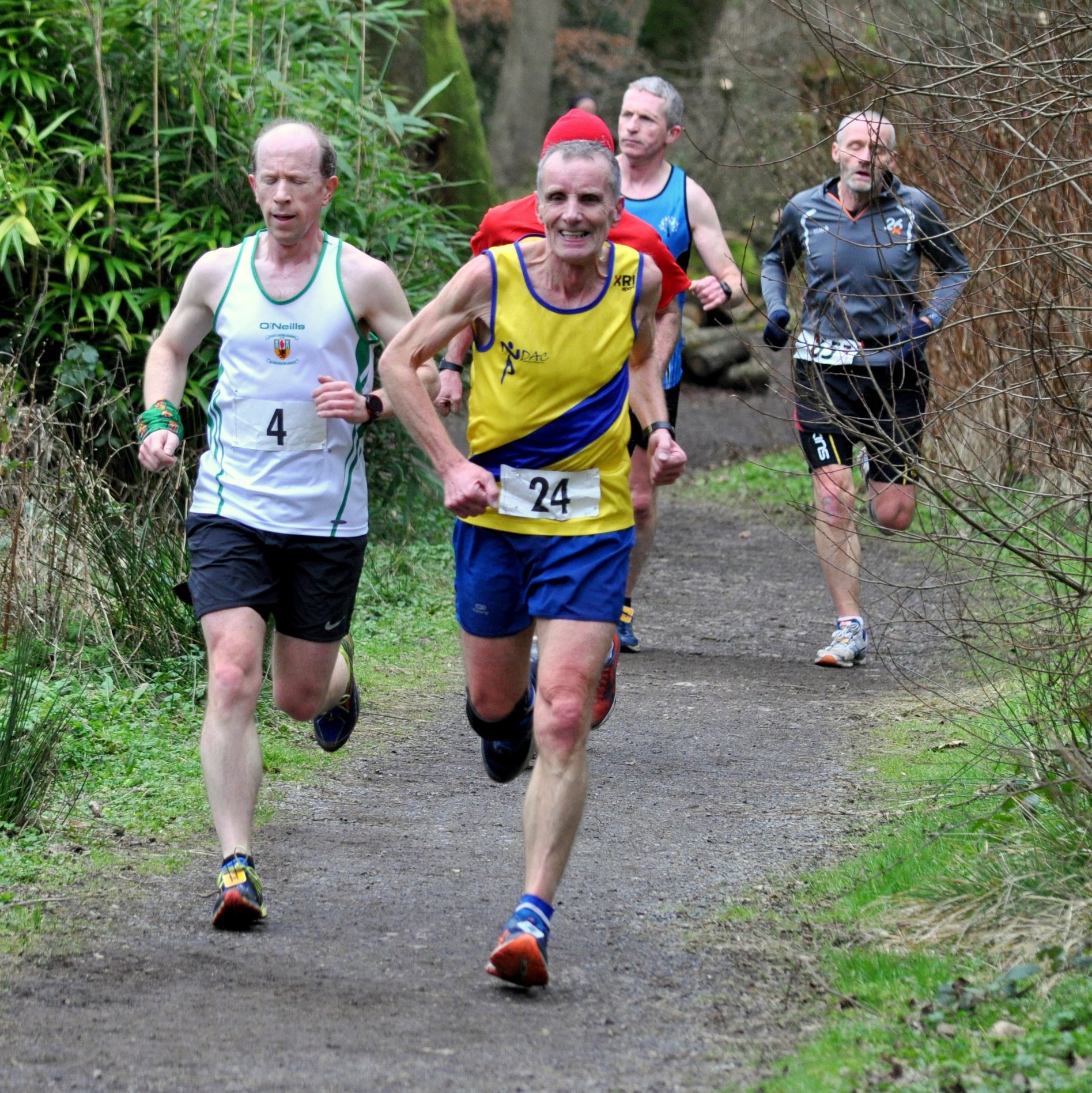 Having been regular competitors in last year's winter series, Catherine Roberts and Frankie Rea were on start line once more as the latest edition kicked off at Davagh Forest between Cookstown and Draperstown on Saturday. In conditions that were described as 'difficult' Frankie displayed his usual grit to finish 23rd overall in 44:50, a time that was good enough for 1st in the M60 category. Equally impressive over a difficult course, Catherine Roberts was first lady (45th overall) in 48:34 with the early signs suggesting that another successful winter is in store for the North Down duo.
Running to Remember 5k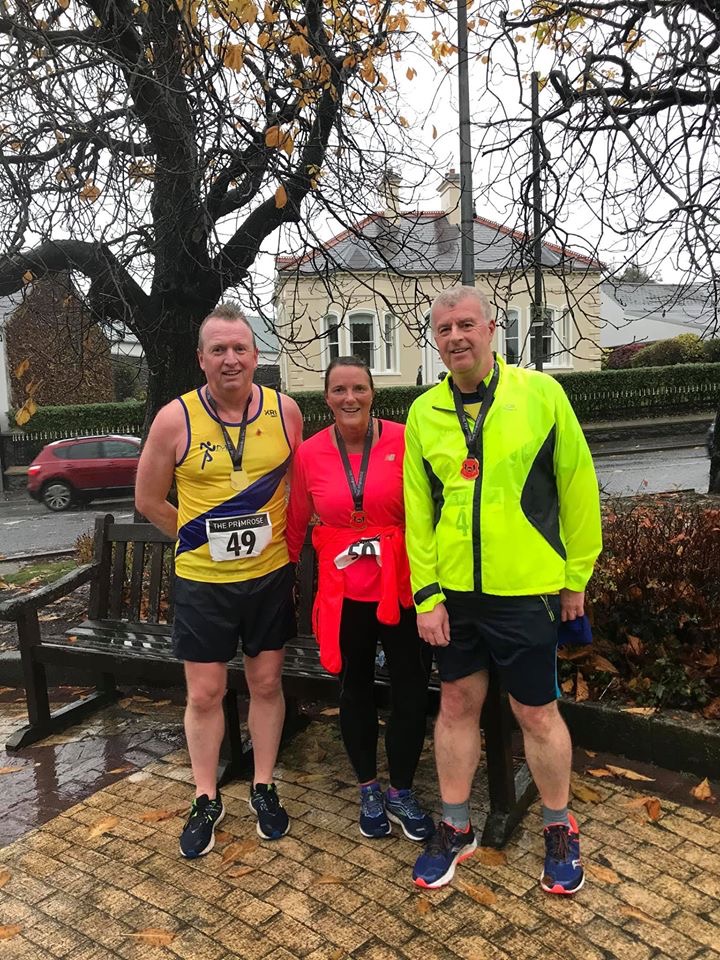 Ballynahinch hosted the Remembrance weekend 5k with all proceeds going to the Royal British Legion, and 219 hardy souls toeing the line on a wet and windy Saturday afternoon. North Down had three vests amongst the starters for a one lap circuit of the surrounding areas, with Gordon Matchett leading the trio home in 26:26. Glenn Frazer followed in 32:34 before Heather Matchett crossed in 33:19 to claim her commemorative poppy medal.
Scottish Short Course Cross Country Championships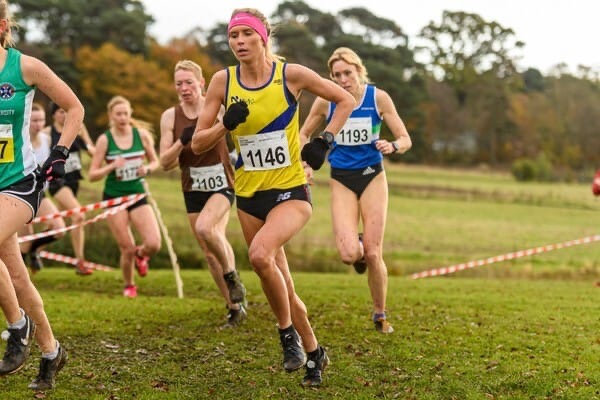 Jessica Craig was in cross country action across the pond on Saturday, as Kirkcaldy High School hosted the 4k short course championships in freezing conditions that were also reported to be soft underfoot. Amongst the best of Scottish athletics the North Down more than held her own and finished in 14:22 for 6th place in high calibre field that also included Lisburn native, Lauren Wilson (14:32/9th) a podium finisher at this year's Bangor 10k.