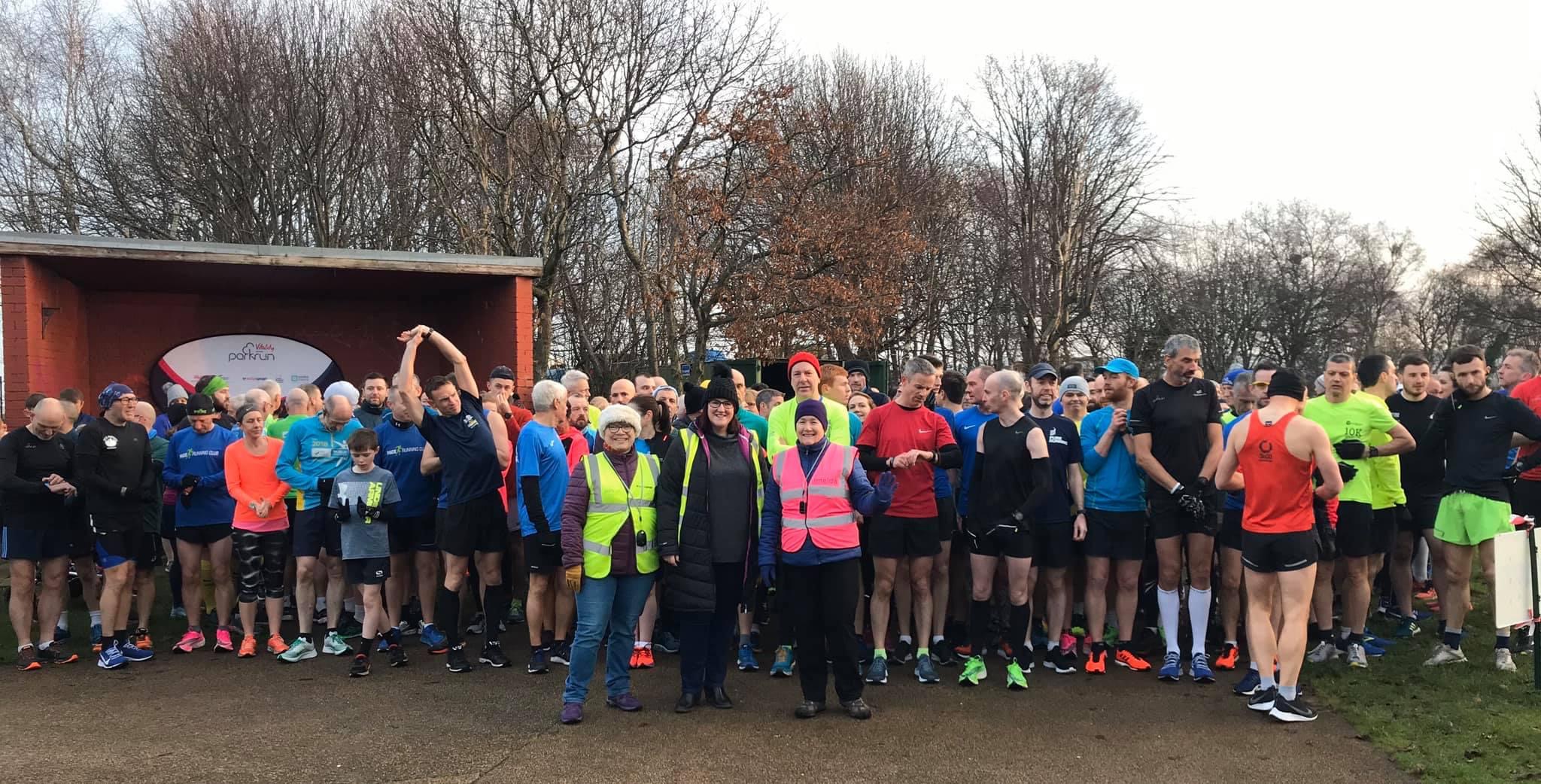 Belfast Victoria parkrun – January 1st 2020
The 2020 edition of New Years morning arrived in the traditional fashion, with the last of the revellers heading home bleary eyed, and the more energetic amongst the parkrun community emerging slightly fresher faced, buoyed by the prospect of a double event day and a chance to get running resolutions off to the best possible start. A bumper holiday crowd stood shoulder to shoulder in Belfast's Victoria Park, hoping to cash in on perfectly calm and crisp conditions, as run director Liz Murray cheerfully reminded everyone of the parkrun mantra 'it's a timed run, not a race' – we all set off as if our lives depended upon it! Thousands of miles away in the Chinese city of Wuhan, the mood was much less festive, as police and health officials took the decision to close Huanan seafood market, amid fears of a threat to public health, a fear which unfortunately had already become a reality, the impact of which is still being felt throughout the world, sixteen months later.
Having missed out on the Christmas Day parkrun due to a frost bitten Ward Park, many of the North Down contingent made the short hop to east Belfast, for three laps in the shadows of the Harland and Wolff cranes and amongst an avalanche of rapid running I was delighted to cling on to a fast time, my best in the eight years since I had signed up for barcode A249189. As a family we followed up our trip to Victoria with a second, more leisurely effort, around the scenic surrounds of Antrim Castle gardens and made our way towards a north coast lunch date with my parents, we hadn't a care in the world. As we wolfed down our meals I felt the weary satisfaction of reaching my own athletic Everest and the contentment of time amongst family, we laughed, joked and enjoyed the company, before saying goodbye to my folks. If I'd known it was going to be the last time I'd hug my dad we'd have stayed a little longer.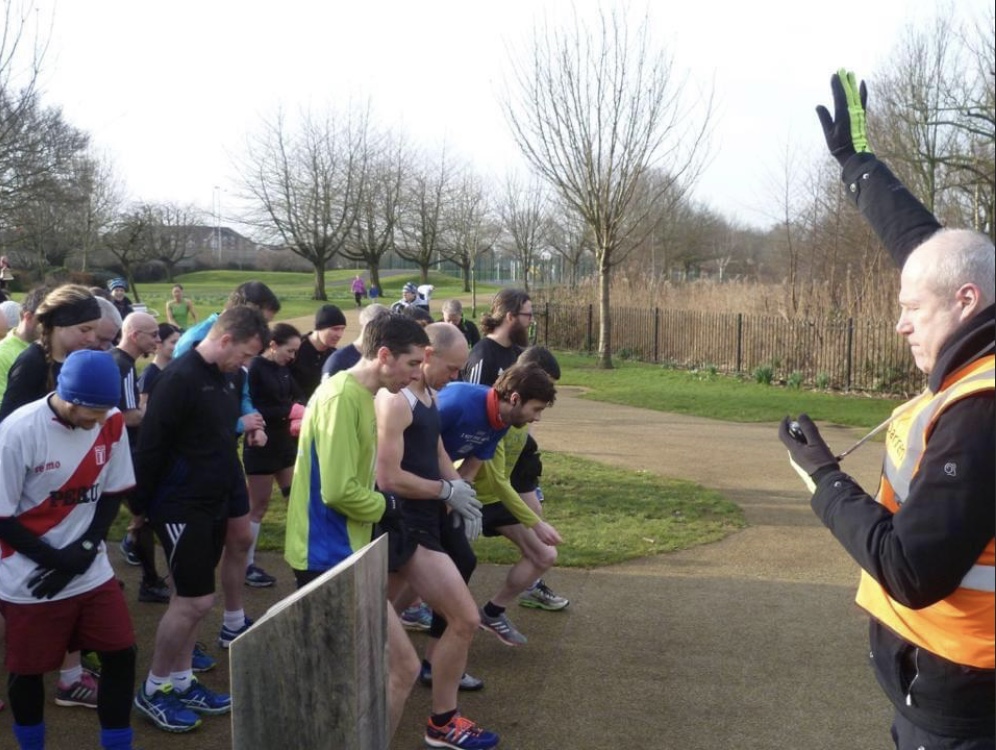 Despite the Covid situation escalating in China, parkrun remained very much part of my weekly routine in the early months of 2020, one that had started as a personal adventure, fuelled partly by a desire to set a good example to our first born, and also a result of the inspirational London Olympics from the same year. After nervously lining up alone on my first trip to Victoria Park, I had felt the warm embrace of the parkrun community and would go on to spend many mornings chatting happily about split times and trainers to people I had not known weeks, or even minutes earlier! Figuring she was going to hear about it anyway, my wife got involved with the weekly routine a few years later, was joined by our eldest son shortly after, and before long someone was taking a turn at pushing our youngest in the buggy. As one thing led to another we were all running or volunteering twice a weekend at either the 5k Saturday event, or the 2k junior version on a Sunday and made sure to take our barcode wristbands away on our holidays, scanning them in some far off lands (the most effective use being the source of a contact number when our eldest went off on an unexpected solo adventure around Gare du Nord!)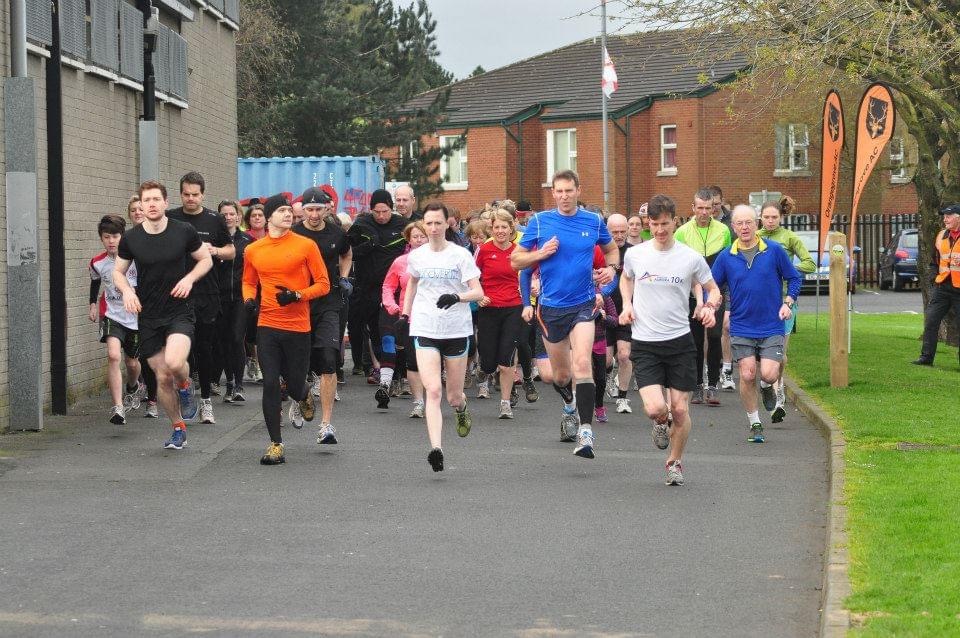 When the UK's chief medical officer, Sir Chris Whitty, spoke in early March last year of the public's altruistic response to the increasingly imminent pandemic, I recognised the trait from what I had become accustomed to witnessing every week at my local event, with volunteers giving up their run to make everything possible – timing, marshalling or serving tea, but only a couple of days later the UK suffered its first (known) Covid related death, and it was obvious that our weekly routine was on borrowed time. Saturday 14th March 2020 turned out to be the last event before the current enforced absence, and again I found myself at Victoria Park, a last minute dash meaning I had to start without a warm up, but figuring I could break twenty minutes, without having to empty the tank. After a couple of laps I became aware of a young Lisburn AC athlete who told me he had never gone sub twenty, so I did what I could to encourage him and he did the rest himself, gliding across the line with plenty to spare. I'd seen people offer their assistance like this many times before, and had benefitted from it myself on numerous occasions, it's one of the things that makes parkrun special, the non competitive environment that takes the emphasis off personal gain and encourages people to help others when they can.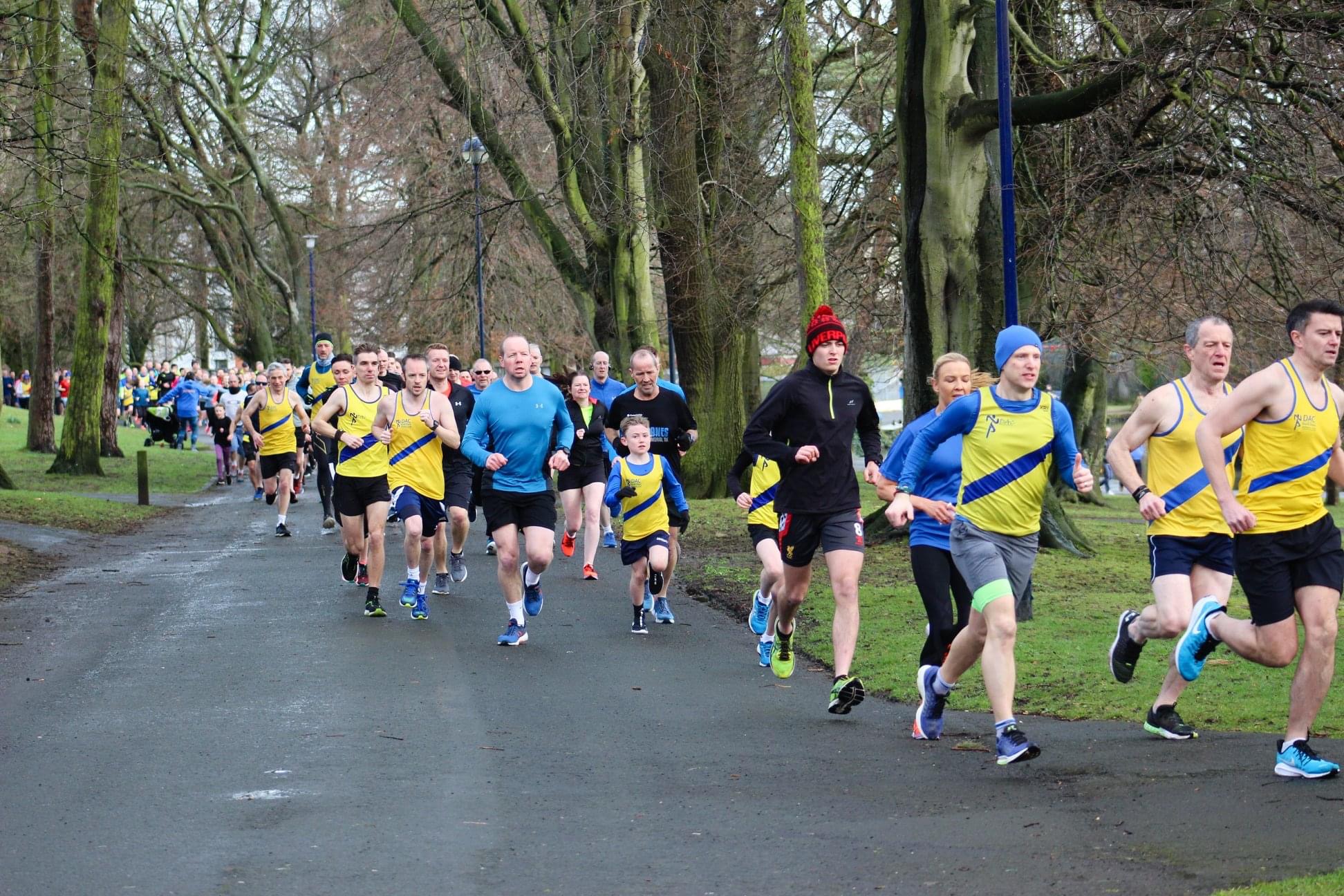 The last Bangor parkrun – 14th March 2020

It was no surprise then, that in the lockdown weeks that followed we all considered ourselves fortunate to be able to continue with our running (albeit on a solo or family basis) and significant sums of money were raised for good causes, by Rab Martin's marathon on Ballyvester Beach and by Lindsay Doulton/Steven Donegan's virtual 5k, for which almost one hundred club members signed up. We enjoyed the break from the norm, the tremendous weather, and used the opportunity to explore new routes and revisit some that we hadn't seen in a while. Before long Northern Ireland's relatively low infection rates allowed competitive running to return, as ChampionChip's Down Royal events attracted athletes from all over the British Isles, parkrun had a tentative date to return in England around the end of October 2020 and we considered the worst to be behind us. We were wrong.
Amid rising case numbers, plans to return were shelved, and with the onset of winter, 5k in the lashing rain seemed a lot less desirable without the weekly debrief and cup of tea with friends to look forward to. It was during this time that my father was taken into hospital for the first time in fifty years. Medical opinion suspected a stroke, but while being treated he contracted Covid and had to be admitted to ICU in early December. In the following weeks running played its usual part in my physical health, but also played a significantly increased role in my mental wellbeing. I felt myself pushing harder in sessions, driven by a desire to somehow fight back against what was happening, and it helped, but even for someone who normally trains alone, it was tough going and I started to miss the human interaction of parkrun, the opportunity to talk through the issues of the week, whether good, bad or indifferent. Despite my dad appearing to be winning the battle, his health took a turn for the worse in early February, and he passed away. In the desperate times that we were living through, there was comfort in the small mercy that we were able to be with him at the end, hundreds of other families were less fortunate.
The funeral presented us with the hopeless task of summing up my father in just fifteen minutes, with twenty five people in a funeral parlour car park, but great comfort was provided by the bravery of my eldest who kept his chin up, his shoulders back and at the tender age of eleven years took the microphone and told everyone exactly why his grandfather was the nicest man he had ever met. If he goes on to run in the Olympics I doubt whether it will outweigh the pride I felt in him during that moment, but I can't say I was completely surprised. I had previously witnessed his weekly parkruns change him from a shy and retiring boy, into a promising young athlete, but more importantly a well rounded, increasingly confident young man, who cares for others and wants to do good things in the world, whilst it's not the be-all and end-all, we will undoubtedly be better off as a family and a community when parkrun returns.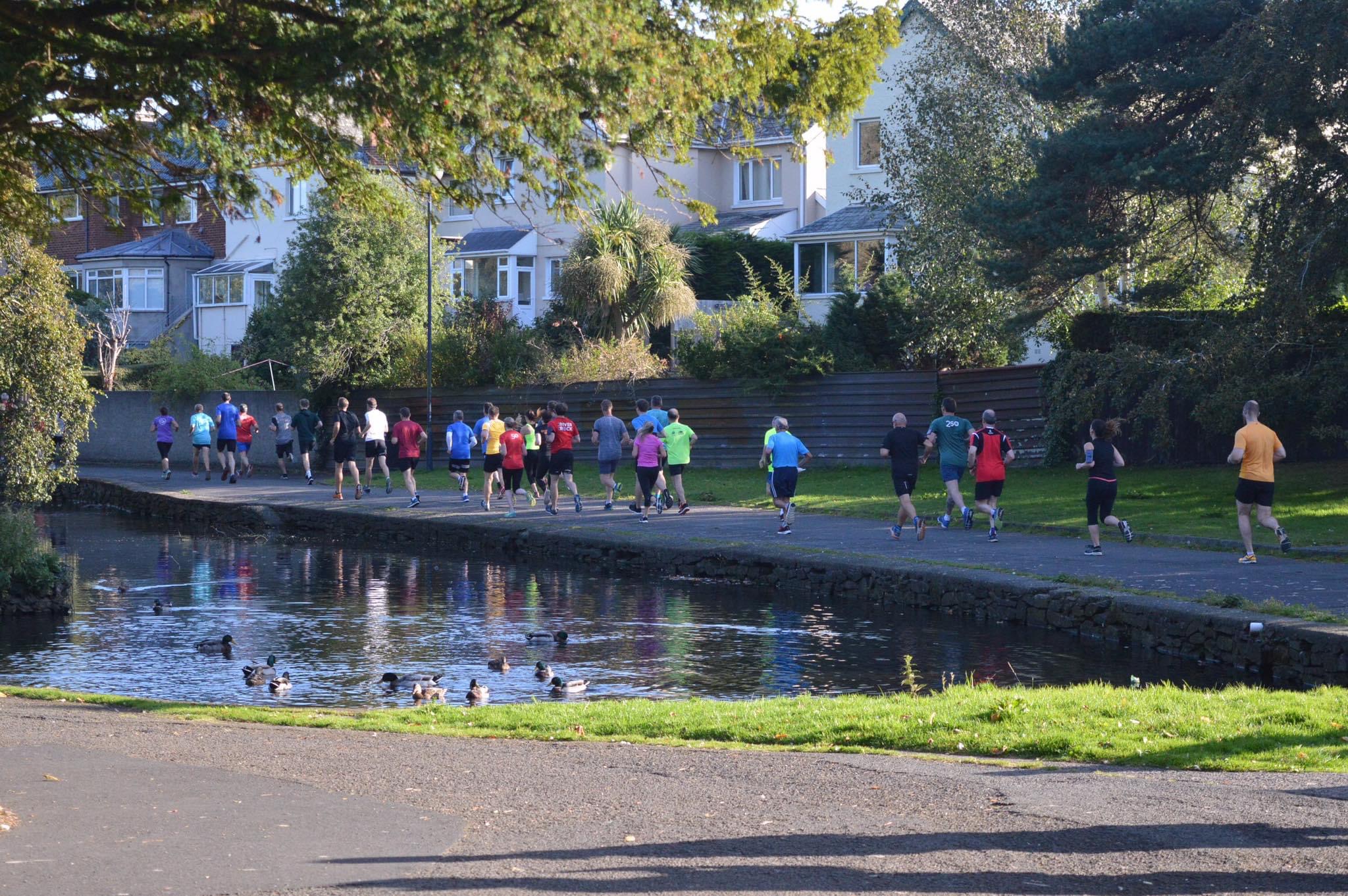 As we seek to return towards normality in sports participation, the great outdoors offer the safest place to be. We've known parkrun to be the healthy option and more recently we've come to realise that it's saving us all money. In the year before COVID-19 was even spoken of, the charity group Fields in Trust undertook research which estimated that public access to the UK's parks and green spaces was saving the NHS around £111 million per year based solely on a reduction in GP visits and excluding any additional savings from prescribing or referrals. More recently, the justifiable safety concerns around a return to parkrun were addressed through research carried out by Leeds Beckett University, which simulated a model of 10,000 parkrun events and found the R value per run to be just 0.057. Across thousands of events in twenty two countries parkrunners will have to make up their own mind regarding the safety, or risk to themselves or their families and whilst the likes of New Zealand have been happily parkrunning for months, junior 2ks have only recently returned in England, with June 5th earmarked for the Saturday 5k version. As yet Northern Ireland does not have a date for restart.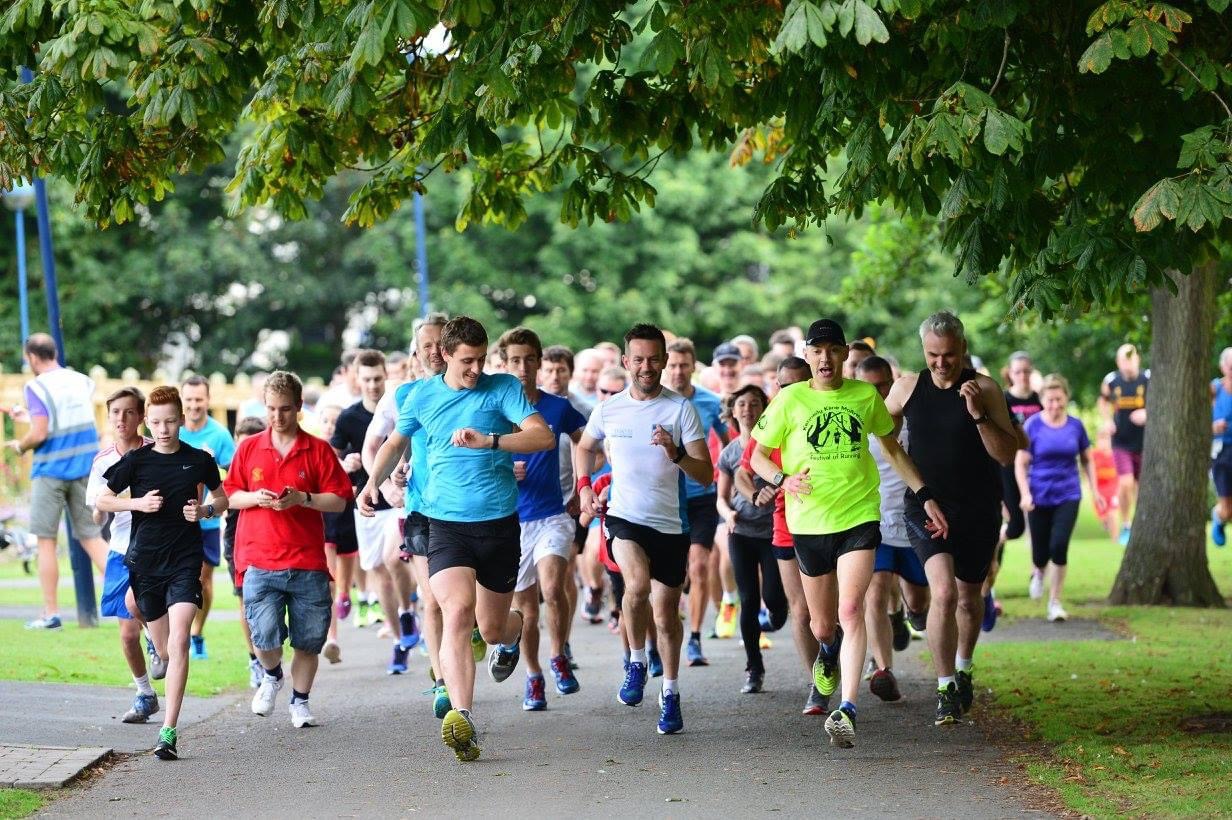 My next parkrun, whenever or wherever it may be, will nudge my running total on to exactly six years worth of Saturday morning 5K's, during which time I've finished first, last and almost everything in between, but the figure that stands out for me, above all others, is the PB set on January 1st 2020, and the memory of a perfect family day out, that is now tinged with sadness. I haven't worked out whether I'm content to leave that record alone, as a lasting memory of more carefree times, or whether I want to make it my goal to chase it down, as a two finger salute to Covid (I suspect it's the latter) but, just like the first night back at a sell out Kingspan Stadium or the Grand Opera House reverberating to the sound of a touring West End production, I'll maybe just appreciate it all that little bit more the next time around. As with all parkrunners, it'll be my own personal battle, but one that will always be secondary to the time spent with friends and family, celebrating a milestone together, marking a new arrival or remembering those no longer with us. As WB Yeats once said "Think where man's glory most begins and ends and say my glory was that I had such friends."