NI & Ulster Road Relay Championships
After a two year Covid enforced hiatus, the Victoria Park relays made a triumphant return at the weekend, with North Down representation across all races and a championship winning performance from the ladies.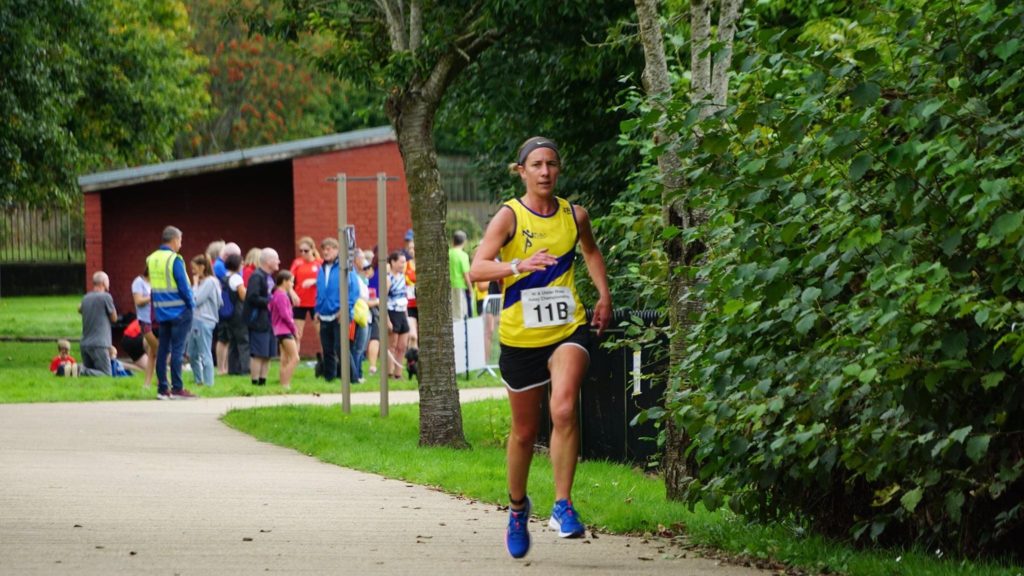 In pleasantly mild conditions, the usual rules applied – teams of four, two laps for each athlete, run like you stole something! First up to take on the 3380m of lung bursting speed, the masters ladies had five teams stacked full of flying machines, the 'A' squad of Fiona McQuillan (12:17), Lindsay Doulton (13:34) and Laura Neely (14:11) laying the foundations for Clair Quigley (12:54) to hold off the Lisburn AC challenge and claim a tremendous win in 52:55.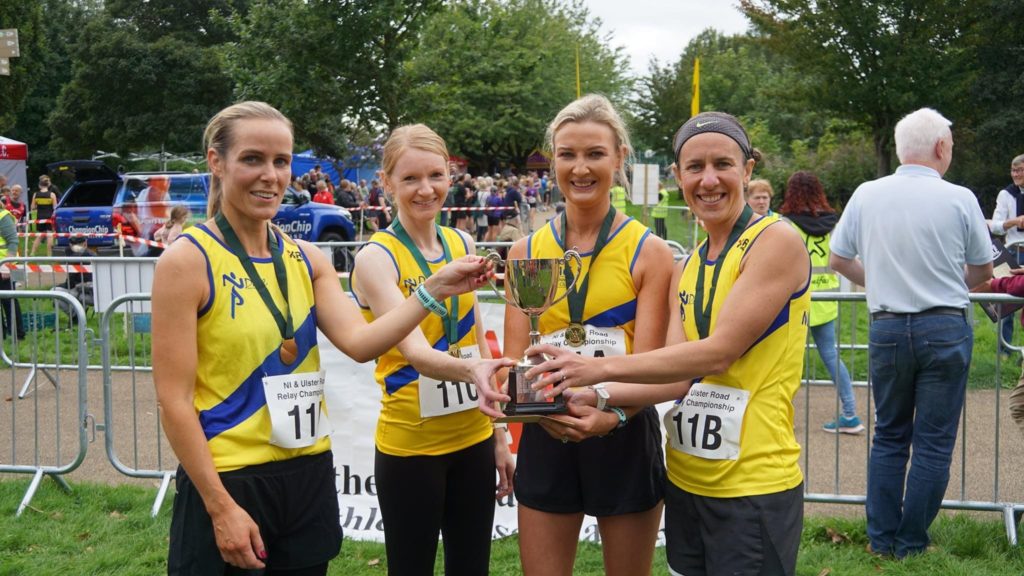 A rapid first leg from Zara Fulton (14:20) set the tone for her teammates June McMinn (15:11), Kate Ferguson (15:36) and Julie Wilson (15:05) to propel the 'B' squad to ninth overall, while the 'C' team also had a flying opener (from debutant Sandrine Montgomery – 14:42), backed up by Glynis Boyle (15:22), Sarah Benton (15:08) and a successful return to North Down colours for Nicole Gibson (15:50) a few years after she last lined out as a teenager!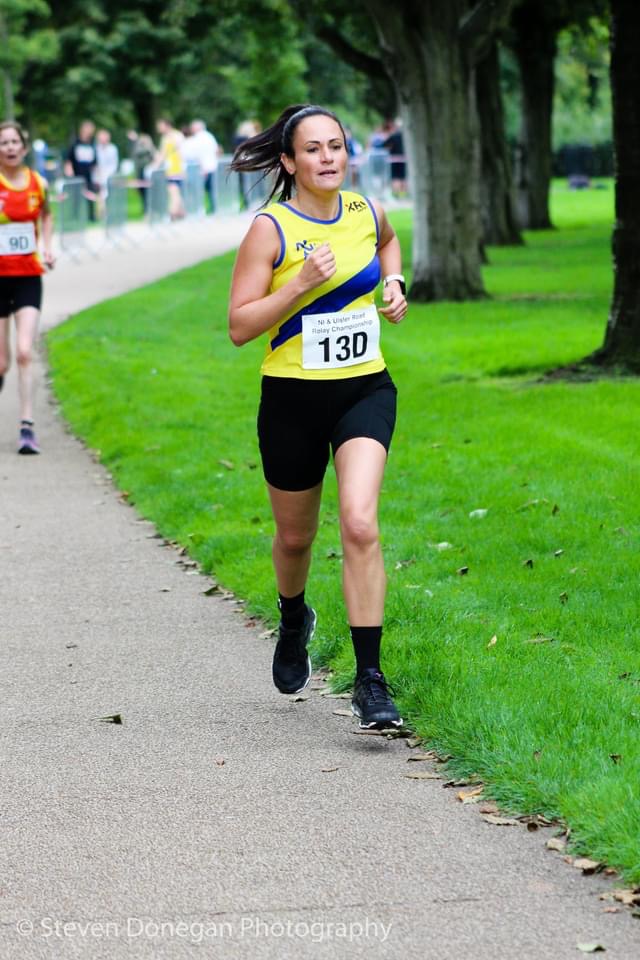 Lisa McMeechan (16:02), Wendy Murray (15:31), Emma Fox (16:50) and Caroline Steele (15:15) claimed 16th for their team, while Valerie Blayney (17:28), Hannah Dunne (16:48), Judith Gillespie (16:54) and Laura Kerloch (17:02) maintained a consistent effort to bring the curtain down on an excellent squad effort from the club.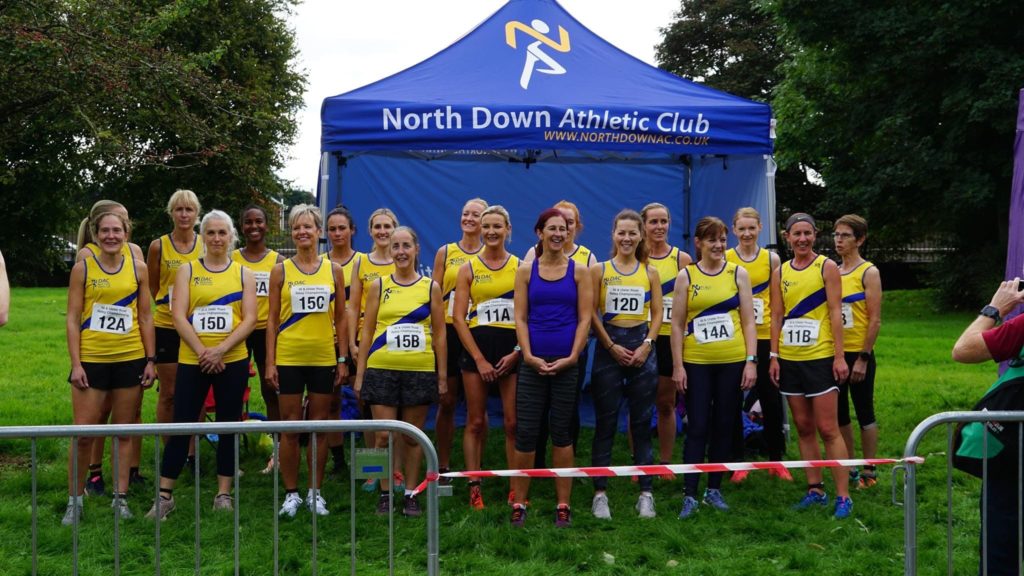 After a short break to enjoy her championship medal, Fiona McQuillan was back in action, this time anchoring the senior ladies team to an eighth place finish with a remarkably consistent effort of 12:33, backed up by excellent contributions from Mollie Rogers (13:26), Hollie Massey (13:46) and Maeve Williams (15:25).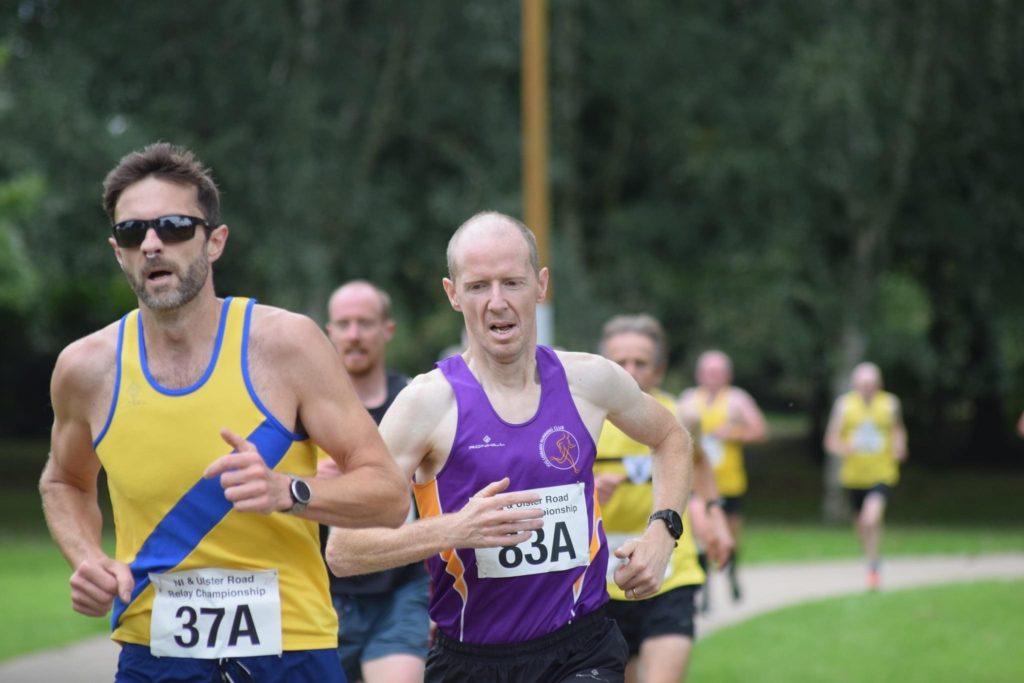 Nick Irvine (10:59) was fastest of the club's masters athletes, leading his team of David Massey (11.22), Steven Donegan (11:35) and Jack Russell (11:21) to ninth overall, while the 'B' squad placed 14th, with consistent efforts from Chris Downey (11:33), Aaron McCauley (11:54), Andy Lowry (11:55) and Alasdair Mair (11:49).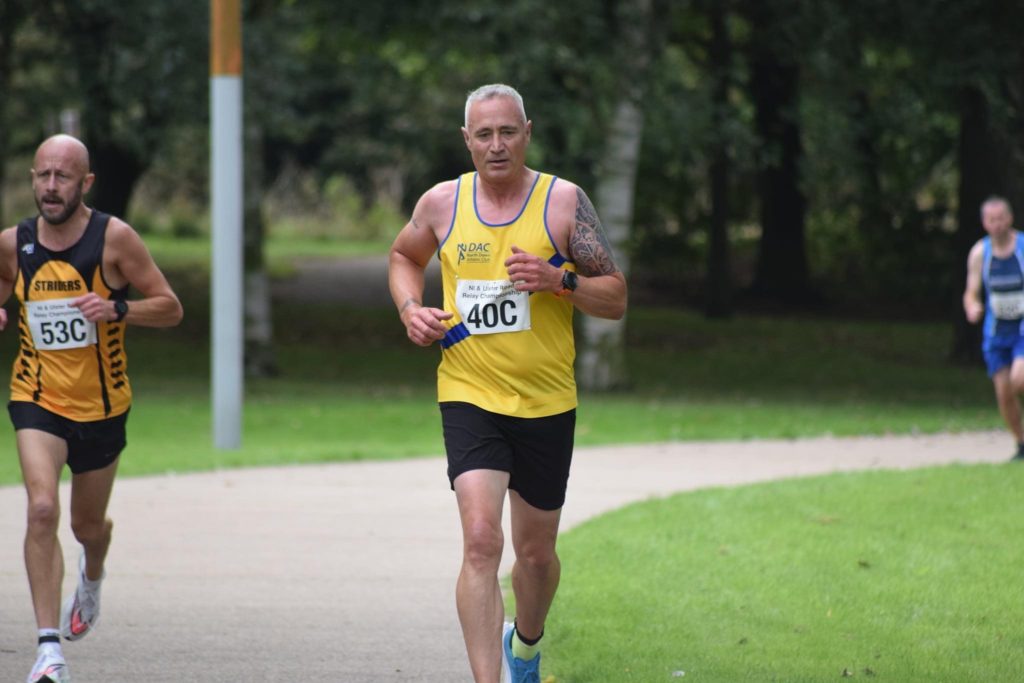 Les Boyd (12:03) put the pedal to the metal for his team, Alan Massey (12:40), Eamonn O'Reilly (12:47) and Colin Walker (11:52) carrying the momentum to claim 20th, while Tom Agnew (12:46) got his quartet off to a flyer and was backed up by some fine running from Alastair Hamilton (13:38), Matt Ormesher (14:00) and Keith Gilmore (13:36).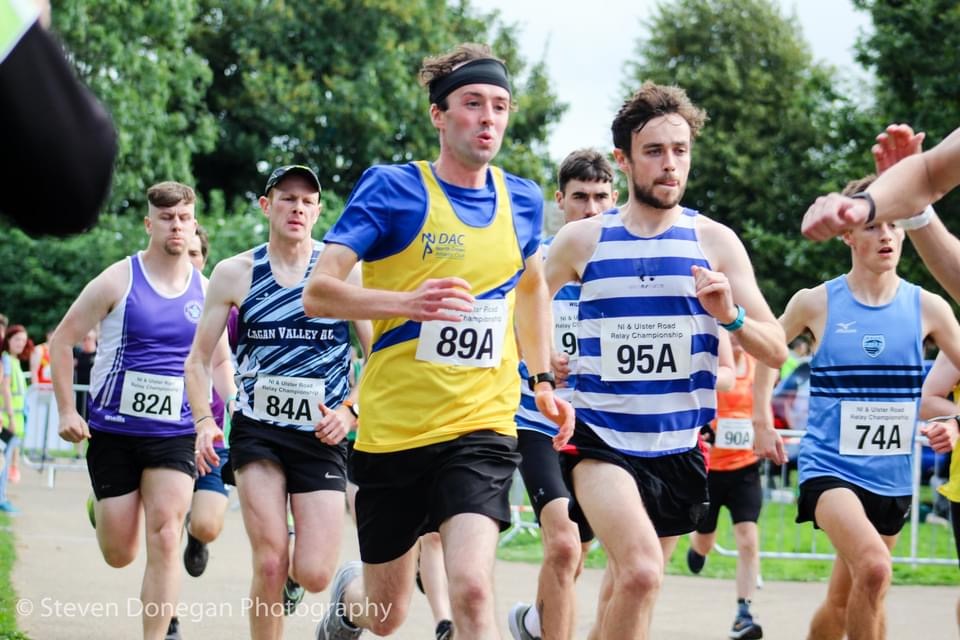 The senior men's competition afforded the opportunity for several North Down athletes to make their first appearance in the yellow and blue vest, Daniel Scollan (11:00), Jason McMinn (11:37), Andrew Nicholson (11.36) and Kevin Harkin (12:38) combining effectively to claim 20th amongst a high calibre field.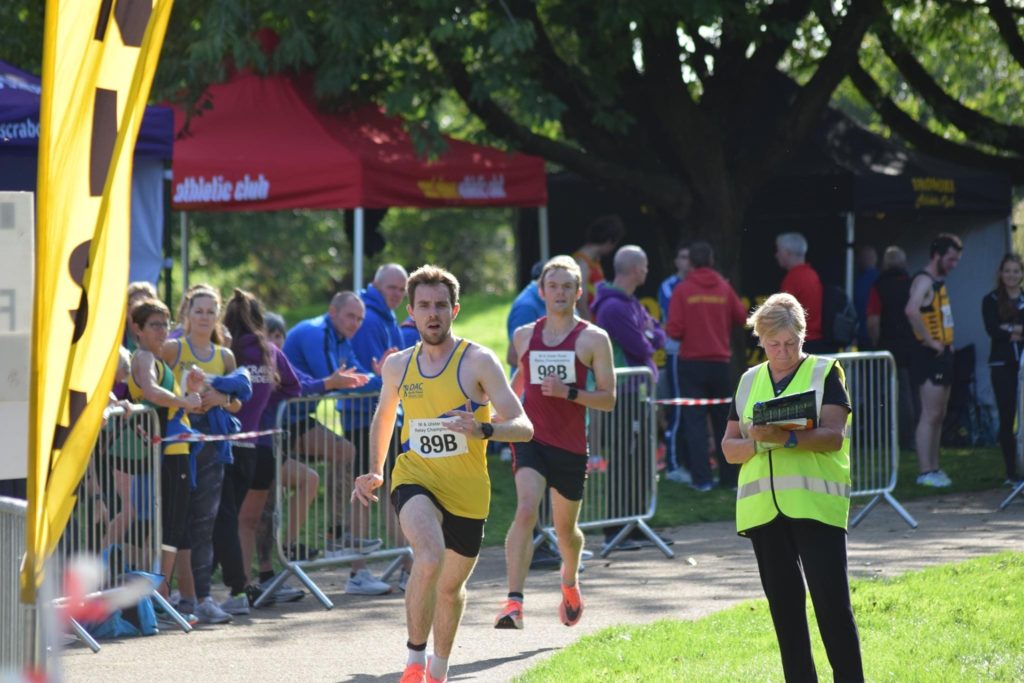 However, a fantastic day of racing was brought to a close with an excellent showing from the senior 'A' squad, the McMeechan brothers Craig (9:51) and Jamie (10:28) finding terrific support from Sean McLaughlin (10:29) and Matty McParland (10:48) to place a highly creditable seventh, amongst the best of local flyers.
Thanks go to Victoria and Connswater AC for the smooth running of an enjoyable day of racing.
TJ McElmeel Cross Country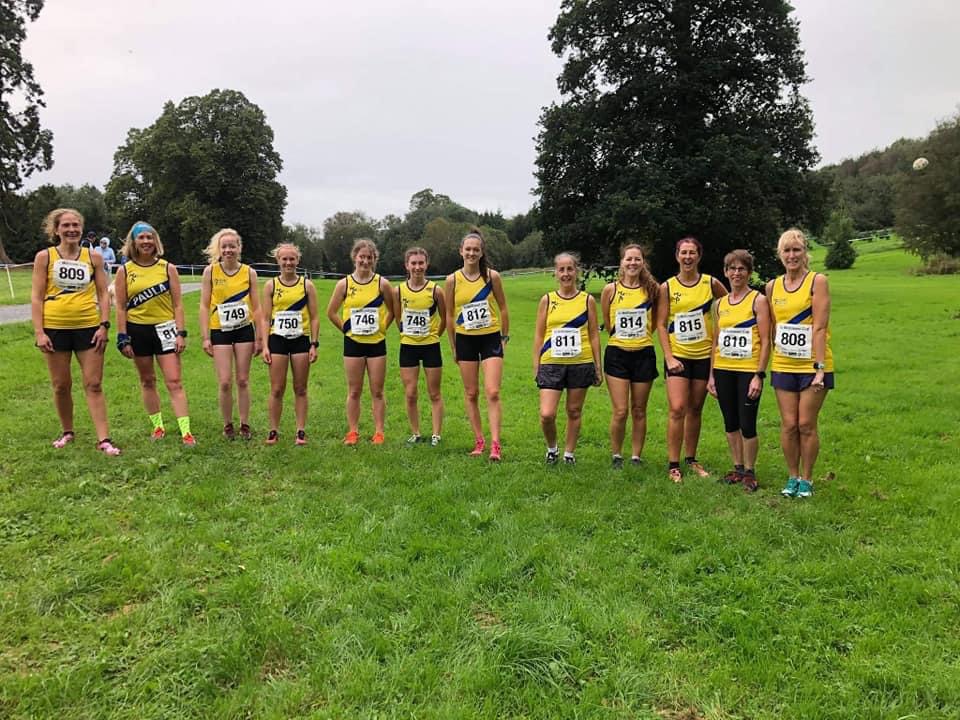 The 2021/22 cross country season kicked off in Armagh on Sunday amidst impossibly mild conditions, which turned a bit more traditional as the day wore on.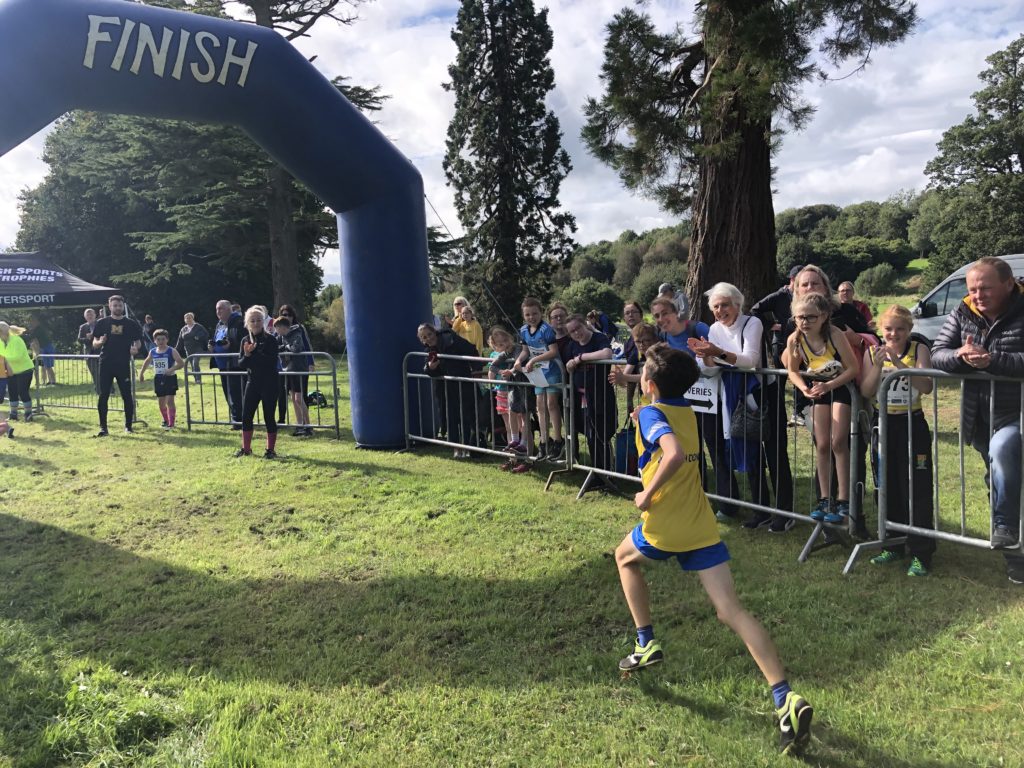 In the opening underage races, a firm track and pleasant sunshine combined to make a perfect introduction to cross country racing for little Reuben Dunne, while the first silverware of the day was secured in the U11 boys, Carter Rolston claiming a medal for fourth place, in a race which also featured Isaac Hall (11th).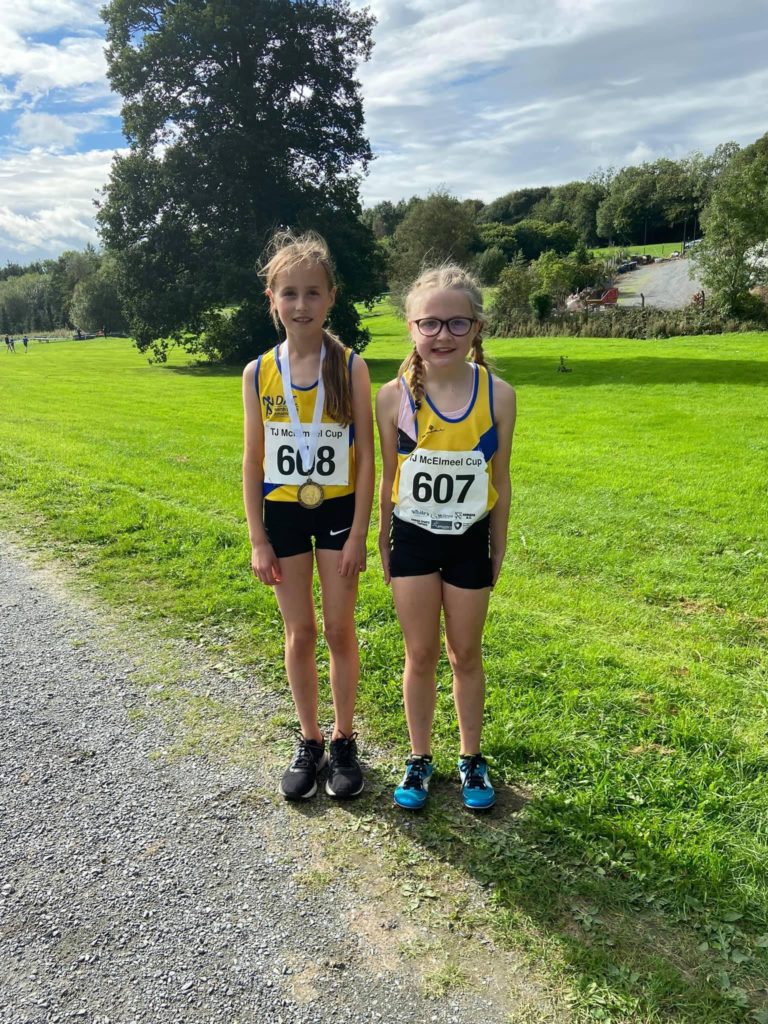 There was another medal in the U11 girls, Coco Smith finishing fifth, with Lara Cheatley (11th), while Ethan Constable's seventh place finish was best of the U13 boys, Bailey Duncan (14th), Fergus Bevan (15th), Alex Downey (16th) and James Blease (21st) completing a fine team effort.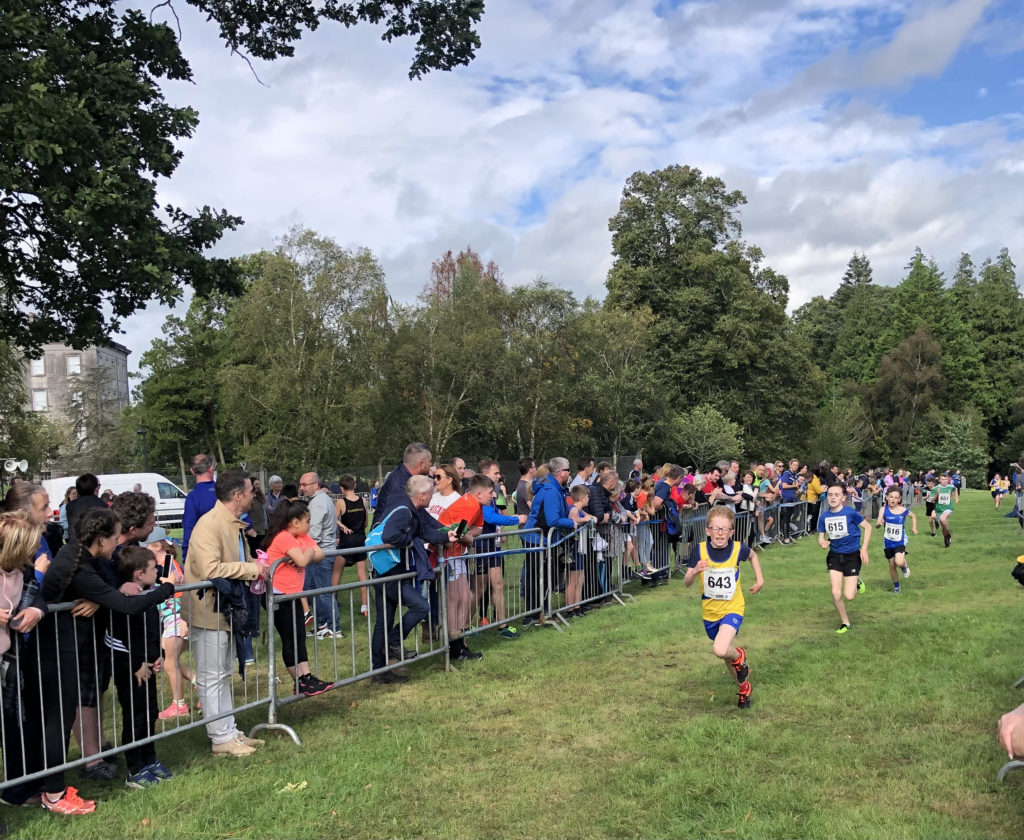 Erin Playfair placed fifth in the U13 girls race, Oliver Playfair (11th) and Isaac Dunne (15th) competed well amongst the U15 boys and Lauren Cheatley was eighth in the U15 girls, a race which also featured Holly Blease (11th).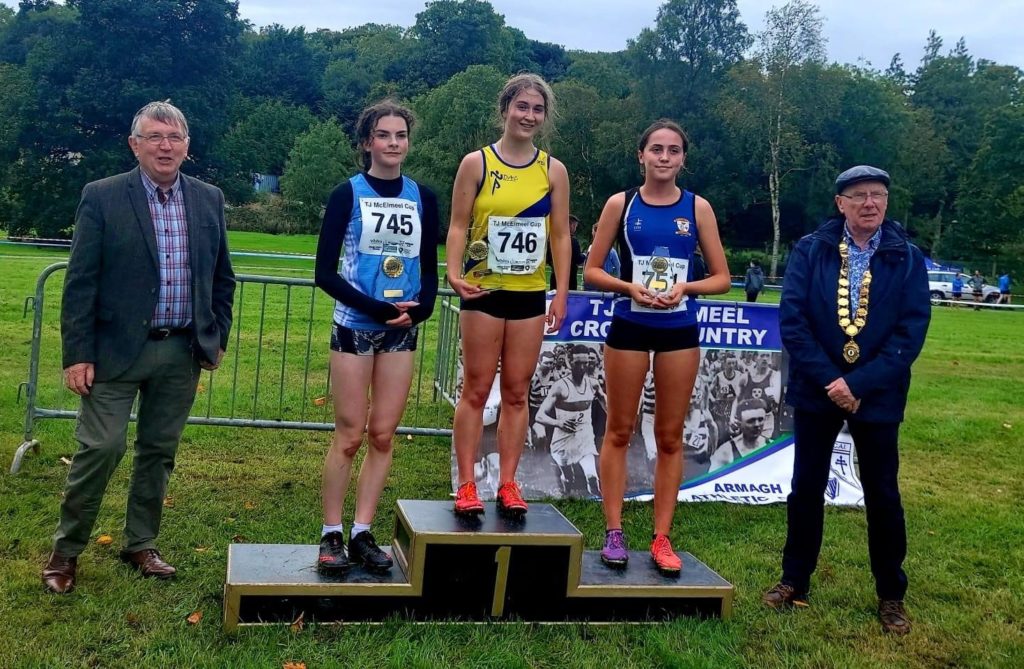 Lucy Cheatley claimed a fantastic win in the U17 girls, a race which also featured a strong team performance from Mac Eager, Hollie Massey and Molly Rogers, while Ben Acheson put in a tremendous shift to finish third of the U17 boys.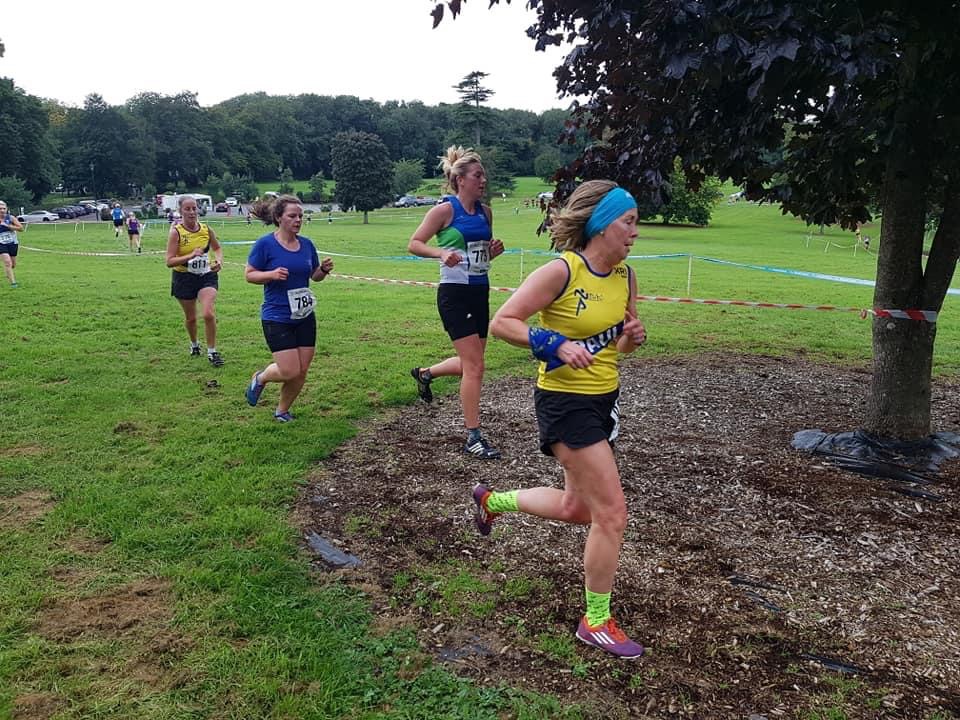 On a busy weekend of running, with the club competing on two fronts, credit must go to the captains, Steven Donegan and Claire Scott, who managed their resources to ensure a full turnout at both the relays and cross country, Scott leading from the front in the ladies race, and being ably supported by several ladies who 'doubled up' having also raced on the previous day. Tara McDonough was first club member across the line (10th overall) in the woman's 6k race, followed by Zara Fulton (18th), Captain Scott (26th), Julie Wilson (28th) and age category winner June McMinn(31st). Glynis Boyle (31st) and Hannah Dunne (46th) both turned out in club colours the second time over the weekend (as did Julie Wilson), while Paula Simpson loves a bit of cross country and opened her account for the season with a 48th place finish.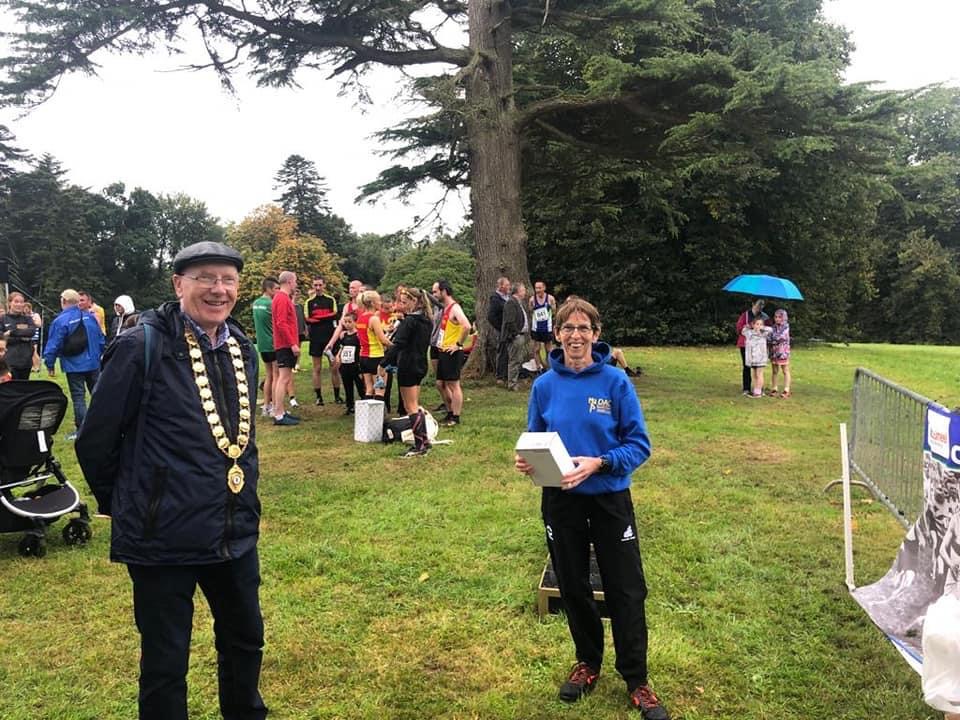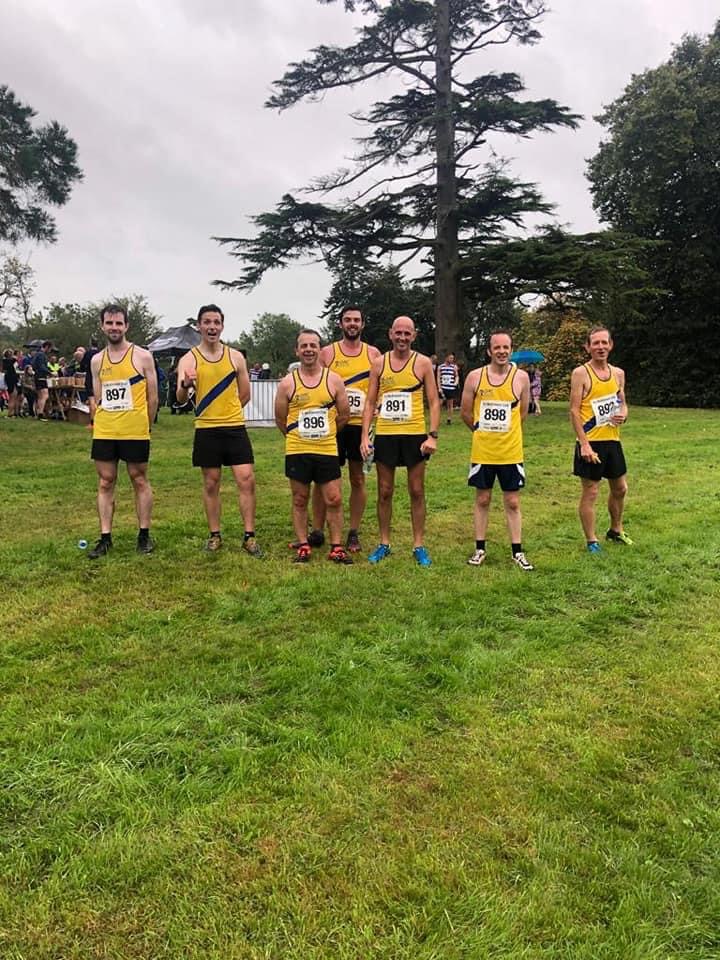 Final preparations for next weekend's Belfast marathon prevented Captain Donegan from taking part, but the skipper ensured that the club hit full quota with eight starters, for a less than gentle 9k introduction to the season. Dennis Scott (13th) and Francis Marsh (15th) both claimed age category wins, Mark Weir (35th) rekindled his love affair with cross country running, while Jason McMinn (36th) and David Massey (41st) showed no ill effects from relay racing 24 hours earlier. Philip Mulligan (60th), Paul Lynas (68th) and Peter McQuillan (71st) ensured maximum team participation points, with the club placing fourth overall in the opening event, expertly presided over by the hosts Armagh AC. Next up, it's the Bobby Rea XC on October 24th.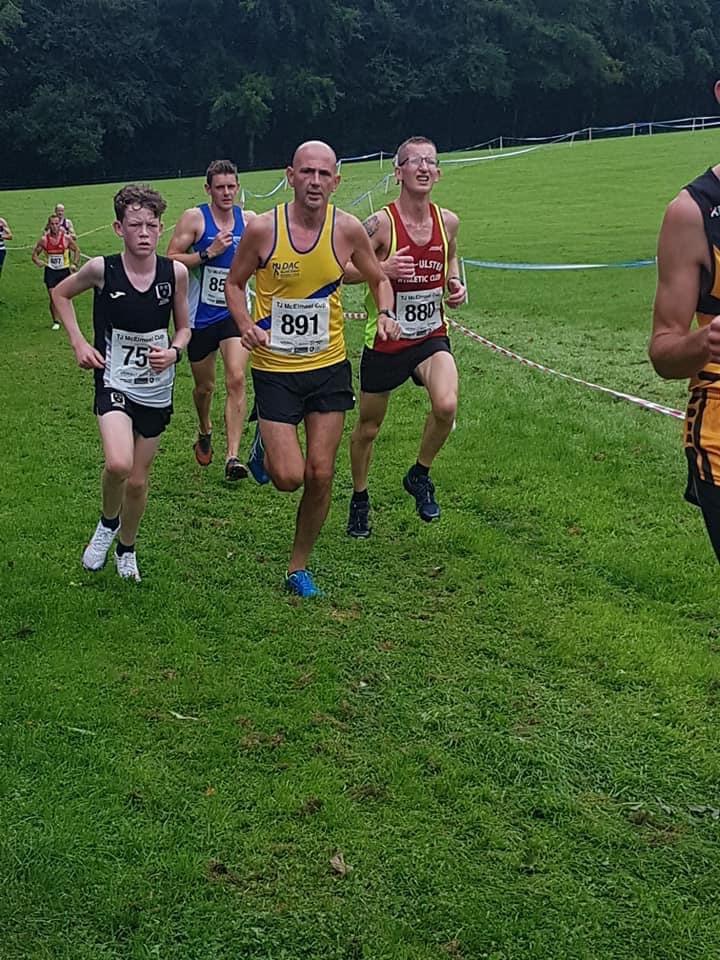 In other running…..
Dougie Gordon completed marathon number 47 in Monaghan (his second on successive weekends) and will make it three in a row this Sunday when he lines out in Belfast. Despite 1600 feet of elevation the marathon man was comfortably under the four hour mark, with a finish of 3:47:43 for fifth overall.
On Saturday afternoon, Jill Connolly made a return visit to Florida Manor for another six hour endurance race, completing 11 laps in the allotted time to finish eighth overall with a distance total of 45.1km.