Awards Recognition for North Down Coaches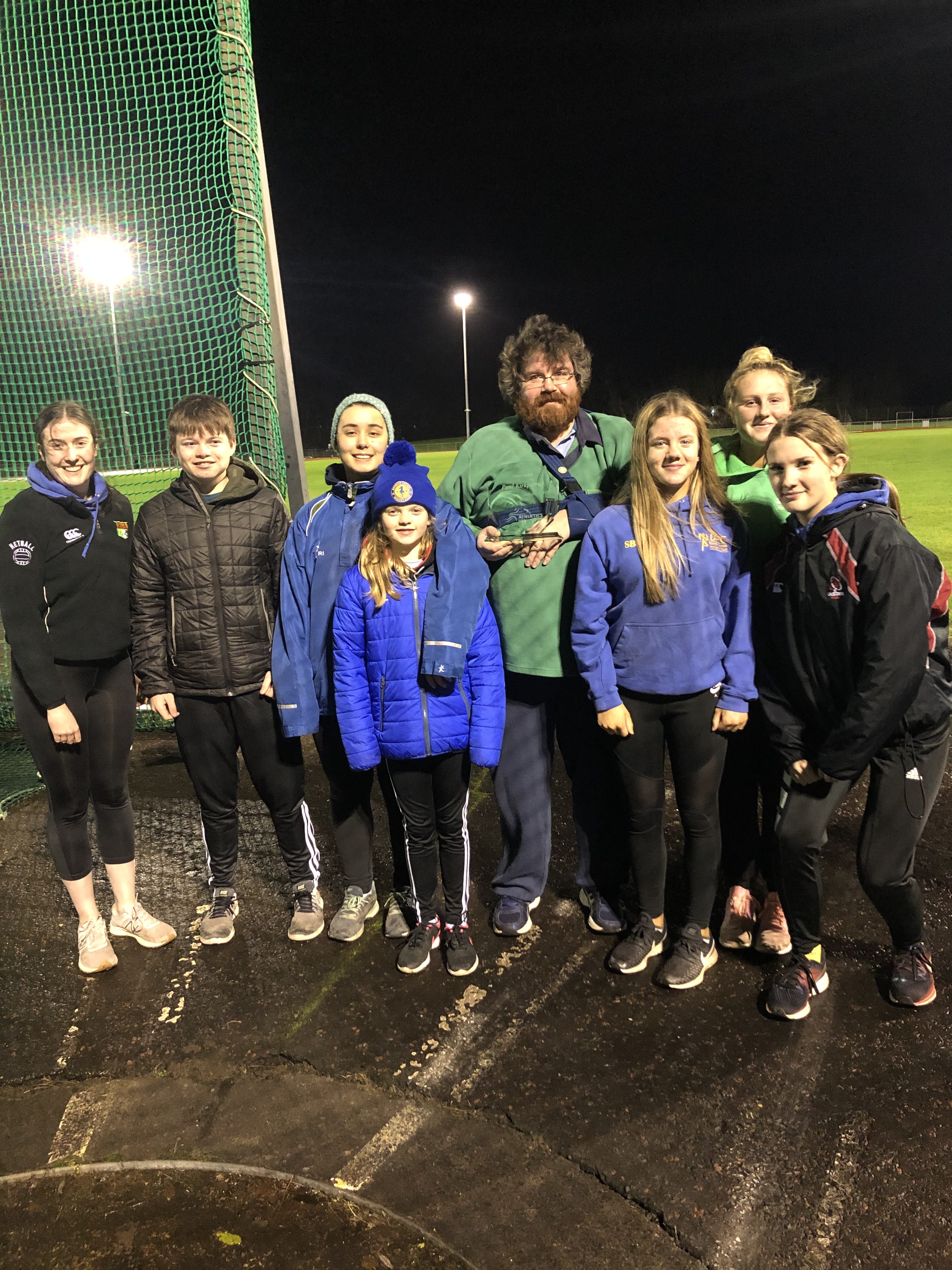 Paul Kirkpatrick with some of his athletes
There can be no greater honour for a coach than to be nominated for an award by the athletes they train, and the parents of those athletes who appreciate the commitment, but for North Down coaches Paul Kirkpatrick and Roger Sexton the icing on the cake was to actually take home the silverware (or glassware to be completely accurate) at a recent Athletics NI awards event.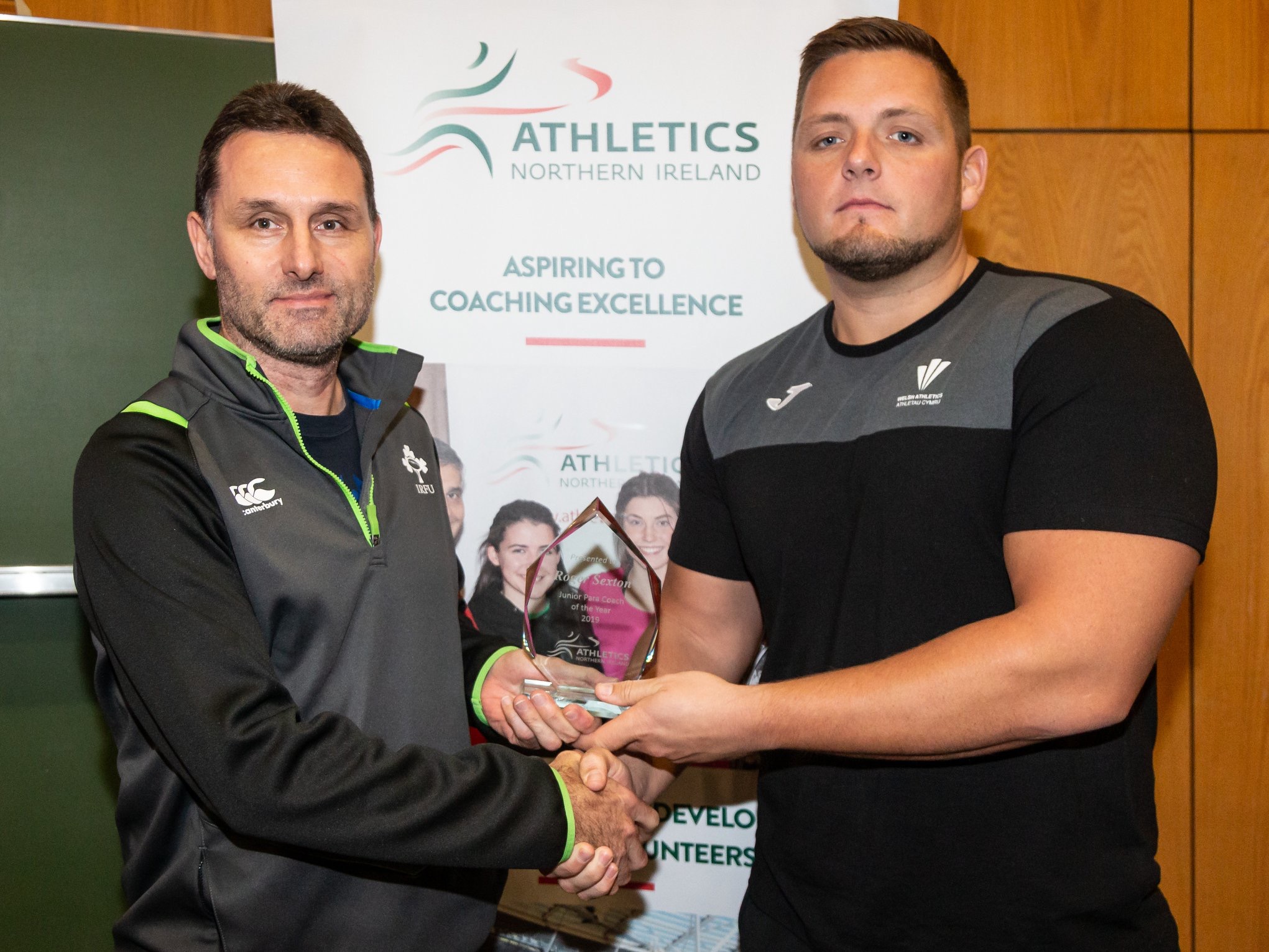 Roger Sexton receiving his award
Paul has been coaching for 17 years, and in this time has had 3 athletes represent Ireland throwing the discus, and many other athletes ranked in the UK top 5 for U20, U17 and U15 for shot, discus and hammer. Paul has also been a squad coach for Athletics Ireland and an event coach for Athletics NI, his efforts were recognised when he was announced as the winner of the ANI Development Coach of the Year. Roger is well known for the expertise he provided for his son, Aaron, enabling him to claim a multitude of sprint titles at provincial, national and international level, but on this occasion was recognised as Junior Para Coach 2019, for the equally excellent job he has done with Eve Walsh-Dann, the T38 sprinter and 2017 world champion over 100m and 200m.
Club Chair, Tony Wall, said "I am delighted to see Paul and Roger awarded these honours. It is a fitting reward for all the years of hard work they have put into the sport of athletics and their dedication to their athletes. Despite having suffered a painful injury a few weeks ago, which led to him temporarily losing the use of one arm, Paul has continued to coach during this period. This once again demonstrates his commitment to his athletes."
On the subject of awards, the folks at 'Spirit of Running' recently released their nominations in a number of categories, for an awards night to take place early in the new year, celebrating the best of the local running scene, with North Down being honoured to be represented across a variety of categories. Having recently been confirmed as the NI Athletics Championship event for 2020, the Bangor 10k is up for best NI event over that distance, whilst the Crawfordsburn Trail Race is nominated amongst the top 5k's. The strength of ladies running at the club was acknowledged by not one, but two nominations in the 'Female Runner of the Year', Fiona McQuillan receiving recognition for her outstanding club marathon record set in Dublin, while Jessica Craig is recognised for continuing to push the boundaries of an already impressive running CV. Full details, and voting options, can be found at spiritofrunningni.com or on Facebook.
NW Cross Country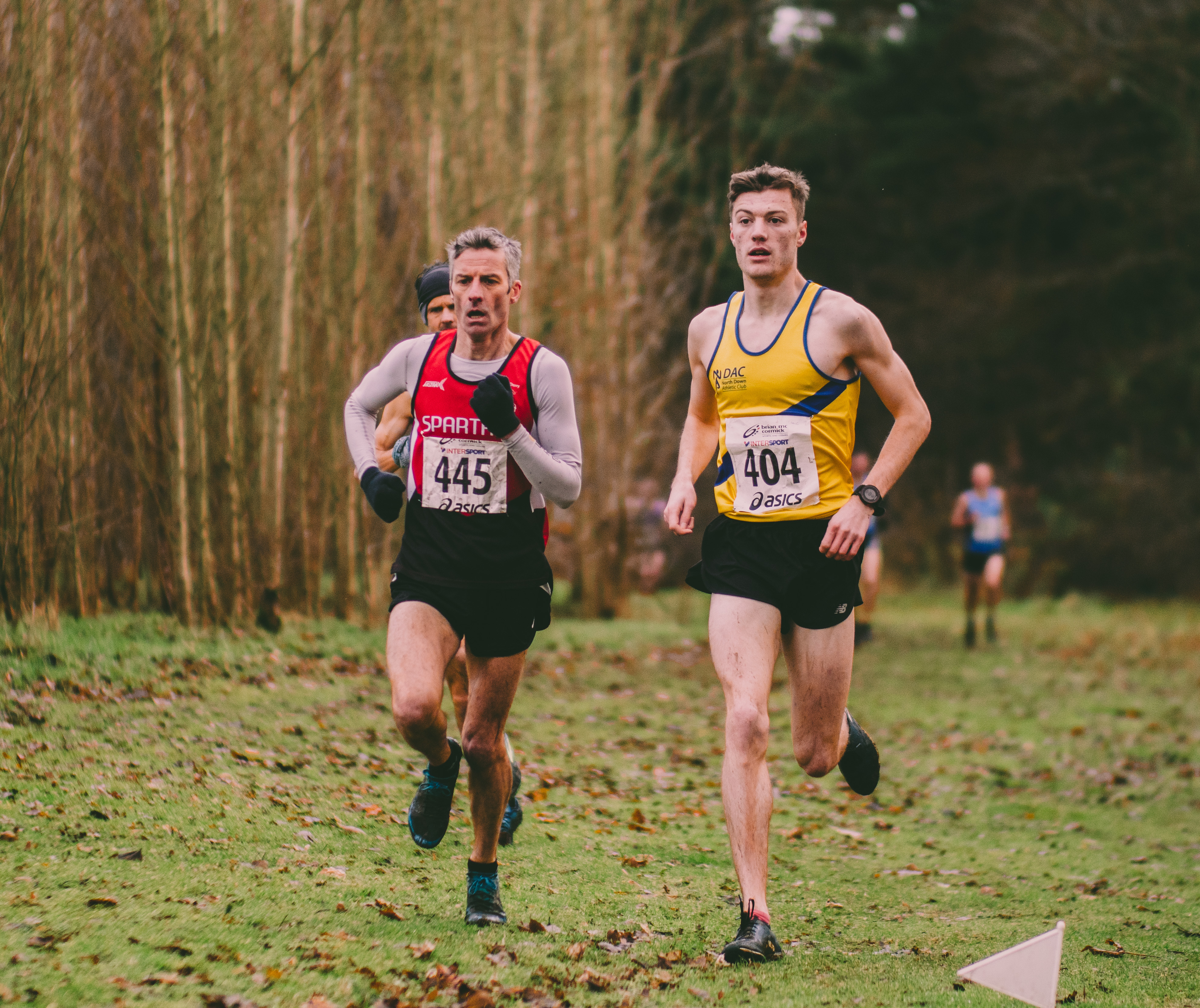 The latest round of the NI Cross Country League visited the Maiden City on Saturday, with prizes and points aplenty on a successful day out for North Down AC. Efficiently hosted, as ever, by the City of Derry Spartans, men and women lined up together for one senior race, an occurrence which may become the norm should the good people from runequal.org achieve their goal of cross country equality. With three laps of approximately 2k around the reasonably flat and fast Gransha course and the worst of the weather yet to arrive, there were many fine performances on the day, not least from Craig McMeechan, who contested third with a couple of the local favourites, before breaking clear on the last lap and was closing on Mark McKinstry, with the line coming just too early to allow a potentially notable scalp.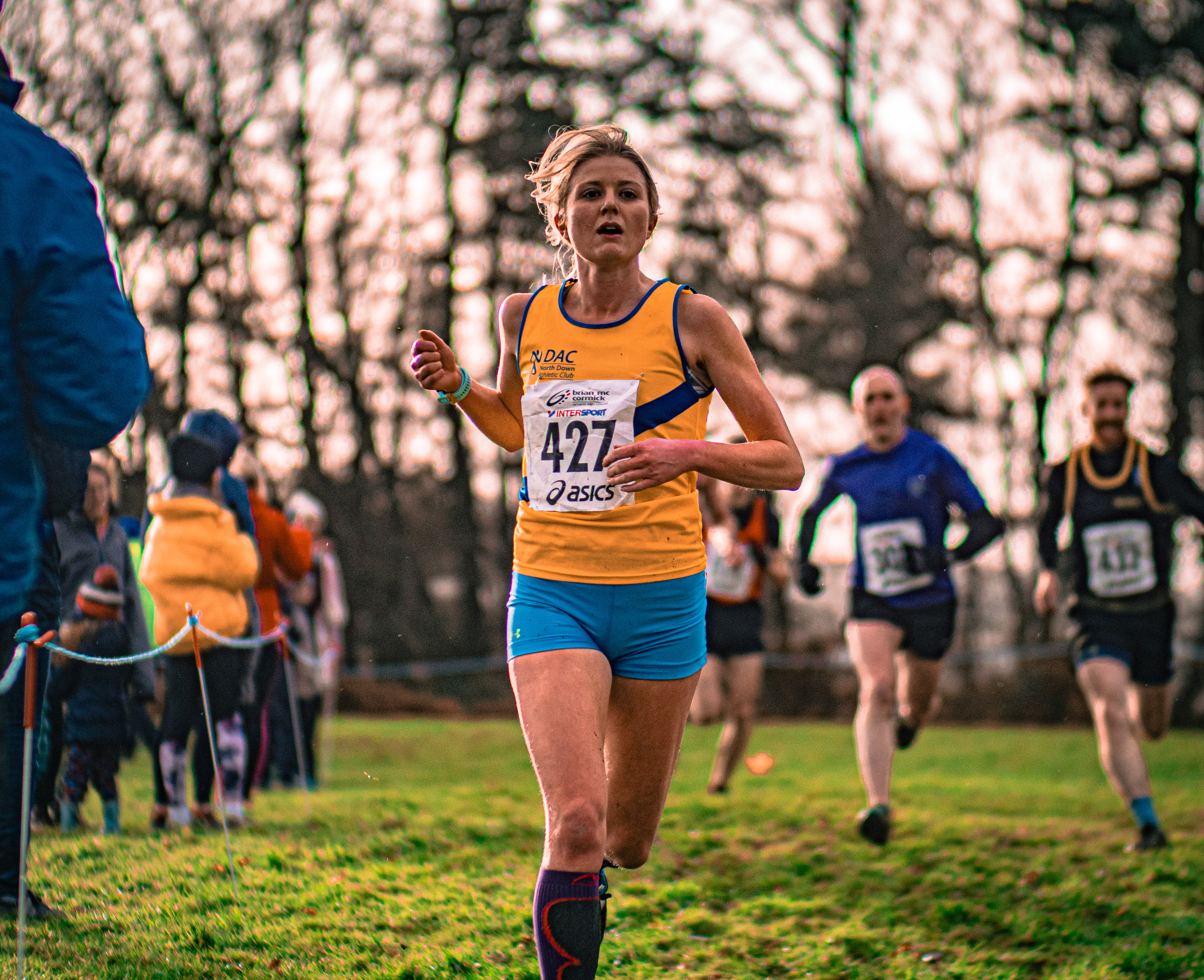 Jamie McMeechan was again in fine form and claimed 16th position, while Rachel Gibson was 24th overall and took the ladies win, adding yet another title to a hugely successful year. Jamie Budde continued his return from injury by grafting his way to 30th, while Mark Weir was 36th, Katie Moore claimed the runners up spot in the ladies race (and 37th) with Chris Downey 38th and David Massey 45th.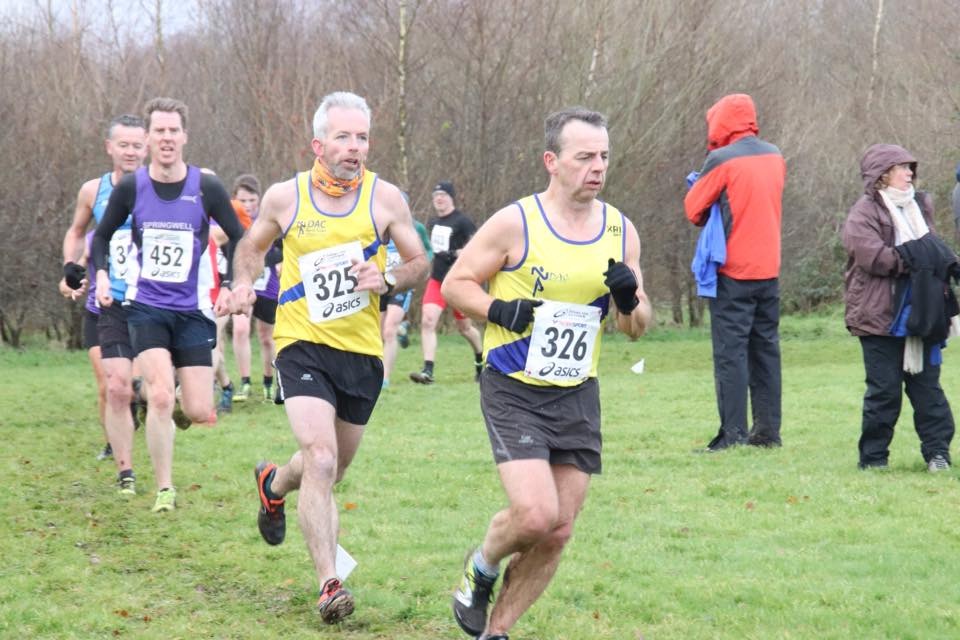 Colin Walker (61st) continues to impress, while Kevin Mulligan (71st) took the all important bragging rights in the battle with his brother, Philip (80th), with Alan Massey not too far behind in 94th. Valerie McDonough finished just ahead of Claire Scott, with both contributing towards team points and ensuring that the ladies matched the men in recording third overall, while Lindsay Doulton edged in front of Helen Byers, on a day when both club captains can take credit for ensuring maximum turnout from their teams at a busy time of the year.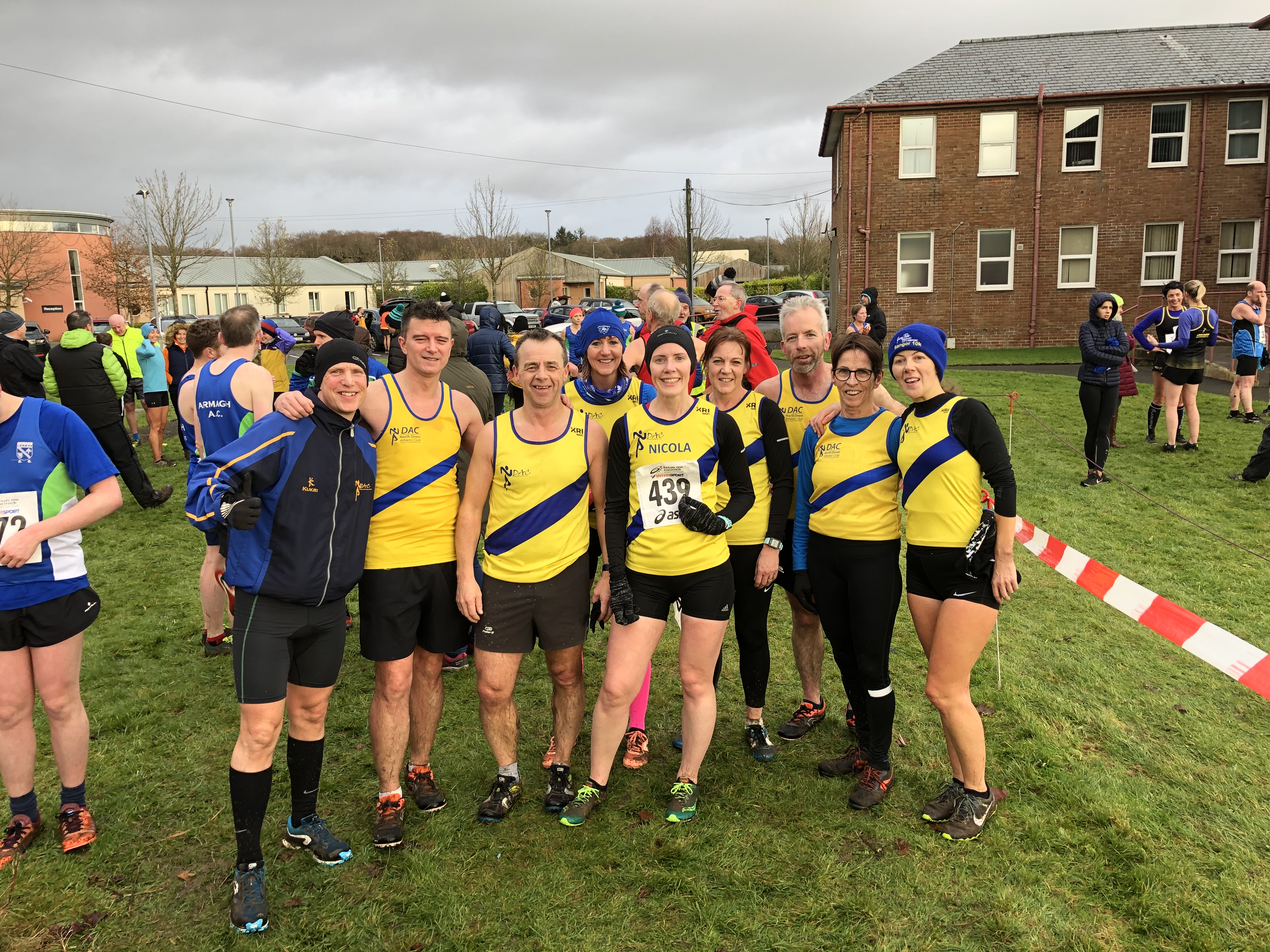 John McGarvey made a successful return to the cross country scene after injury, while Julie Wilson led home a tightly packed group of ladies that included Jane Stevenson, Lisa McMeechan, June McMinn, Nicola Downey and Hannah Dunne, but special mention must go to Samantha Caldwell, who tackled her first ever cross country, encouraged by her teammates, motivated to run on home turf and displaying no little grit and determination.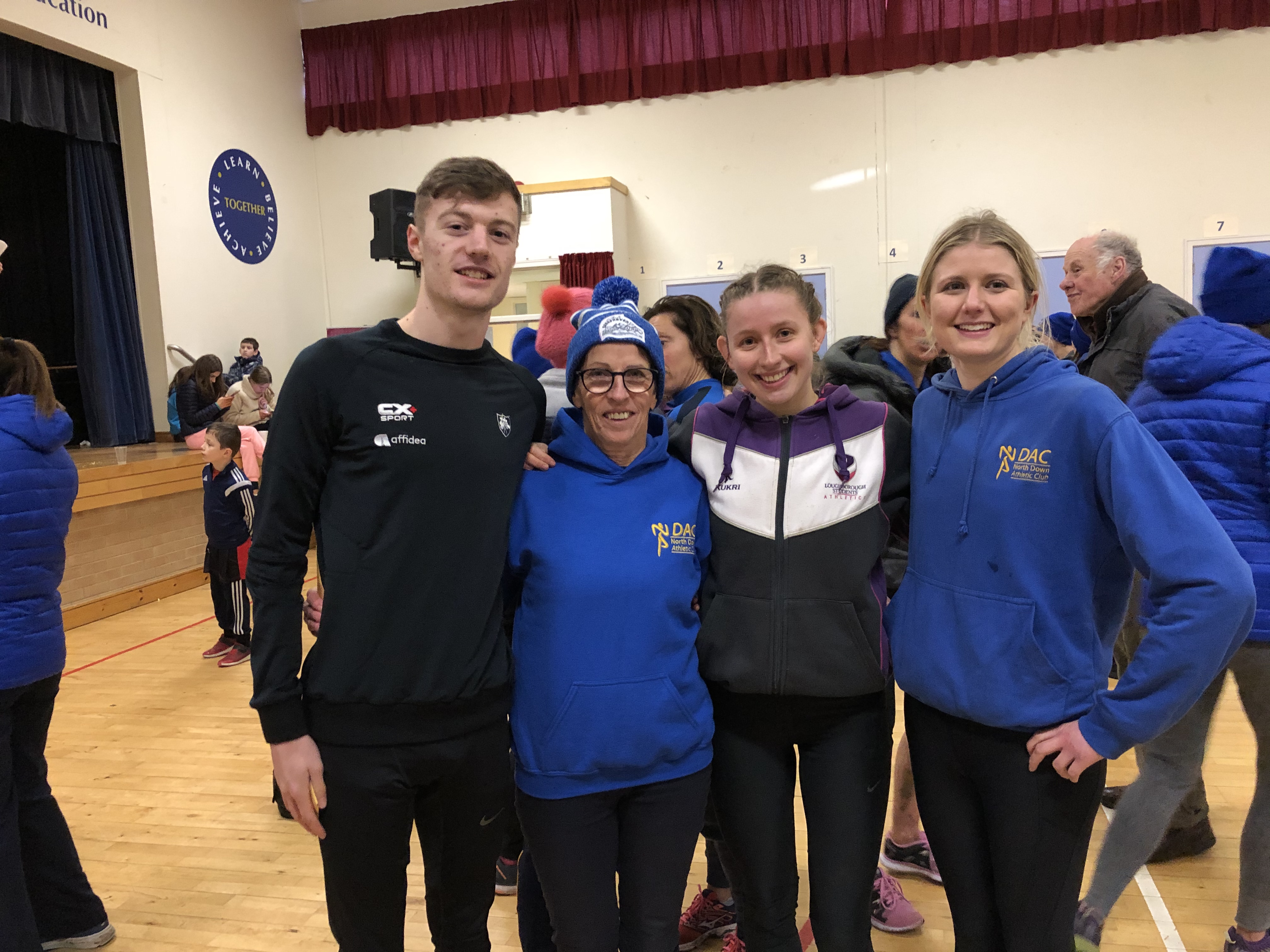 North Down prize winners
National Novice and Juvenile Uneven Age Groups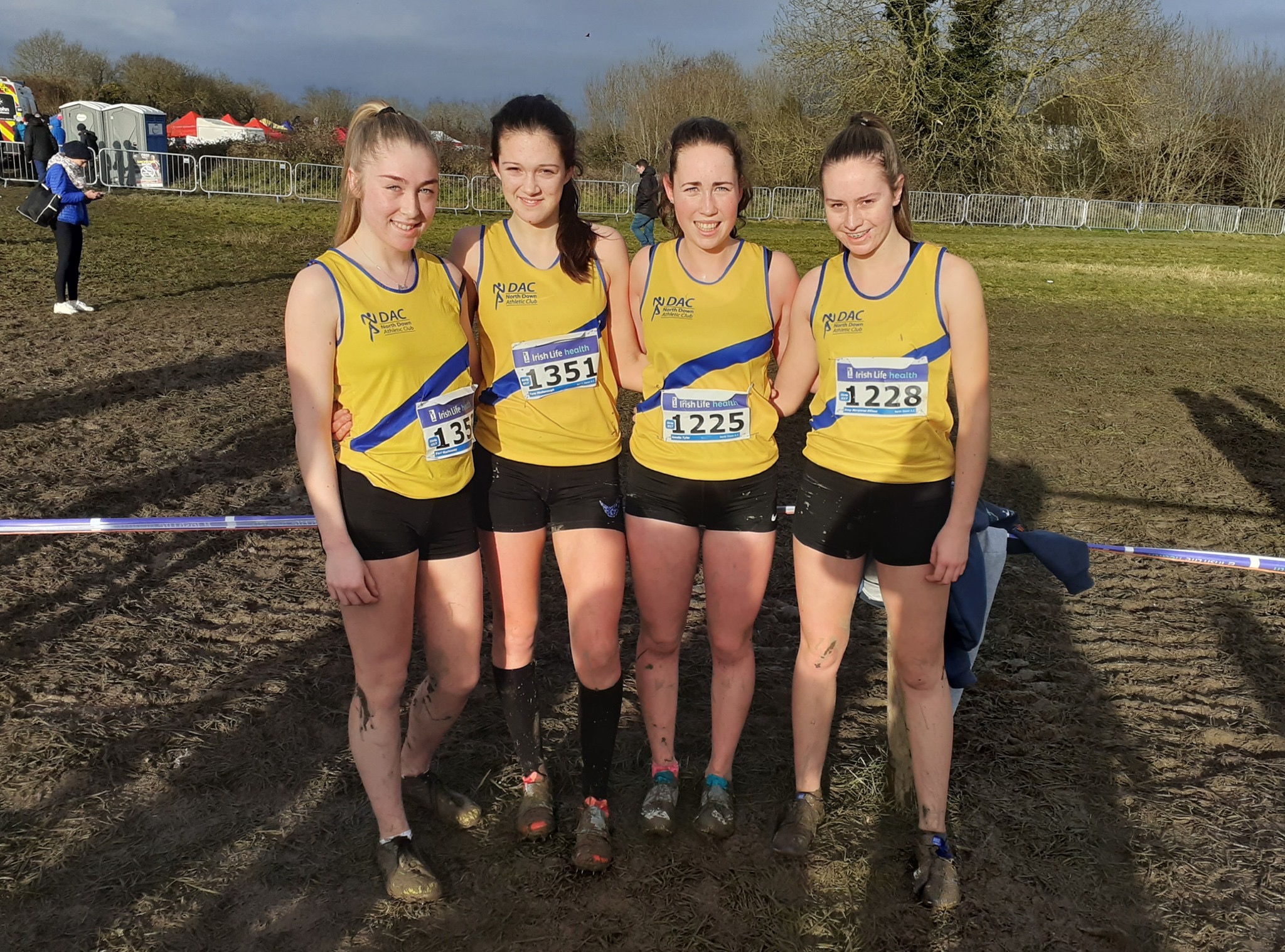 U17 Team
Pleasant overhead conditions, combined with testing ones underfoot to offer a fair challenge for hundreds of young athletes who travelled to Dunboyne, County Meath on Sunday for a visit to the appropriately named Cow Park. In the absence of any senior representation, it was left to the junior end of the North Down AC to fly the flag for club, county and province, with many fine performances and great results amongst the best of national talent.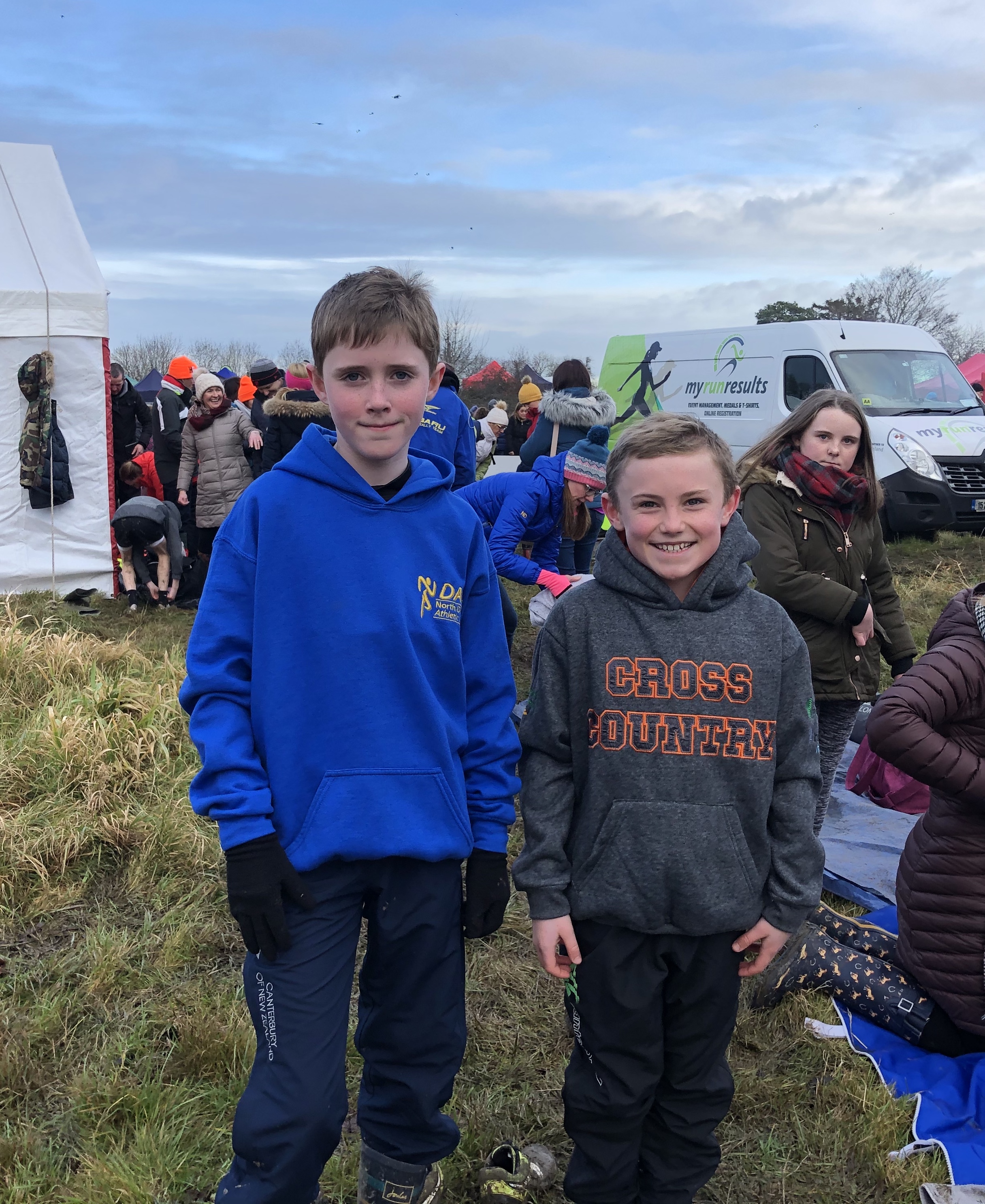 Running for Ulster, Erin Playfair got proceedings underway with 50th in the U11 girls, Alex Downey placing 39th (and contributing towards a province team bronze) in the corresponding boys event, with Bailey Duncan claiming a more than respectable 111th on his first run at this level. Rebekah Laffin, Lauren Cheatley and Ella Riddell all performed well in the U13 girls race, while Sam Doyle and Isaac Dunne were well up the field in the U13 boys, whilst the performance of the day came in the U15 boys with Jamie Gaw placing 19th and contributing to a provincial team bronze.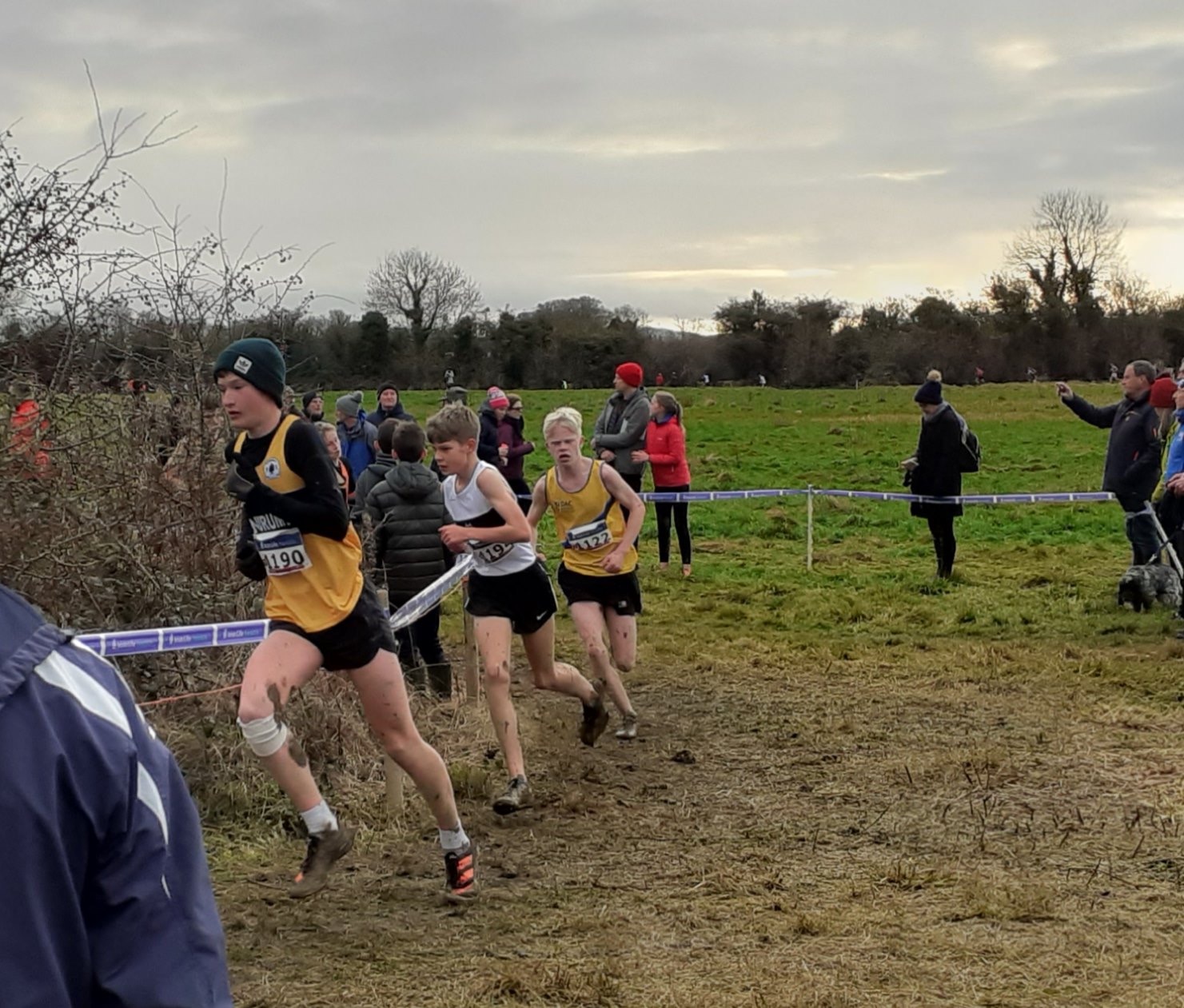 Lucy Cheatley was a commendable 96th in the U15 girls, whilst the speedy quartet of Tara McDonough (28th), Amelia Tyler (34th), Tori Galloway (53rd) and Amy Ellison (82nd) secured an impressive 5th club team in the U17 girls.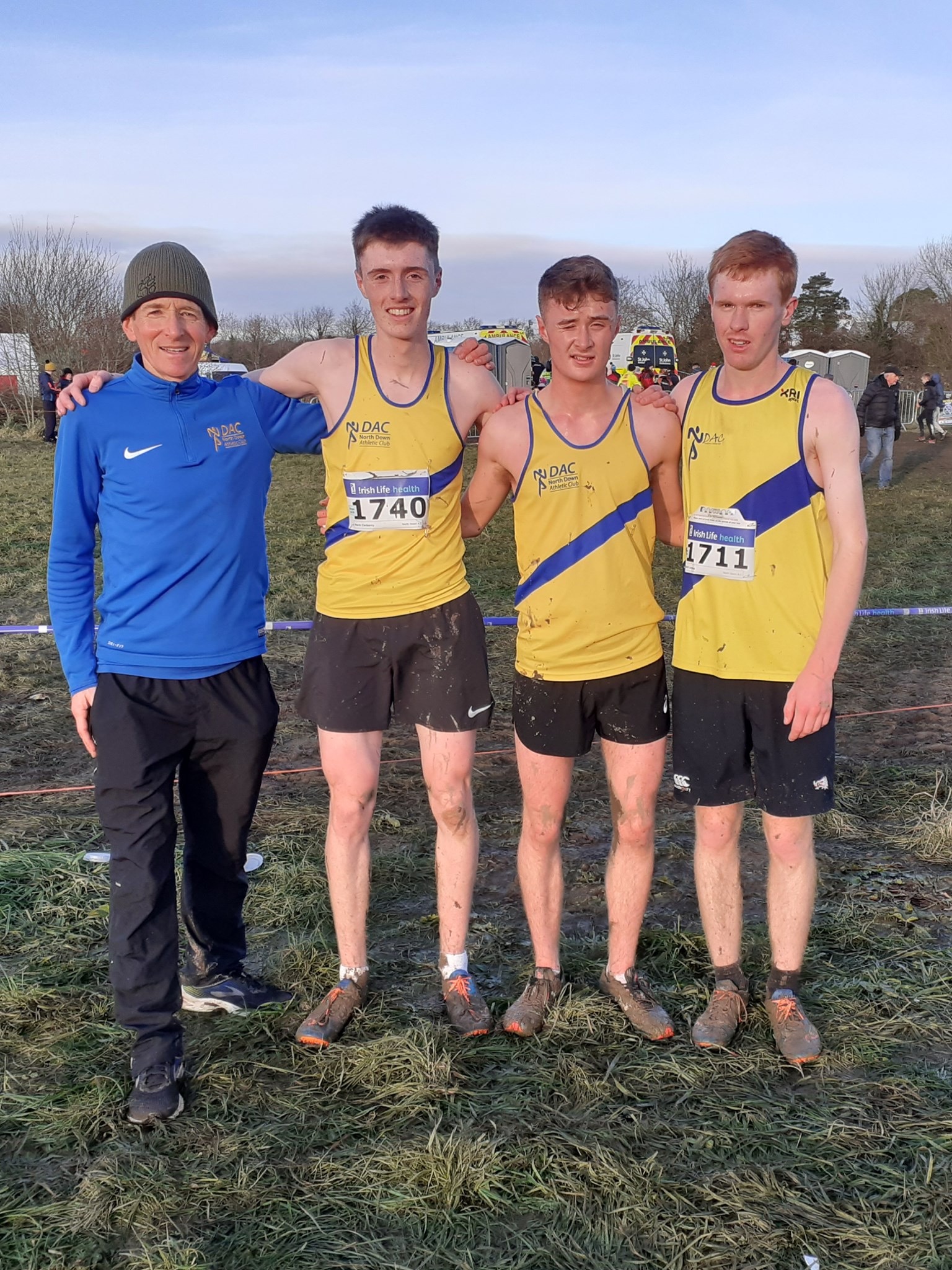 U19 Team, with coach
The U19 boys were one short of a full squad, but boasted impressive individual performances from Jack Logan (32nd), Thomas Patterson (38th) and Mark Carberry (39th), whilst the U19 girls placed a more than respectable 7th club team with Caitlin Turner (36th), Rachel Gillespie (43rd) and Alisha Turner (45th) all showing up well.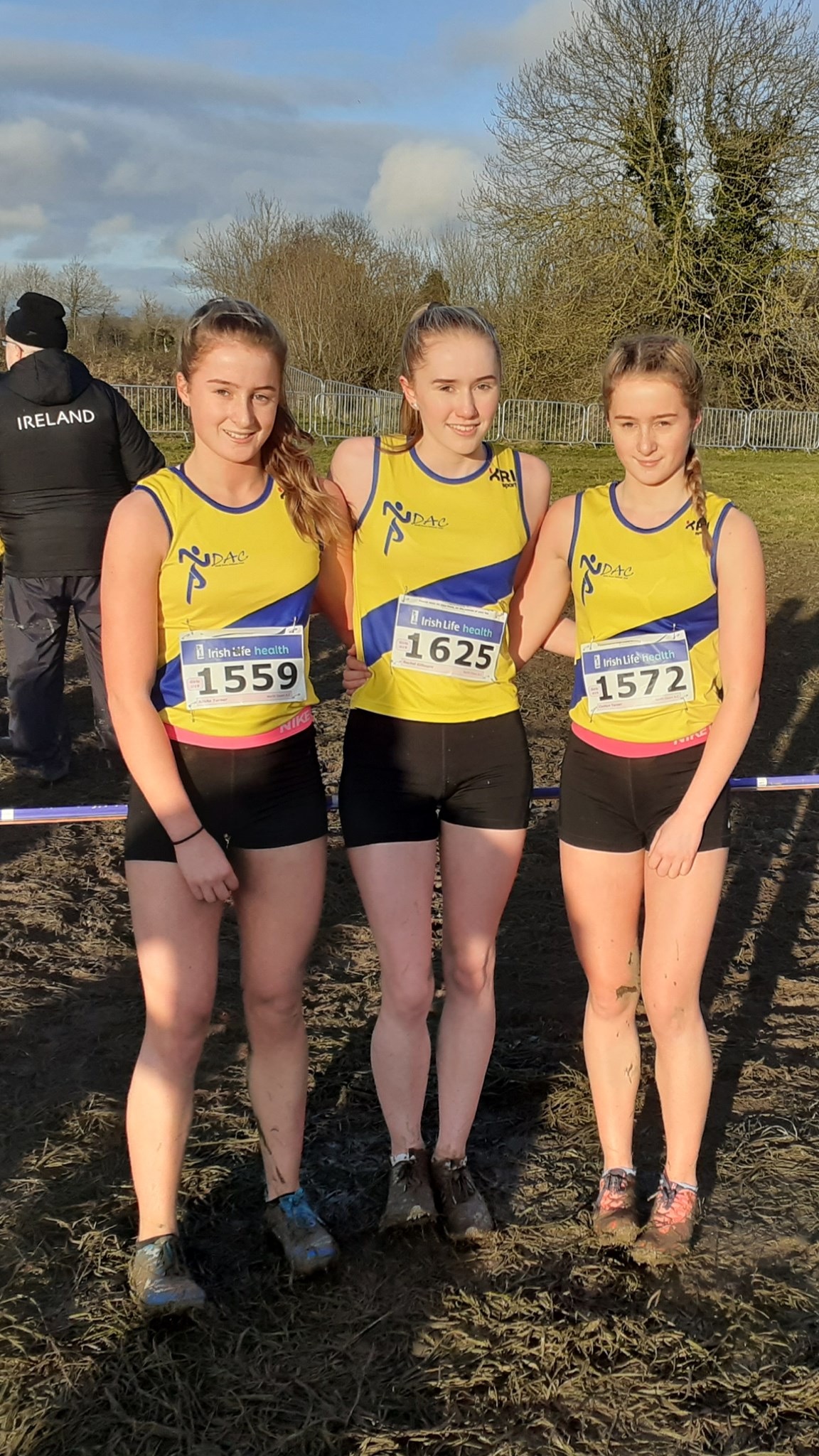 U19 Team
Telford 10K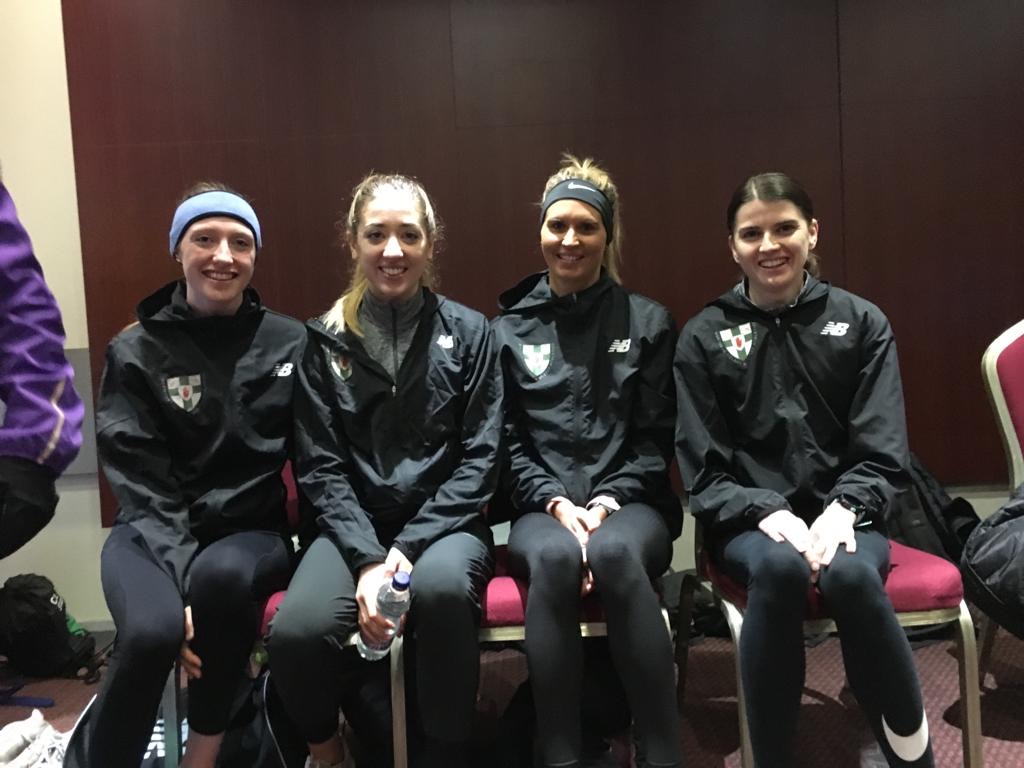 A team of eight local athletes recently took on the Telford 10k in England, as part of the Inter Area Road Race Series, an event which had previously visited Belfast, Cardiff and Stirling. Funded and facilitated by Athletics NI, Jessica Craig represented both club and country and was well up the field, finishing 21st in 35:46, the second of the four local ladies to complete what was described as a challenging course.
Sperrin Harriers Winter League – Lough Fea 5k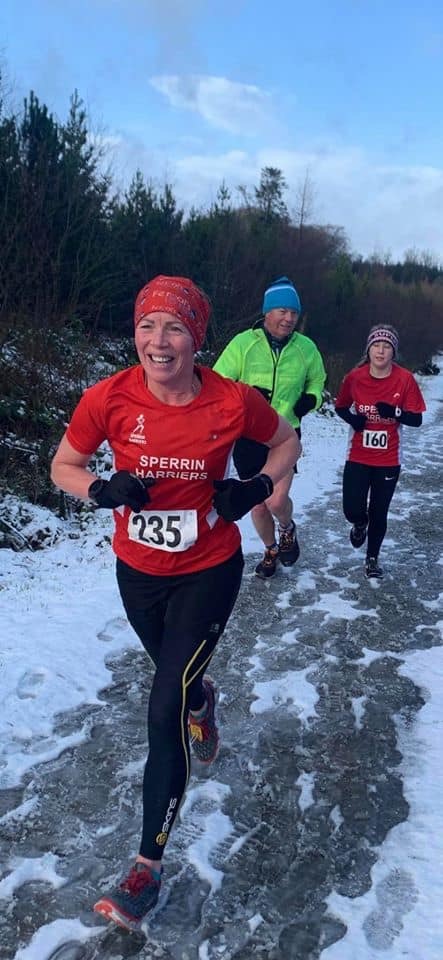 Given the winter blanket that had descended on the area come Saturday morning, competitors in the second of the five race series were probably more than happy that Lough Fea played host to the shortest race of the winter league, with extra layers and resolute determination an absolute essential for all participants. Catherine Roberts certainly has the character for even the toughest challenge, and made light of the windy conditions to cross in 23:09, first lady on the day, and maintained her position as the top ranked lady in the series, with a 100% record so far.
Hogs Back Road Race
Club member Keith Gilmore was in London recently, like any good athlete he packed his trainers, and put them to good use, taking on 11.4km of an undulating course around the Loseley Estate in Surrey.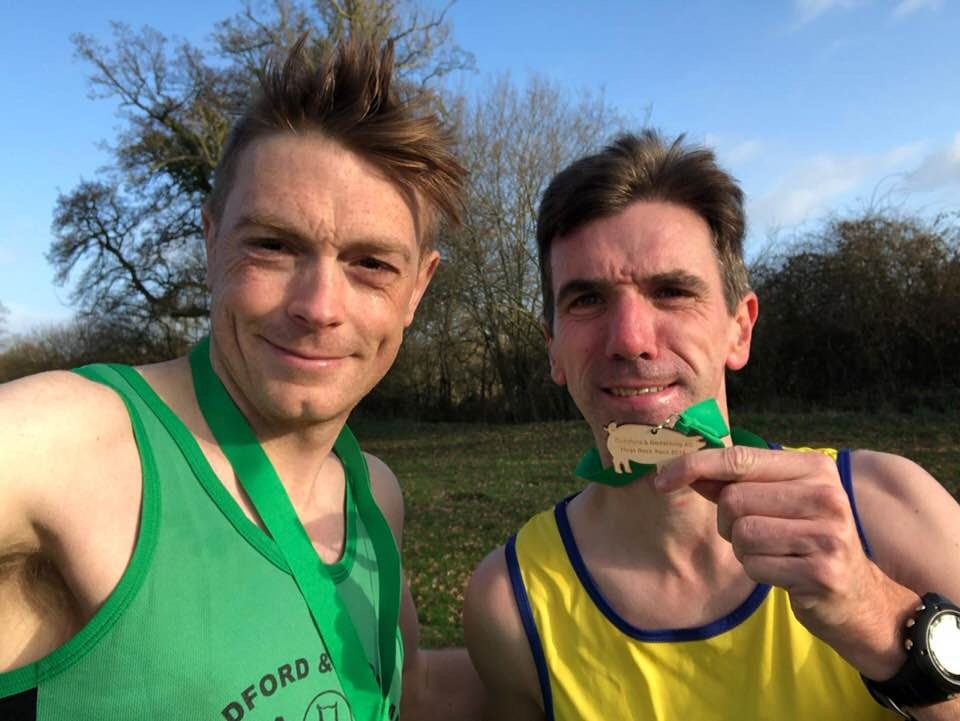 The race, so named for the hog shaped route, has attracted a host of top English athletic clubs for each of the last 59 years, and was promoted by Guildford & Godalming AC, for whom Bangor native Gavin Megaw clocked 49:17 for 76th place, with Gilmore not far behind in 53:28 and 145th.
Photo Credits – Fintan Stewart, Davy McMeechan, Francis Marsh & Sperrin Harriers