NI & Ulster Indoor Championships – Dublin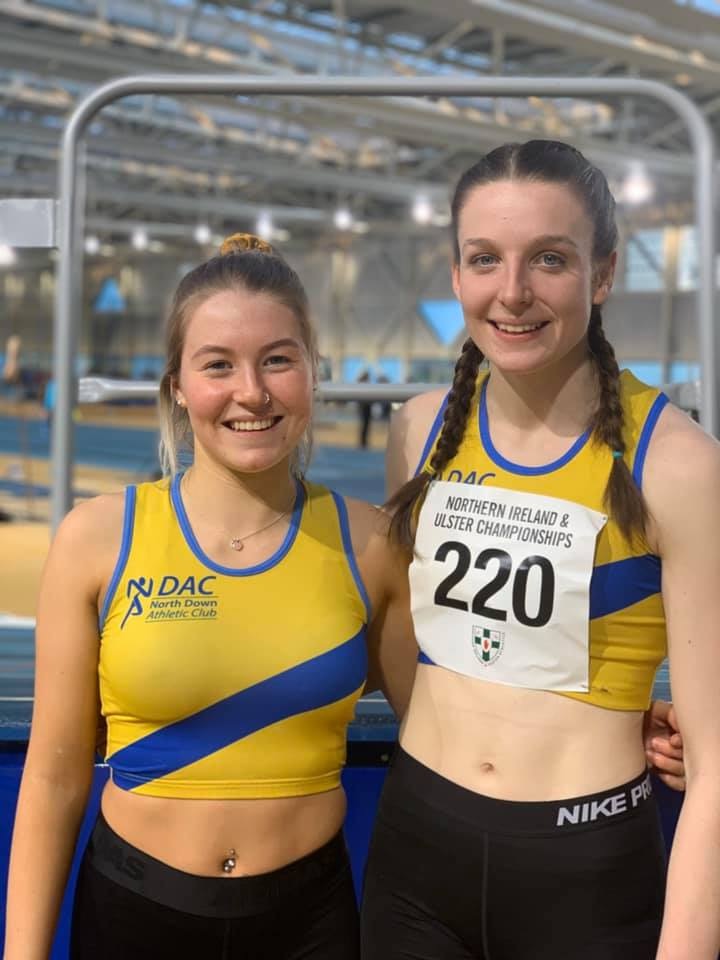 On Sat 1st & Sun 2nd February, almost 30 of the club's junior athletes made the trip to the impressive National Indoor Arena in Dublin to compete in the NI & Ulster Indoor Age Group Championship. As ever, there was the usual range of emotions from elation to disappointment, but with the first four in each event qualifying for the Irish Age Groups, it's probably fair to say that the final tally of 10 gold, 7 silver & 7 bronze was an impressive medal haul for the youngsters.
In the U13 age group, Victoria Ifonlaja won gold in the 60mH with a time of 10.71s and was third in her heat of the 60m with 9.13s. Zara Steele won silver in the high jump with a clearance of 1.30m, was 6th in the long jump with a best effort of 3.83 and ran 9.41s in the heats of the 60m, while the U13 girls 4x200m relay team won bronze in 2:08.16. The only U13 male medalist was Seb Holley who won silver in the shot (2kg) with a best throw of 9.39m and was also 5th in the 600m with a time of 1:48.89.
At U14 level, Kate Fenlon produced a monstrous throw of 12.99m in the shot (2kg) to emphatically win gold by over 1m, which I believe is a new club record. This was followed by 5th in the 60mH in 11.14s and 5th in the high jump with a clearance of 1.25m. Not to be outdone, Jayden Booth blitzed the opposition in the 60m and romped to victory in an impressive 7.86s. In the 800m he sat at the back for the first three laps and then used his pace to sprint the last 200m and take bronze in 2:24.58 and while he was little way below his best in the long jump, his jump of 4.65m was enough to claim another bronze medal.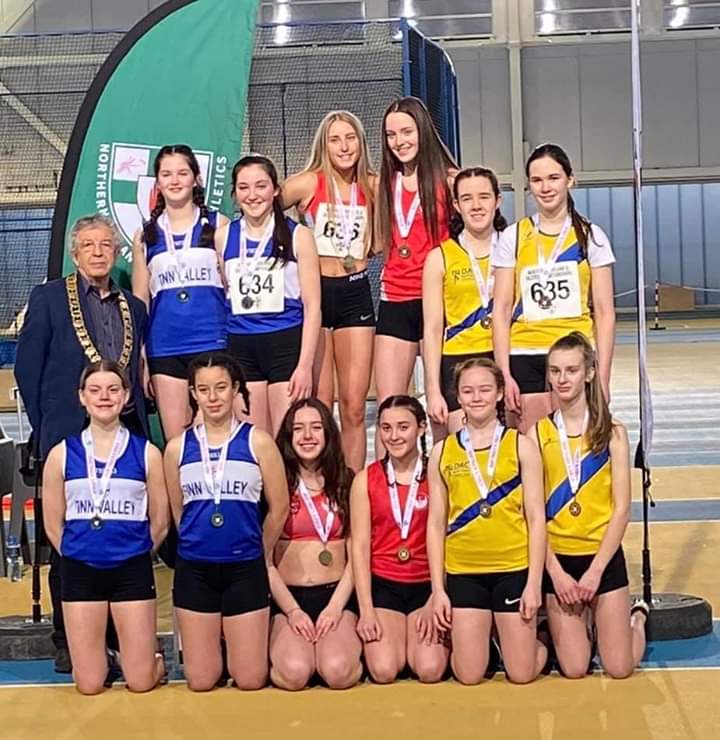 The only medal in the U15 age group came courtesy of the girls 4x200m relay team which finished 3rd in 2:00.18.
Not to be outdone by her sister, Niamh Fenlon set a new pb on her way to securing gold in the U16 60mH with a time of 9.20s, which doubled her medal tally by adding to the 200m silver where she recored 26.97s. She was also 5th in the 60m with a time of 8.31s (8.30s in the heat). It was a good day for the throwers as Beth Hammond emulated her training partner in the U16 shot (3kg) where she also won gold by over 1m and broke the club record with a massive throw of 11.17m. Lucy Kerr set a new pb of 8.18s to take silver in the 60m and later followed up with 28.16s (27.75 in the heats) to take 5th in the 200m. The U16 girls 4x200m relay team also won bronze with a time of 1:55.68.

Tara McDonough doubled up to great effect in the U17 middle distance, taking bronze in the 800m & gold in the 1500m with times of 2:32.00 & 5:05.70, respectively.
In the U18s, Megan Briggs ran a strong 200m to take silver in 27.83s and then, just 30mins later, won gold in the 400m in a time of 64.75s while Rose McGreevy cleared 1.50m in the high jump to finish =2nd and ran a pb 8.44s in the 60m to take bronze. Daire Browne threw 9.70m to win bronze in the boys shot putt.
Murphy Miller and Bryanna Catney took a break from cross country and had a very successful weekend as Murphy took double gold in the U19 800m & 1500m with times of 2:22.47 & 5:05.16, respectively, while Bryanna took silver in the 800m with 2:39.30 & 5th in the 1500m with 5:33.32.
Rachel McCann ran the senior women's 400m, defeating Dublin City Harrier's Catherine McManus to take her second victory in as many weeks with a time of 56.00s.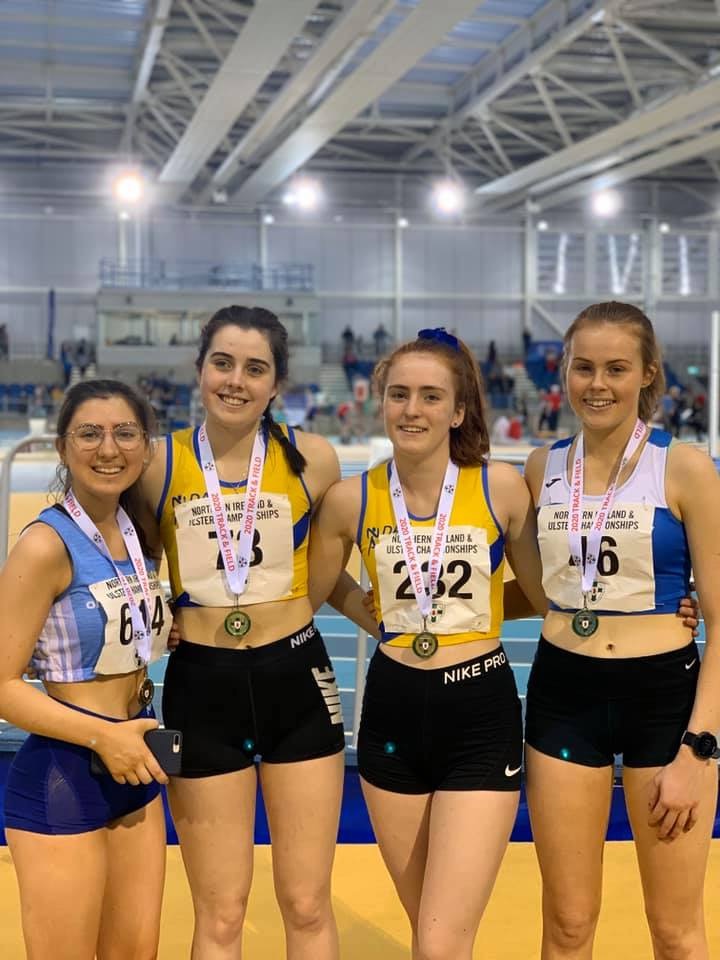 Other results:
U13
Daisy McGuigan – long jump 4th 3.87m, =5th 60mH 11.48s & 8th 60m 9.14s (9.09s heat)
Anna Moran – 7th 60m heats 9.80s & 9th LJ 3.67m
Boys – 4th 4x200m 2:07.83
Aodhan Keag – 5th 60mH 12.44s & 17th 600m 1:57.90
Harrison McGrogan – 7th 60m 9.04s (8.94s heats)
Isaac Dunne – 16th 600m 1:56.89
Sam Doyle – 18th 600m 1:59.48
U14
Girls 4th 4x200m 2:07.64
Lucy Dow – 60m heats 9.05s & 10th long jump 3.99m
Rebekah Laffin – 9th 800m 2:40.87
U15
Hollie McGuigan – 7th 60m 8.89s (8.77s heat) & 11th long jump 4.03m
Anna Cousins – 60m heats 8.85s
Emma Stranaghan – 6th 60m 8.78s & 8th long jump 4.25m
U16
Benjamin Graham – 5th 60m 7.84s (PB), 5th 200m 25.68s (25.36s heat)
Ryan Lynas – 8th 800m 2:18.07
U17
Casey Dawson – 5th 200m 28.32s
Districts Cross Country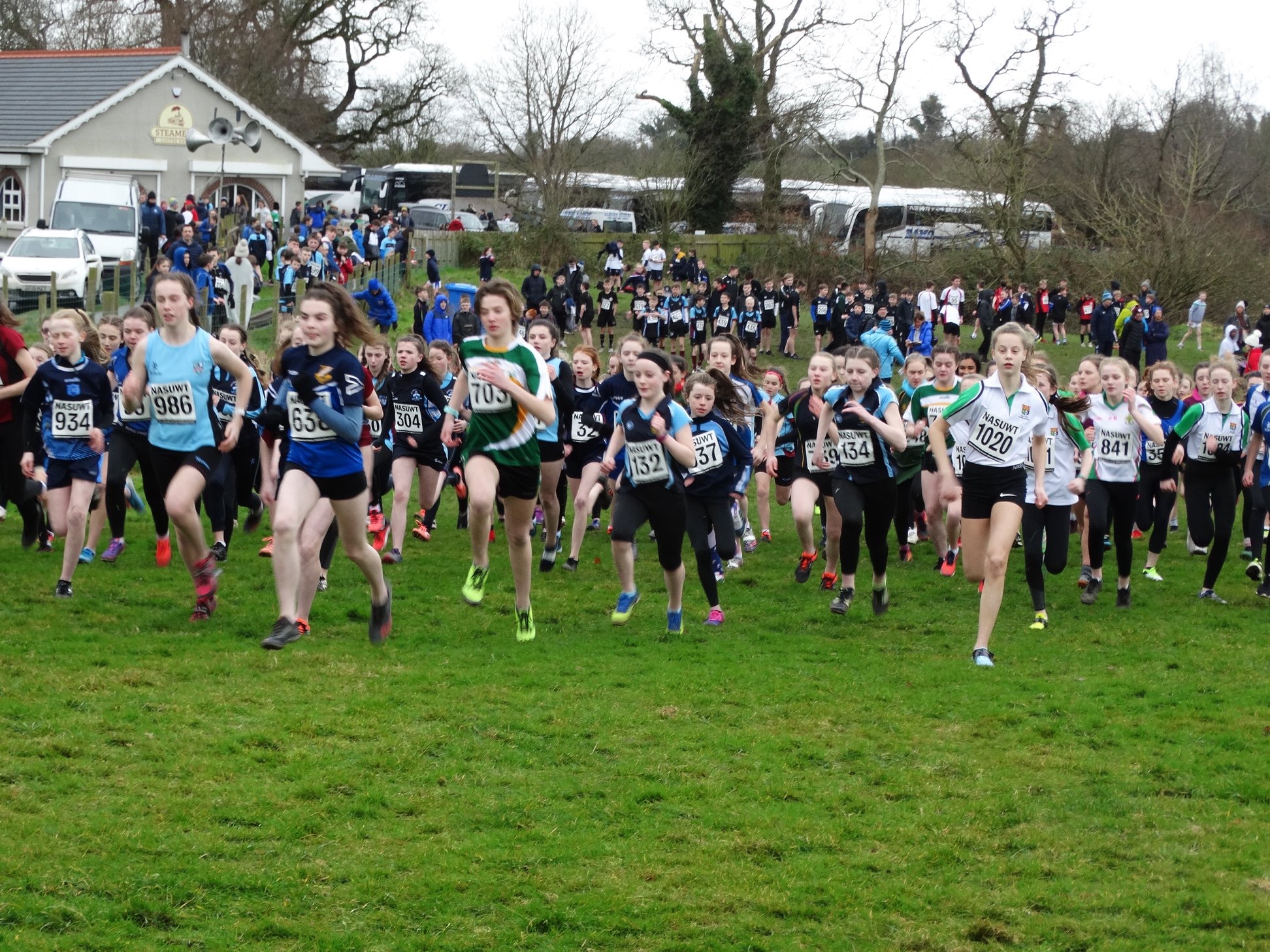 Delamont Country Park played host to hundreds of aspiring young athletes last Wednesday, as the path to Ulster Schools Cross Country glory began with district quailification for a host of North Down juniors.
In cold, but otherwise decent conditions the mini section provided strong North Down representation from a group of girls who have formed a highly competitive club team throughout the cross country season. On this occasion they were representing their schools, and with only fifteen to progress to Ulsters, club loyalties were set aside in the battle for qualification, Lauren Cheatley leading them home in sixth place. Ella Riddell (10th) followed close behind, just ahead of Rebekah Laffin (12th) and Zoe Kirk (14th), while Eimear Mulligan (17th) and Eva Gibson (20th) had great runs and were unlucky to just miss out. In the boys section, Seb Holley had a fantastic race and took the win, with creditable performances from Sam Doyle (8th) and Daniel Caldwell (27th).
Eva McCann (8th) ran strongly to ensure qualification from the minors, with Naomi Dunne (38th) and Katie McMullan (55th), whilst in the boys equivalent, JJ Holley (1st) made it a family double, followed by Oliver Playfair (8th), Harris Massey (25th) and Conor Adair (68th).
After a strong showing across the board, all three club representatives qualified from the junior girls race, Lucy Cheatley (5th), Mac Eager (7th) and Niamh Fenlon (15th), whilst Jamie Gaw took the win in the boys race, after a dominant display of front running, with Scott Allen placing 54th in the same event.
In the Intermediate girls, Tara McDonough (5th), Tori Galloway (11th) and Hollie Massey (13th) were all at the sharp end of proceedings, Amy Ellison (17th) qualified for the Ulsters as part of the winning Strathearn team, while Amy McMullan (27th) and Abigail Sloan (37th) were also well up the field. Ryan Lynas placed 39th in the boys event, while in the senior girls, Murphy Miller claimed a hard earned third place, with Caitlyn Turner (12th) and Elisha Turner (17th). The final event of the day saw the senior boys take on six tough laps for a total of 6.9km, with the ever improving Mark Carberry putting in a great effort to finish in fifth place, and support from Jakob Swann (17th) and Ben Jenkins (19th) ensuring a third place finish for Bangor GS.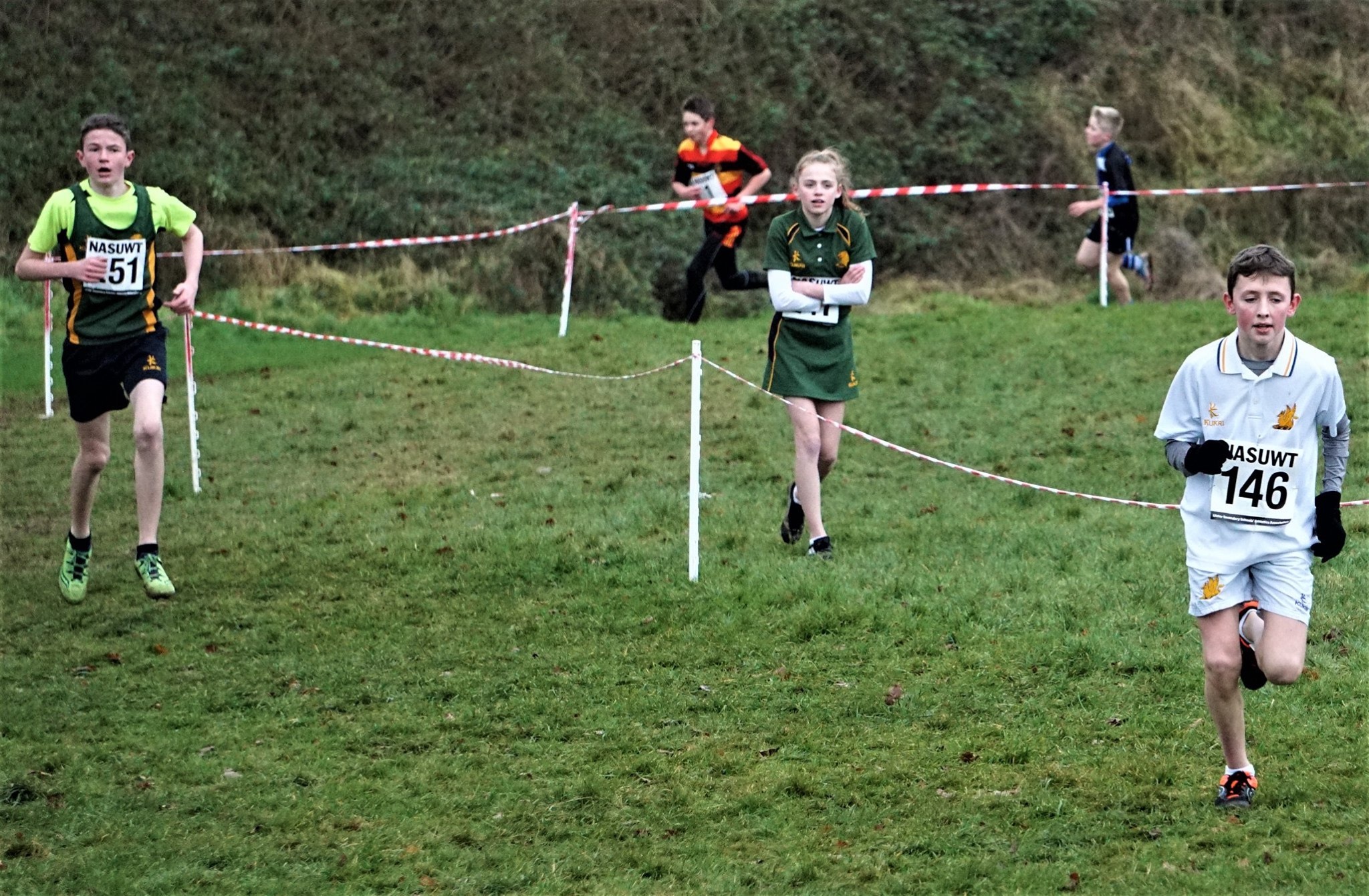 British Universities Cross Country – Edinburgh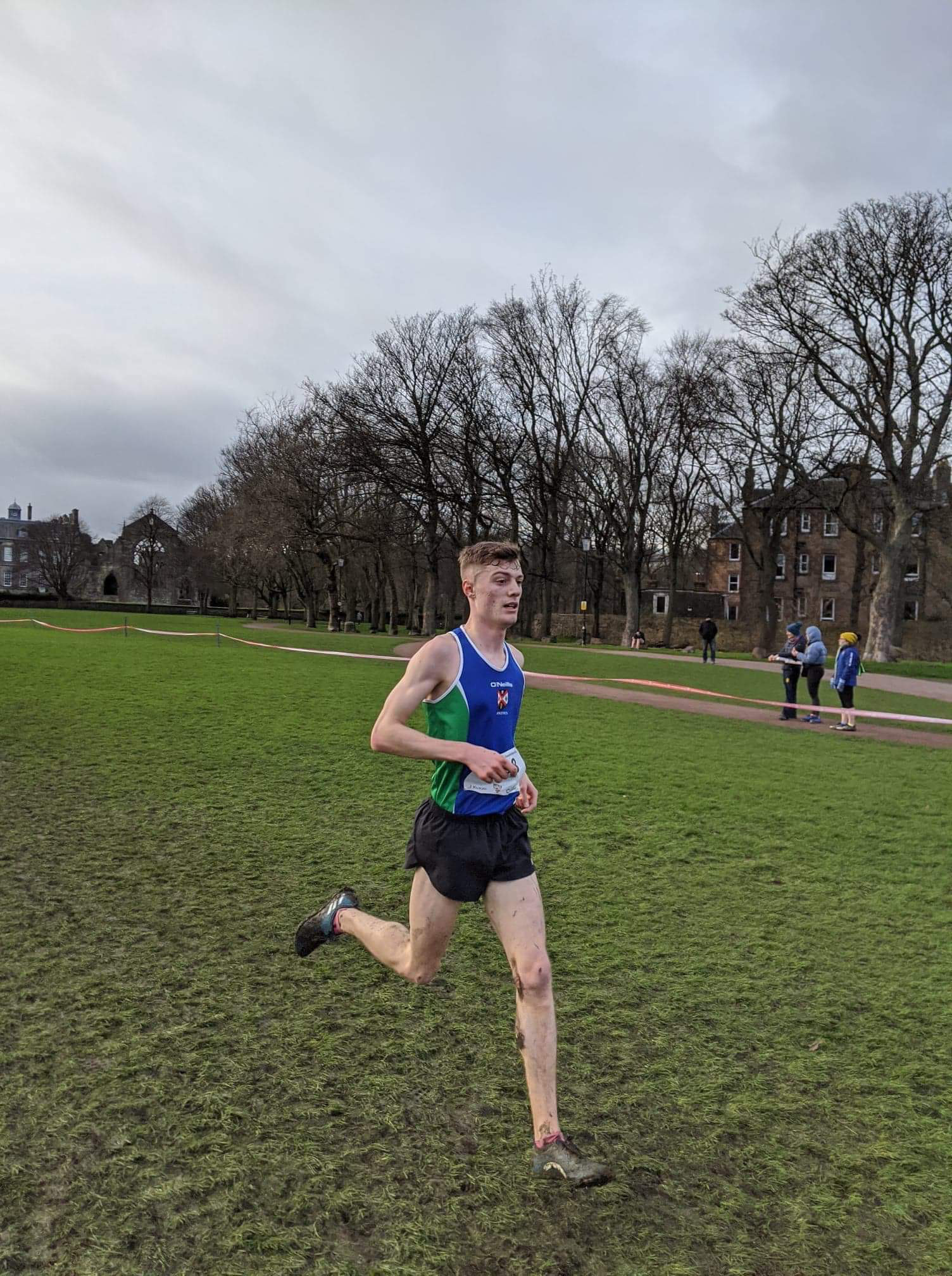 On a course which had, until recently, hosted the high profile Scottish International Cross Country, Holyrood Park attracted over 2000 young athletes to gather in the shadow of Arthur's Seat on Saturday, for an afternoon of high quality racing on a sticky and testing 10k route.
Although running in the colours of Queens University, North Down AC was represented by Craig McMeechan, who clocked a more than respectable 34:57 for 57th place, amongst international class competition, and Jack Logan, who continues to make great progress and posted a highly creditable 37:55 for 165th.
Born 2 Run 10k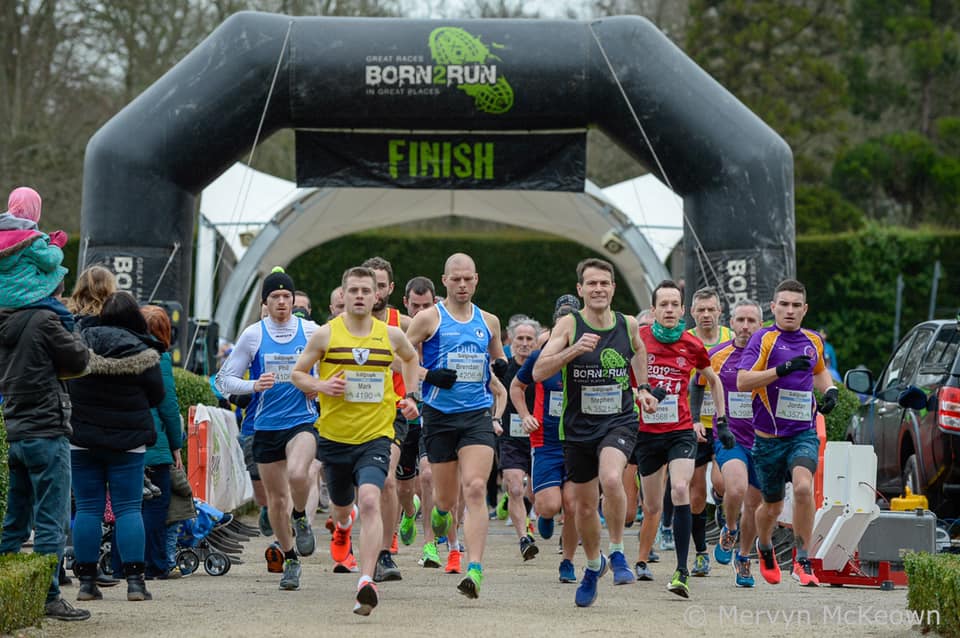 The Born2Run bandwagon rolled into the idyllic surroundings of Antrim Castle Park on Saturday for the latest round of popular series, with Christopher Ballentine again representing North Down over the 10k distance. In blustery but otherwise pleasant conditions Christopher took advantage of the reasonably flat and fast route around well established paths, to clock a speedy 41:17 for 36th overall. The series concludes in three weeks time with a visit to Castlewellan Forest Park.
Drum Manor 10k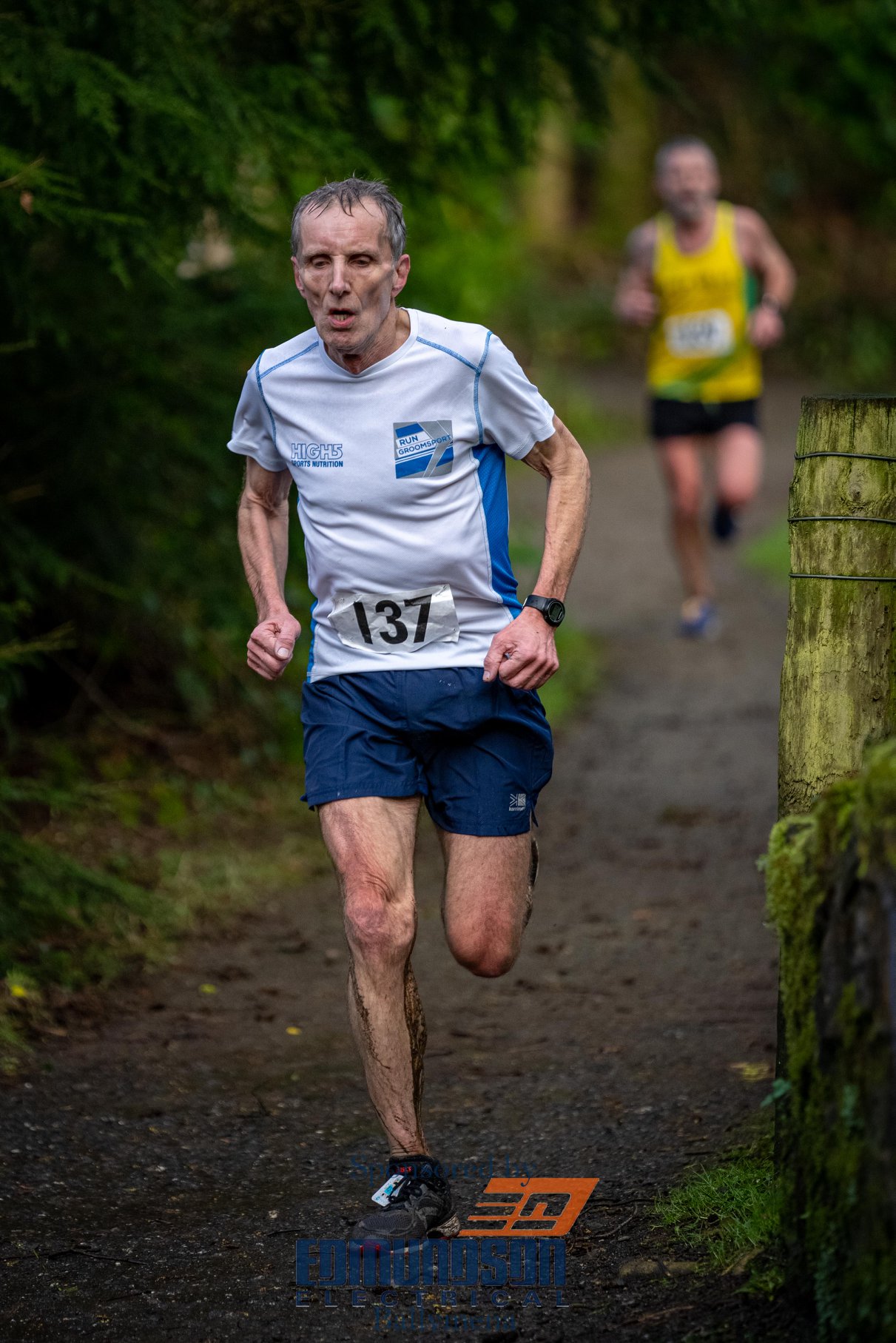 The latest round of the Sperrin Harriers Winter League welcomed all comers to the Drum Manor Forest Park on Saturday, for two laps of undulating trail running on the outskirts of Cookstown. Frankie Rea has been an ever present in the series so far and continued his strong running, clocking 45:00 for 21st overall and first in age category (a full 6 minutes ahead of his nearest rival). Catherine Roberts has also committed herself to the full series of races, and has been in top form as well, taking category wins and overall prizes along the way, but she faced some tough competition on this occasion, eventually clocking 47:28 for third lady and 31st overall out of the 125 finishers, a result which maintains her position at the top of the rankings before the series finale Parkanaur 10 miler in a couple of weeks time.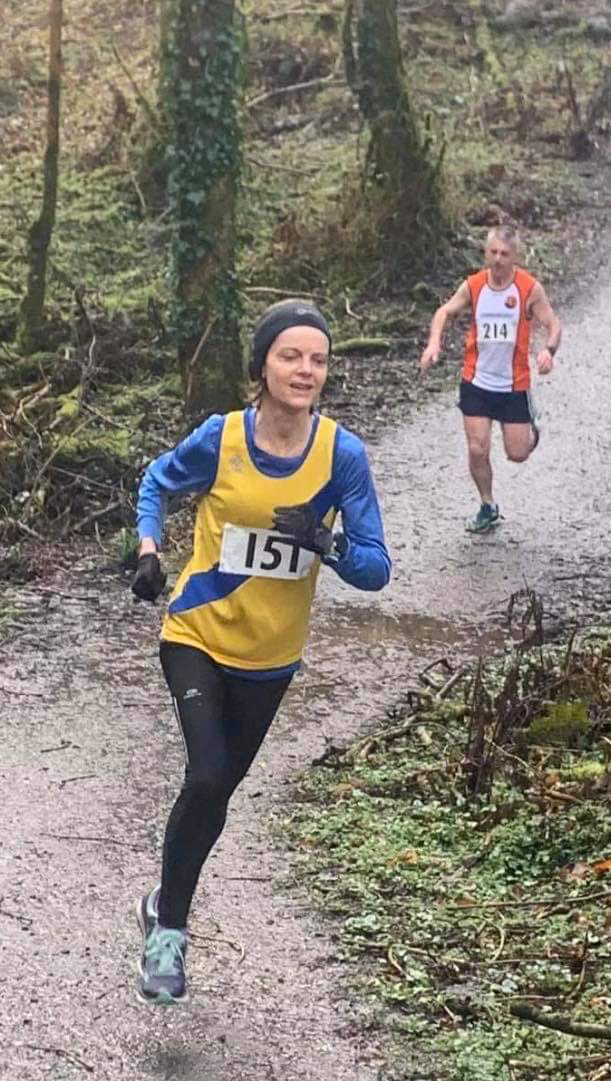 Irwin Spiers Memorial Cross Country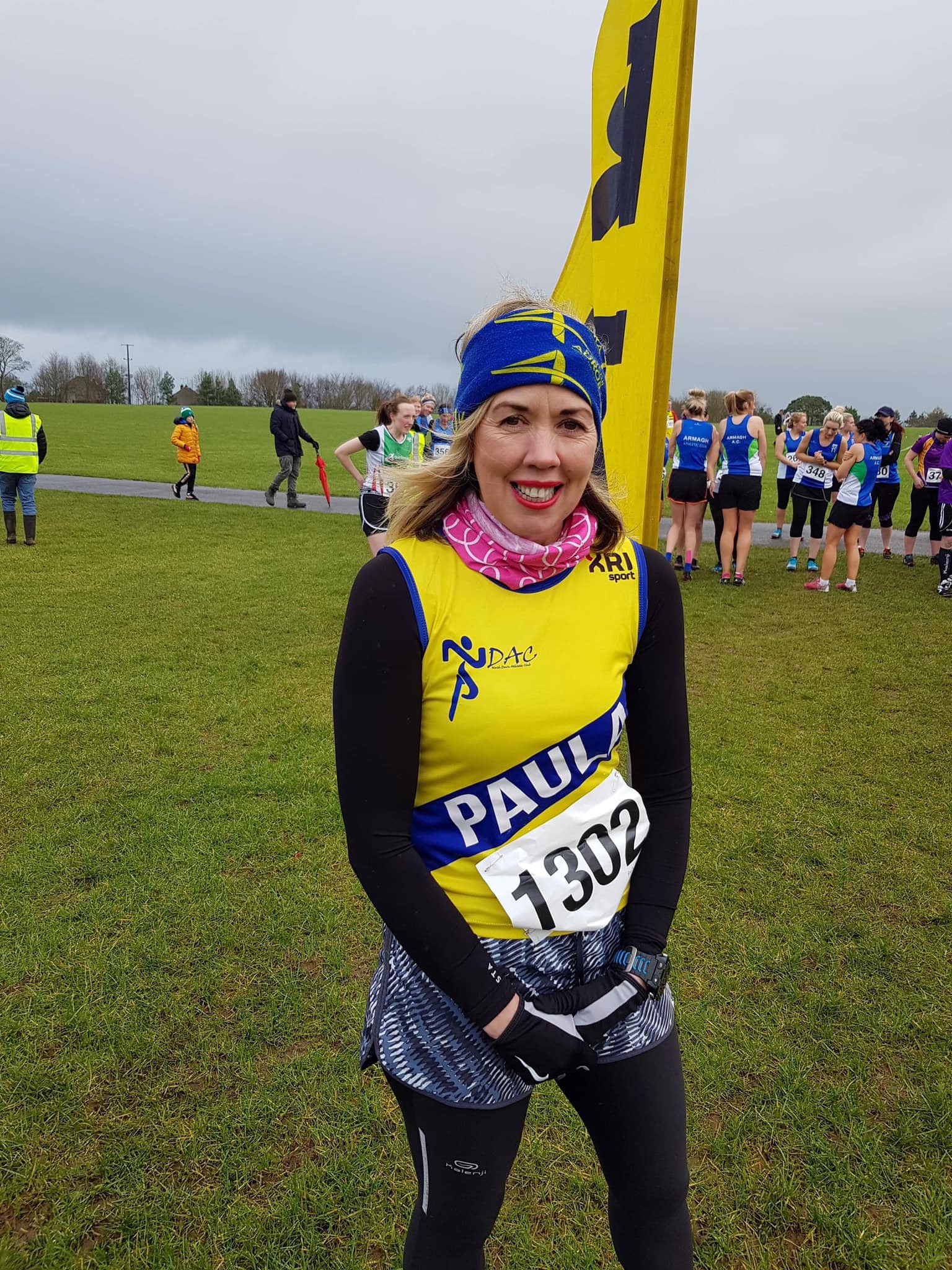 The rescheduled Mighty Oaks event, renamed in honour of the late Irwin Spiers provided a fitting tribute to the beloved Acorns coach, with the host club claiming the inaugural men's team competition and the trophy bearing his name. On a day of sunshine, rain and no little mud, North Down was represented by Paula Simpson (60th), who ran with her usual joie de vivre, and the ever reliable James Barr, who has probably laced up the cross country spikes as often as anyone this season. Next up, Stormont this coming Saturday.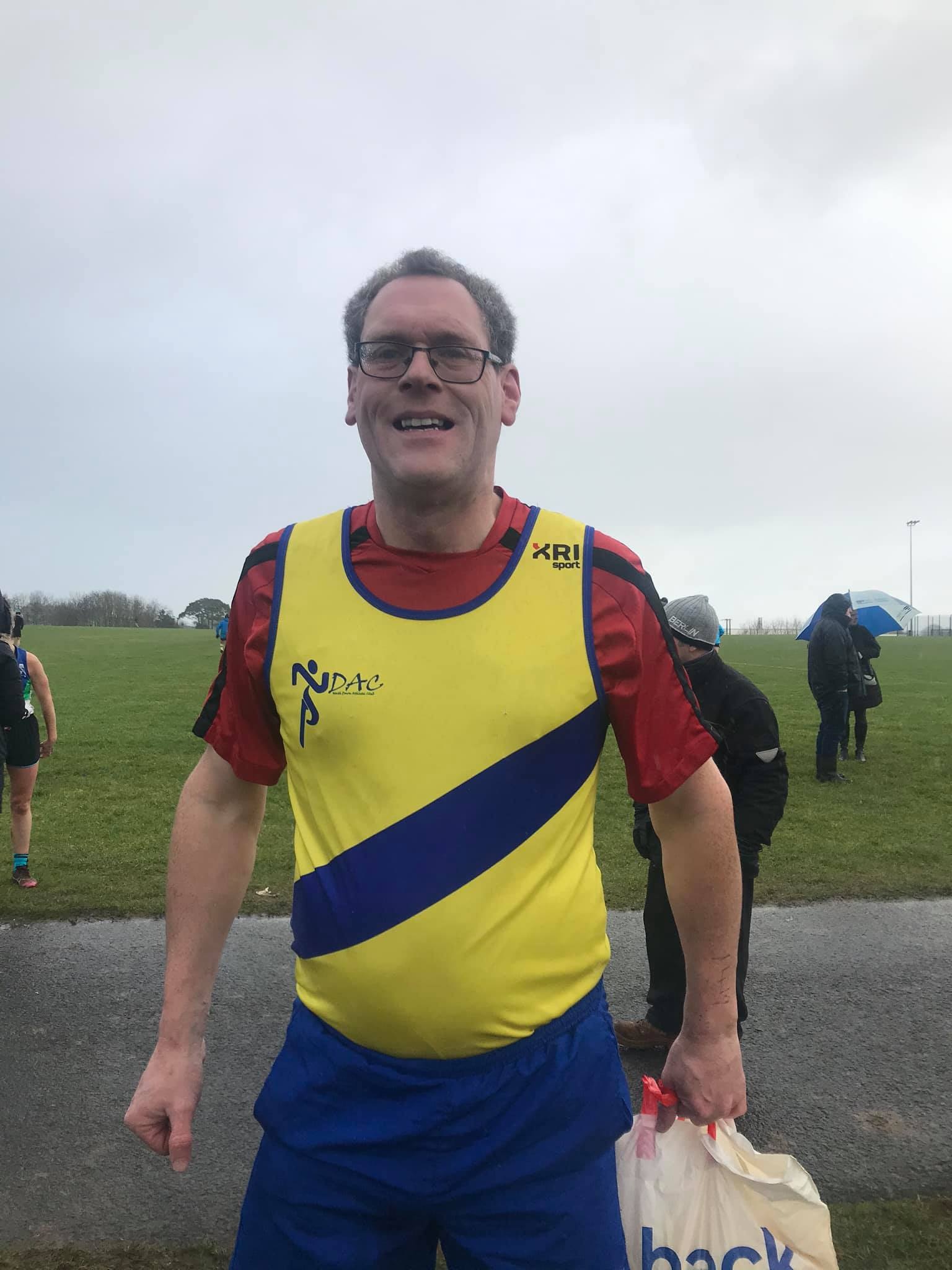 Irwin Spiers Memorial XC – Results
Scottish masters indoor championships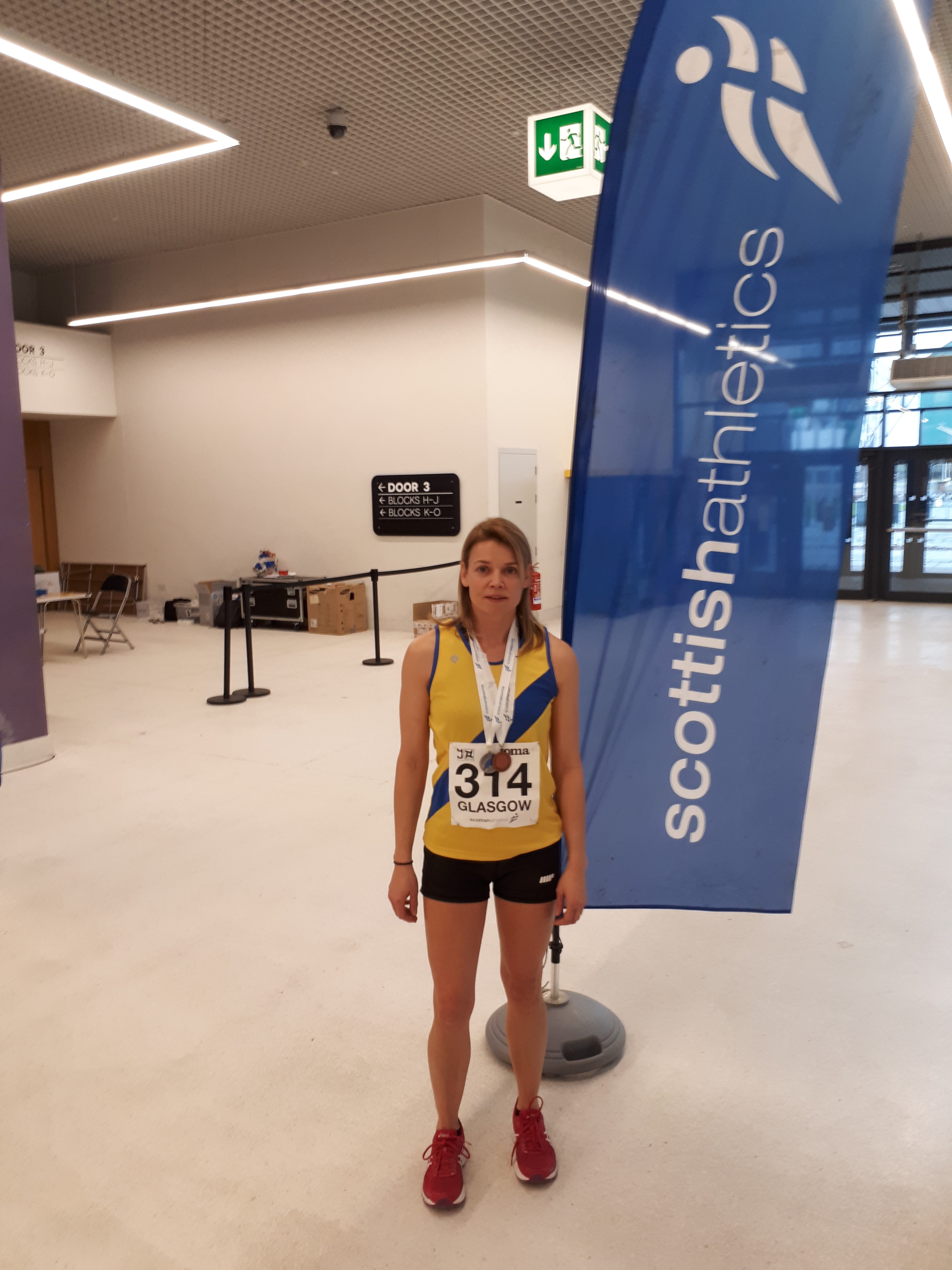 Roberta Dornan had a successful visit to the Emirates Indoor Arena in Glasgow on Sunday, competing in the Scottish Masters as part of a packed weekend which saw the the venue host athletes and events for juniors rights up to international level competition . The North Down lady lined out in the 400m for her first event, claiming a silver with a time of 69.43, before a short fifteen minute turnaround saw her toe the line for the 800m, and despite the limited recovery time she managed to claim another medal (bronze on this occasion) in a time of 2:39.71.
Carrick Midnight Marathon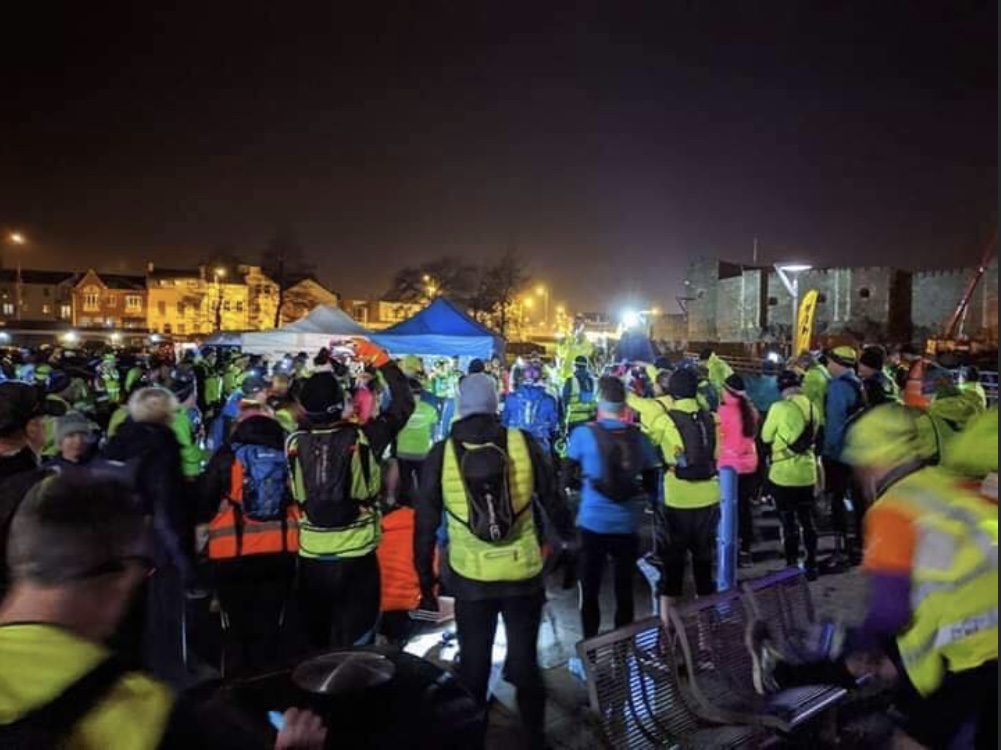 The inaugural midnight marathon from the good people of We Run Wild NI events saw 150 hardy souls gather at Carrick Castle on Saturday evening, for a midnight start to both the half and full marathon options. Taking in rural roads and forest trails, participants were required to navigate for themselves, with no marshals or course markings to assist. Fortunately the club was represented by two men who enjoy nothing more than running the path less trodden, Peter McQuillan completing the half marathon in 2:14:56 for 25th place, while Seán Nickell was 6th in the full marathon with a time of 4:05:31.