There were two choices for club training this evening; one was running loops around Ward Park, the other was running in the most beautiful part of our wee country up a few hills enjoying the scenery with the promise summer will be here by the end of the series. I could not comment on which was the better choice!
After meeting up at the Green Road shops and deciding all seven were not going to fit in Cara's car, the two car pool option was agreed and Matt set off needing that competitive head start to get into race mode. Trevor having experienced Cara's driving on previous adventures kindly offered to instead take us in his fancy car with nice seats, no husky hair and an engine that could manage 60 mph uphill.
We landed at Castlewellan barn for registration and were greeted with the usual super warm Newcastle AC welcome. Joe McCann looked suspiciously at nice new clean gutties and reassured these were 'car to barn' shoes before we changed into proper kit. Numbers collected and scanned by Kerry O'Flaherty, yes Kerry sitting there casual as you like in her full club kit smiling away welcoming everyone. Not very often you see an Olympian mucking in at registration but that's the Newcastle AC way.
Off we dandered mixing away with that special vibe at mountain races, all the colours of club vests chatting together, all assuring we were only there for the enjoyment and had absolutely no intention of taking this competitively.
Having half an hour to fill before the race start, Matt, Claire and Clair went and ran a warm up, Donald, Trevor, Cara and Tracy decided the time was best put to use by ensuring race numbers were positioned well enough to meet Mark Weir's approval, there may have been jelly babies and a lot of discussion over layers and the like.
We gathered at the start line and left our hoodies tied to the now officially named 'NDAC Tree' this was at the bottom of the hill something we regretted at the finish, having an extra hill repeat for cool down.
Joined by Oliver and John, John returning to retain his overall V70 Age Category from last year. A group photo was taken and Tracy our new NDAC Mountain Goat member was encouraged to join the best club with assurances we are all lovely and 'sure you would really suit the vest and the blue stripe would really make your blue eyes pop'.
The lovely people from Newcastle AC completed the race brief. We were running anti clockwise – a reverse of last year's route. There was also an invitation for some grub and drinks at McGinns afterwards.
Off we went, I was fortunate to see Clair & Oliver clear the first hill and secure a good position at the front of the pack, the rest of us knuckled down for the 5 miles and the 400 metres of elevation ahead of us.
The first 3 miles were uphill. Legs were tired and all notions of not walking any of the course were quickly disregarded. We climbed and climbed and climbed through forest trails and mountain bike paths. Suddenly the reason for coming back to these events was clear as we turned at the top of the mountain to be treated to spectacular views across the Mournes and the beginning of sunset setting a beautiful pink glow around the lake.
Then it was downhill, a full mile downhill. It was glorious! Legs were carried with the hill and the soft pine needles underfoot provided Mother Natures own 'cheat shoe'.
4 miles, just one to go we turned the corner and saw the last hill, at this stage it was just a fight between the head and the legs, keep going just a little more. Turning off the path we were onto the most springy grass a tonic to the battering of the rocky trails. Just 1/4 mile (uphill of course) to go and thankful to the course planner who threw in a lovely 20m downhill through the finish which even the tiredest legs managed a little kick over the line.
The support was amazing, the course was so well marshalled with those claps and cheers really helping get us up the hills.
Runners who had finished staying trying to keep warm to congratulate those who followed, 'did you enjoy it' being the question everyone needed to know rather than 'what time did you finish in'.
There is nothing to prove to anyone at these events but ourselves, everyone is just trying their best and that is more than good enough for all.
We agreed we would return next week for race 2, Tollymore and it would be rude not to take up Newcastle AC's offer for the race debrief at the Avoca Hotel next week.
If anyone wishes to join us we are meeting at Bow Bells, Green Road @ 5:30pm.
Results
Oliver Playfair 17th place overall 37:25 3rd MJunior
Clair Quigley 43:51 3rd FV40
Donald Smith 48:23
Matt Ormesher 50:02
Claire Scott 52:14
Cara Jeffrey 54:29
Tracy McKittrick 57:19
John Adgey 1:00:44 1st MV75
Trevor Patterson 1:00:48
Ian McCreary 1:05:33
photo: Clair, Matt, Tracy, John, Claire, Donald, Trevor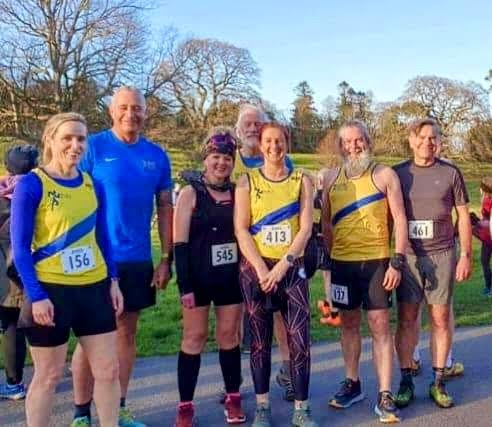 photo: Oliver, Matt, Clair, Donald, Claire. John, Cara, Trevor