NI & Ulster Track Championships
(All photos with thanks to Bob Given)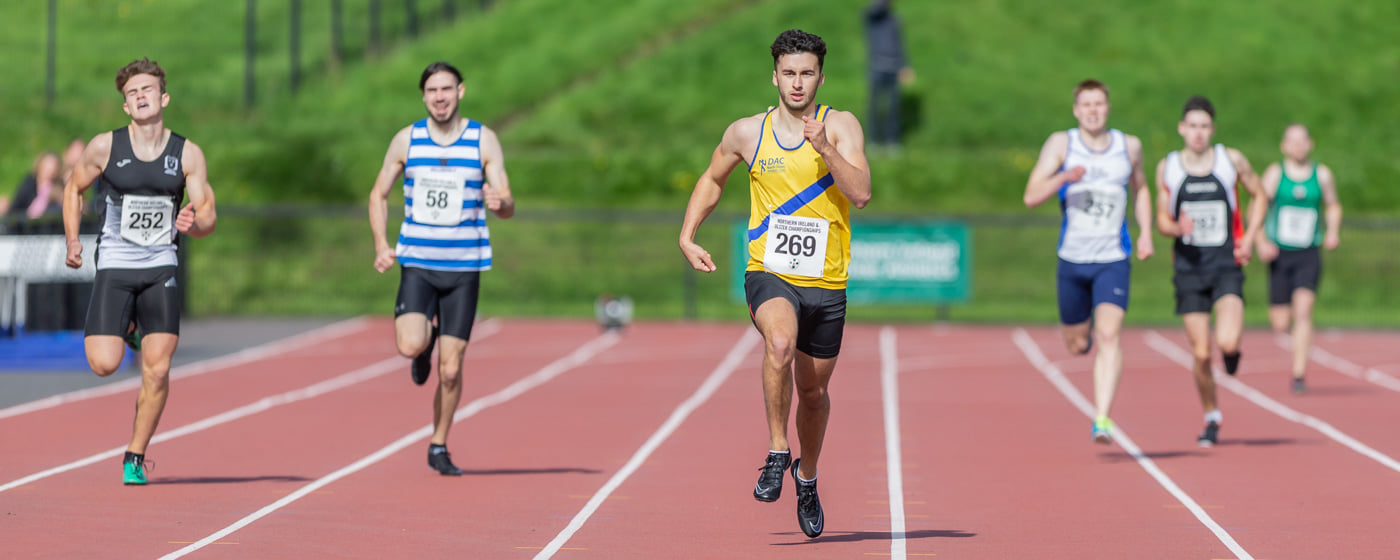 Day 1
Pleasantly humid early autumn conditions greeted all comers to the Mary Peters Track in Belfast on Friday, for the first of two high quality sessions, with North Down athletes very much to the fore amongst the best of local talent.
Whilst mostly geared towards senior competitors, Rebekah Laffin got proceedings off and running in the first of a limited junior programme, with an impressive 5:23.82 for seventh in the U14 girls 1500m. Lucy Cheatley (5:11.59) just pipped Mac Eager (5:16.74) to a hard fought third in their U15 race, while Ryan Lynas continues to make good progress and was tenth in the U16's with a time of 4:45.57.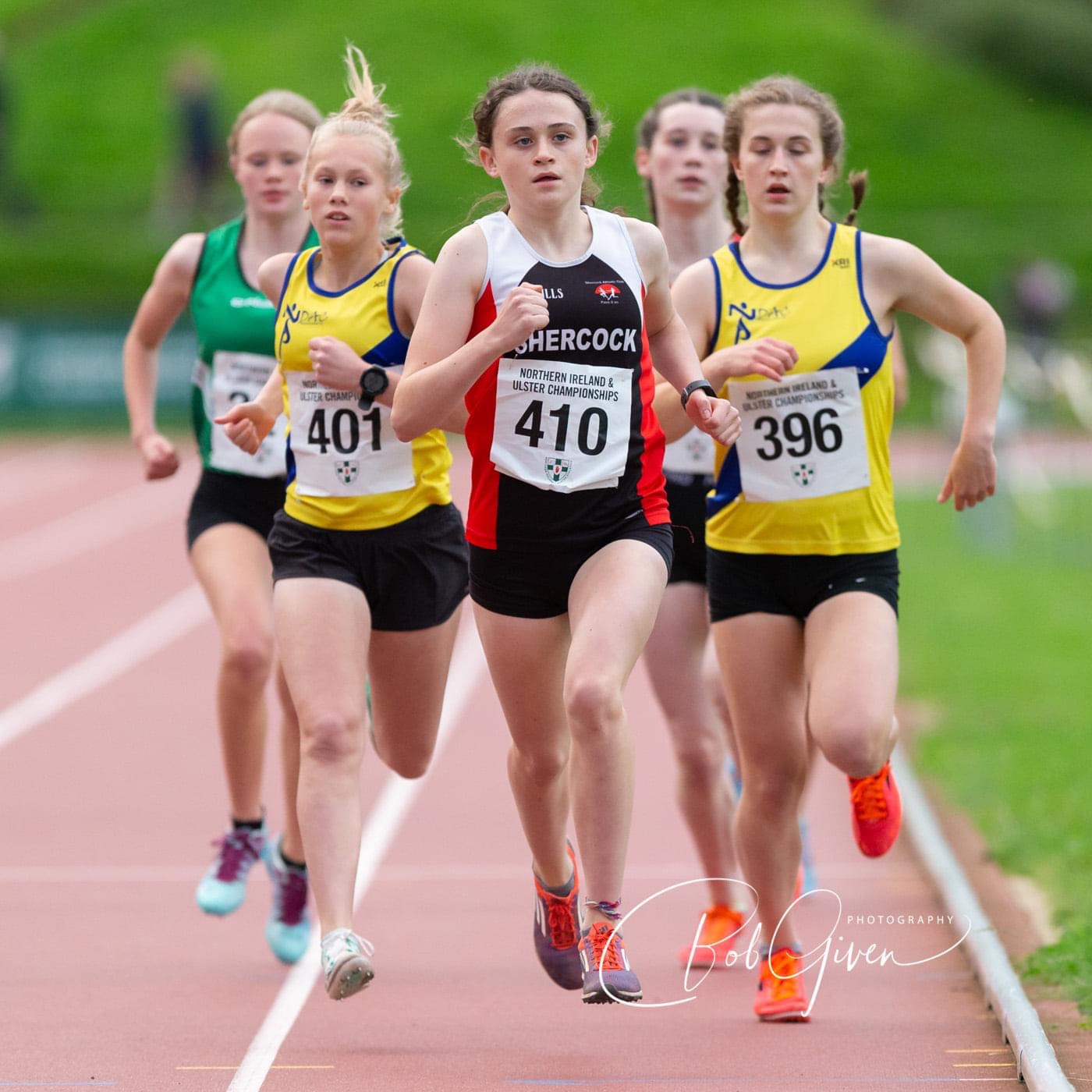 Tara McDonough (4:55.84) ran strongly to claim the first club medal of the evening, a well deserved bronze in the U17's, and like London buses one duly led to another, with Murphy Miller grabbing an U19 silver in 4:42.77, an achievement all the more impressive in the context of it being third overall in the combined senior event, which also featured Bryanna Catney (5:24.02/7th).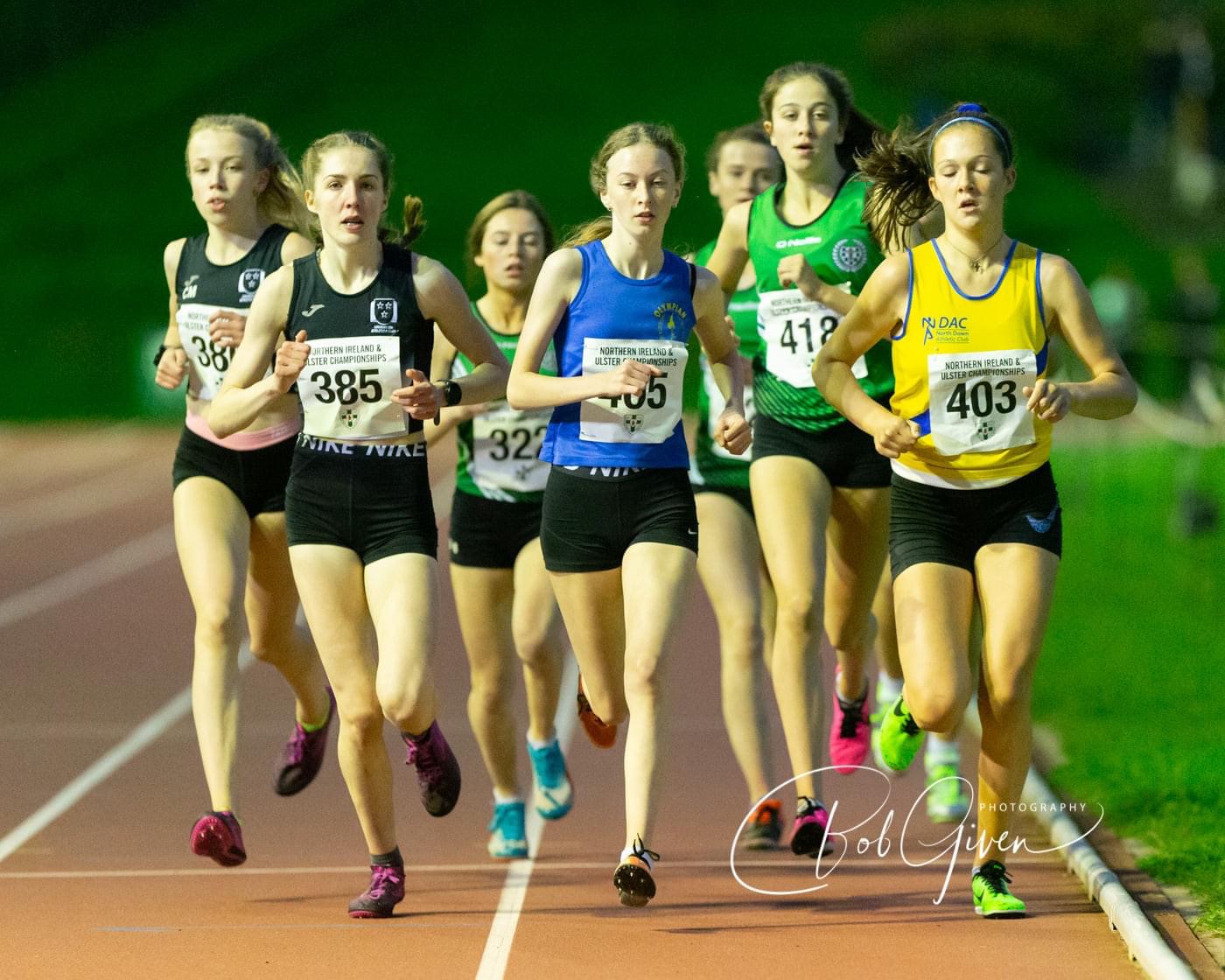 The combined U18,19 and 20's men's race featured North Down pair Mark Carberry and Jack Logan, both of whom emerged with fantastic new PB's to reward their recent training, Mark (4:15.31) taking the silver medal for his age category (third overall), while Jack was the sole representative in the U20 bracket, and sixth overall in 4:25.55.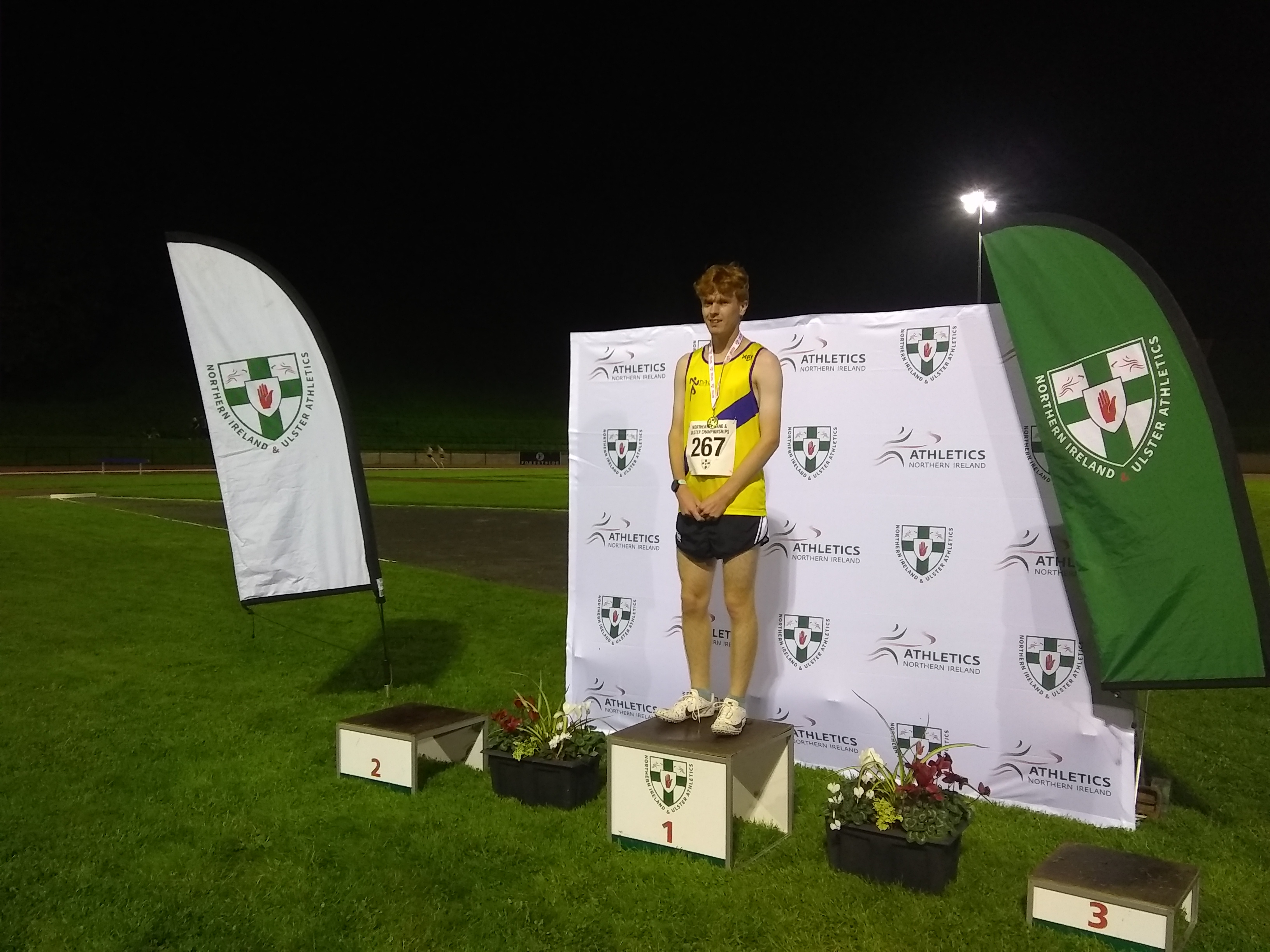 Day 2
The action recommenced on Saturday, with the continued warm spell providing ideal conditions for the 100m sprinters to take their bow, Rose McGreevy the first to cash in with 13.35 (3rd) in the opening race, while Eve Walsh-Dann (14.85) was seventh in heat two. McGreevy went on to post an improved time of 13.25 in the combined senior final, good enough for fifth overall and a well deserved bronze amongst the U18 girls.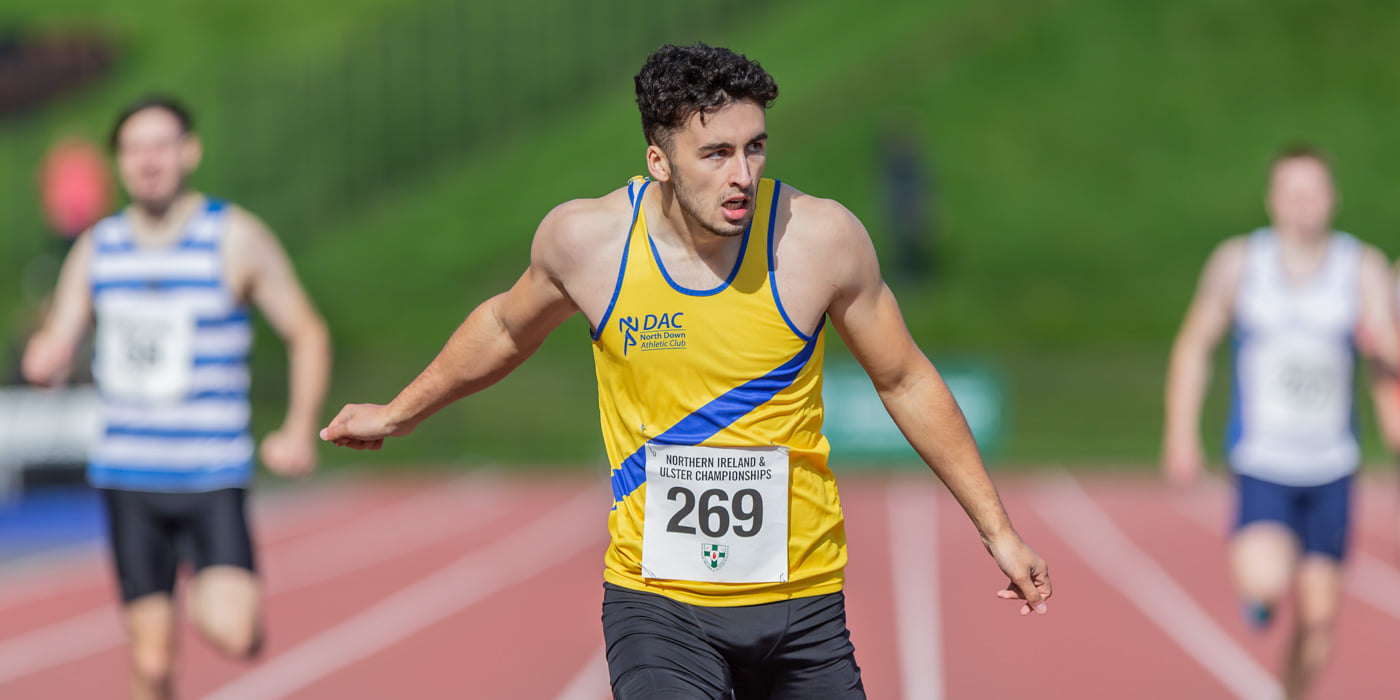 Megan Briggs (27.50) was fourth fastest to progress through the 200m heats, maintaining that position with an excellent 27.17 in the combined senior final, whilst claiming a bronze in the U18 girls category at the same time. Without much in the way of rest, Briggs was on the go again, this time finishing as runner up (62.86) in her 400m heat, before going on to claim fifth in a final that also featured an U20 gold for Aimee Stitt (60.71), the rising star having come through the heats in 61.16 before recording an impressive third overall. Louis Albrow cruised through the 400m heats in 52.44, and despite a slightly slower 52.93 in the senior final, his sixth place was good enough to claim an U19 gold.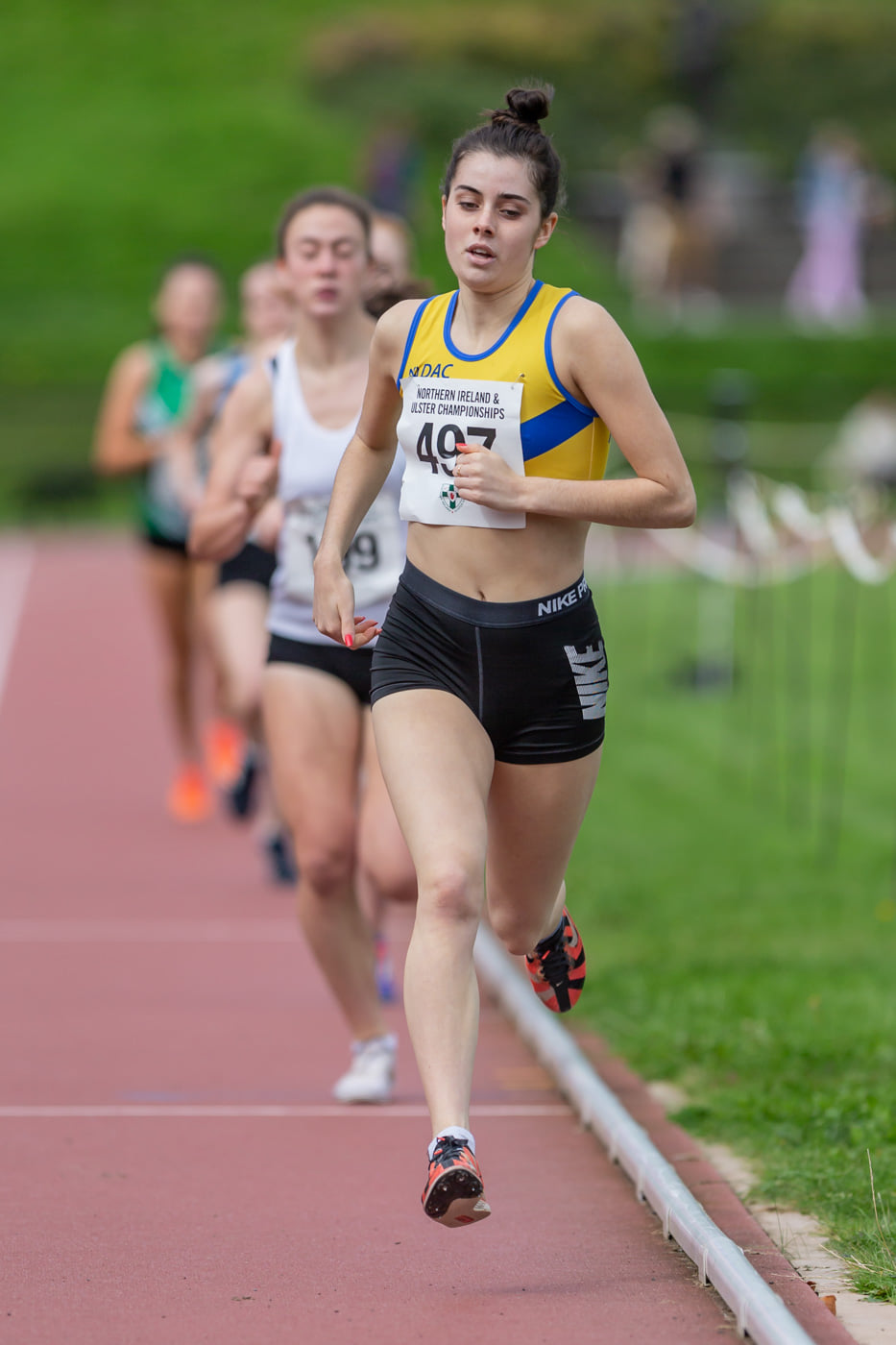 After a speedy 1500m on Friday night, Murphy Miller was back on the starting line for the U18/U19 800m less than 24 hours later, but showed no ill effects while cruising to victory in 2:17.59, with Bryanna Catney also completing an excellent weekend double in 2:36.31.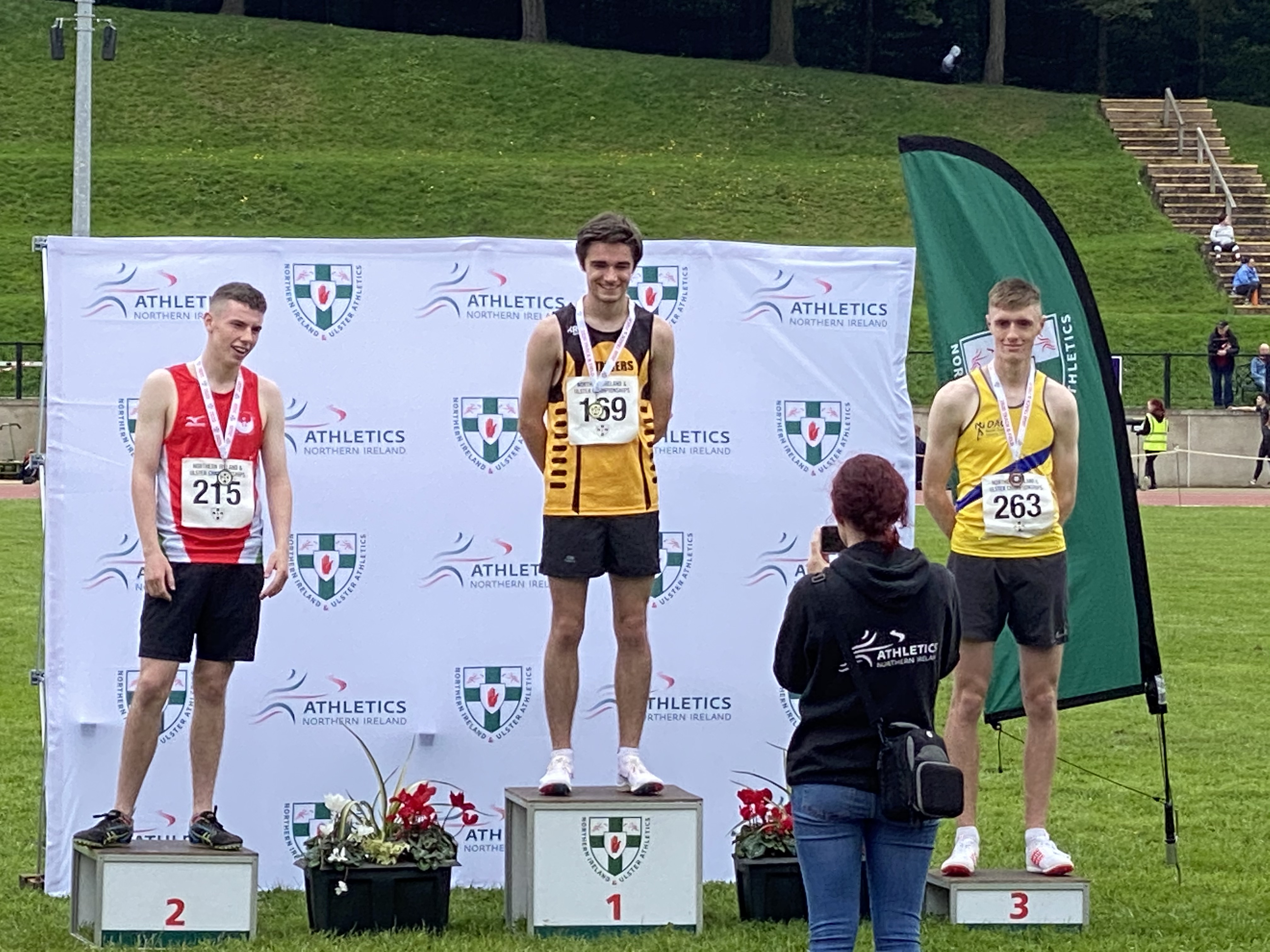 Ben Jenkins (2:14) claimed sixth place amongst the U18 boys, while Mark Carberry (2:00) completed his own middle distance double with a big PB and bronze in the U19's. In the senior event Rachel Gibson placed a creditable sixth in 2:16.66, whilst for Craig McMeechan, it was a first outing since the senior cross country back in February, and a rapid 15:15.98 for seventh in the 5000m.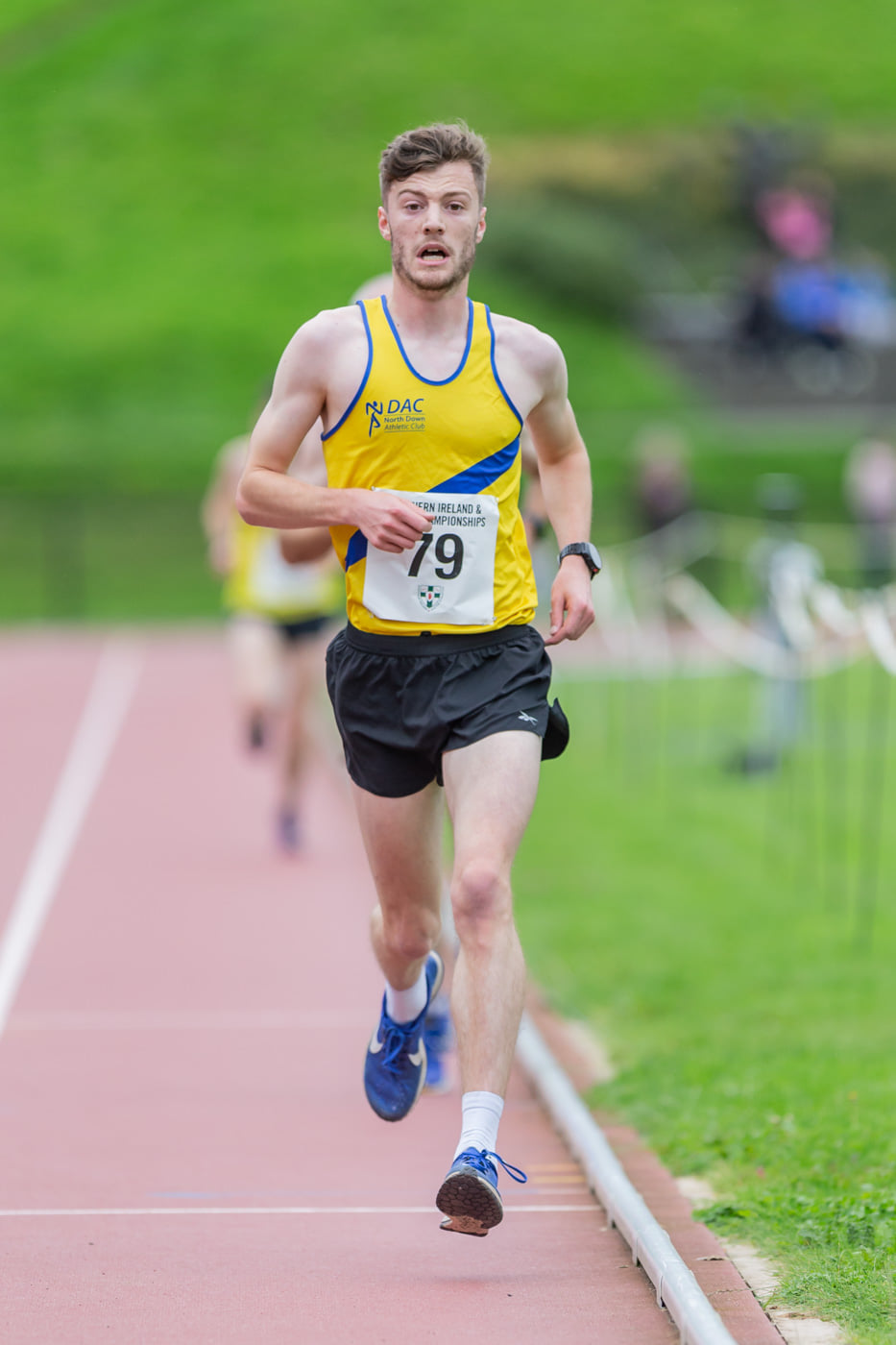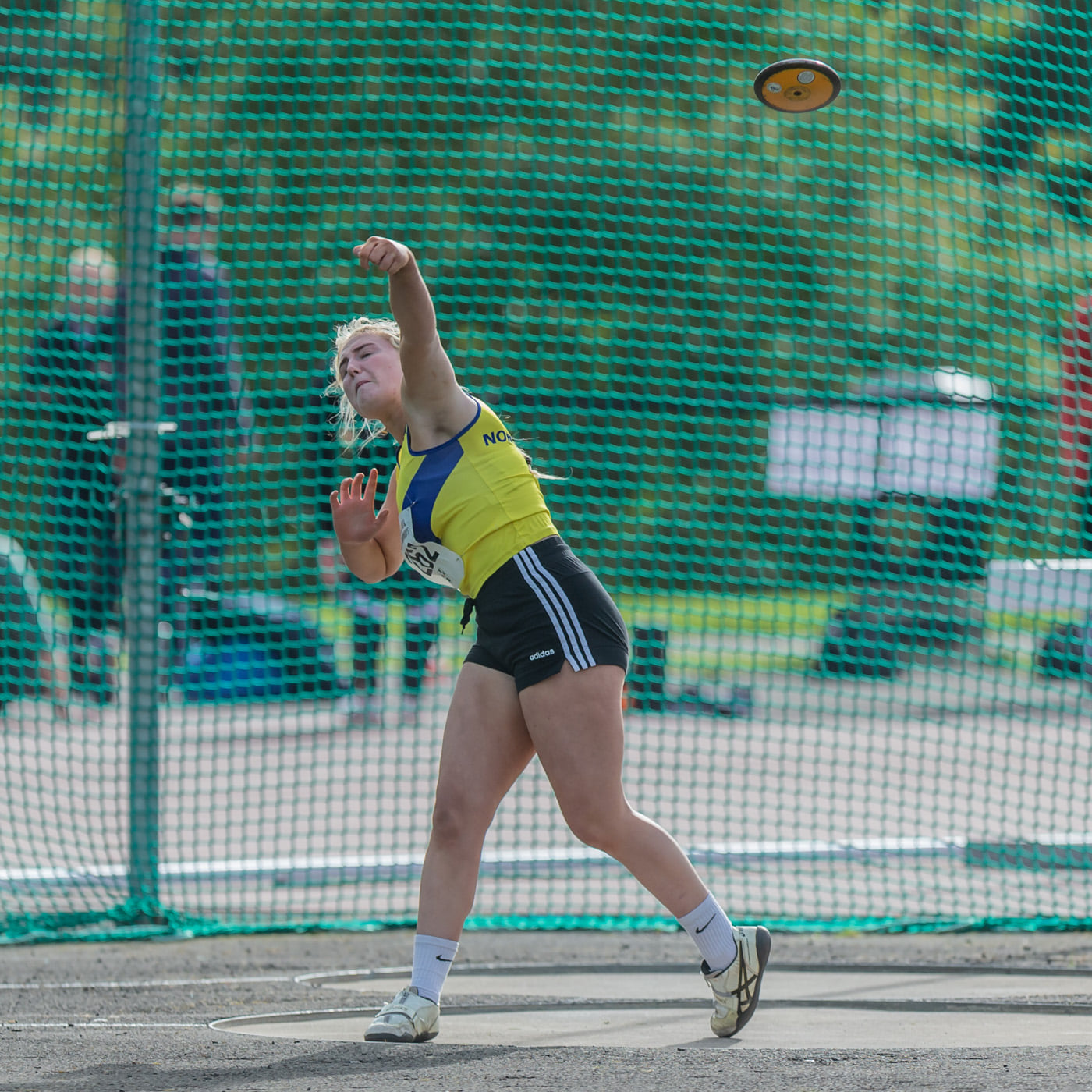 Despite being North Down's sole representative in the field events, Amy Jane Kimber was the star amongst the dozen discus competitors, a third round effort of 33.10m giving the U20 athlete victory by a margin of almost five metres.
Athletics NI Track Championships
Antrim Coast Half Marathon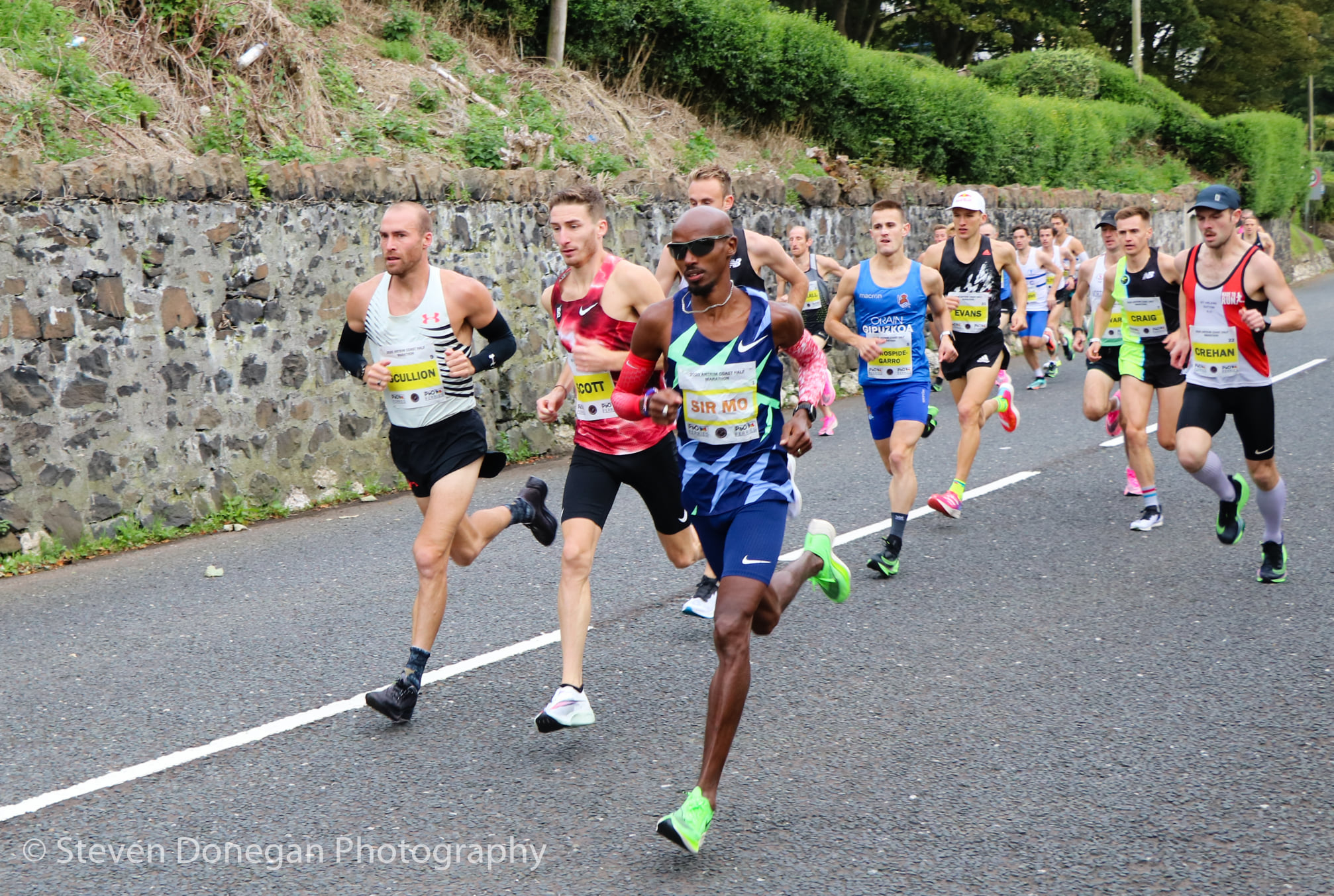 The eyes of local, national and perhaps even international running were on the County Antrim coast last Saturday morning, as the ambitious folks at Larne AC helped the best of British and Irish running scratch their competitive itch, with an elite field of a quality unlikely to be matched on the local scene any time soon. In ideal conditions, a newly designed route cut out the traditional half way hike up and around Cairncastle, to provide a mostly flat and fast course, with the best opportunity of a quick time for the 'invite only' field.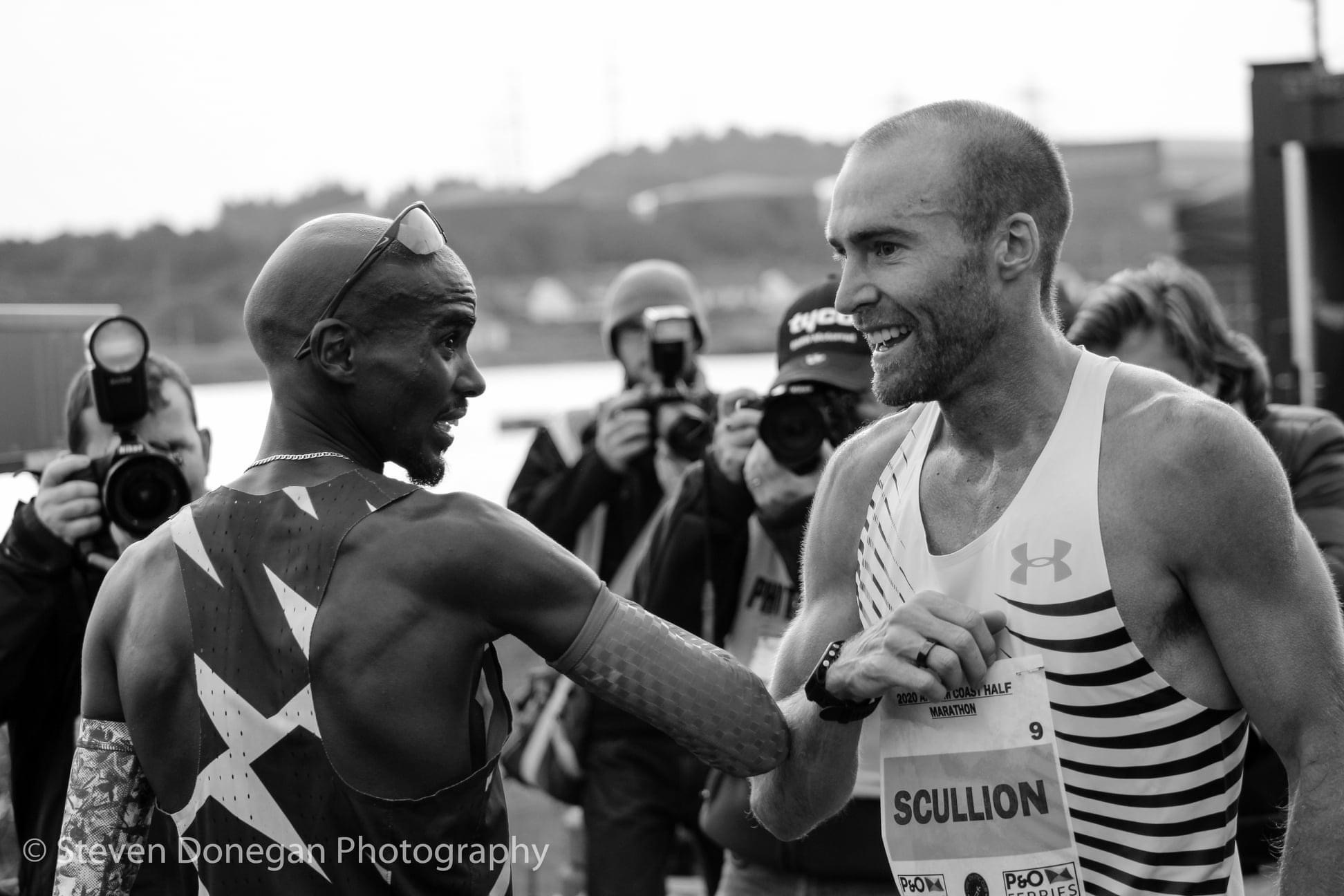 Whilst much of the pre race attention was focussed on Sir Mo Farah, the track star turned endurance specialist certainly lived up to his billing, taking the win in 1:00:31, with Stephen Scullion (1:01:12/4th) destroying the Northern Irish record, and Tommy Hughes (1:11:09) breaking the world record for M60.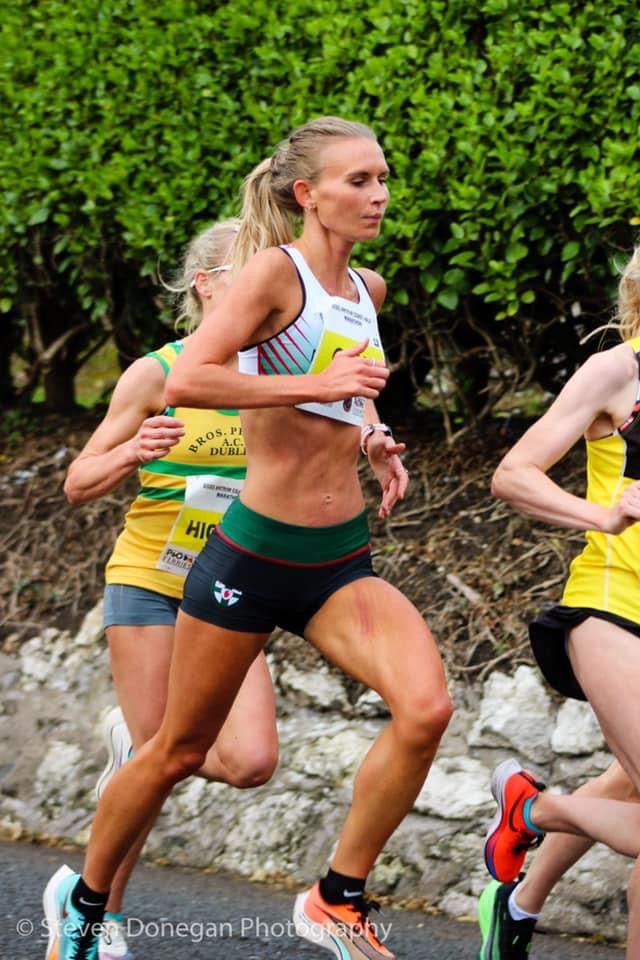 Not to be left out, North Down athlete Jessica Craig had a day to remember, more than holding her own amongst the best of good company, including Olympic hopeful Lily Partridge, who eventually took the win in 1:11:36. As part of the recently formed 'Marathon Potential' training group, Jessica's ambition is also Olympic selection, more specifically Paris 2024, and despite being a relative newcomer to distance running, the Bangor lady showed her tactical awareness to share the load with Ciara Hickey and Nina Griffiths through halfway in 37:44, before moving clear of her rivals to post a tremendous new PB of 1:15:45, and an outstanding sixth place overall.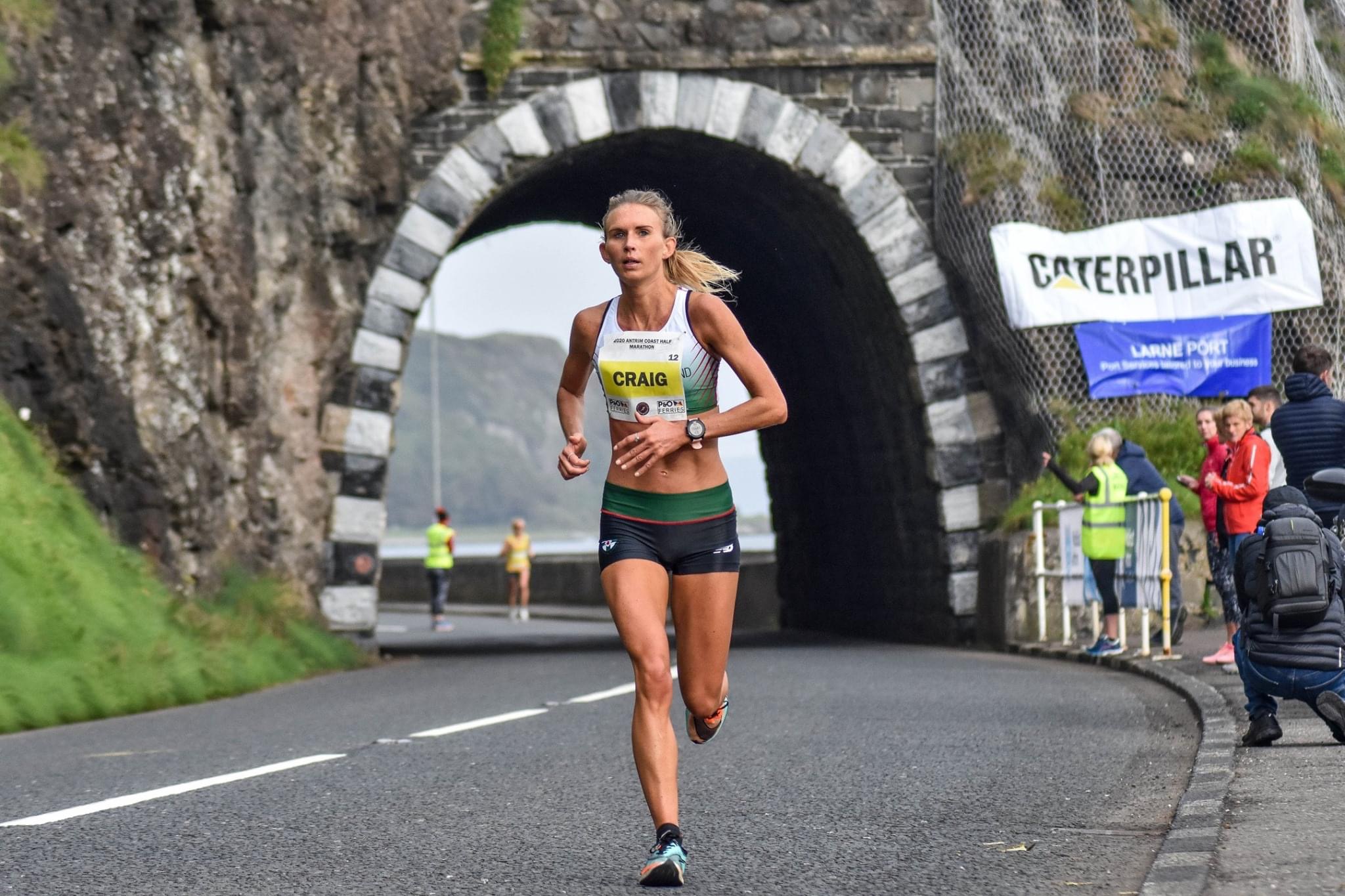 Antrim Coast Half Marathon – Results
The Florida 12 Hour Challenge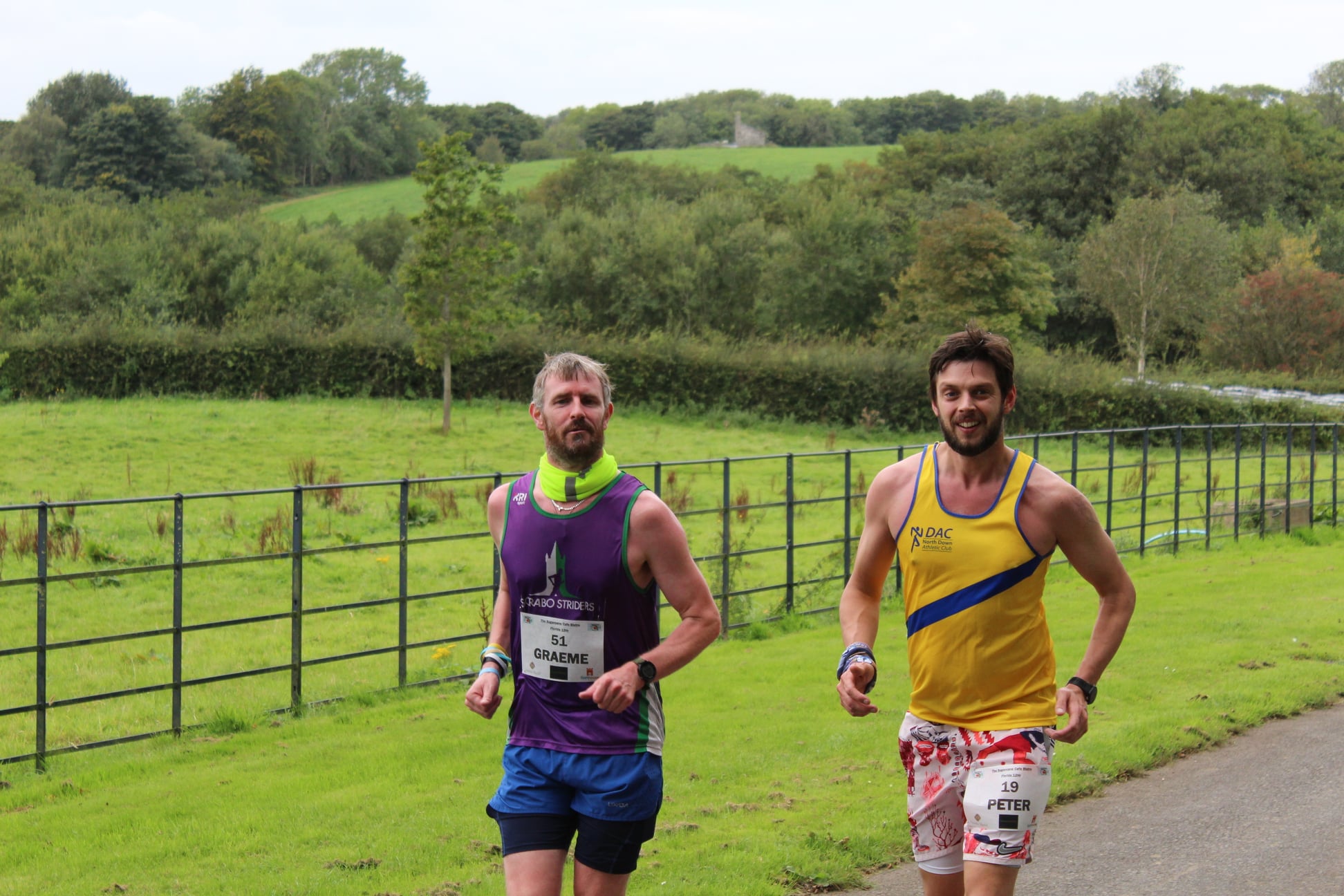 The Florida Manor Estate In Killinchy provided something a little different on Saturday, with a unique distance challenge pitting runners against forty competitors, and a twelve hour time limit in which to accumulate as much mileage as possible. Efficiently organised by the good people of Gaithouse Events, a 4km loop of the historic estate offered a combination of road, grassland and forest trail, with athletes setting off in near perfect conditions at the start of their endurance adventure.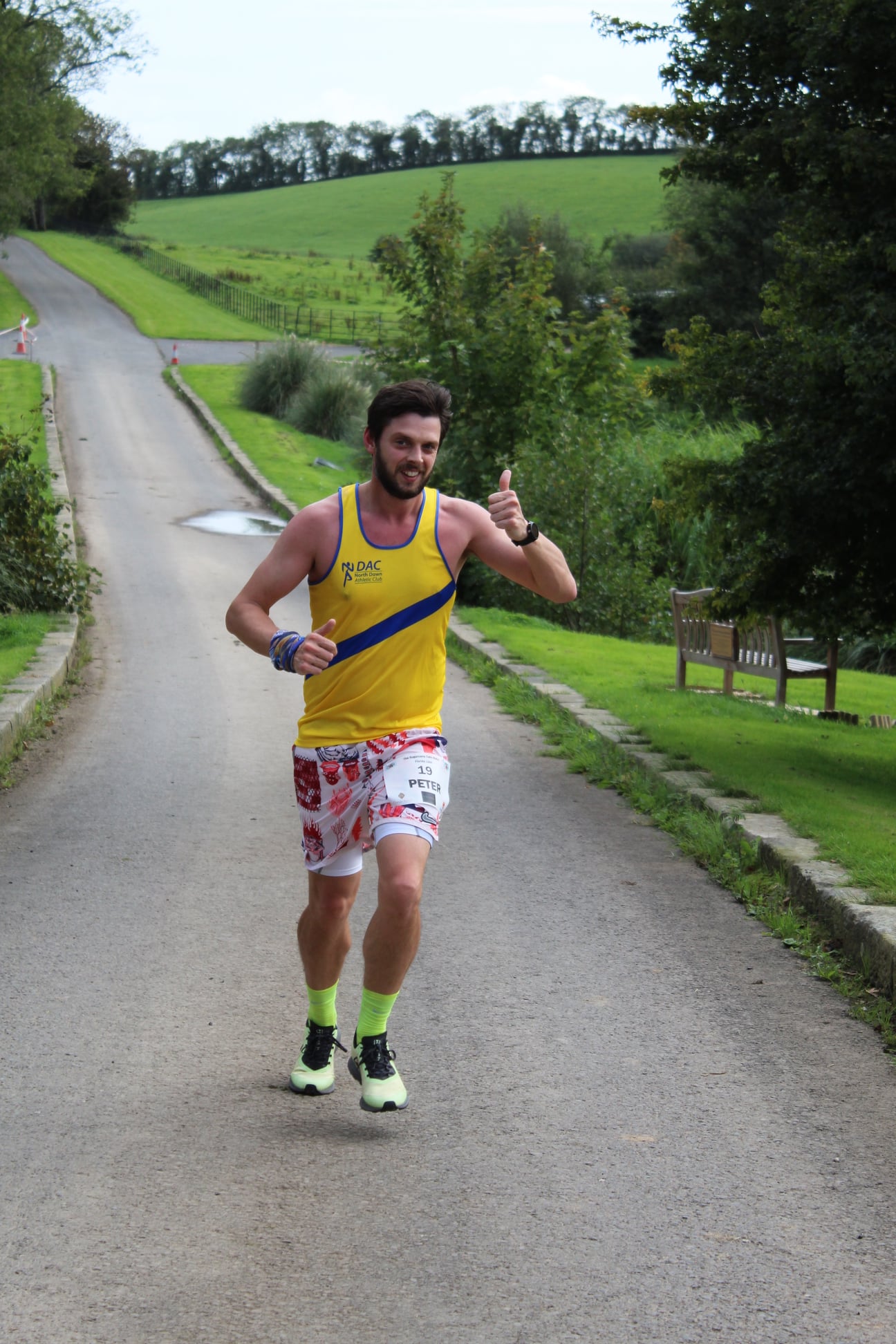 Ever the man for an off road challenge, Peter McQuillan added 'endurance junkie' to a running CV which already includes 'midnight marathoner' and 'torchlit trail runner' (although the jury is still out on 'fabled fashionista'!)
Early progress was made in pleasant conditions however, as is compulsory in these type of events, spots of rain arrived later on in the day in an attempt to dampen morale, but served only to focus the minds and as darkness fell Dromore AC's Johnny Breen emerged as the clear winner, clocking up slightly more than 72 miles over the course of the twelve hours. Despite impassioned pleas from the respectable folk of Killinchy to stop and change his shorts, Peter stayed focussed on the task at hand and when all was said and done had brought up his half century of mileage in fine style, with an equally impressive finish of eleventh overall.
Florida 12 Hour Challenge – Results