Despite many of the local parkruns being frozen off, icy paths gave way to sun drenched grass as North Down AC hosted their annual cross country event in near perfect conditions on Saturday afternoon. The increasingly popular primary school races attracted nearly one hundred local children to the atmospheric staging area in front of Bangor town hall, and provided a perfect start for the host club, Hollie Blease gliding around the 1km route in 5:23 to claim a comfortable victory, with Erin Playfair (5:37/2nd) and Daisy McGuigan (5:48/3rd) battling hard for the remaining podium positions. Anna Moran (6:01/7th) and Coco Smith (6:26/13th) both had strong runs to finish well up the field, whilst there were big turnouts and excellent efforts from the Towerview and Ballyholme Primary School teams and the Scrabo Striders Juniors.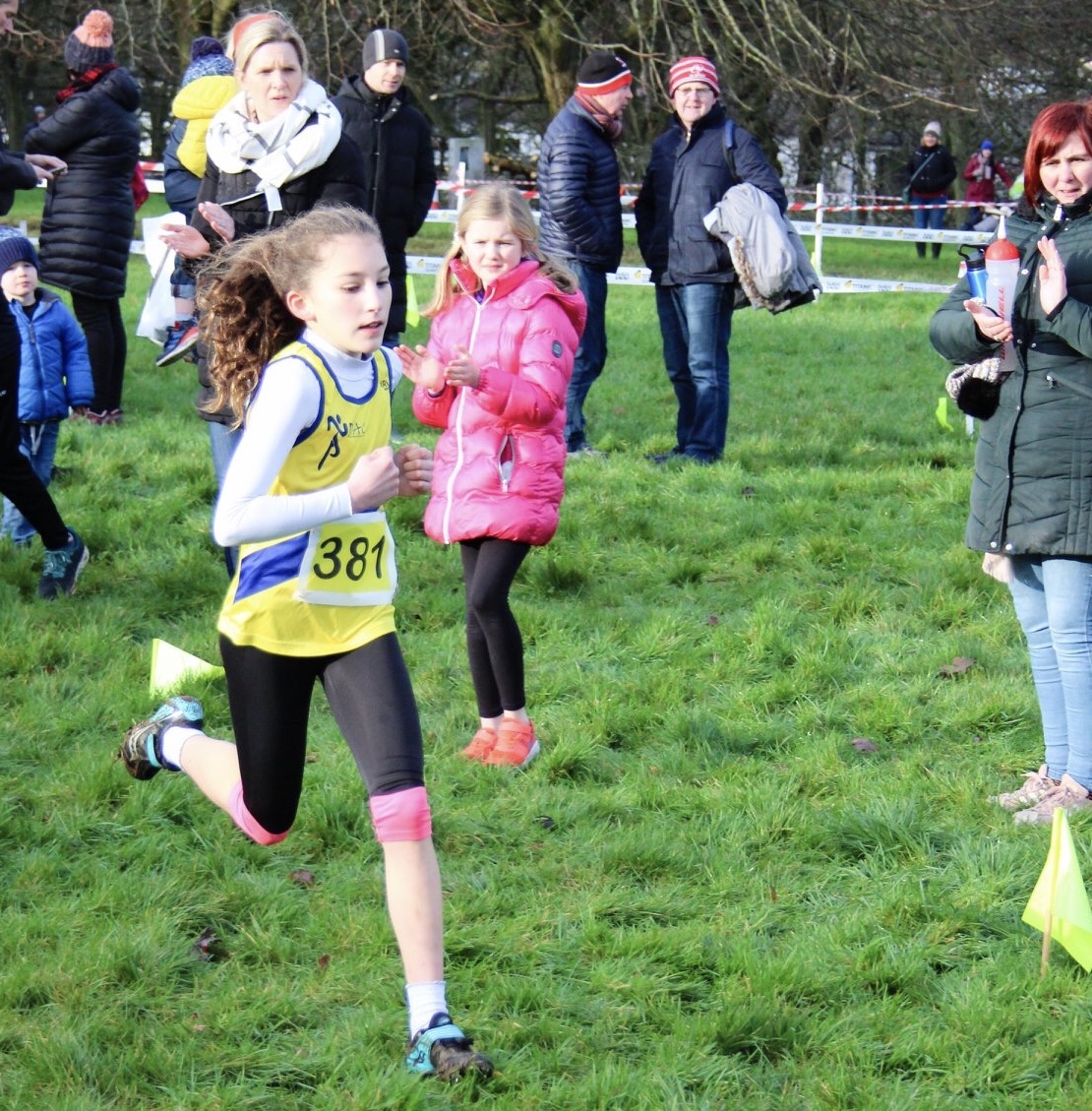 In the boys race, North Down's Aodhan Keag (5:02) was in charge throughout the two lap tour of castle park and took a well deserved win, ahead of Isaac Dunne (5:13/3rd), Alex Downey (5:17/4th) and a fast finishing Bailey Duncan (5:22/5th). Ethan Constable (5:34/7th), James Blease (5:44/12th) and Charlie Patton (5:56/16th) all put in strong performances, with Jamie Armstrong (6:00/20th), Tom Patton (6:05/24th) and Conor McClements (6:33/28th) completing a fine club effort.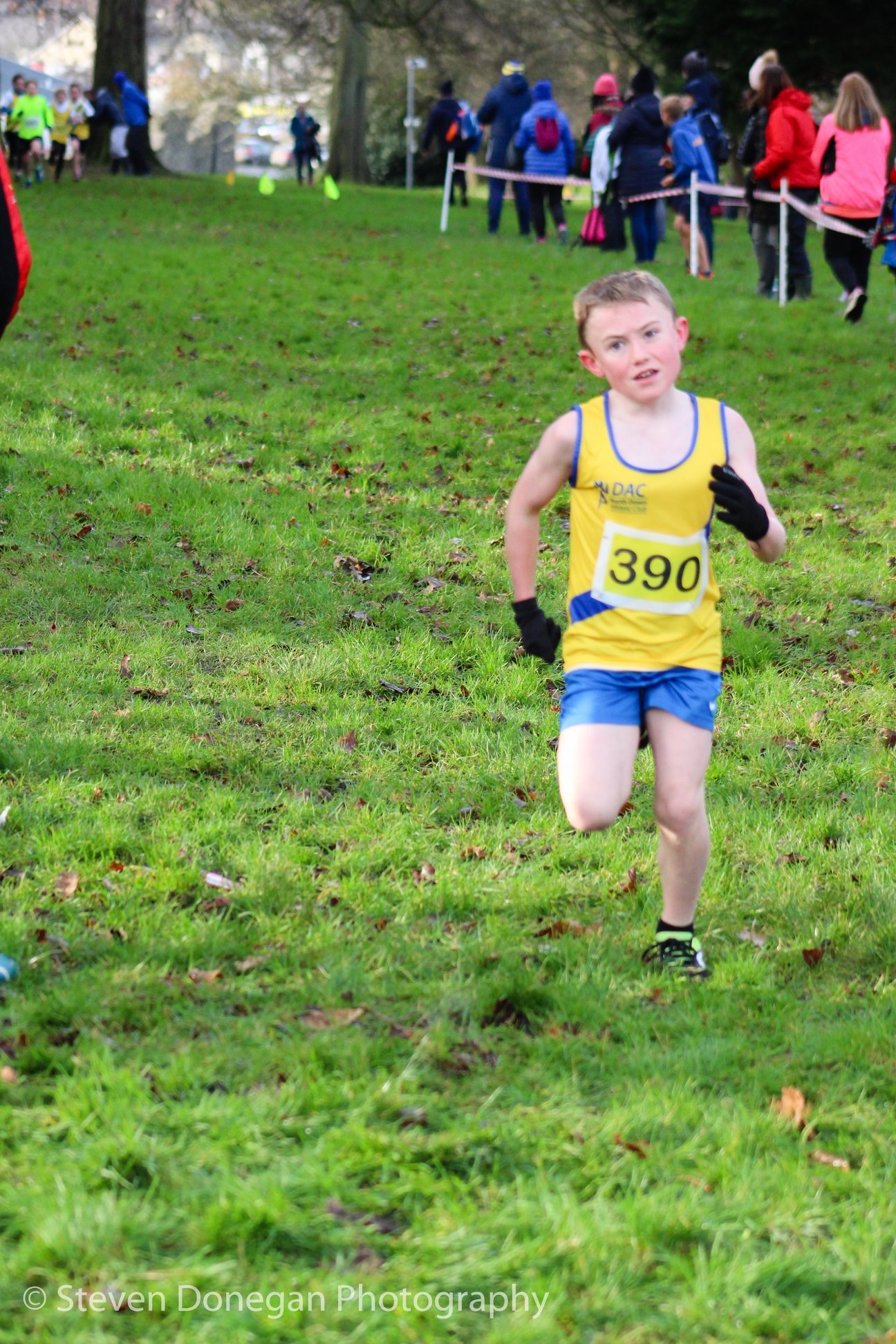 The U13 athletes took on two big laps of the park, for a little over 2.6k in distance, but proved well up to the challenge, with Oliver Playfair (11:16) taking second place, Sam Doyle (11:28) third and Cameron McCracken (13:15) fifth. It was a North Down 1-2-3 in the girls race, Lauren Cheatley (12:06) claiming the win after an excellent run, with Zoe Kirk (13:11) and Eva Gibson (13:16) completing the podium and Eimear Mulligan (14:04) close behind in fifth.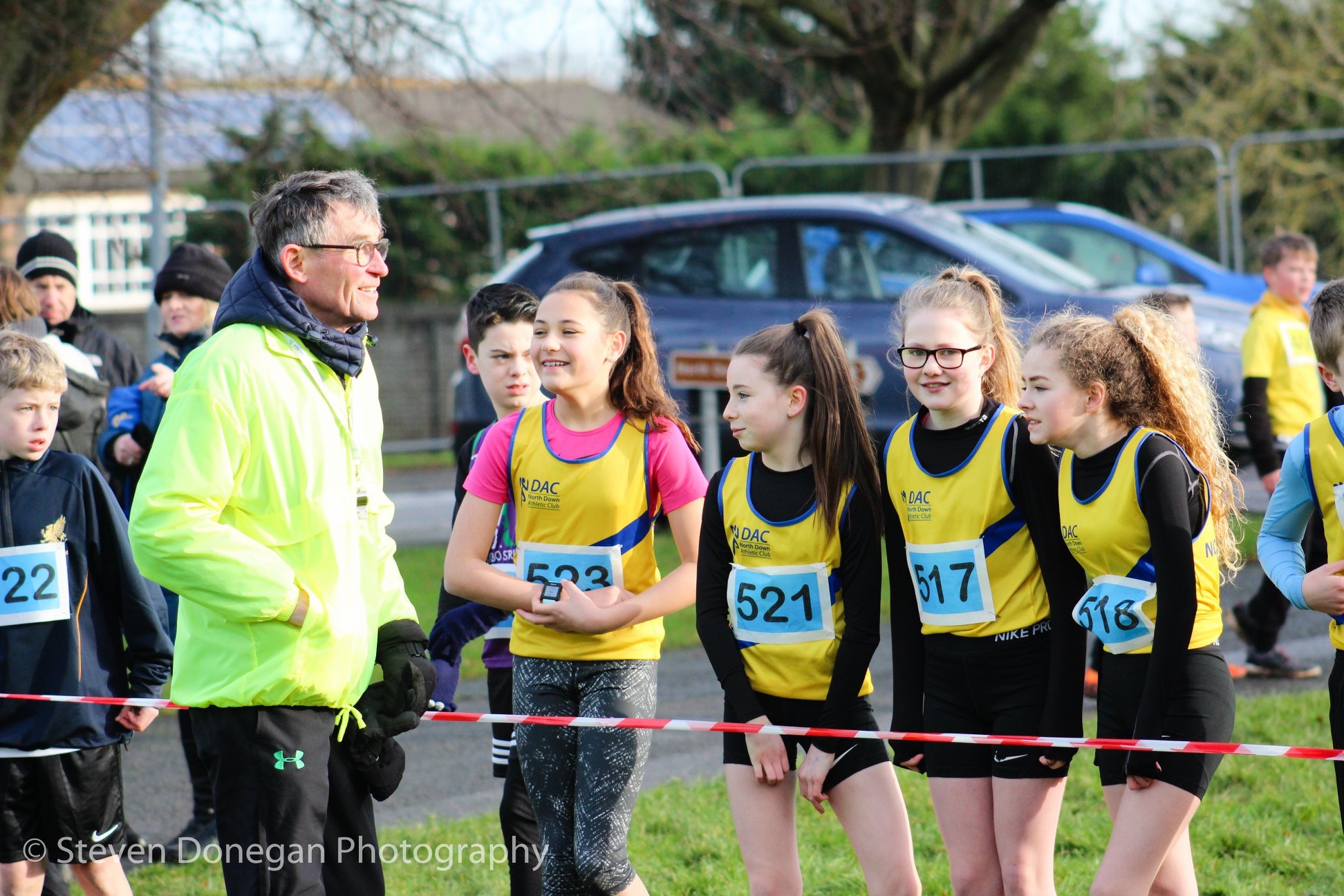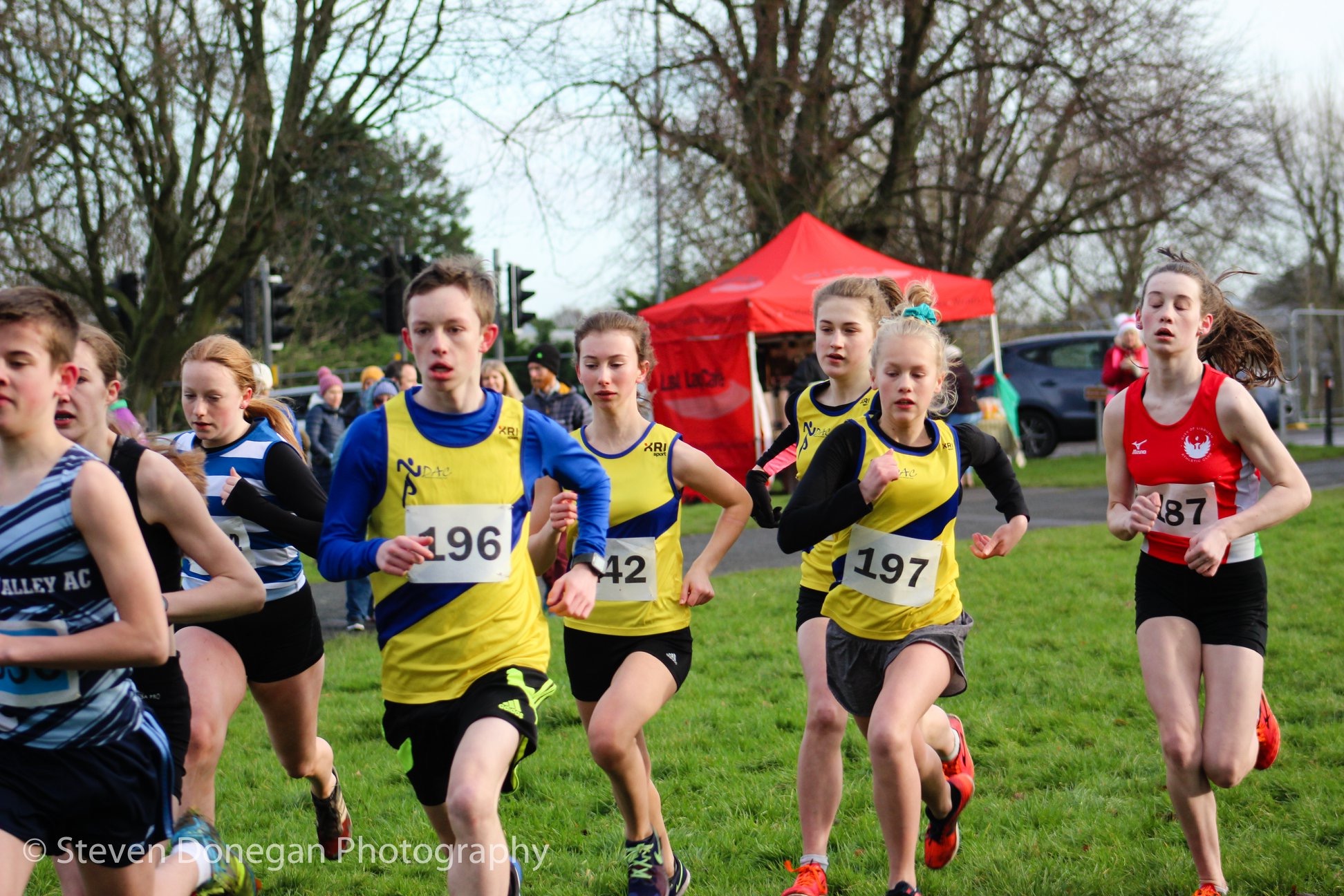 The combined U15/U17 race saw athletes take on 3 laps and 4km of punishing undulations on a course that was predictably cutting up as the day wore on, however the tremendous performances continued, with Ryan Lyness (17:09) finishing second in the U15's boys and Lucy Cheatley (17:28) matching him in the girls event. Hollie Massie (17:57) ran strongly to claim 3rd in the same category, as did Mac Eager (18:39) who finished shortly after, in fifth.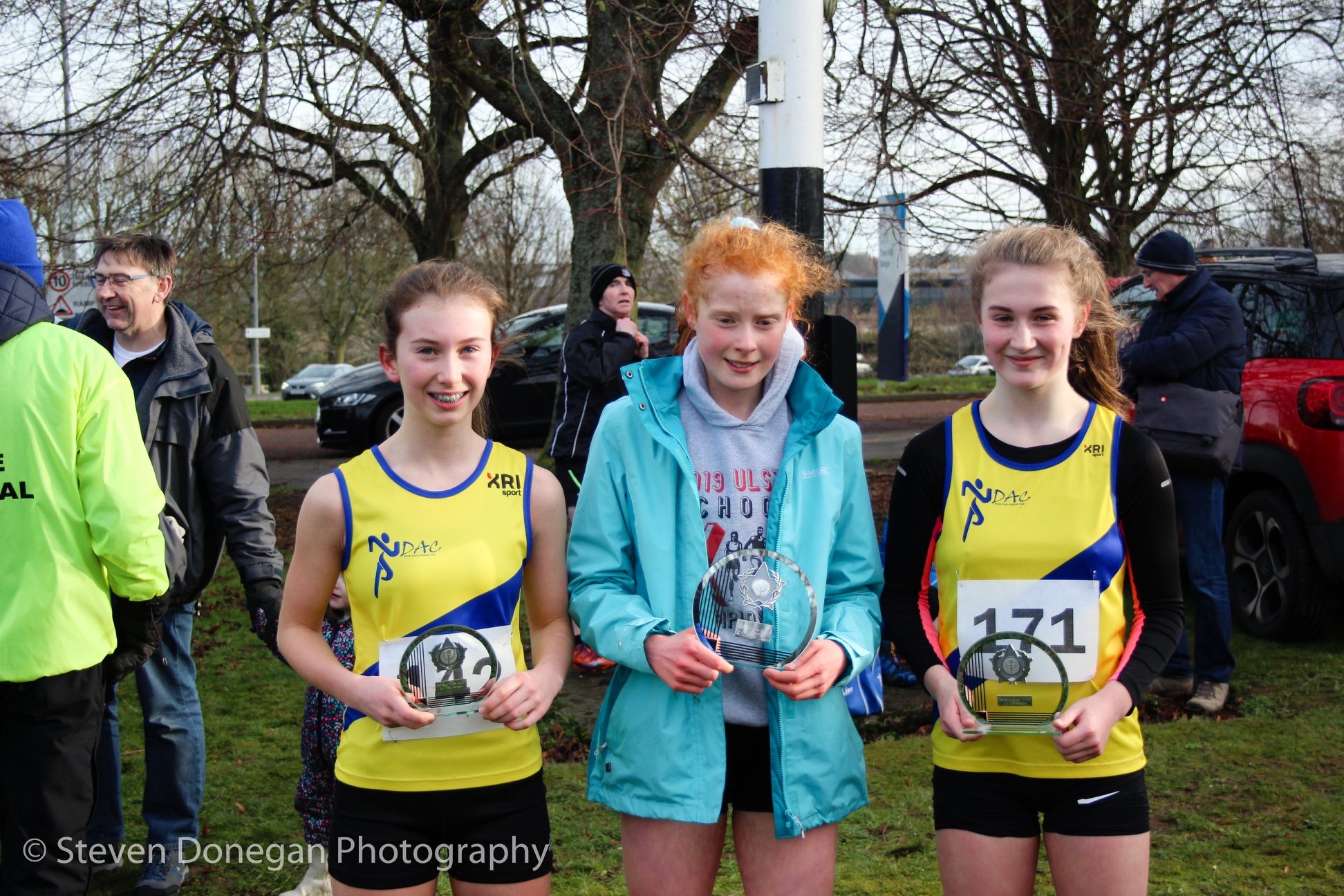 The combined senior and masters events had the ladies competing over the same 4k route, with the men getting the dubious honour of an extra 2.5k for their entry fee, but provided a host of fine performances, not least from Zara Fulton (20:50) who finished fifth in the masters category, just ahead of equally noteworthy efforts from June McMinn (20:59/6th) and Pamela Phillips (21:22/7th). Eamonn O'Reilly (28:34) ran to his usual high standard to claim fifth in the male masters, a tightly packed group of Michell Brown (30:59), Glenn Armstrong (31:21) and Gerry O'Bolye (31:33) claimed 10th, 11th and 12th respectively, whilst Shane Logan posted 32:32 (16th) and James Barr, 38:44 (22nd).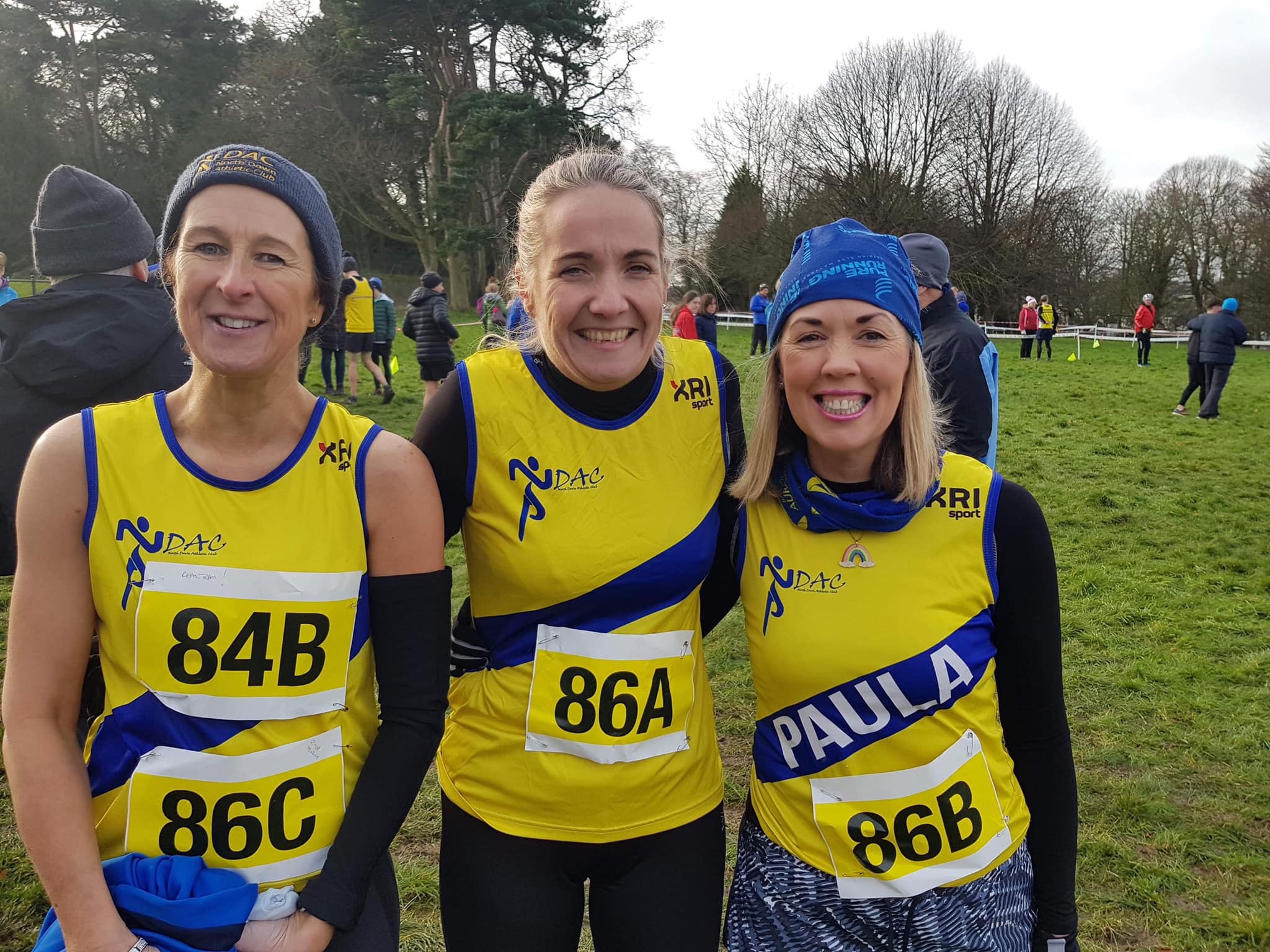 In the final event of the day, the much anticipated relays pitted ladies trios and male quartets against each other, with each individual completing two 1.3km laps. City of Lisburn ladies team of Judith Lonnen, Ita Monaghan and Eimear McCracken prevailed in the senior event (35:55), after a hard fought battle with North Down (36:10), for whom Tara McDonough, Bryanna Catney and Murphy Miller formed an all U20's trio, who competed admirably before succumbing by a margin of fifteen seconds.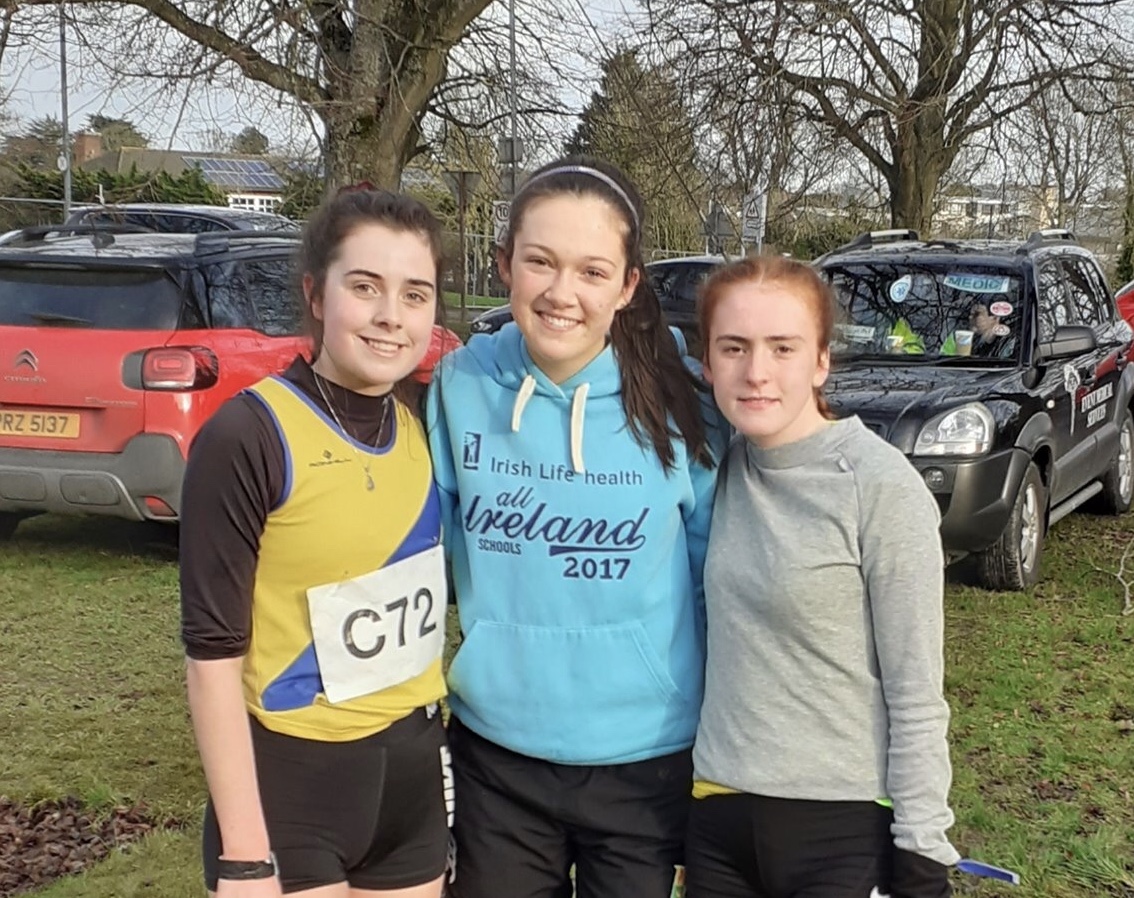 Jog Lisburn's team of Dessie McConnell, Fiona McFall and Karen Wilton, took the final spot on the senior podium, whilst in the masters category Ballydrain AC's trio of Denise Logue, Claire Ingram and Amanda Perry claimed a comfortable victory in 36:18, from North Down's team of Clair Quigley, Laura Neely and Claire Scott (37:51) and a Scrabo Striders trio of Barbara McKechnie, Shannon Clegg and Catherine Cauley, who claimed a popular podium spot for a club whose strong turnout and continued support of the event was greatly appreciated by their hosts.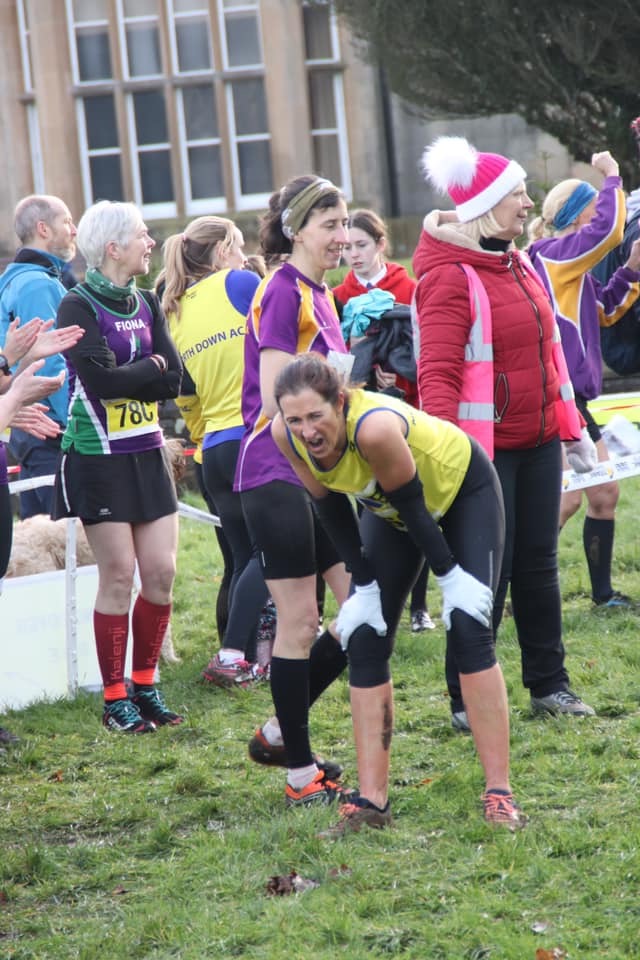 The North Down senior team of Susan Black, Maeve Williams and Clair Quigley threw up the unique prospect of the final leg runner attempting to catch the team for who she had already completed a first leg, but whilst Clair Quigley's strong opening effort for the masters probably left her her too much to do on the anchor leg for the seniors, she did manage to lead her second team to a commendable fifth place (40:18). Pamela Phillips, Zara Fulton and Nicola Downey claimed 4th masters team for North Down in 43:01, Louise Watson, Claire Scott and Paula Simpson were 7th in the same category with a combined time of 44:32, whilst Hannah Dunne, Jenny Keery and Angela Fawthrop placed 10th in 46:32.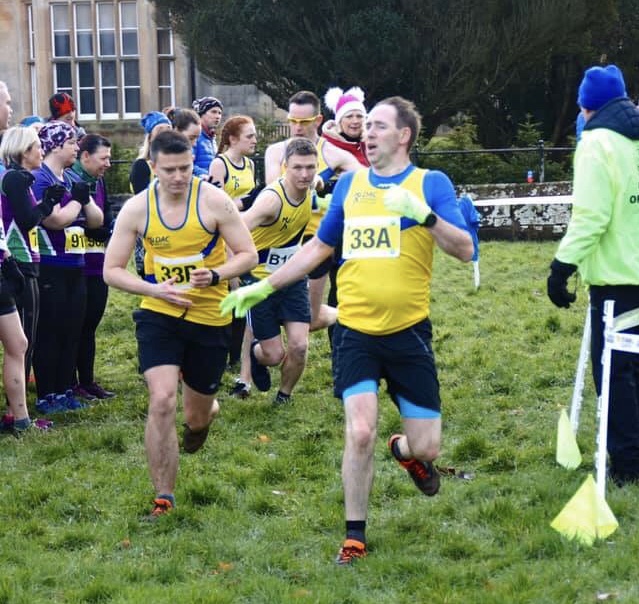 In the mens seniors event, Annadale Striders' quartet of Stephen Connelly, Niall McKnight, Lochlainn Connolly and Eskander Tukri were a class apart and took a comfortable win in 38:26, while the Lagan Valley squad of Conor McGrath, Matthew Willis, Ryan Miskelly put in an excellent shift to claim second in 40:57.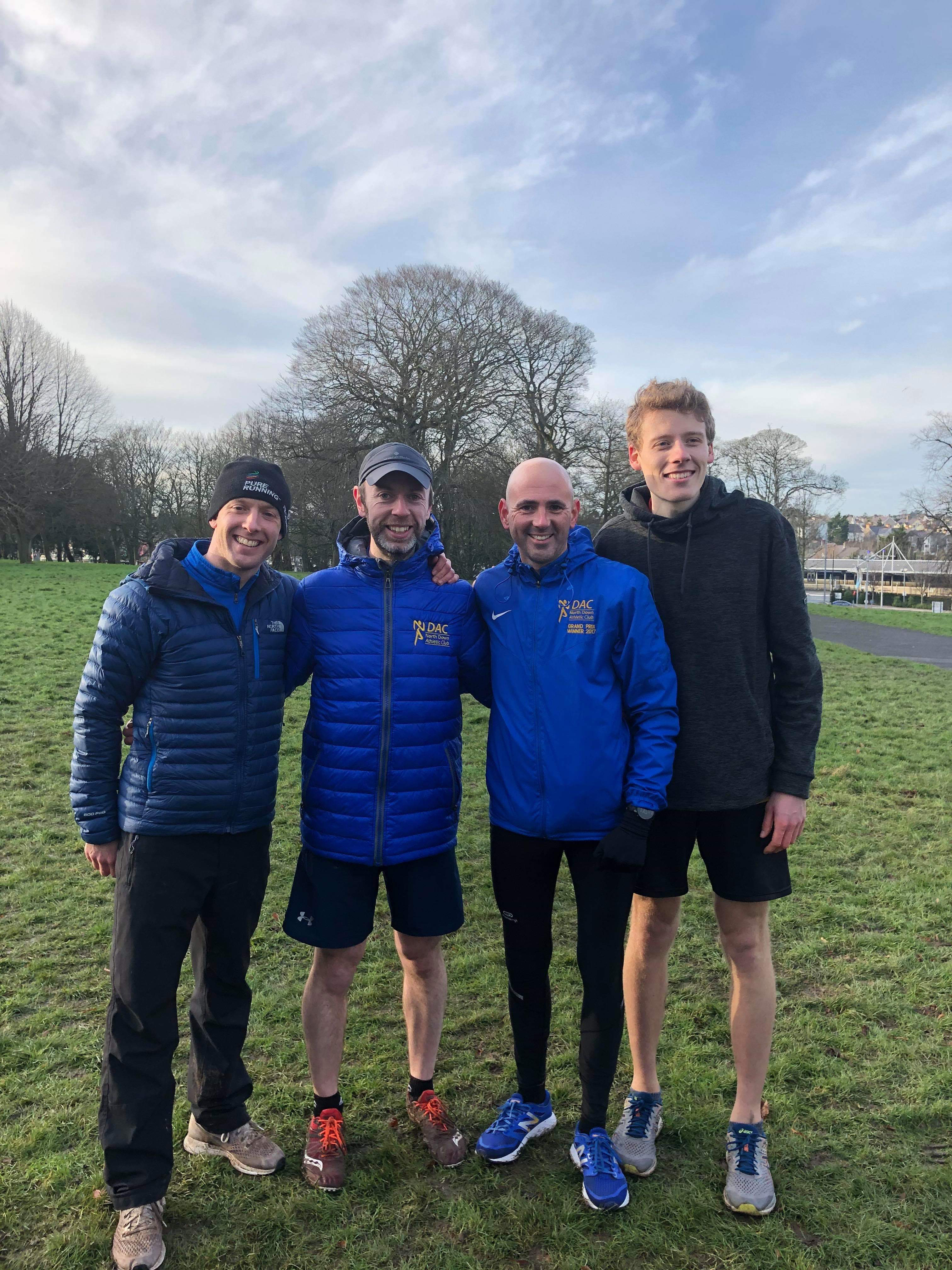 The North Down bragging rights went to the senior team of Jamie Smyth, James Budde, David Massey and Steven Donegan, who held on to take the last spot on the podium in 41:29, despite a fine effort by the North Down U20's team of Mark Carberry, Jamie Gaw, Ben Jenkins and Jakob Swann (41:41/4th).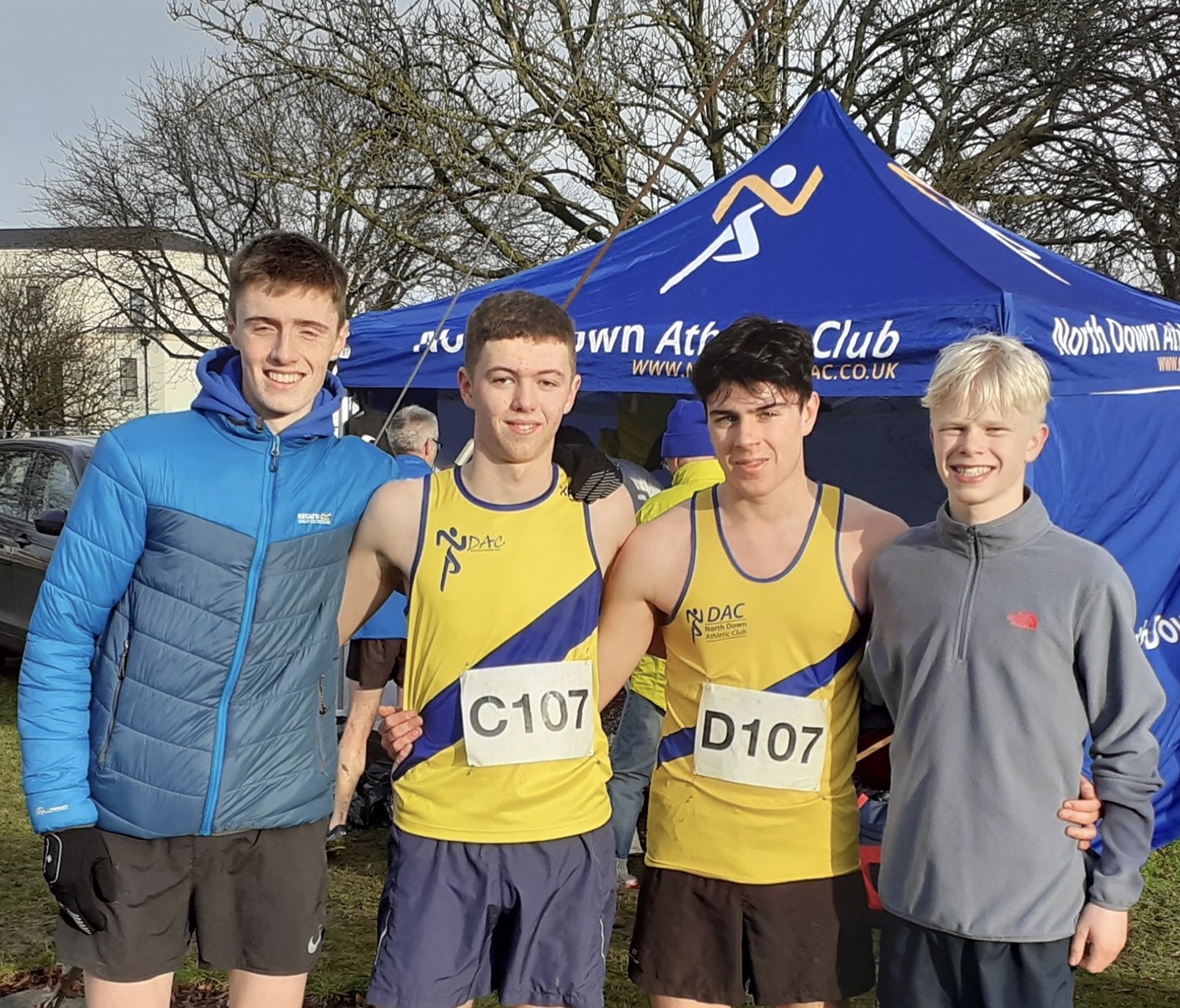 Eamonn O'Reilly completed his second race of the day, leading out a North Down team including Alasdair Mair, Aodhan Quinn and Philip Giles that placed a more than respectable 6th.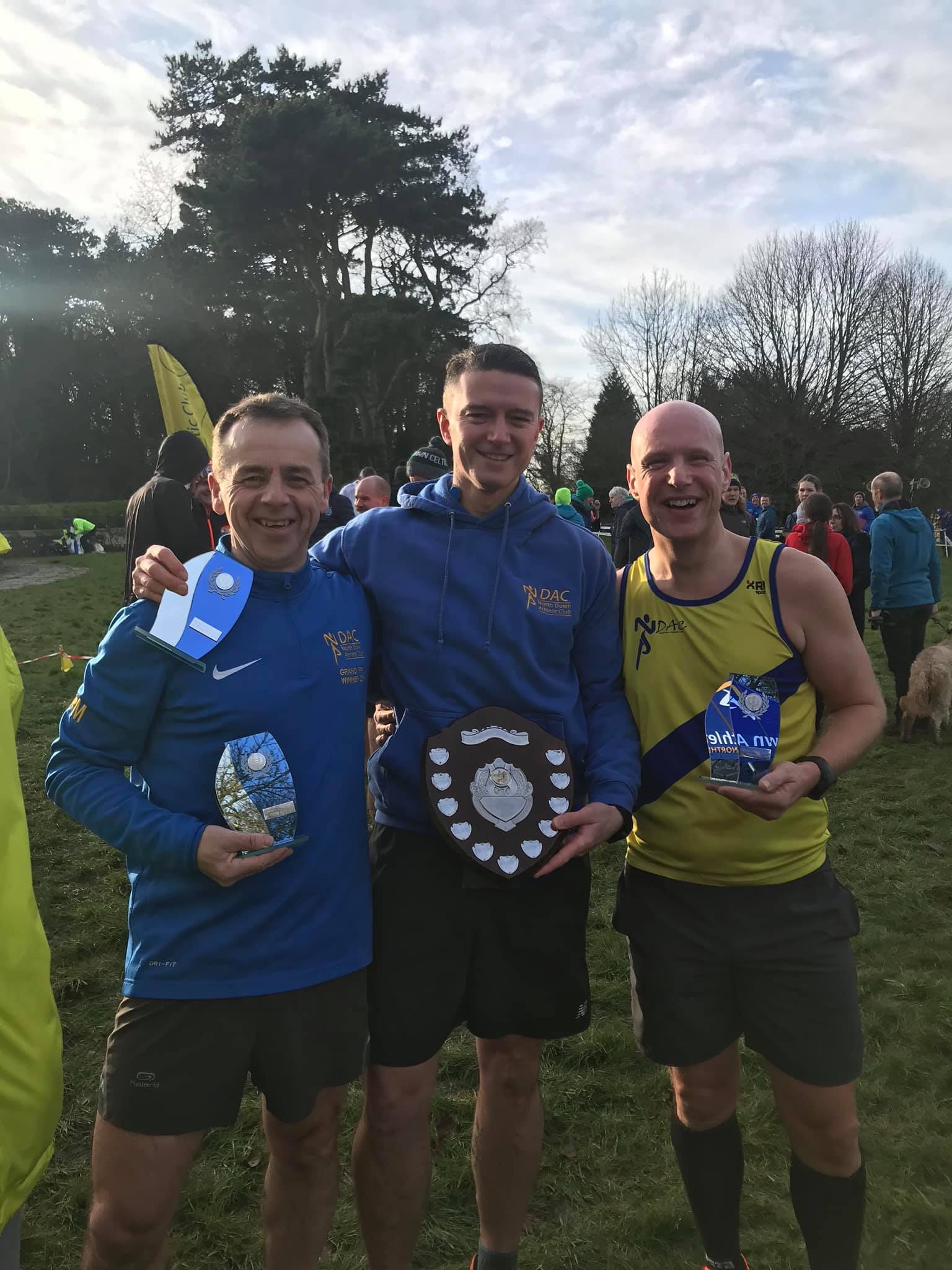 Proving that they are getting better with age, the North Down masters team of Aaron McCauley, Alan Massey, Philip Mulligan and Colin Walker claimed a popular victory in 45:40, with the Scrabo squad of James Lappin, Norman Mawhinney, Tim McEwan and David Parkinson in second (46:54). Rumour has it that the winners could have posted a quicker time, had they picked the faster Mulligan brother for the 'A' team, but in the end Kevin put the disappointment of Philip's debatable selection policies behind him, and led his team, including Mitchell Brown, Robert Eadie and Andy Belshaw to third place in 49:51, whilst the team of Glenn Armstrong, Richard Garrad, Paul Kennedy and Philip McDonough rounded out proceedings with a more than respectable 5th place in 51:57.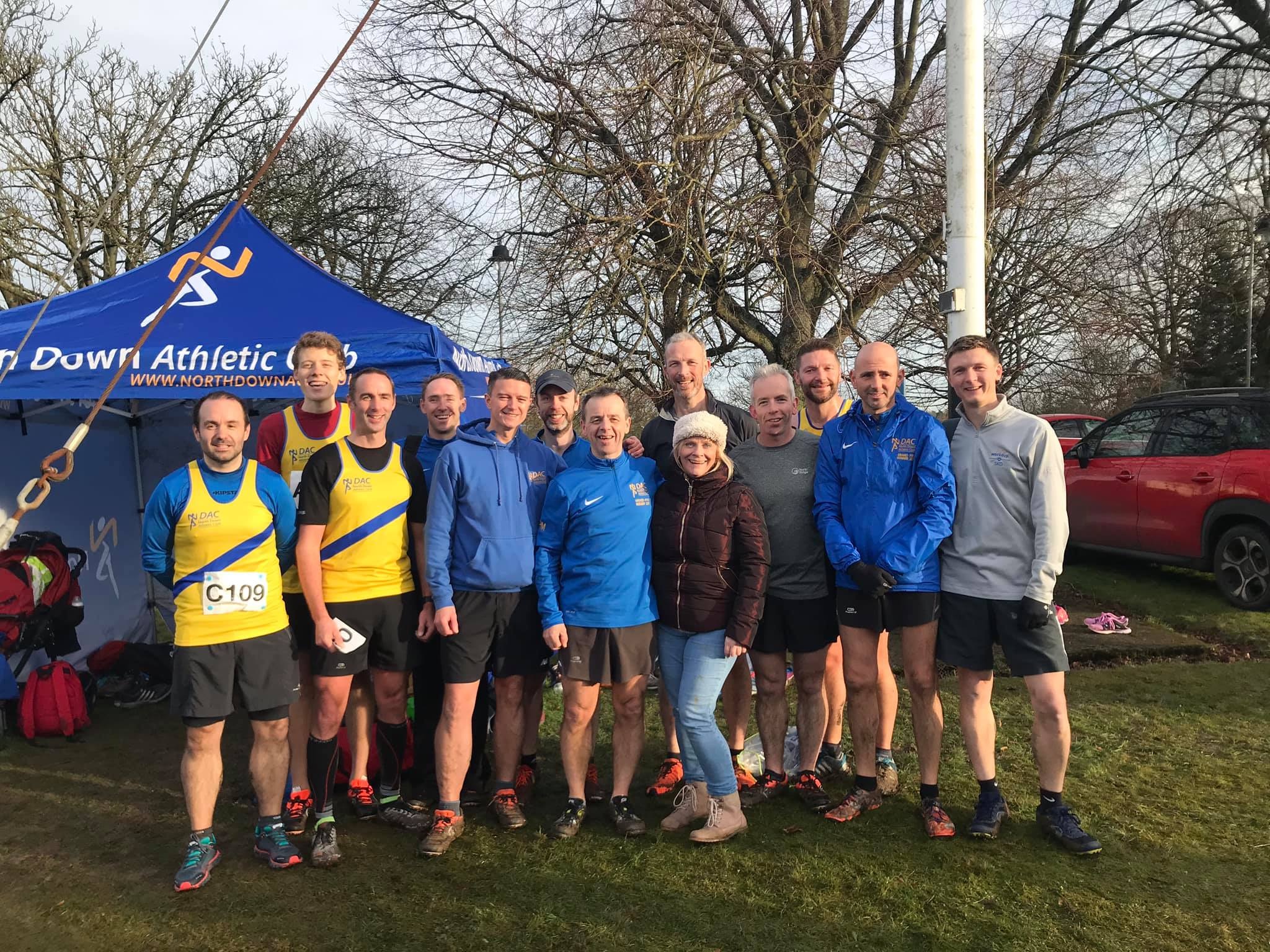 Photo Credits – Steven Donegan, Paula Simpson & Davy McMeechan
Irish Indoor Combined Events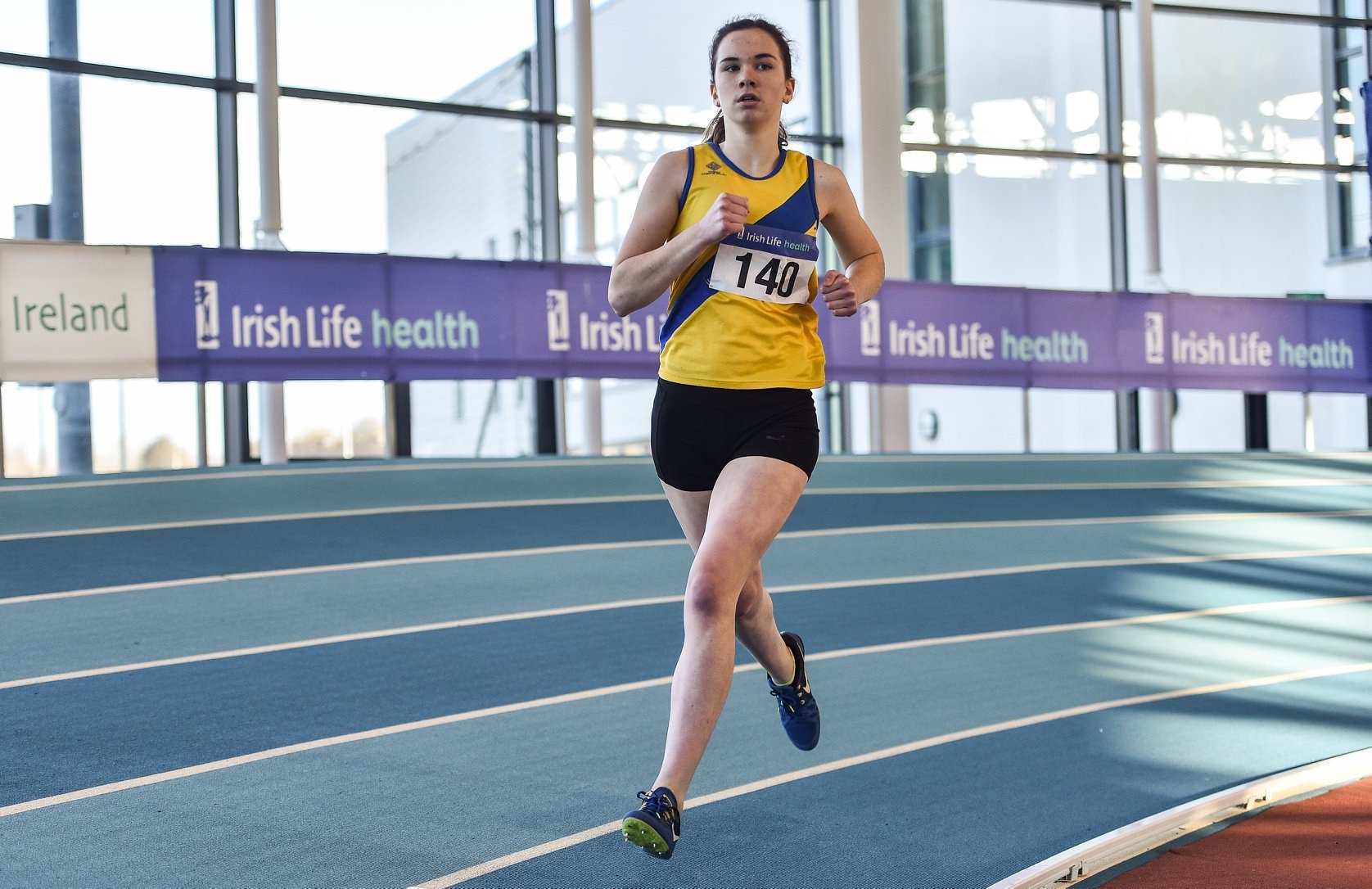 Niamh Fenlon was in action at the Irish multi events championships in Athlone over the weekend, setting a string of PB's and taking her first national title in the U16 pentathlon. By her own admission, Niamh was a little below par in the opening long jump competition, but still managed to record a best effort of 4.53m, when the pressure was on in the final round. A new PB of 9.47 seconds in the 60m hurdles, was followed by another lifetime best of 10.54m in the 3kg shot, good enough to claim top spot in both competitions. An indoor PB of 1.46m in the high jump kept the momentum going, before lowering her 800m time to a new mark of 2:31.25. Not surprisingly, this outstanding performance resulted in a new overall points PB of 3069 and a well deserved gold medal.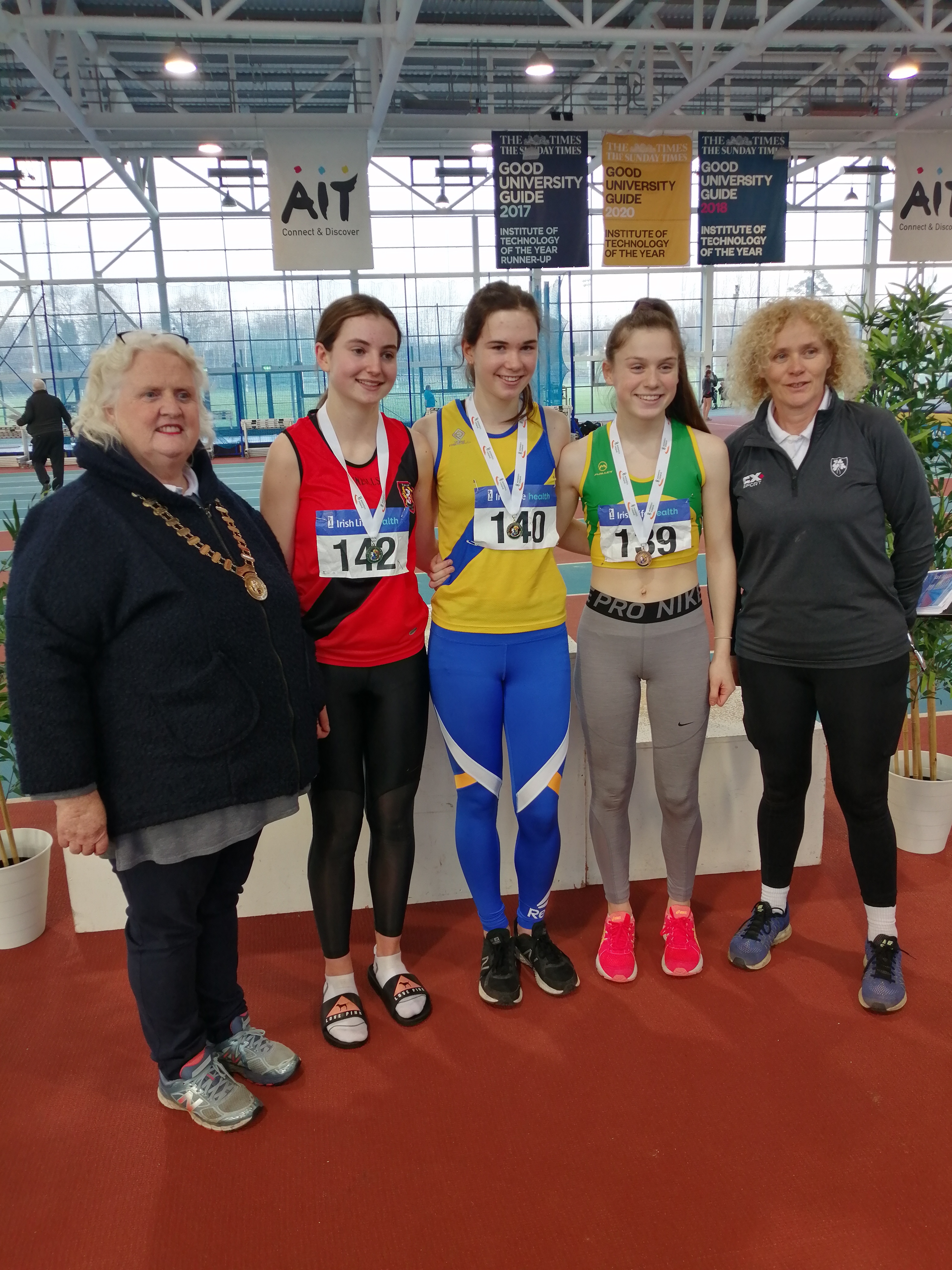 Athletics NI Jumps & Throws Meet
Having hosted a sprints meet on the previous weekend, University of Ulster, Jordanstown was again the venue for indoor athletics over the weekend, this time a variety of options in jumps and throws, with many of North Down's junior athletes in action. Rose McGeevy cleared a best height of 1.35m in the high jump, with Lucy Dow recording 1.30m and Kate Fenlon, 1.15m, whilst in the boys event, JJ Holley cleared 1.40m and Daniel Constable, 1.15m. Jayden Booth won the U16 boys long jump with a best of 5.13m, Daniel Constable posted 4.64m and JJ Holley, 3.96m, whilst in the girls event Poppy Dan had a best of 4.31m, Lucy Dow, 4.09m and Anna Cousins, 3.80m. Several of the young athletes also took part in shot competition, in a variety of implement categories relevant to their age, with JJ Holley throwing 6.47m, Daniel Constable (7.14m), Dara Browne (9.02m), Beth Hammond (10.90m) and Kate Fenlon (12.16m).
UUJ -Indoor Jumps & Throws – Results
World Half Marathon Day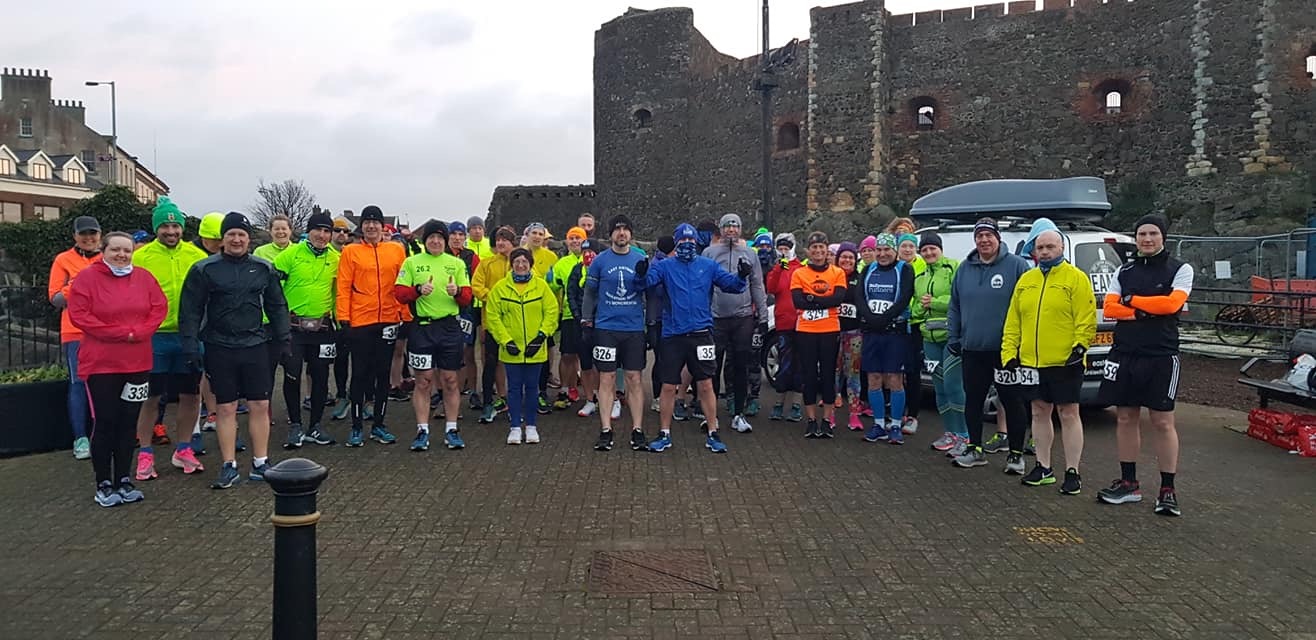 Pat O'Driscoll didn't let the horrific weather get in the way of his most recent half marathon in Carrickfergus last Monday, despite the coast road route being closed to vehicles due to the sea wall collapsing, and near incessant wind and rain making the going tough. On a day when times were irrelevant, completing the race was accomplishment enough and saw Pat notch up another 13.1 miles, with no signs of slowing down any time soon.
Born 2 Run – Gosford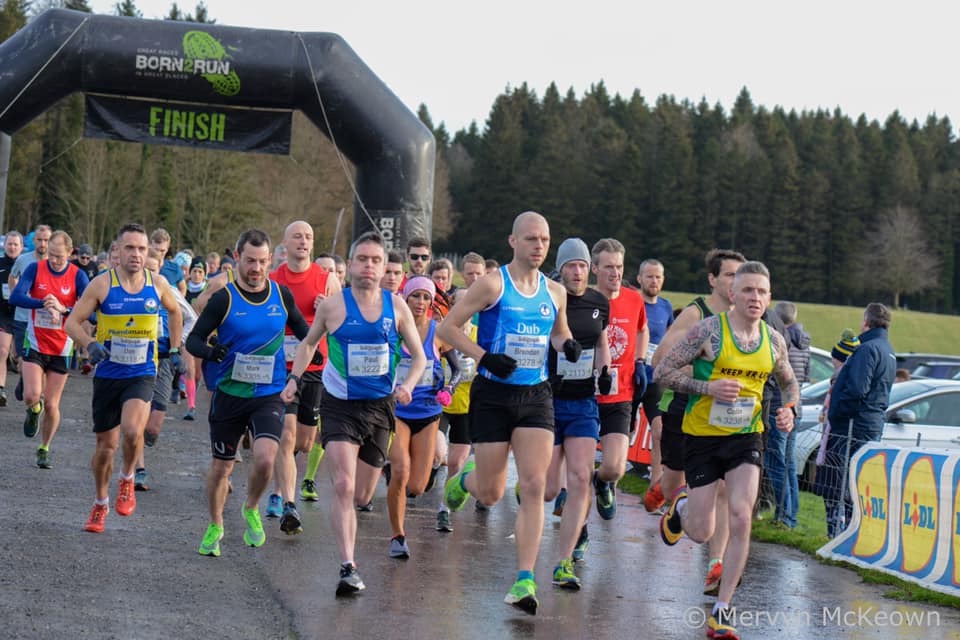 In altogether more pleasant conditions, North Down had a couple of bibs on the start line for the latest instalment of Born2Run's 10k tour of scenic Gosford Forest Park in County Armagh on Saturday. Despite the idyllic surrounds, the forest trails threw up nearly 1000 feet of climbing, and the end it all came down to the depth off a beard, with Mark Weir (37:24) edging the battle for fourth position by a solitary second. It may not have been such a frantic dash to the line for Christopher Ballentine, but he was still at the sharp end of proceedings, posting a speedy 43:23 for 38th overall.