North Down AC's athletes were out in numbers enjoying the coolest temperatures of the week as they sped through the streets of Comber on Friday 15th June. At least 39 of the 686 finishers in the Comber 10k were sporting their yellow and blue club vests, and the club was well represented in the prize categories with podium places across most age groups. In addition North Down had the honour of claiming first spot in both the men's and women's team prizes with points being awarded for the first four finishers.
The first 4 female finishers were Katie Moore, 36:48 who also took 3rd place in the senior women's category, Fiona McQuillan, 37:40 and 1st W40, Jodi Smith 41:44 and 3rd W40 and Sarah Gibson 42:03 and 2nd W50. The men's winning team comprised Jamie McMeechan 33:45 and 8th overall, Dale Murray, 34:06 9th, Matthew McParland 34:30, 11th and Ricky Jordan 34:50 and 3rd M35.
Other age category prize winners included Lisa Tomalin 43:10 2nd W35, Paula Simpson 48:14 2nd W55, Lynne Kerr 55:51 2nd W60, Judith Gillespie 56:53 3rd W60 and Helen Beattie 1:03:26, 1st W65 while David Massey was 1st M45 in 38:30 and the evergreen Pat O'Driscoll finished 2nd in his M75 category in 1:01:01.
It would be uncharitable to suggest that the lure of a free pint at McBrides on the Square for the first 60 runners to present themselves with their finisher medals, rather than strong, consistent training led to such fast times, but several North Down runners managed to enjoy their richly deserved reward!
Other NDAC finishers included Tadhg Ryan-Charleton 36:28, Kevin Harkin 36:42, Declan Magee 36:53, Aaron McAuley 38:13, Brian Barron 39:39, Eamonn O'Reilly 39:40, Tom Agnew 40:25, Stuart Anderson 41:02, Clair Quigley 42:10, Noel Eager 44:08, Lindsay Doulton 44:32, Steven Boyd 45:30, David Balmer 47:01, John Ferguson 47:05, Emma Fox 48:38, Olivia Cumming 49:22, Wendy Neely 49:26, Nicola Ingram 49:31, Heather Beattie 51:38, Lisa McMeechan 52:32, Emma Hegarty 53:12, Claire Charleton 53:49, Julie McCready 58:13 and Jill Eager 1:01:37.
http://www.ballydrainharriers.co.uk/wp-content/uploads/2023/06/10k-2023-Finishers-1.pdf
[photos: Jamie McMeechan]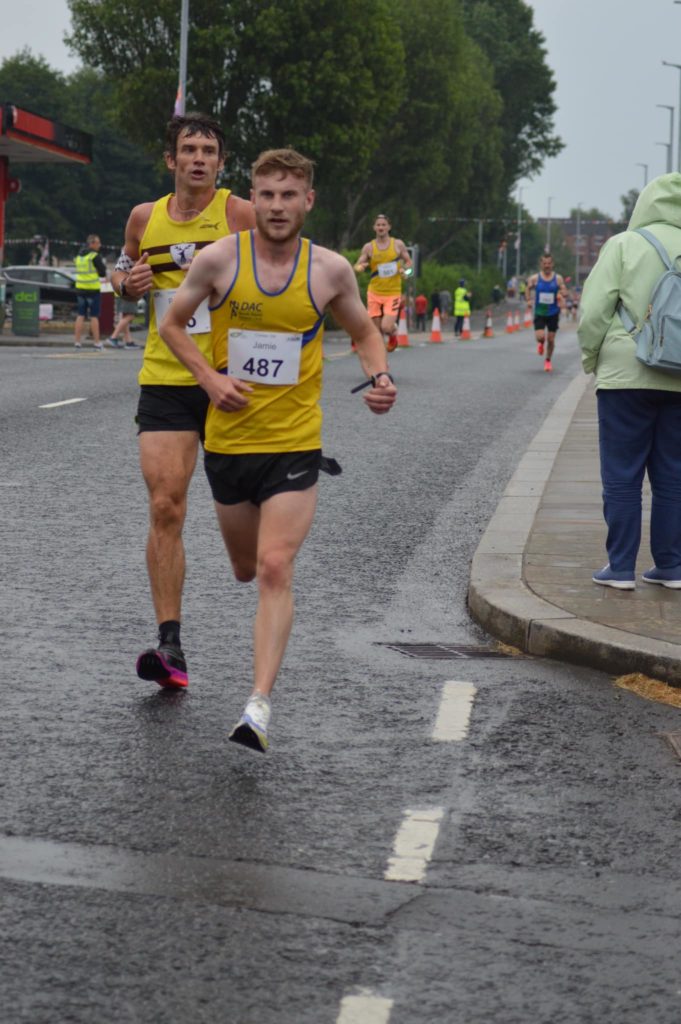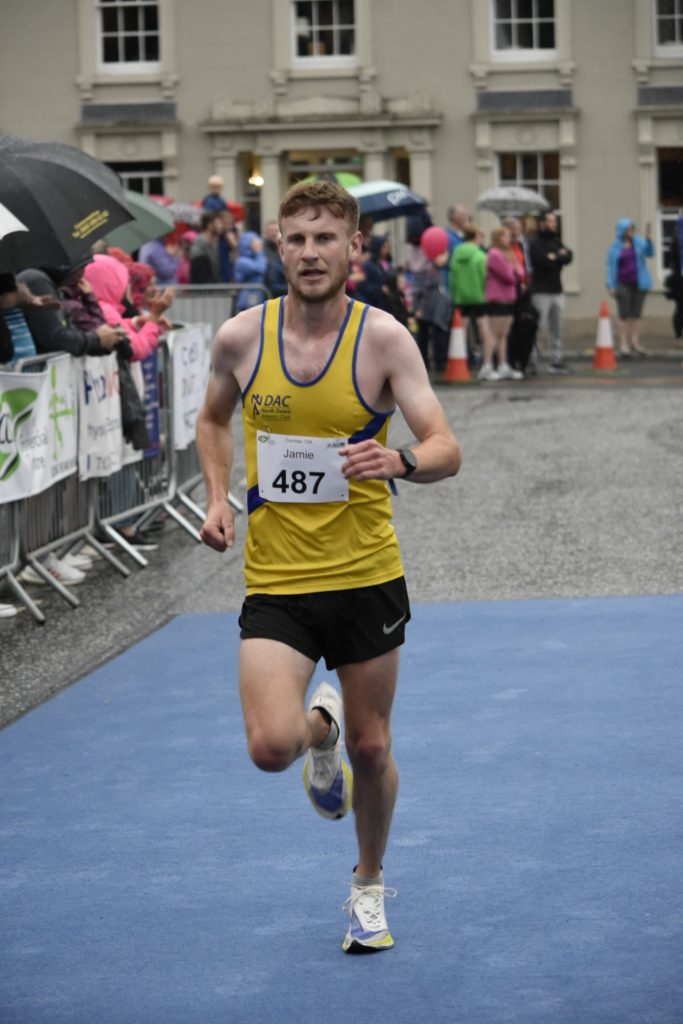 [photo Katie Moore]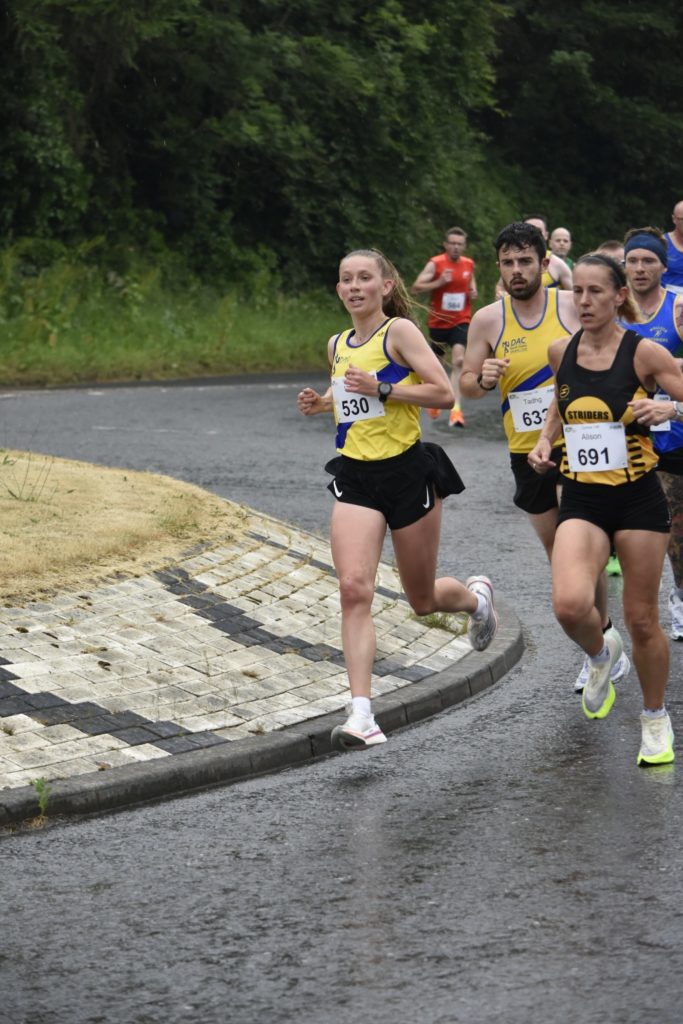 [photo: Happy NDAC finishers]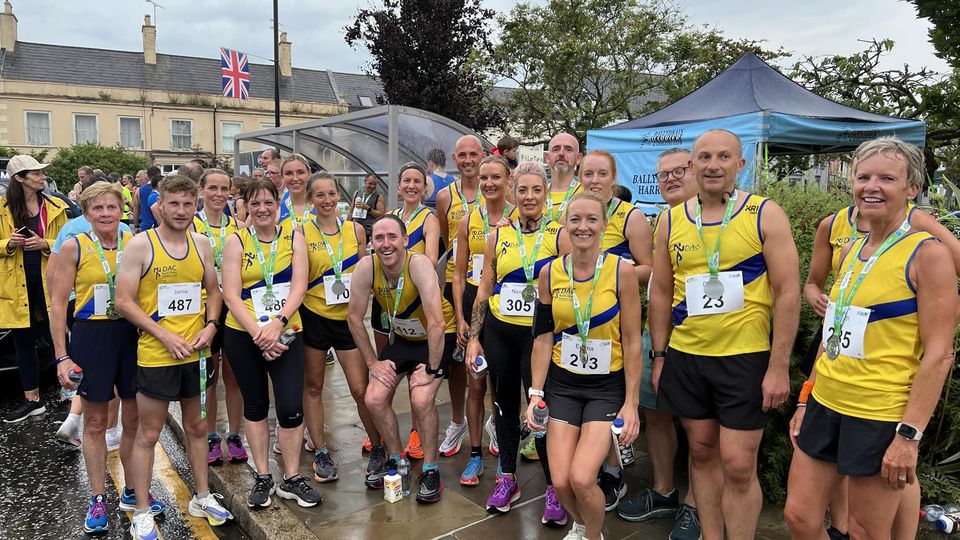 [photo: Happier NDAC finishers!]