On Thursday 11th May the third of Lagan Valley AC's Fab Five meetings took place at the Mary Peters
Track. In the hurdles races Coco Smith took part in the 70m hurdles for under 13 girls, finishing 6th in
16.93. In the under 15 girls 75m hurdles, Caoimhe Fenlon was 4th in 13.89, whilst Holly Blease was 5th
in 17.00. In the under 17 boys 100m hurdles, Cameron McCracken kept up his fine form by winning
the event in 15.47.
Next were the middle-distance races. In the 600m for under 11 boys, Adam Downey finished 7th in
his race with a PB of 2.13. Then in the 1000m for under 13 girls, Coco Smith was 6th in 3.43.84 and
Caitlyn Dickenson was 8 th in 3.51.58. In the under 13 boys 1000m, Carter Rolston was 2nd
overall in 3.17.08 and Sebastian Mair was 3rd in 3.20.97. In the 3000m, Alex Downey was 8th in the
under 15 boys' race in 10.32.40 (PB), whilst in the under 15, under 17 and under 20 race for females,
Holly Blease was 14 th in 11.38.56 (PB).
Moving on to the field events, the very active Coco Smith was 2 nd in the under 13 girls' high jump
with a jump of 1.15m, whilst in the under 15 girls' long jump, Caoimhe Fenlon was 4th with a jump of
4.00m, whilst the equally active Holly Blease was 5th with a jump of 3.36m.
[photo: Carter Rolston & Seb Mair, LVAC Fab 5]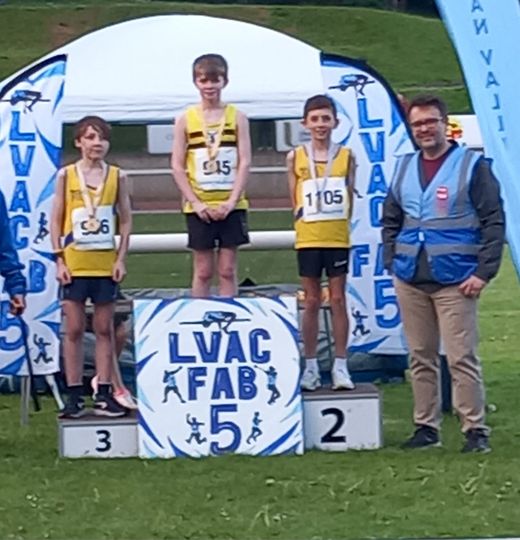 [photo: Coco Smith, LVAC Fab 5]