NI Age Group Championships
With places at the Irish Age Group Championships up for grabs, the competition for medals was fierce at a warm and humid Mary Peters track, on Saturday 10th & Sunday 11th June.
U14s
Caoimhe Fenlon set a PB in the heats of the 75mH and went even quicker in the final, running a very smooth race to take bronze in a time of 12.71s (-1.8w). She went on to take gold in the shot putt, where she was the only competitor to throw beyond 10m, adding a metre to her PB with a winning putt of 10.14m. The middle distance athletes had to contend with some very hot, humid conditions but that didn't prevent Isla Wiltshire from setting a PB of 2:41.80 to finish 5th in the 800m, on Saturday, and 5:24.70 to earn a bronze medal in the 1500m, on Sunday. Ethan Constable had a very busy and productive day on Saturday, running a blistering last 100m to win a bronze medal in the 800m in a time of 2:22.50, followed by another bronze in the long jump with a best effort of 4.45m.
U16s,
Anna Moran equalled her recent PB of 8.55m in the shot putt (3kg) to take the bronze medal. Cameron McCracken continues to improve over the hurdles and took the 100mH title in emphatic style, crossing the line before the runner-up had cleared the final flight, in a new PB of 14.83s (-1.4w). Later in the day he was sitting in 3rd in the 100m final but faded slightly over the last 20m to finish 4th in a time of 12.15s (-3.2w). Curtis Hughes went one better in the 200m final, showing some good speed endurance down the home straight and just missing out on silver by a matter of centimetres but taking bronze in a time of 24.13s
U17
Ellie Dines dropped down a distance and, in her first time at the event, ran a gutsy 400m to take a hard-earned silver medal with a time of 68.46s. Daniel Constable looked unlikely to compete, following a recent ankle injury, but miraculously was still able to produce a jump just short of his PB to earn a long jump bronze medal with a leap of 5.71m. In only his third shot putt (5kg) competition, Jack Law was also rewarded with a bronze medal with a best effort of 9.54m.
U18
In tough conditions for distance running, Mackenzie Eager coped well to take a bronze medal in the 3000m with a time of 11:58.20 while Hannah Lawden went one better, taking silver in the javelin (500g) with a throw of 26.38m. Jamie Moffatt's hopes of achieving a 100m qualification performance, for possible major competitions later in the summer, were thwarted by a constant headwind so he had to settle for the gold medal in a modest time of 11.14s (-0.9w). Conor Adair was attempting the difficult 200m/400m double so was relieved when both races ended up being straight finals. In the 200m, he ran a strong 24.09s (-1.9w) to take bronze, however, he started a little tentatively in the 400m final but finished like a steam train, moving up three places from 6th to 3rd down the home straight and was rewarded with a first sub-53 clocking, a big PB of 52.77s and another bronze medal. Ethan Isles took a hard fought bronze in the 800m with a time 2:01.47 which was an excellent time in the heat.
U19
In a mixed pole vault event Morgan Wilson took gold in the girls event with a new PB of 2.40m, while Andrew Brown took gold in the boys event with a best clearance of 2.20m. Morgan also threw. 28.78m to take javelin gold while Andrew threw 34.06m for javelin silver and jumped 10.82 for triple jump silver. Charlie Lawden continued his string of 50m plus throws in the javelin, taking gold with a best effort of 51.58m while Calum Spain threw 29.43m to take bronze in the discus.
Other results were a follows:
U14
Caoimhe Fenlon finished 10th in the long jump with 3.89m
James Blease was 9th in the 1500m in 5:29.18 & 10th in the long jump with 3.39m
U15
Abbie Irwin finished 7th in the high jump with a clearance of 1.35m & 15th in the long jump with 3.64m
Maisie Rainer finished =4th in the high jump with 1.40m & 10th in the long jump with 4.15m
Alex Downey finished 9th in the 1500m in 4:52.95 (PB)
U16
Ruby Sterrett finished 5th in her 100m heat with 14.10s (-2.6w) & 6th in her 200m heat with 28.48s
Holly Blease finished 9th in the 1500m in 5:21.24, 4th in the high jump with 1.20m & 8th in the long jump with 3.42m
Anna Moran came 5th in the 80mH in a time of 15.55s & 5th in the long jump wth a best effort of 4.57m
Curtis Hughes finished 6th in the 100m in a time of 12.65s (-3.2w) (12.25s in his heat)
Chris Belsahw  finished 5th in the 800m in a time of 2:17.22
U17
Rebekah Laffin finished 5th in the 800m with a time of 2:26.78 & 6th in the 1500m in a time of 5:03.63
Oliver Playfair finished 7th in the 800m in a time of 2:14.41
U18
Ethan Isles finished 6th in the 1500m in a time of 4:09.55 (PB)
[photo: Conor Adair]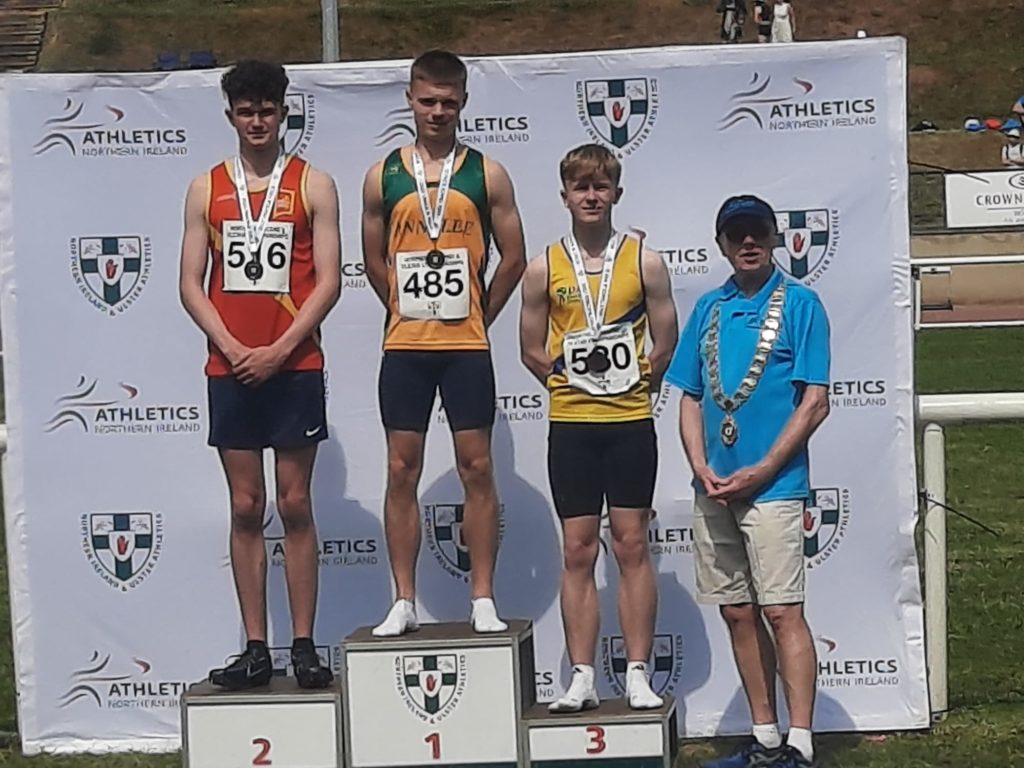 [photo: Cameron McCracken & Curtis Hughes]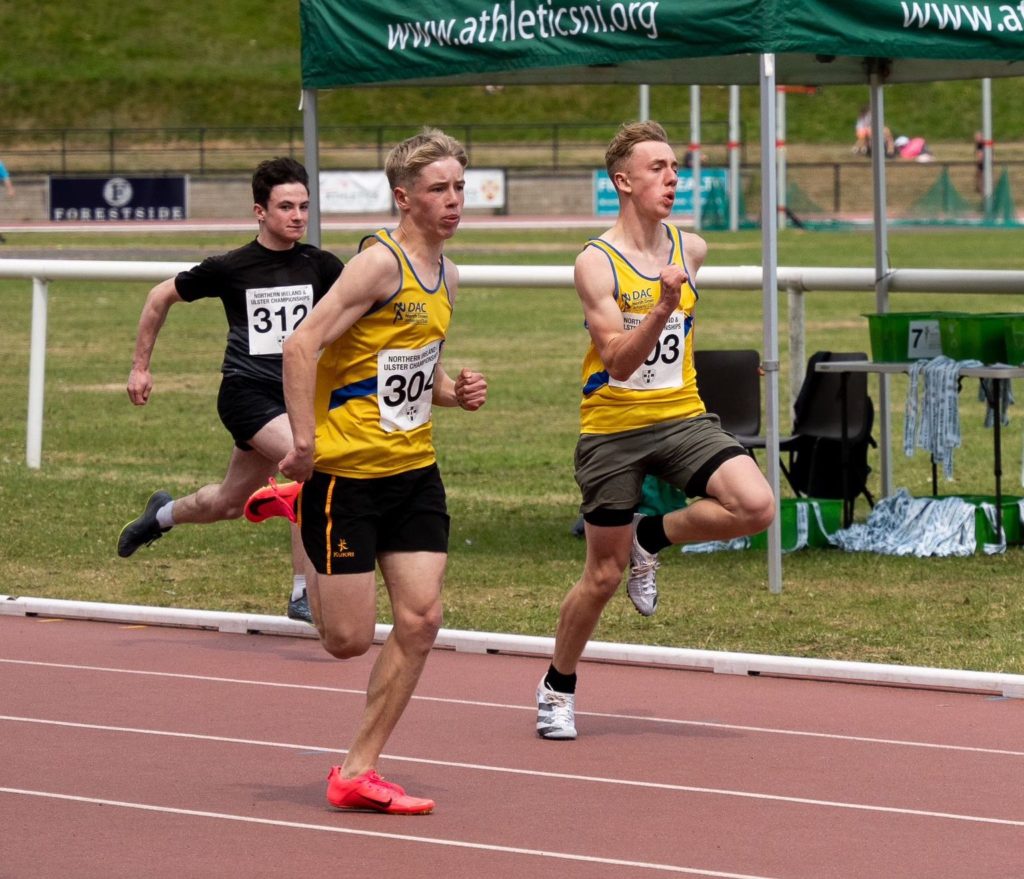 [photo: Ethan Constable]