Spence the Heartbeat of Bangor After Marathon Challenge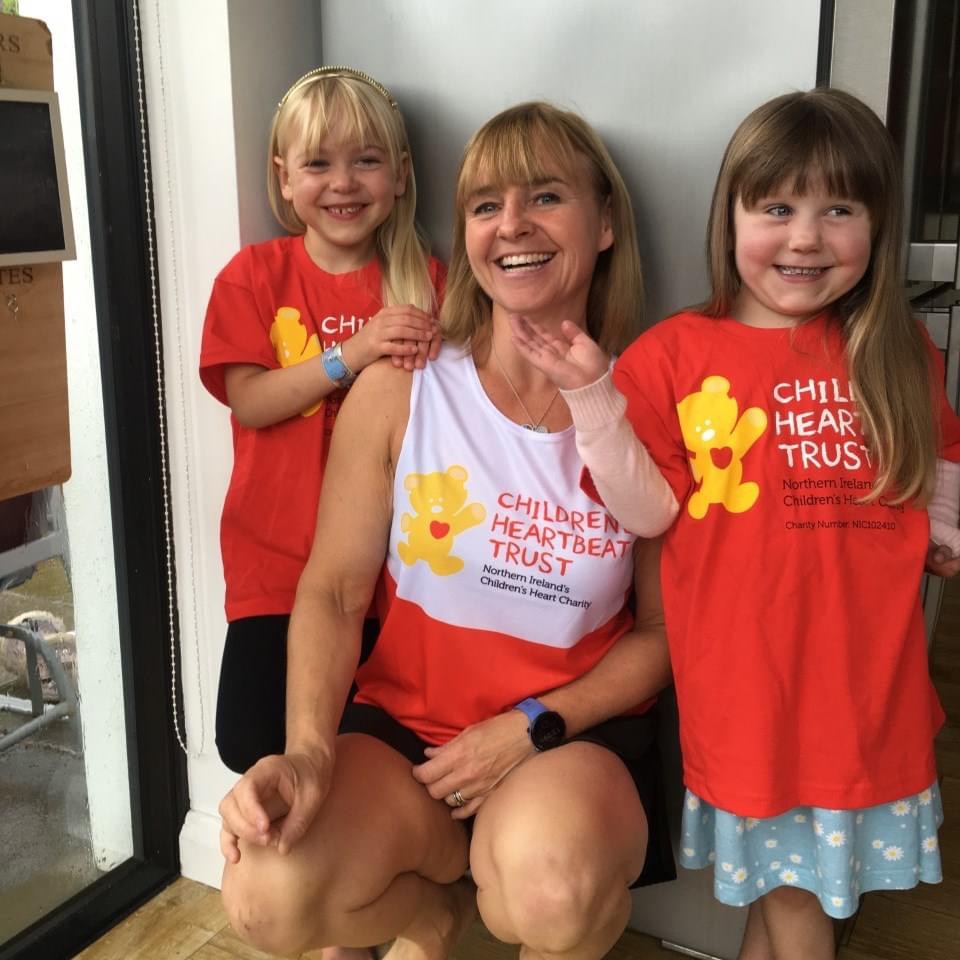 Running mum, Susan Spence, was the toast of North Down AC this past weekend when she took on (and conquered) her first full marathon, whilst raising over £4000 for the Children's Heartbeat Trust.
Susan's beautiful twin daughters were both born with congenital heart issues and had surgery within two days of each other at the age of eight months old. One of the girls has been waiting to have another open heart surgery and was recently given a date of September 27th for her operation in England, just six days before Susan was due to run the London Marathon.
Obviously plans for the big city event were put on the back burner, but never one to be knocked out of her stride, the Bangor lady simply plotted a route around Bangor harbour, Seacliff and Ballyholme and resolved to take on five laps in order to rack up the necessary mileage for her own virtual marathon.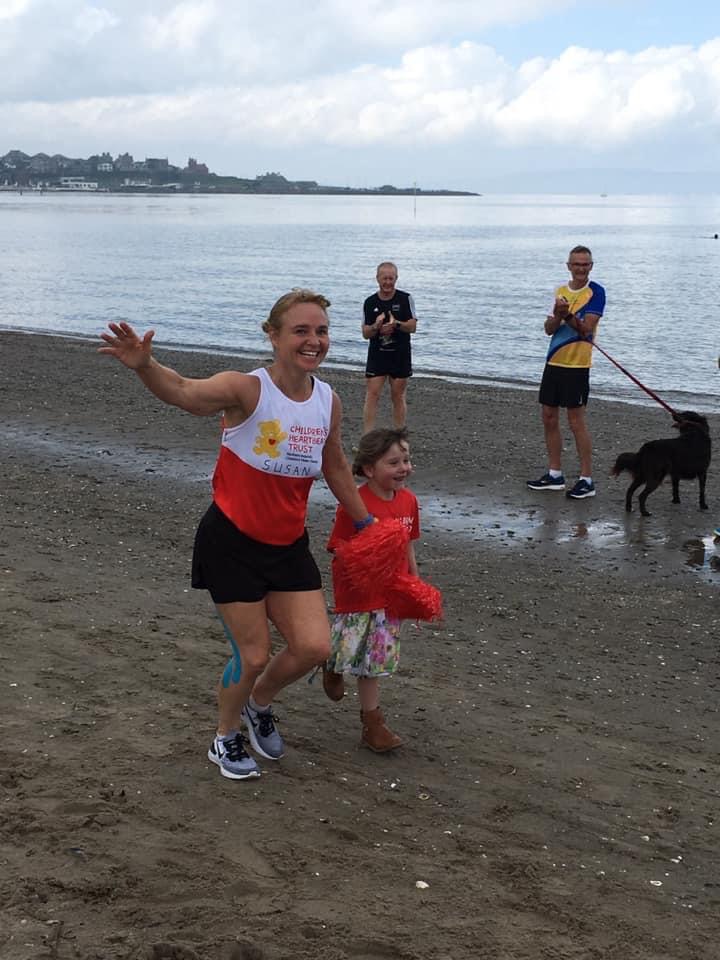 Setting off in the early hours of Saturday morning, Spence was accompanied and supported by various club mates, friends and family as she breezed her way through the early stages of her challenge, her characteristic beaming smile on display throughout.
As she moved into unchartered territory past the twenty mile mark, midday heat brought Susan an additional hurdle to overcome, but the reward of her cheering family at the end of each lap kept momentum going and before long a wonderful marathon debut was topped off with a cheering welcoming party on Ballyholme Beach and a fantastic finishing time of 3:48. Everyone at North Down AC would like to wish Susan, Brian and the girls well for their upcoming trip.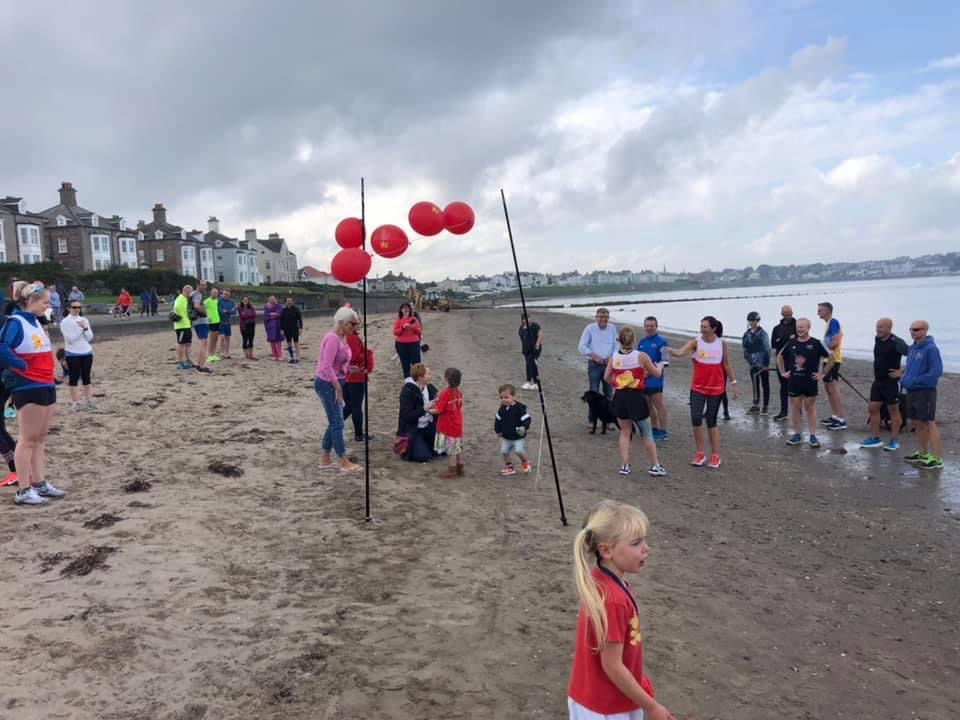 Donations are still being gratefully received at
NI & Ulster Relay Championships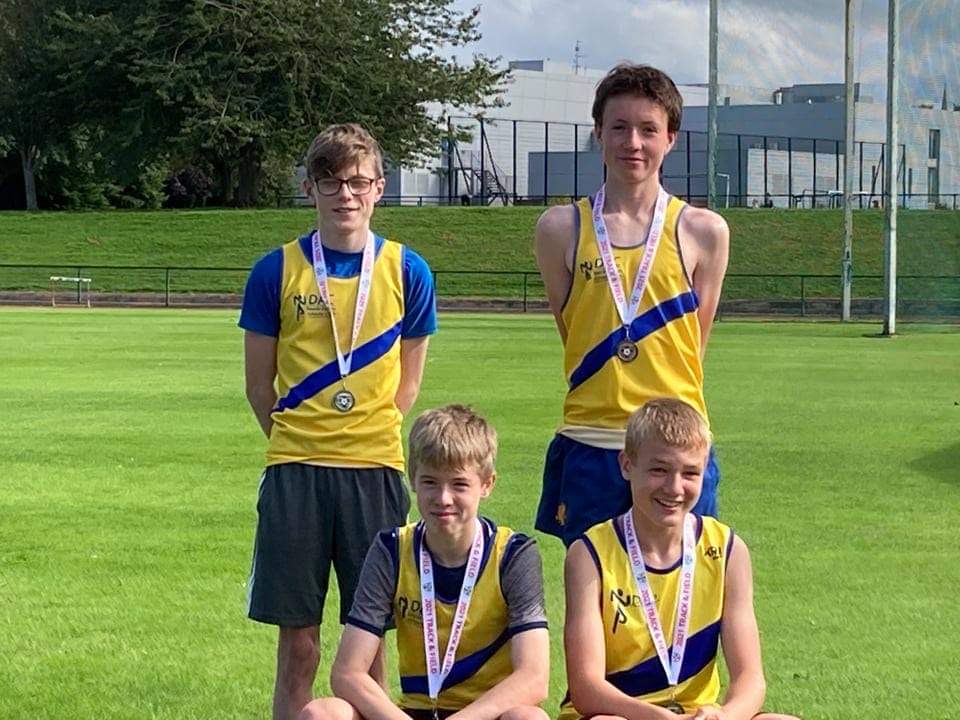 Antrim Forum was bathed in late summer sunshine at the weekend, as the curtain came down on the outdoor track season, but not before one last opportunity for some silverware.
North Down had representation in three of the 4 x 300m races, Lauren Cheatley, Emily Barry, Nicole Simpson and Becka Laffin posting 3:17.74 to finish fourth amongst the U15 girls, the same position as Lucy Cheatley, Hollie Massey, Molly Rogers and Morgan Wilson (3:19.12) at U17 level, while the U15 quartet of Cameron McCracken, Alex Newman, Ollie Playfair and Daniel Constable scorched around the track in 3:02.51 to bring home a hard earned set of silver medals.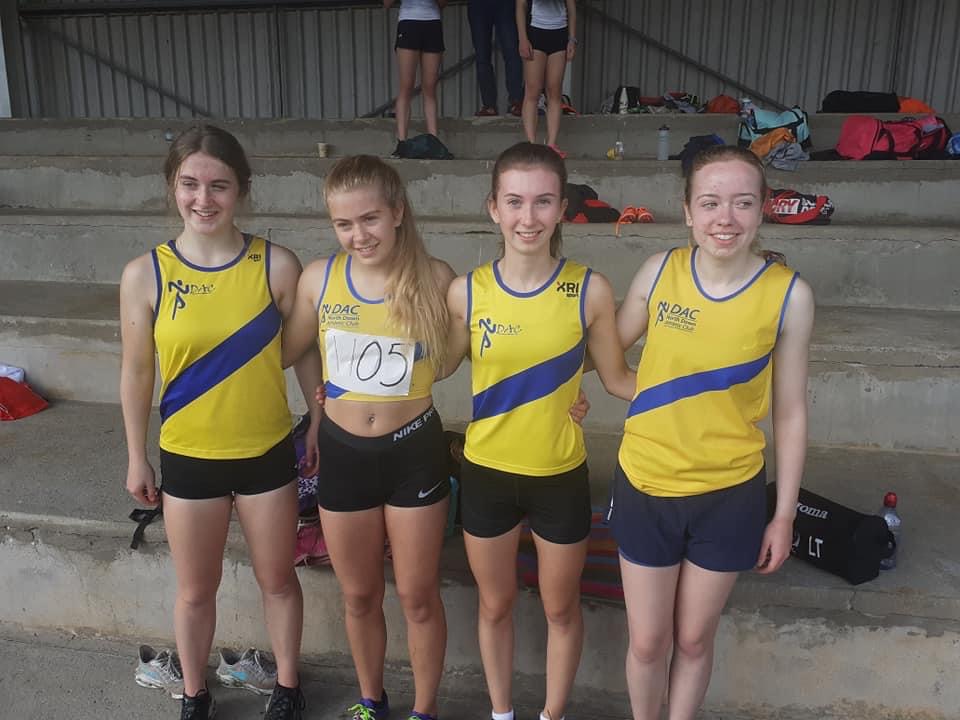 Causeway Coast Marathon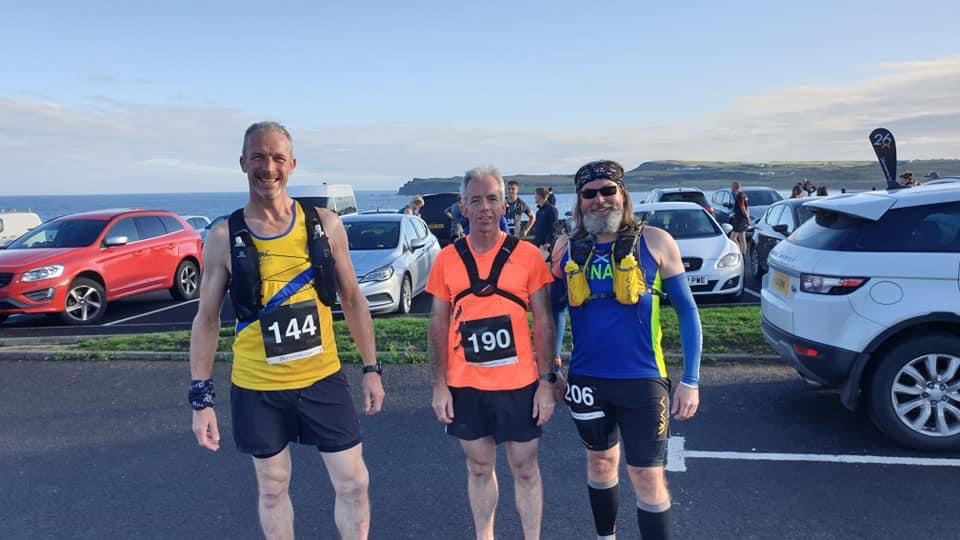 A beautiful day to showcase the north coast saw a return of the Causeway Marathon and a testing challenge amidst stunning scenery. North Down dispatched an intrepid quartet, never happier than when at nosebleed heights or up to their oxters in muck, all four lining up for an out and back marathon from Portballintrae. Whilst official results have been hard to come by, Dougie Gordon was believed to have been comfortably inside the top twenty, finishing in a time of 4:10, Robert Eadie following not far behind in 4:14:09. Kevin Mulligan clocked 4:33:45, while Donald Smith took time to smell the roses before crossing in 5:34.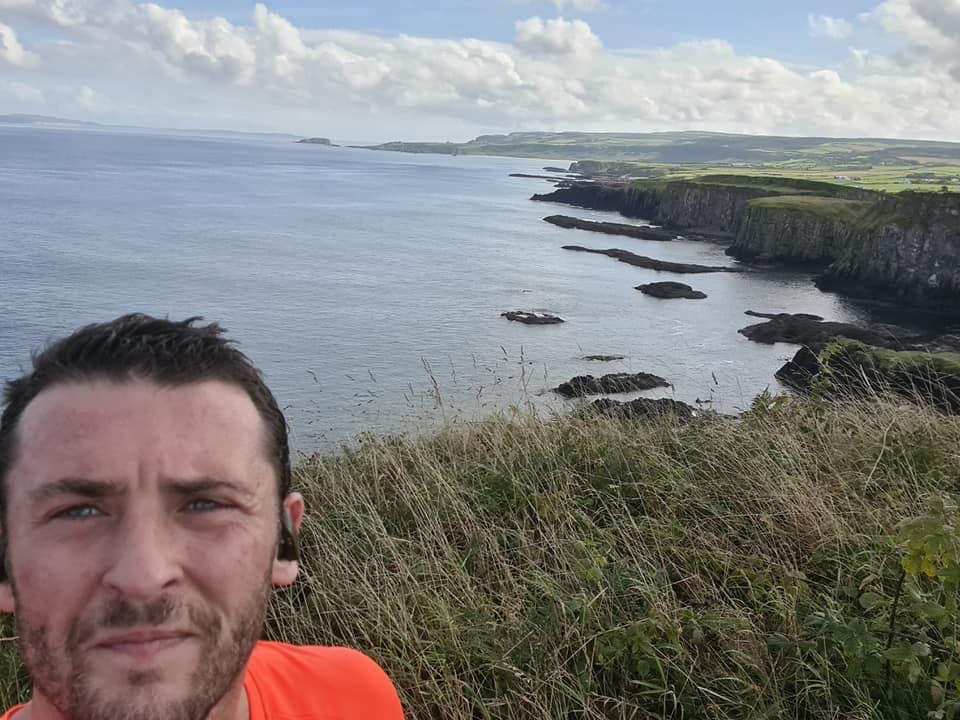 Penninsula Triathlon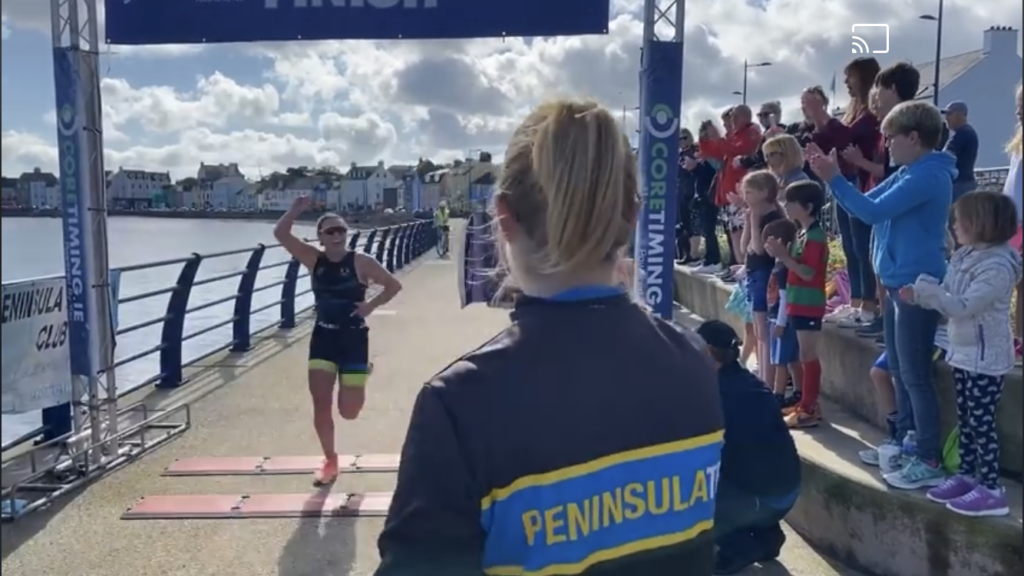 In glorious conditions on Sunday afternoon, Erin McConnell kept her brilliant run of recent form going with an overall victory at the Donaghadee Sprint Triathlon. A superb swim leg set the Irish international up for a lead that she would never relinquish, eventually crossing the line in 1:04:00, to take the win by six seconds. Also competing were fellow North Down members Andrew Nicholson (1:10:50/10th) and Davie McClements (1:25:18/64th).