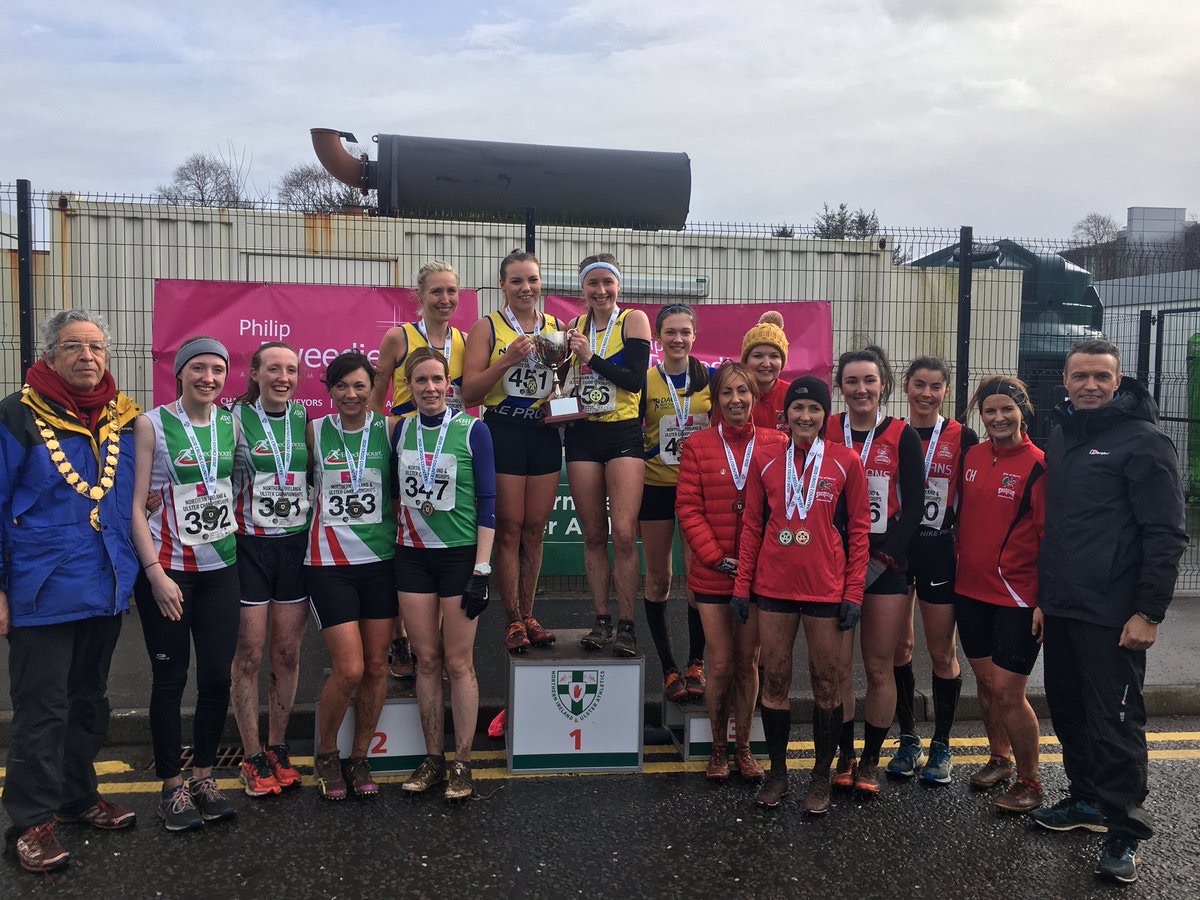 NI & Ulster Cross Country Championships
On a course best described as brutally honest, the cross country season reached its finale on Saturday afternoon as the University of Ulster Coleraine played host to hundreds of local athletes, with double league points on offer and the Ulster team championship trophy to play for. Following hard on the heels of storms Ciara and Dennis the pre soaked north coast venue provided a steam test for even the most experienced campaigner, puddles turning to mud and beginning to cut up from the early exchanges of the ladies 6k race. The reigning champions, North Down, were bolstered by the availability of several junior athletes, and were able to turn out a bumper squad of nineteen athletes, Katie Moore leading them home in sixth position after a tremendous solo effort.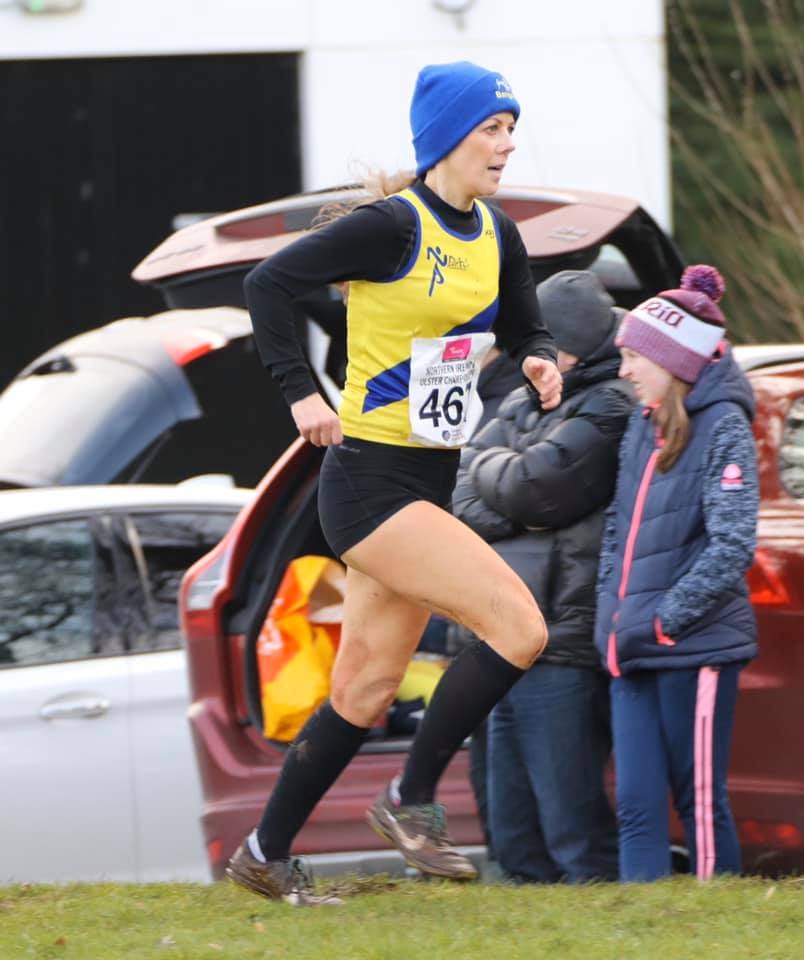 Fantastic contributions from Jodi Smith (14th), Tara McDonough (18th) and Erin McConnell (20th) brought the team prize within reach, whilst equally significant efforts from Murphy Miller (32nd) and Amelia Tyler (37th) served to push back the final members of rival teams in the 'four to score' competition, the North Down ladies eventually taking the team trophy by just three points from Beechmont Harriers. Helen Byers (46th), was well up the field as the battle for vital league points unfolded, while the ever improving Laura Neely (66th) led home a tightly packed group of teammates that included Amy Ellison (71st), Claire Scott (72nd), Bryanna Catney (75th), Zara Fulton (76th) and Julie Wilson (78th).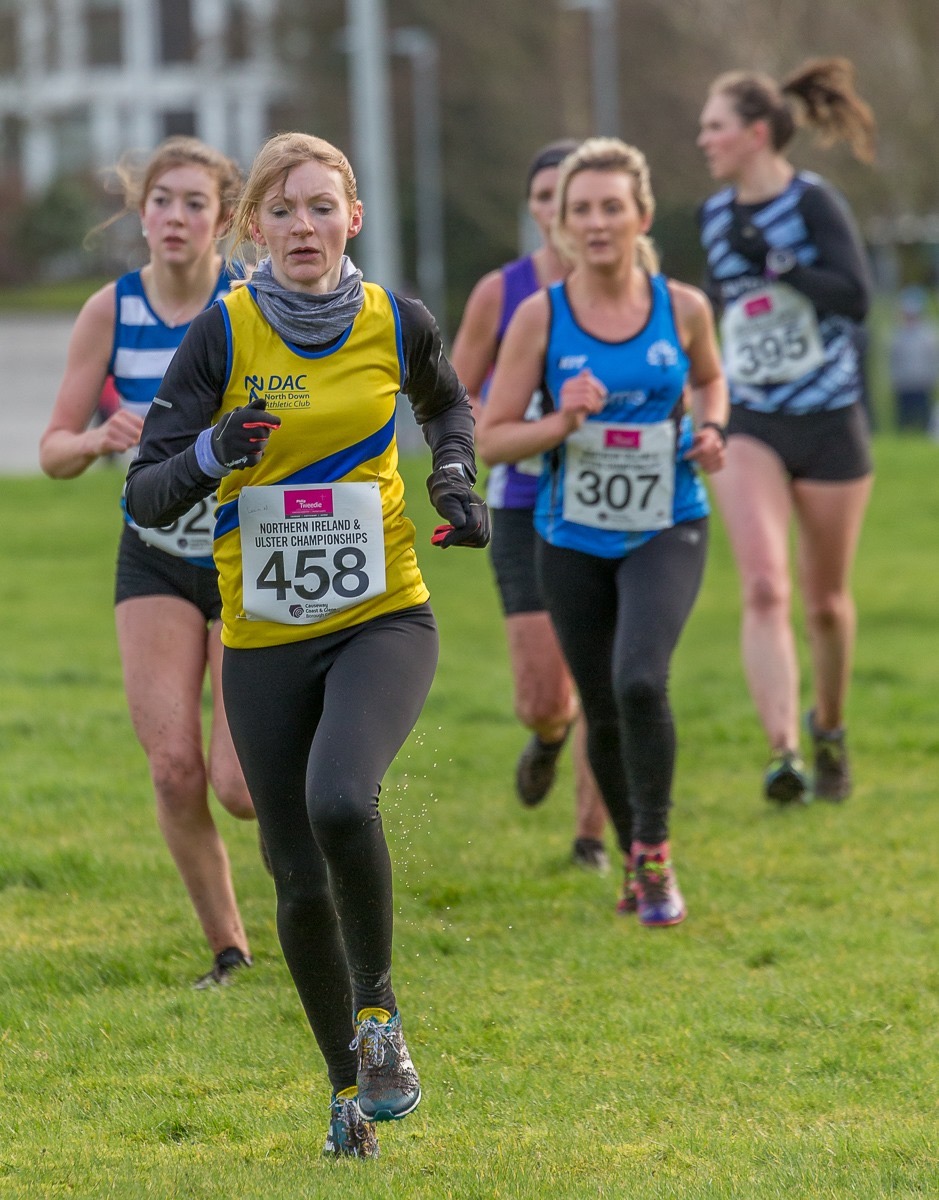 The stream of yellow and blue vests continued with Jane Stevenson (89th), June McMinn (91st) and Pamela Phillips (101st), while Nicola Downey (110th) and Hannah Dunne (132nd) can claim extra credit for having toed the line in all seven of the club's chosen events over the winter. Paula Simpson (154th) completed North Down representation and brought down the curtain on a league campaign that perhaps relied more than usual on participation points, but featured team spirit in abundance and a consistent effort that the ladies, and their captain, Helen Byers, can be very proud of.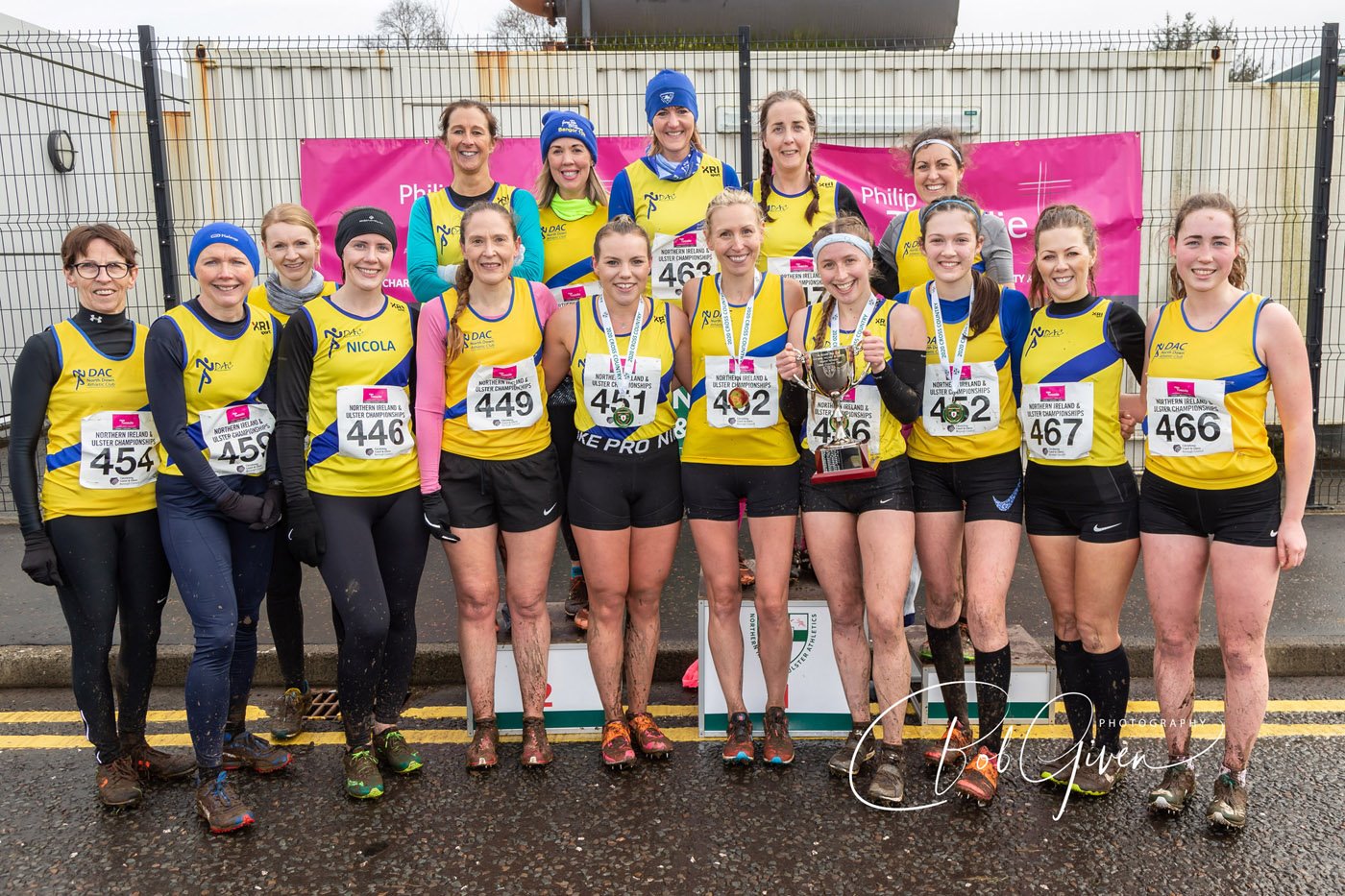 By far the longest race of the cross country season, the 12k men's race featured an early downpour that heaped misery on top of mileage, but somehow added to a high quality contest, with local man Neil Johnston eventually taking the hard earned win, from Eskander Tukri and Mark McKinstry. As ever, the McMeechan brothers were at the sharp end of proceedings for North Down, Craig finishing 11th, with Jamie (33rd) just in front of Dennis Scott (34th). Francis Marsh (43rd) made a successful return from injury, Mark Weir (66th) can always be relied upon to be amongst the scoring six, while David Massey (95th) benefitted from Darren Hamilton's initial enthusiasm to run an extra lap, the latter eventually being persuaded to stick with the regulation six, and 96th position!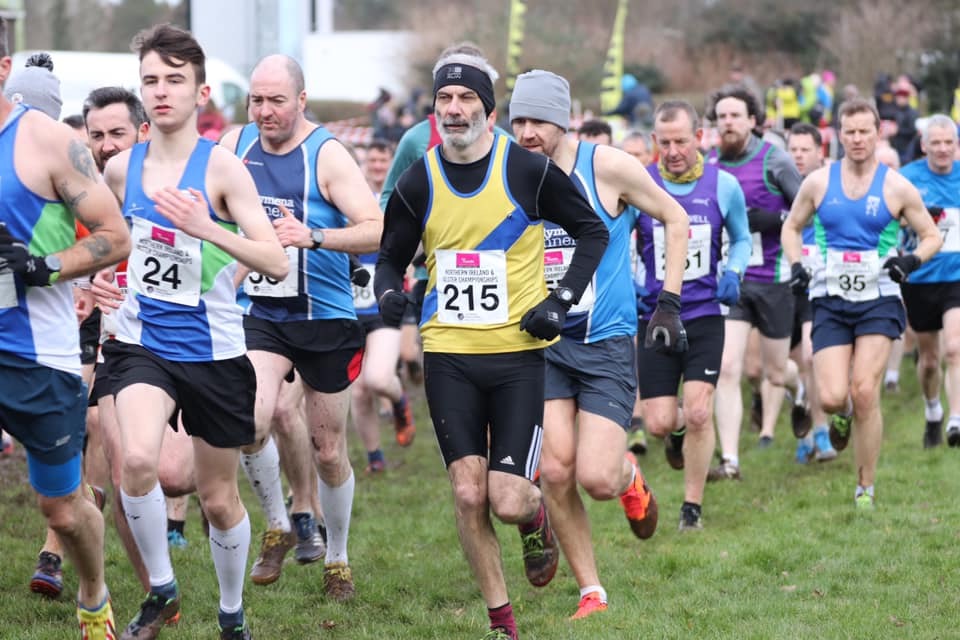 Chris Downey and Steven Donegan sought to share the workload, while Mitch Brown and Alan Massey both dipped under the hour mark in the most testing of conditions. Colin Walker led home equally strong competitors in Paul Floyd and Aodhan Quinn, whilst Philip Milligan and Tom Agnew completed the club representation, and a respectable team effort that placed the men sixth in the team championship event.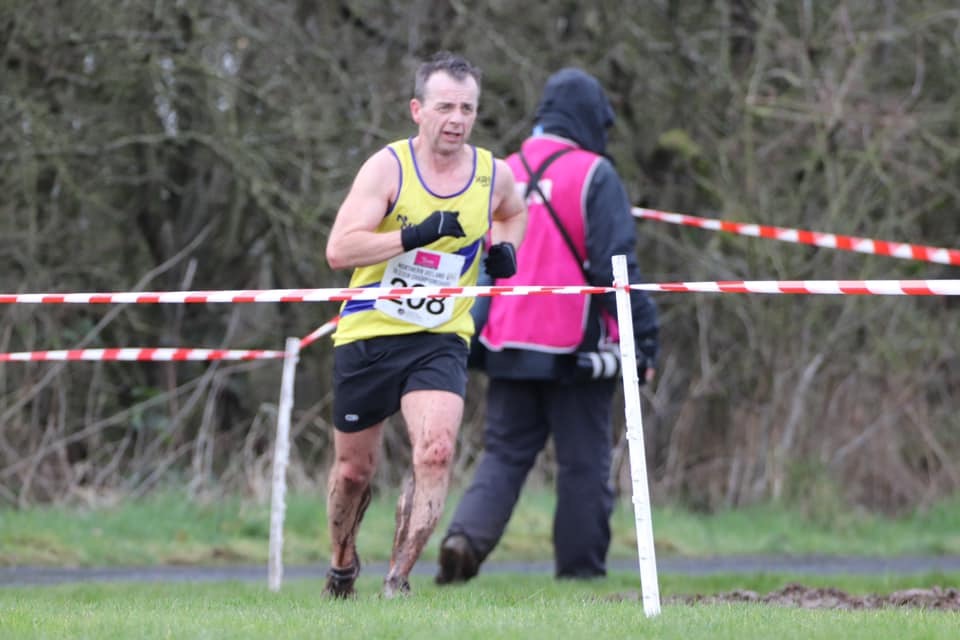 NI & Ulster Cross Country Championships
Mount Stewart – Race the Trails – Night Edition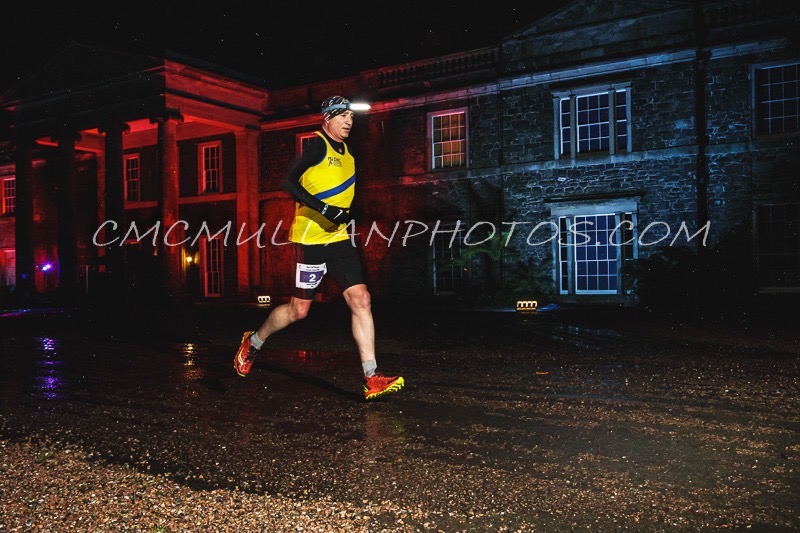 The Mount Stewart night race returned, courtesy of the good people at Scrabo Striders, for another outing on what turned out to be a wet and windy Friday evening, with the undulating forest trails providing precious little shelter from the frequent coastal gusts. Undeterred, North Down provided their very own 'magnificent seven', Clair Quigley taking the honours for first lady around the 10k course, with a time of 46:45 (9th overall). John Harvey was next, 48:20 placing him 12th overall, while Matt Ormesher was 21st in 52:45. Paul Meneilly was 53rd in 1:01 flat, while the testing conditions called for strength in numbers , Nicola Newall, Clare Smith and Tracey Hodgson crossing the line together in 1:15:05.