Day of 5000s
(Photos by Davy McMeechan)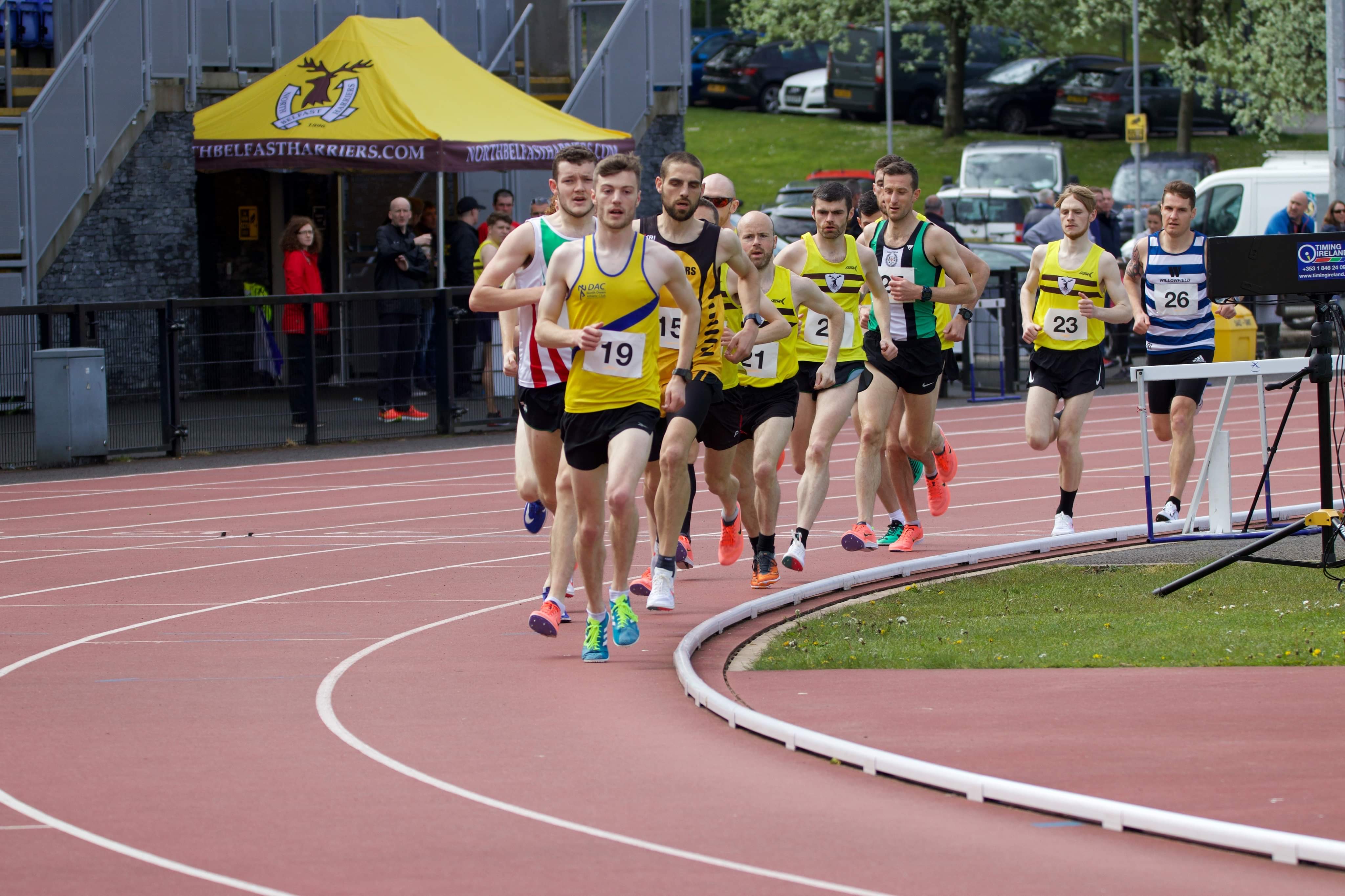 Craig McMeechan
Morning wind and rain gave way to a beautifully sunny afternoon at the Mary Peters track on Saturday, as hosts North Belfast Harriers delivered an exciting day of 5000m races, with their usual efficiency and expertise.
Across nine races, stacked with talented athletes, personal bests tumbled as many made light of the extended lockdown and cashed in on hard earned training gains. Race four hosted the the first of the North Down contingent, with Nick Irvine (17:45) improving slightly on his recent Down Royal 5k time and Katie Moore gliding around the twelve and a half laps in 18:17 to get the club representation off to the best possible start.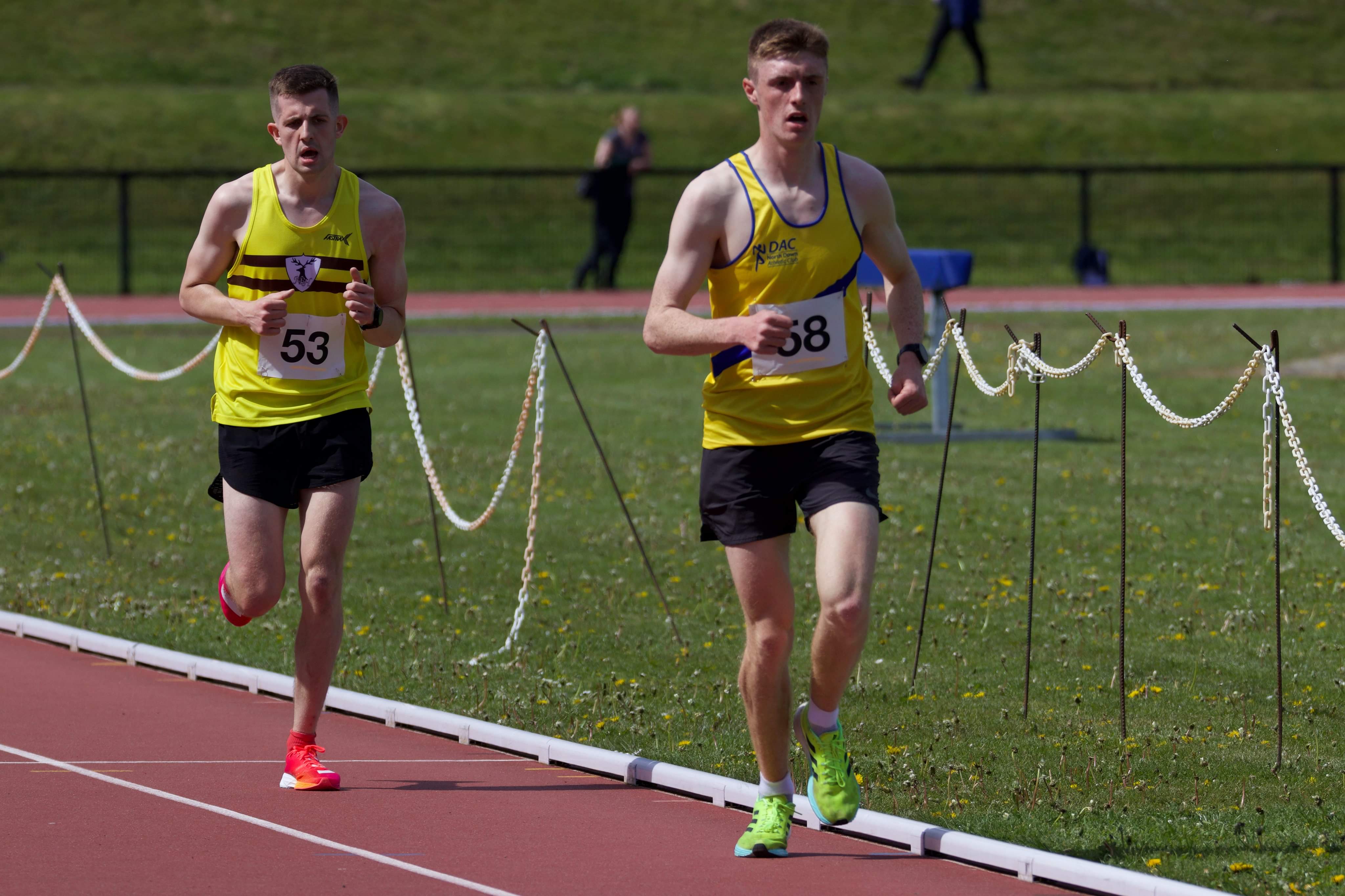 Mark Carberry
Race six had the added interest of a world V60 attempt from the ever impressive Tommy Hughes, junior athlete Mark Carberry getting the opportunity to observe the master at close quarters, as he tracked him around the course on his way to an impressive 16:54, whilst in the penultimate race of the day Craig McMeechan was with the leading group throughout and was well placed going into the last lap. Despite being pipped in a sprint finish with John Craig of Annadale and Conan McCaughey from the host club, the Bangor man can be delighted with a first sub 15 on the track and a beautifully paced 14:49.
East Antrim Marathon Series – VE Day Races
Pat O'Driscoll
Originally pencilled in for the 75th anniversary of Victory in Europe in 2020, the return of EAMS races rewarded runners for their patience with a medal the size of a car bonnet and a pleasant, if somewhat overcast morning for a hike up the Station Road, Greenisland. With options from 10k through to full marathon, the athletes in the shortest distance option were treated to one full lap of the trek along Upper Road, through Monkstown, along Shore Road and the final testing hill at Greenisland, whilst the marathon runners were given the dubious honour of tackling the same course four times! North Down had representation in two races, with the evergreen Pat O'Driscoll choosing not to add to his tally of over one hundred half marathon and instead opt for the 10k challenge. As a previous champion of EAMS races, Pat would have been hunting a podium position, but despite a steady effort 1:08:09, he just missed out on the medal positions and had to be content with fourth place and a strong return to racing.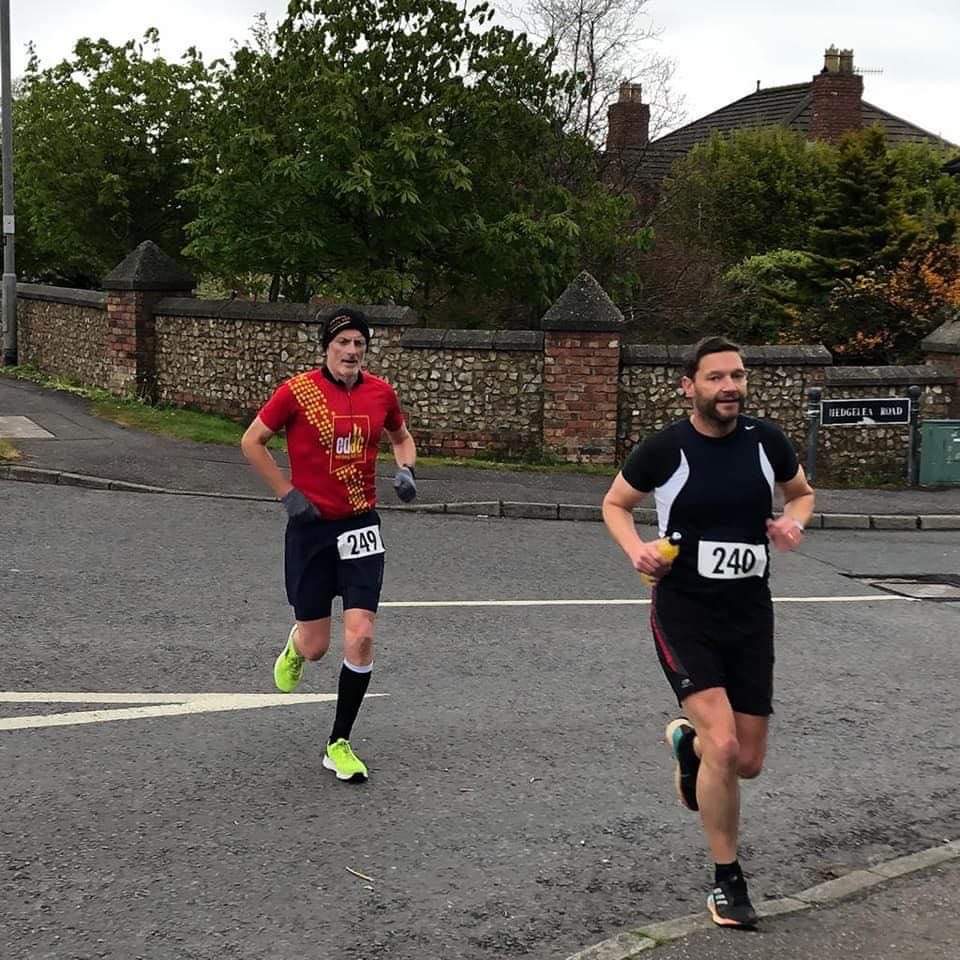 Andy Belshaw
Despite a lack of recent mileage and a furthest distance of ten miles in training, a one off marathon is always within Andy Belshaw's capabilities and even with having to conquer the aforementioned Station Road four times, he again showed his outstanding endurance credentials with a highly impressive 3:41 and ninth place overall.