After the seniors and older age groups the previous weekend, on Sat 15 June it was the turn of the athletes in the Under 14 to Under 17 age groups to compete in their NI and Ulster championships at the MPT.
Conditions were for the most part atrocious, with persistent heavy showers until mid-afternoon, which meant only the athletes in action later in the programme managed to avoid the rain. It was however, a very successful day for the young athletes of North Down AC, with the club colours appearing frequently on the medal rostrum at regular intervals. It wasn't just about medals and titles either, as athletes were chasing qualification spots (top 4) for July's All-Ireland juvenile championships. Highlights were as follows:-
U14
Hannah Lawden led the North Down medal rush in this age group, defending her NI and Ulster javelin title with a superb PB of 24.86m. Anna Cousins had a fine run in the final of the 200m, moving from 5th to 3rd in the last 40 meters to clinch bronze and her first medal at these age-group championships in 28.24s. Emma Stranaghan has had a super year at long jump, delivering at every competition that mattered and she performed well again here to claim bronze with a first round 4.26. In the 80m sprint final Anna was 5th and Emma 8th.
Hollie McGuigan showed her all-round talents again with 4th in 75m hurdles, a PB of 13.77s, to qualify for her first All-Ireland's. She also placed 5th in long jump and missed qualification for the the final of the 200m by one place after a PB run of 29.66s.
Naomi Dunne was also in action, making the 75m final where placed 7th in a PB of 16.23s and going close to her 800m PB with a run of 2 mins 54s. Lucy Cheatley will be delighted with her 800m PB of 2 min 36.27s which placed her 11th.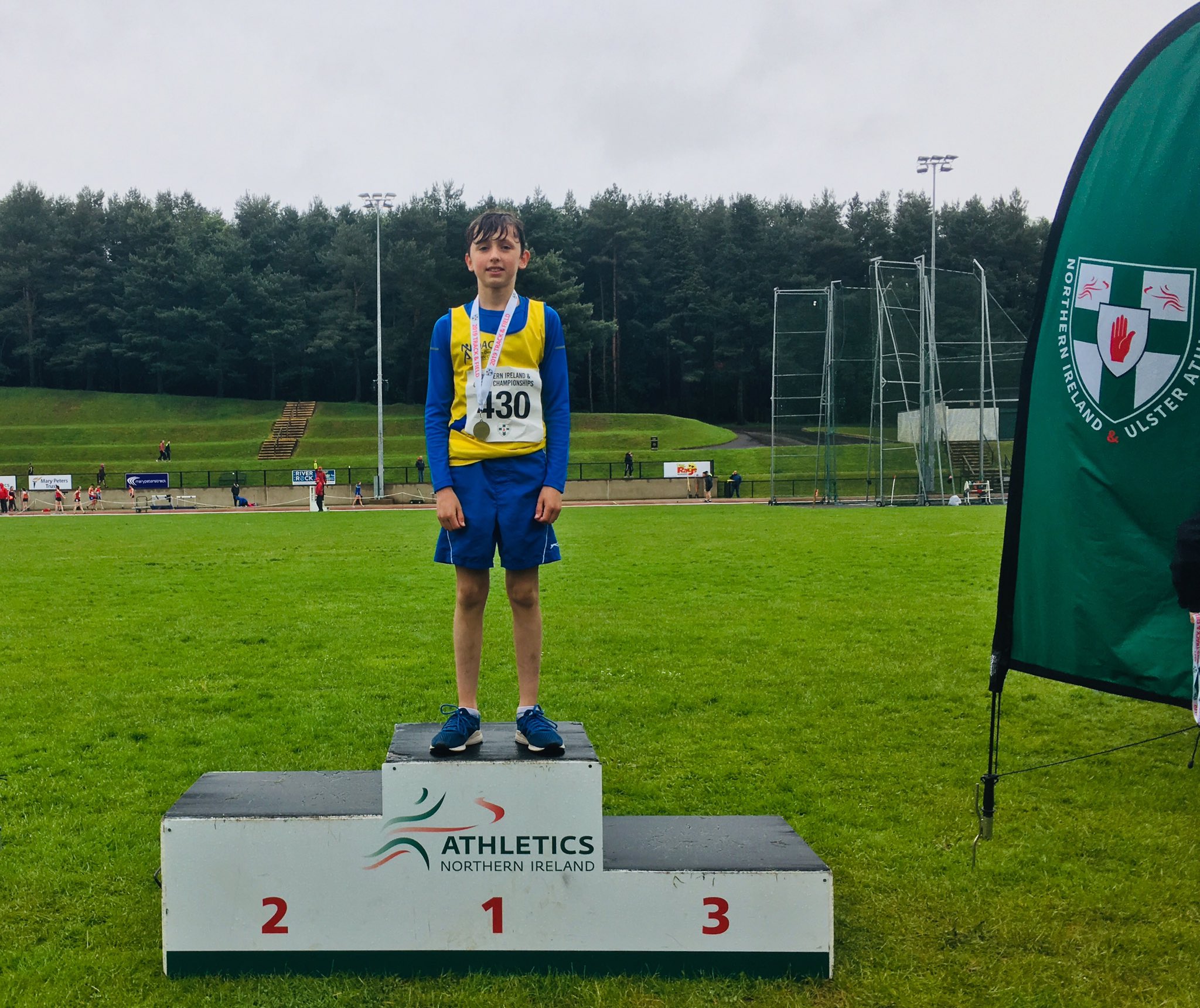 For the boys, JJ Holley had a great day, taking home discus gold after a throw of 16.87m. He backed this up with a 3.96m long jump for 8th and a 2 min 31.74s 800m PB for 8th again.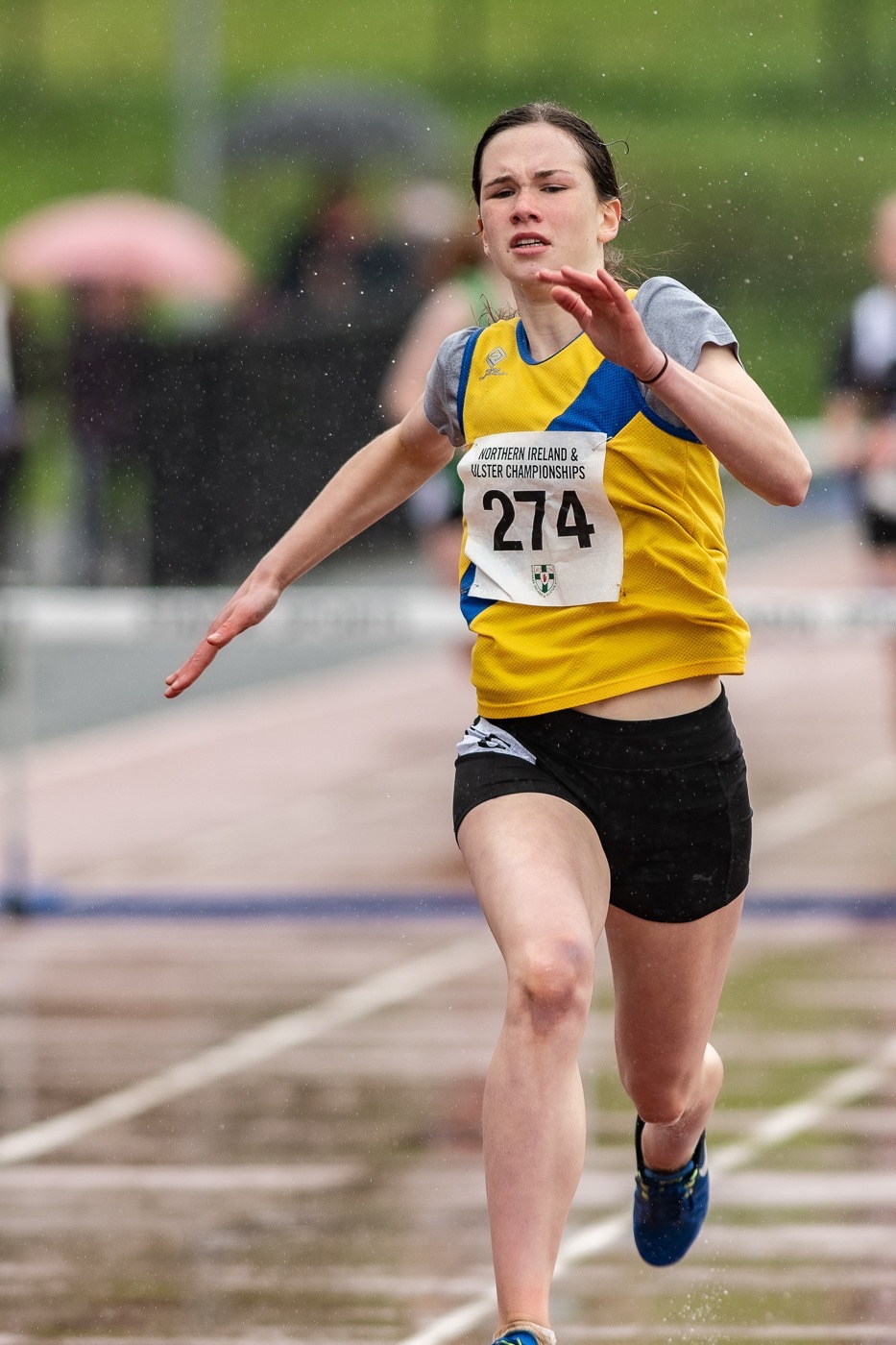 U15
Multi-eventer Niamh Fenlon took home a fine haul of three championship medals, one gold and two silver. Her opening event was the 80m hurdles where a 12.92s run secured the title. From here it was straight to the long jump where a first round effort of 5.00m was enough for silver. Later in the day she raced over the 250m hurdles, bagging another silver with a run of 38.94s.
Beth Hammond's fine season continued here, a shot putt gold with 11.66m, precisely matching her recent PB at the Irish Schools. Early in the morning she threw a big PB of 31.44m with the 2.5k hammer for silver, ahead of team-mate Emma Wilson who threw 23.91m for 4th and so also qualifying for the All-Ireland's.
Lucy Kerr improved on her bronze at the Ulster Schools to take 100m silver here in a time of 13.14s, just missing the elusive first sub-13 second run which will surely come before the season is out.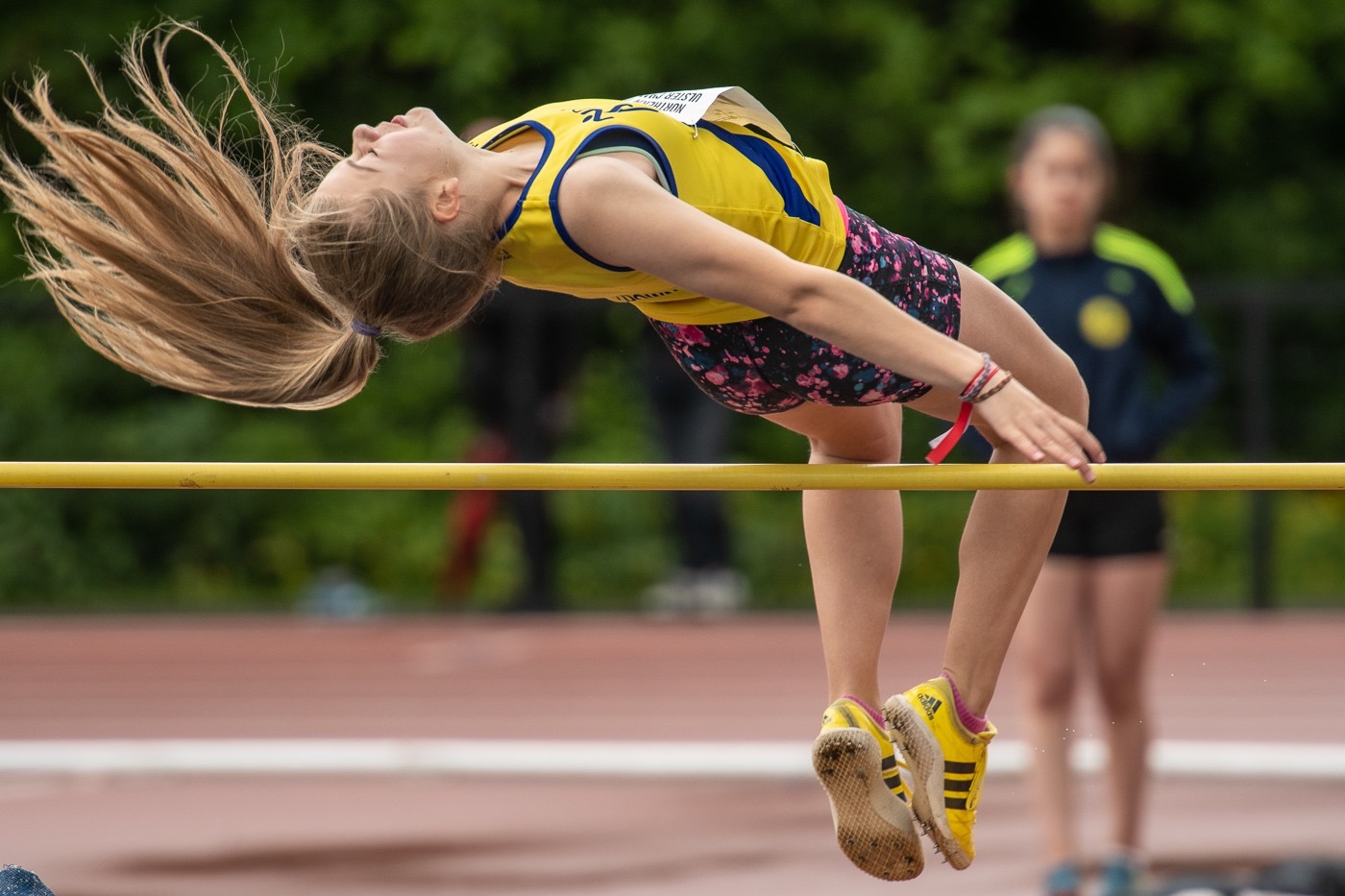 Morgan Wilson was another silver medalist, winning her first medal at NI & Ulster level after taking 2nd in the javelin with a throw of 22.85m, having earlier cleared a 1.30m PB for 4th in the high jump, so a great day for Morgan overall.
Poppy Dann was in action in the long jump where her 4.27m effort put her in the top half of a large entry of 18 athletes.
Charlie Lawden made it a family double with javelin gold, winning by a sizeable margin with a fine PB of 38.73m with the 500g implement. The discus featured three ND athletes with Calum Spain taking a silver with a 29.16m throw with Charlie 4th and Andrew Brown 6th. Andrew then clinched an All-Ireland spot with 4th in the javelin in 17.90m.
Calum was back on the podium after the shot where his 11.66m secured bronze and he went close again in the hammer with 29.24m for 4th.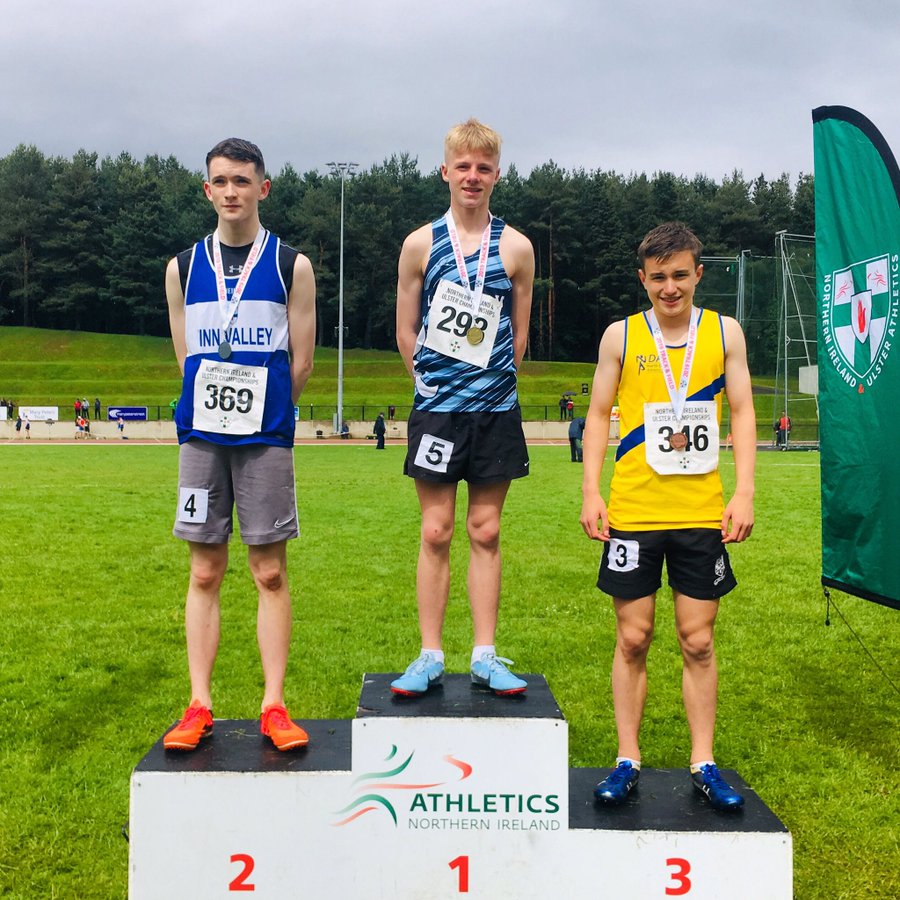 Rory Fulton sped to a 25.34s PB while winning his 200m heat. In the final he was a fraction slower but held on for a superb bronze, also placing 5th in the 100m final in 12.65s.
In dreadful conditions for high jump, Frazer Fulton cleared 1.40m for 5th place.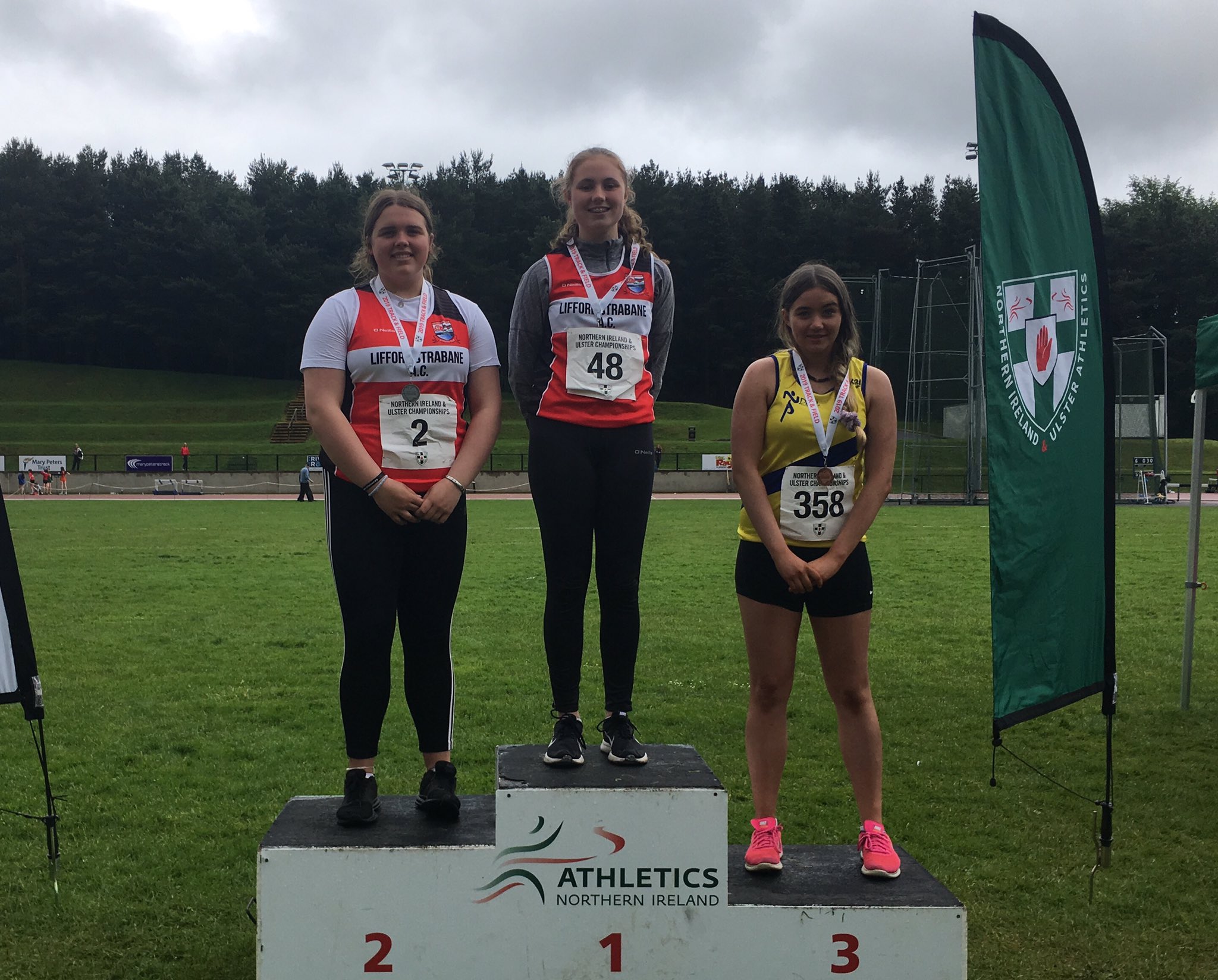 U16
Lucy Stevenson had a memorable day, taking her first NI & Ulster title in the javelin and also taking hammer bronze with 21.05m.
Caitlin Owens competed over 200m and her good run of 30.35s in her heat saw her safely qualify for the final, where she placed 7th in a slightly slower time. She also competed in the 100m where her 14.67s placed her 3rd but just outside the qualification spots.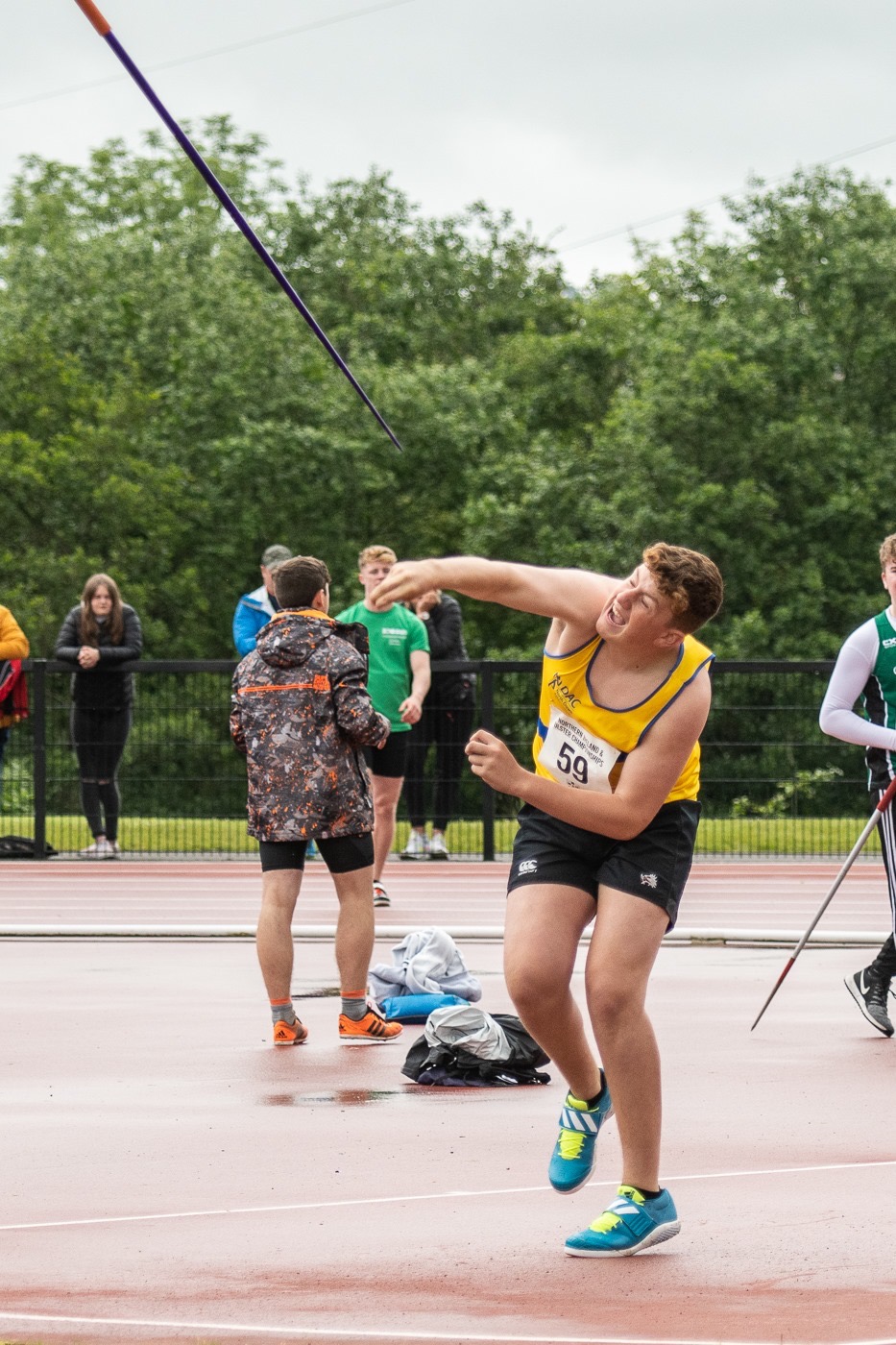 In the boys javelin Flynn Longstaff threw 33.92m for a well deserved silver medal.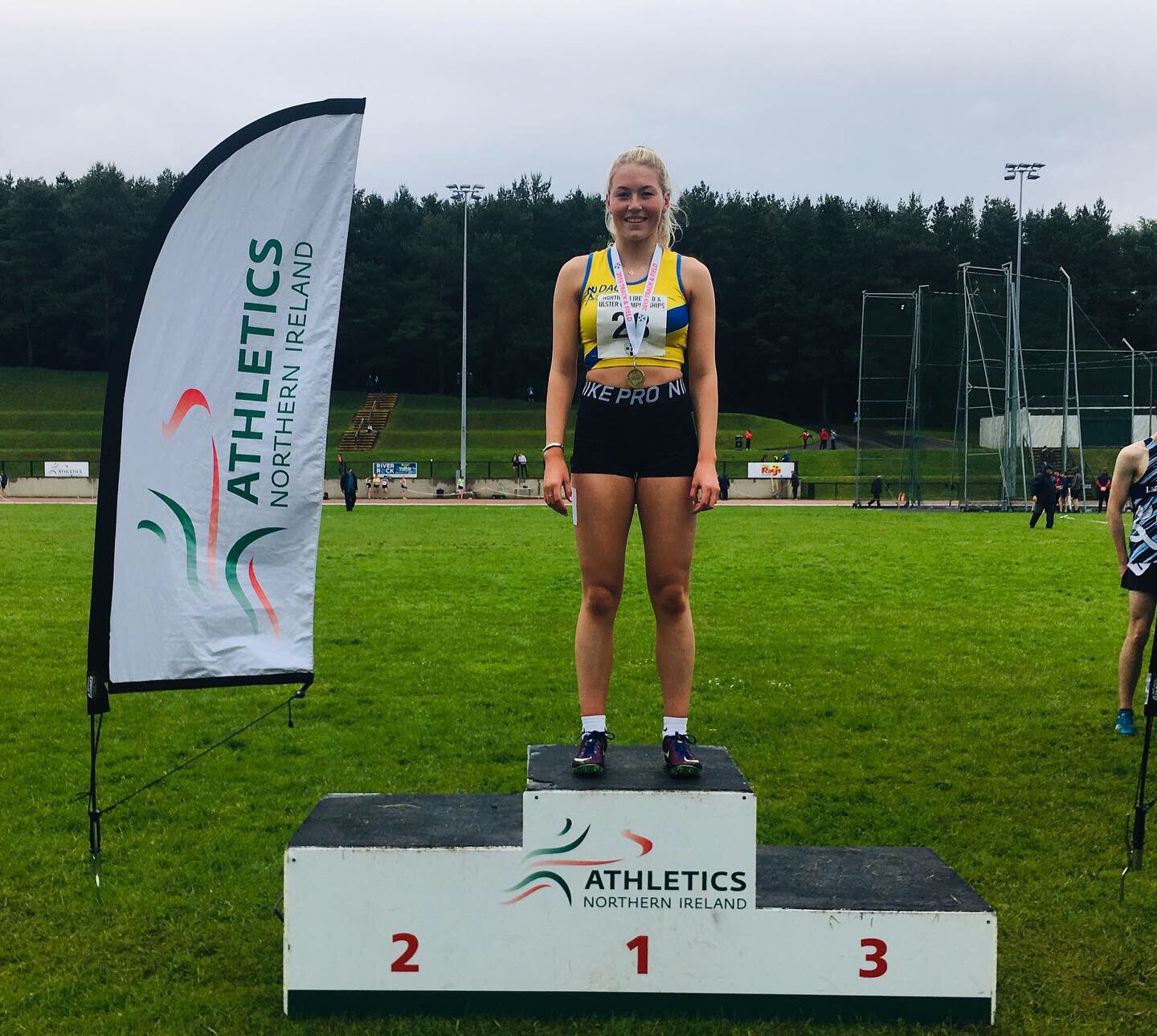 U17
Megan Briggs is the Ulster and NI Under 17 400m champion after a run of 62.73s, a little below her best ever but good for the cool conditions. In the same age category Amelia Tyler won North Down's only middle distance medal of the day with a well deserved silver in the 3000m with a performance of 11 mins 06s.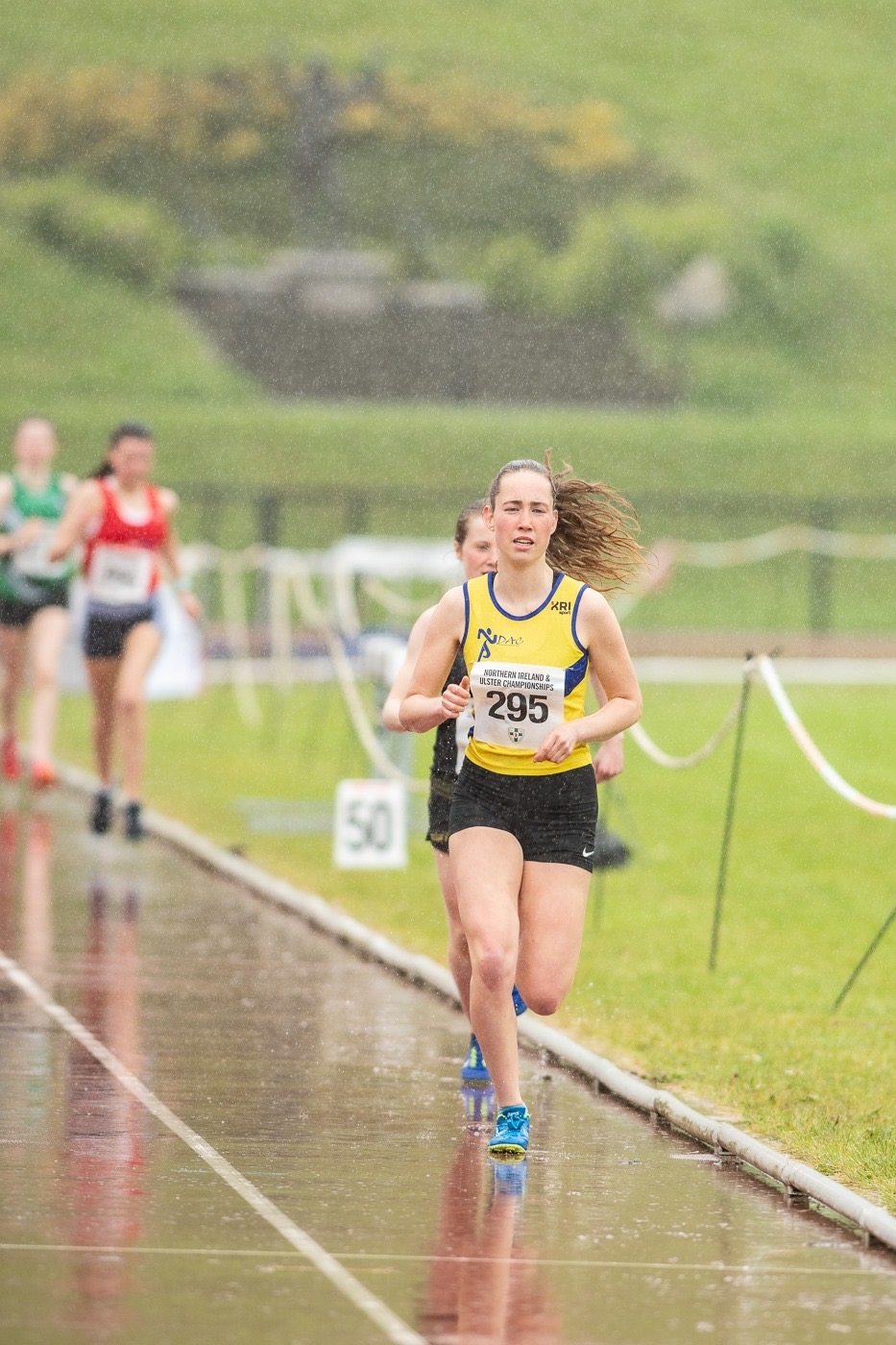 Well done to all who competed and good luck to those now commencing their preparation for the All-Ireland's.