Antrim Coast Half Marathon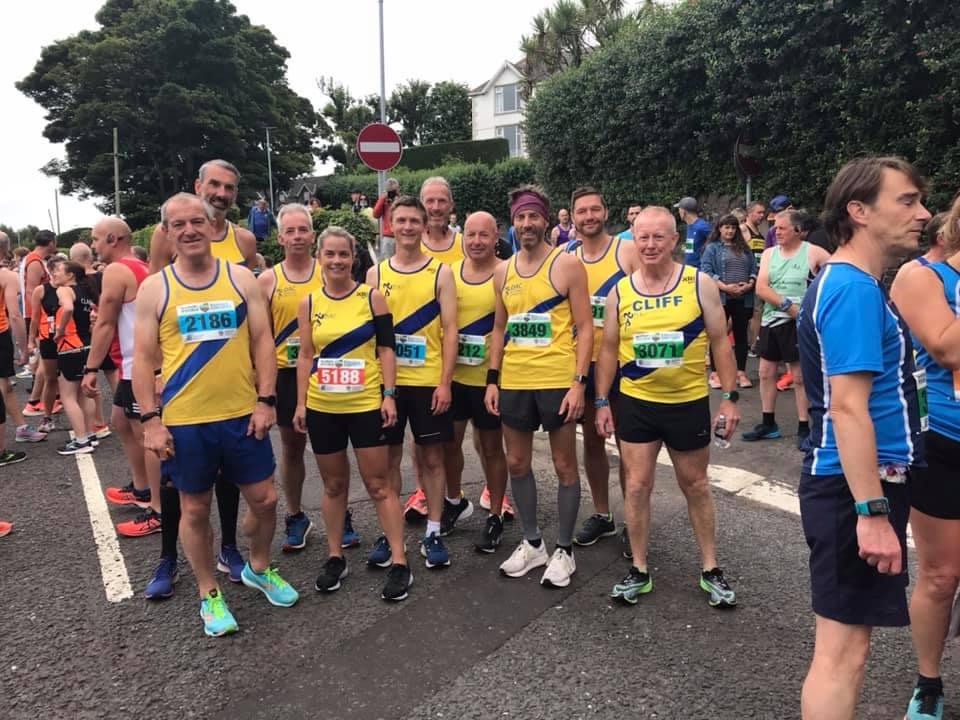 Near perfect conditions, an avalanche of personal best for runners and a world record to be relished by spectators, the Antrim Coast Marathon had something for everyone on Sunday, as thousands descended on the coastal town for a morning of world class entertainment.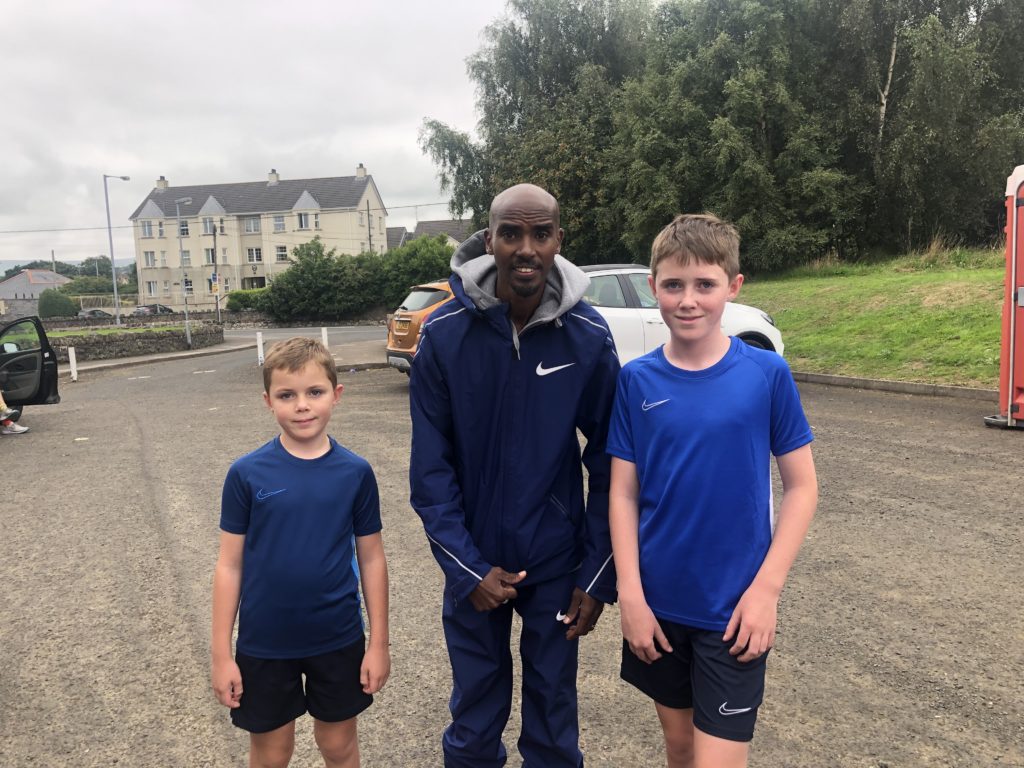 Despite being unable to compete due to injury, Sir Mo Farah travelled over to assist his friend, James McIlroy, deliver a top notch event and would have been happy, both to have held on to his course record (by two seconds from eventual winner Jemal Yimer) and to have witnessed a stunning world record by ladies champion Yalemzerf Yehualaw (1:03:44). The four time Olympic gold medalist even found time to lead the juniors in a warm up prior to the 1km fun run, in which Alex Downey finished fourth with a time of 3:38.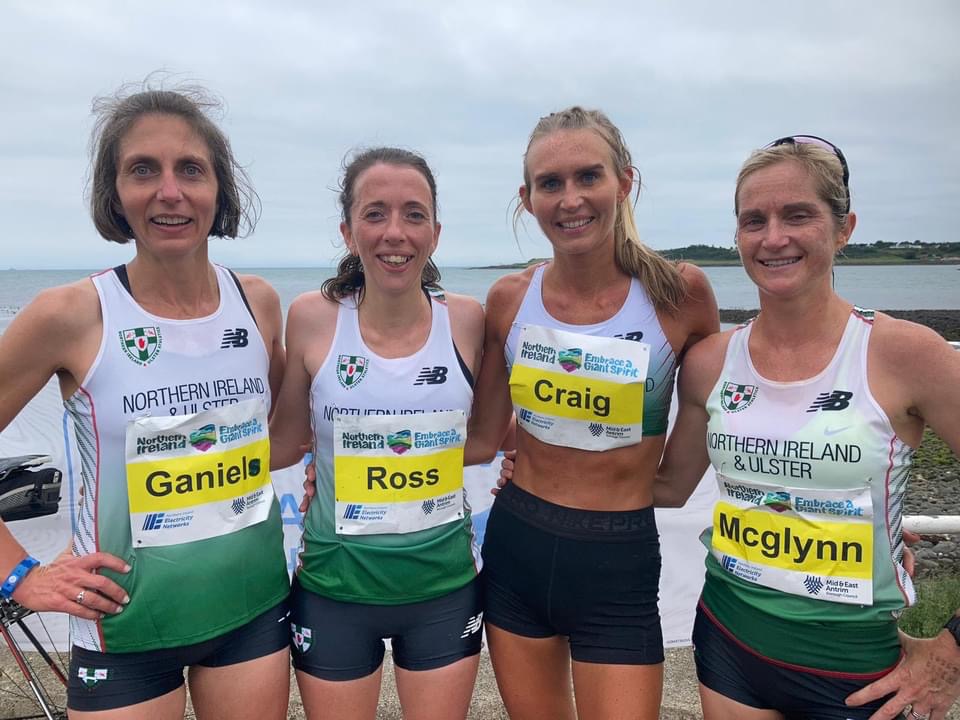 Representing Northern Ireland in the elite half, Jessica Craig (1:14:46) took almost a minute off her PB set at the same event last year and was the first of thirty eight North Down athletes, the largest contingent of yellow and blue to toe the line at a single event in the past eighteen months.
Whilst the Bangor vests were out in force, they were also in flying form, many athletes managing to reap the rewards of their dedication to training over the recent weeks and months. On the near perfectly flat course along the coastal road, James Budde registered 1:16:04, a little ahead of Dan Trimble, who claimed a significant new best of 1:17:37, while Jack Russell flew round in a PB of 1:20:00. Dougie Gordon (1:23:26) was in magnificent form and led home a tightly packed group of club-mates, including Simon Boyle (1:24:09), Alasdair Mair (1:25:02), Steven Donegan (1.25:10) and Andy Lowry (1:26:01), all of whom ran out of their skin to achieve lifetime bests, with several making great strides towards their Belfast marathon goals.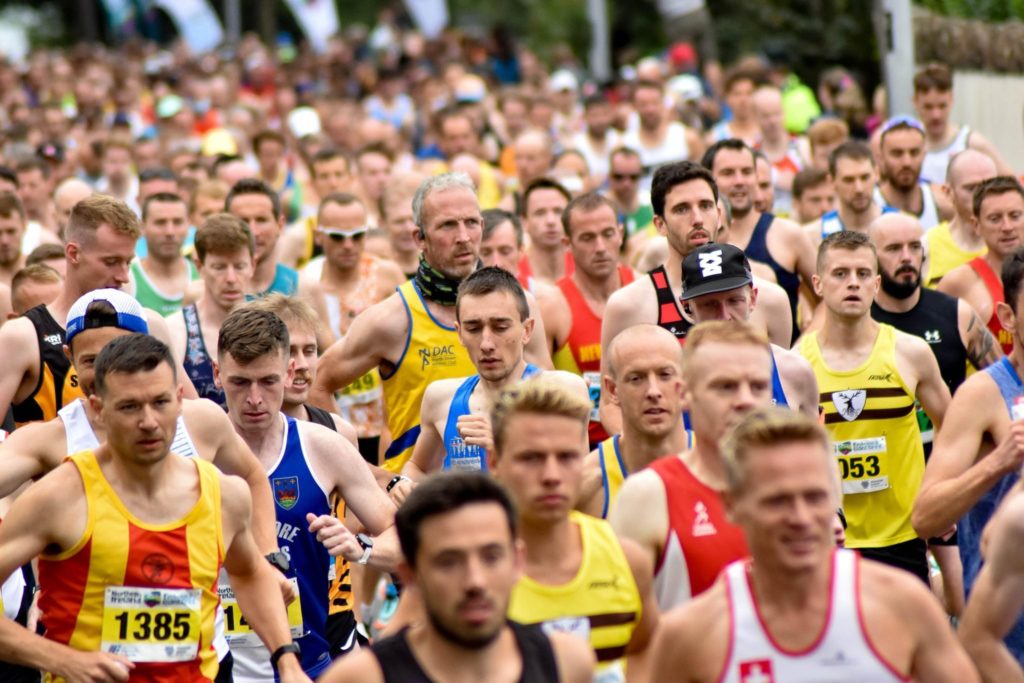 Robert Eadie (1:28:38) came down from the mountains to great effect, Steve Wise's (1:29:02) age graded effort was through the roof, while Nick Anderson (1:29:16) completed a superb first half marathon and Andy Belshaw (1:29:31) an equally impressive first sub 90.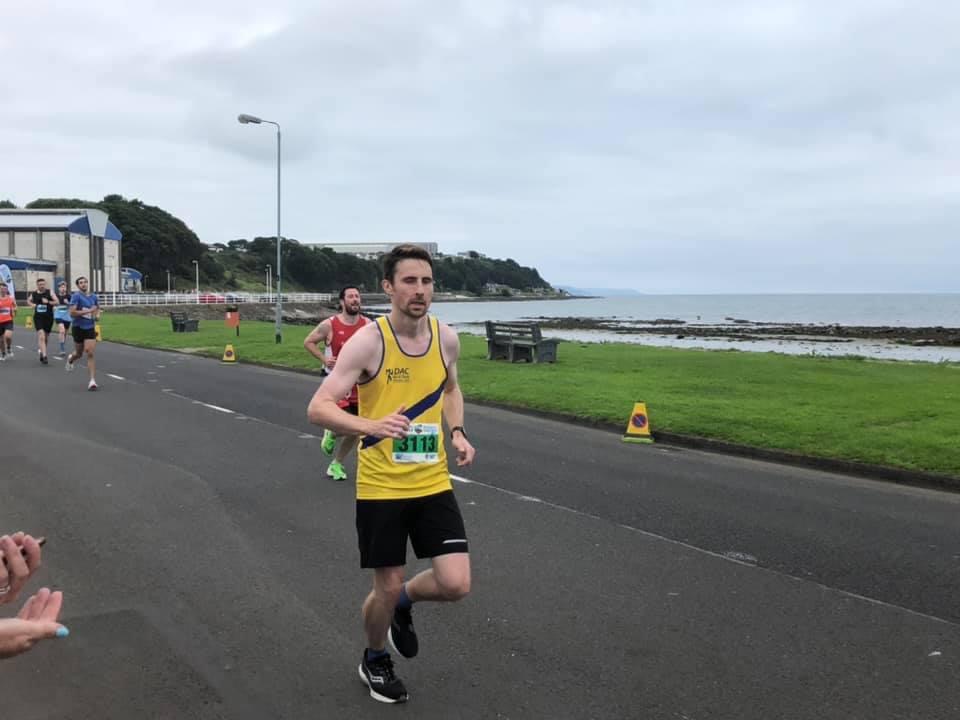 The rapid timings continued with Alan Massey (1:30:10), Brian Geddis (1:32:49) and a new best for Tom Agnew (1:33:27). Another tightly packed pod featuring Keith Gilmore (1:37:12) and Frankie Rea (1:38:01) brought the best out in Kevin Mulligan (1:38:16) and Davie McClements(1:38:29) both of whom claimed their fastest half marathon times.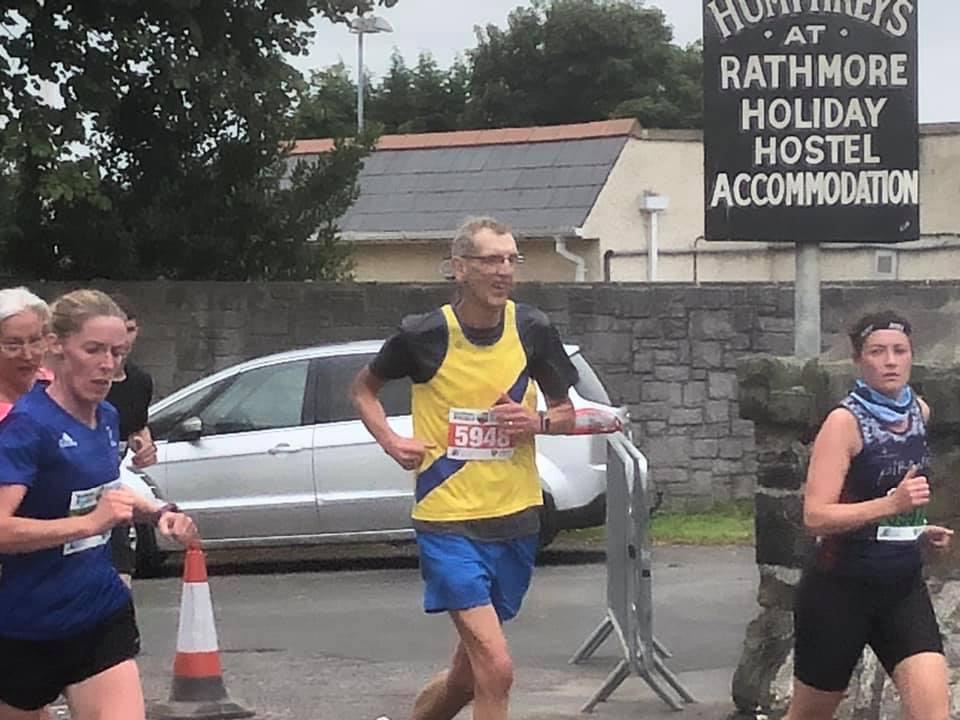 Terry Eakin (1:39:54) was another to post an astronomical age graded effort, Stephen Moore recorded 1:40:46, Matt Ormesher (1:40:53) claimed a course PB, while Pierce Kirwan clocked 1:41:05 and Zara Fulton a fantastic new best of 1:42:07.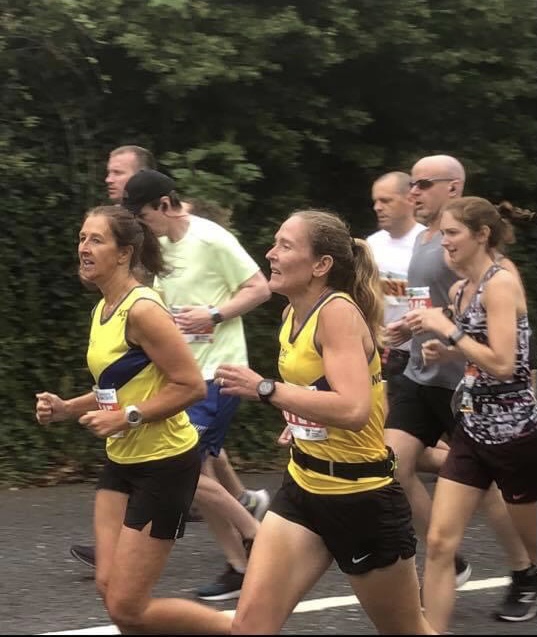 Ladies captain, Claire Scott, ran an impressive 1:45:45, Jacob Sullivan an equally strong 1:48:38, while the flow of flying athletes continued with Cliff McCausland (1:50:04), Christopher Connolly (1:50:54), Helen Irvine (1:55:33), Alan Hughes (1:56:03) and Jamie Stevenson (1:57:39). Alex Irvine (2:05:22) completed a family double, as did Kaitlyn Eadie (2:13:17), while Greg Eager recorded 2:20:24, Pat O'Driscoll, 2:33:37, before Jill Eager (accompanied by her husband Noel) crossed the line in 2:43:45, to successfully complete her first ever half marathon.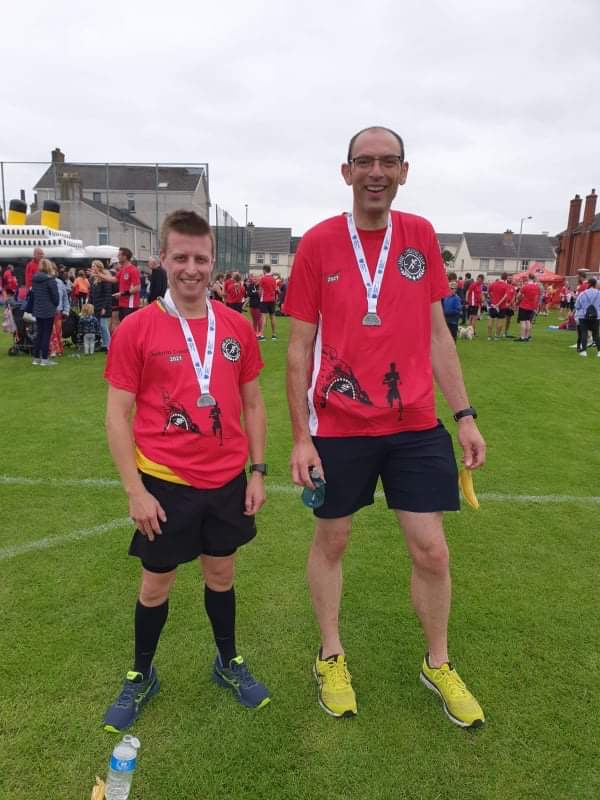 Run With The Wind – MPT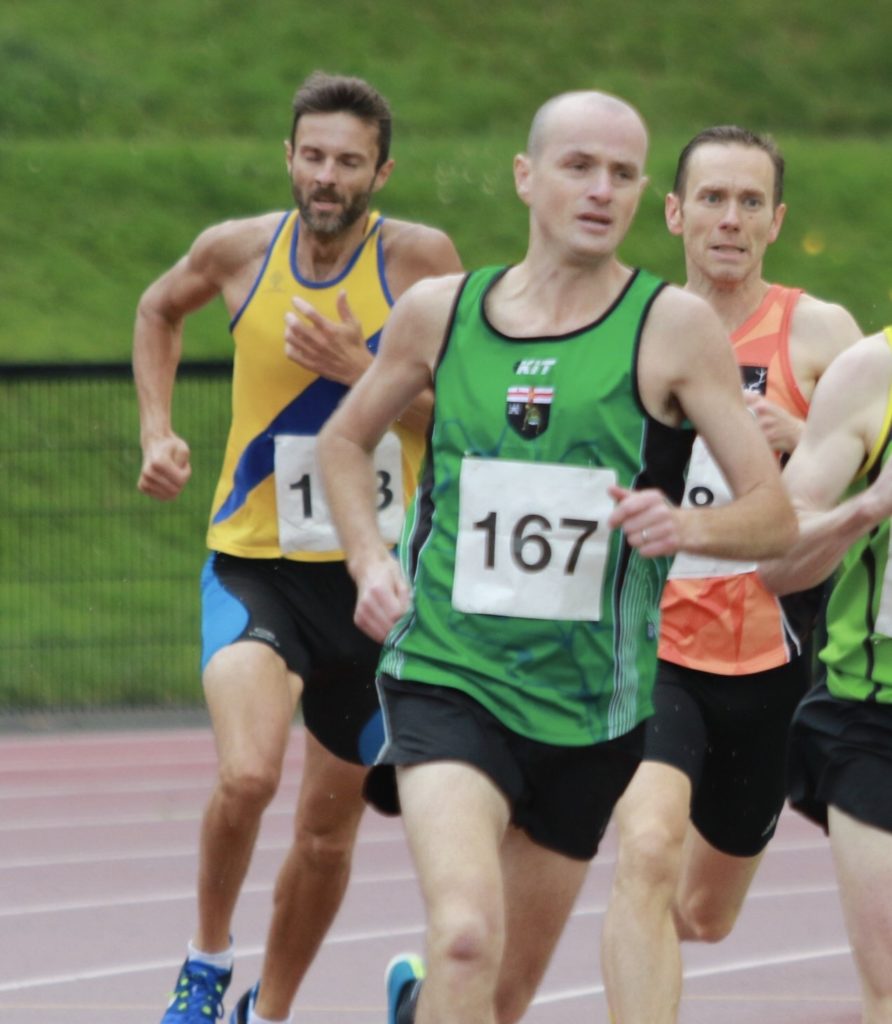 Originally scheduled for Bangor, before moving to Belfast due to 'issues' with the track at Ballykillaire, the 'Run With The Wind' meet delivered on its tag line with some quality racing and eye catching performances on Saturday.
The opening sprints afforded Eve Walsh-Dann a chance to double up, starting with 14.48 (5th) in the senior 100m, returning to clock 30.99 (4th) in the 200m, while Ben Cardwell posted 25.92 in the men's event.
As the focus switched to middle distance, Rachel Gibson clinched second place in the 1500m with a time of 4:31.81, in a race which also featured Katie Moore (4:51.79/5th) and Yasmin Wilson (5:04.44/6th). Nick Irvine took a decent chunk out of his seasons best, to clock 4:26.25 in the 1500m 'b' race, while Craig McMeechan dipped under the four minute barrier (3:59.16) to finish third in the 'a' event.
Portrush 5 Mile Road Race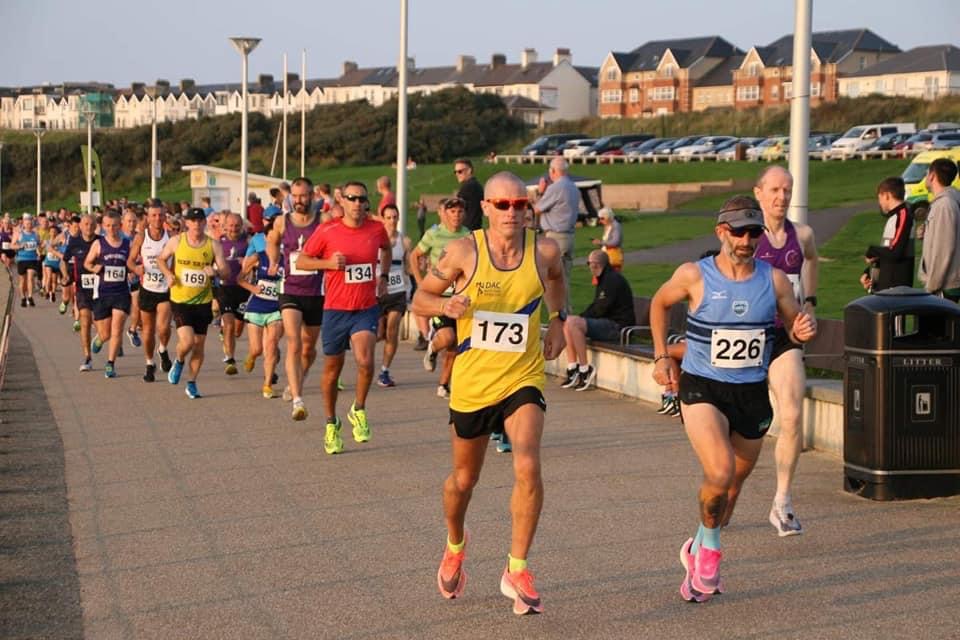 A pleasant Friday evening attracted 155 athletes to the north coast, with Darren Hamilton making a return visit to an event that has become a favourite on his running calendar. As ever, the North Down man was at the sharp end of proceedings, and despite a few extra hills thrown in this year, he was able to tame the course in a time of 29:37 (third overall).
Rathlin Run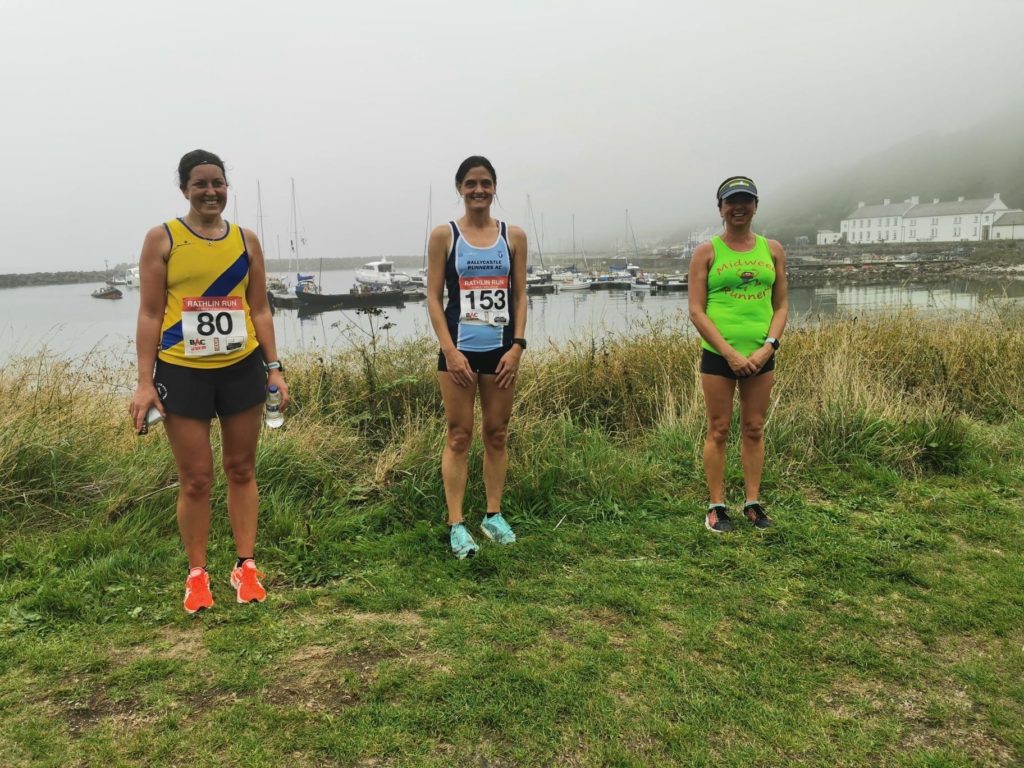 After a two year break the challenging tour of Rathlin Island returned, expertly organised, as ever by the Maxwell brothers and the good people of East Coast AC.
Whilst big on beauty and scenic vistas, the ten mile race provided challenges aplenty, with rolling hills and humid conditions providing a tough day out for all competitors. In the end 99 athletes chose to toe the line, with North Down ably represented by Helen Byers and Paula Simpson, the former claiming a hard earned podium spot in 1:21:15 (3rd lady) and the latter another successful step on return from injury with 1:54:14.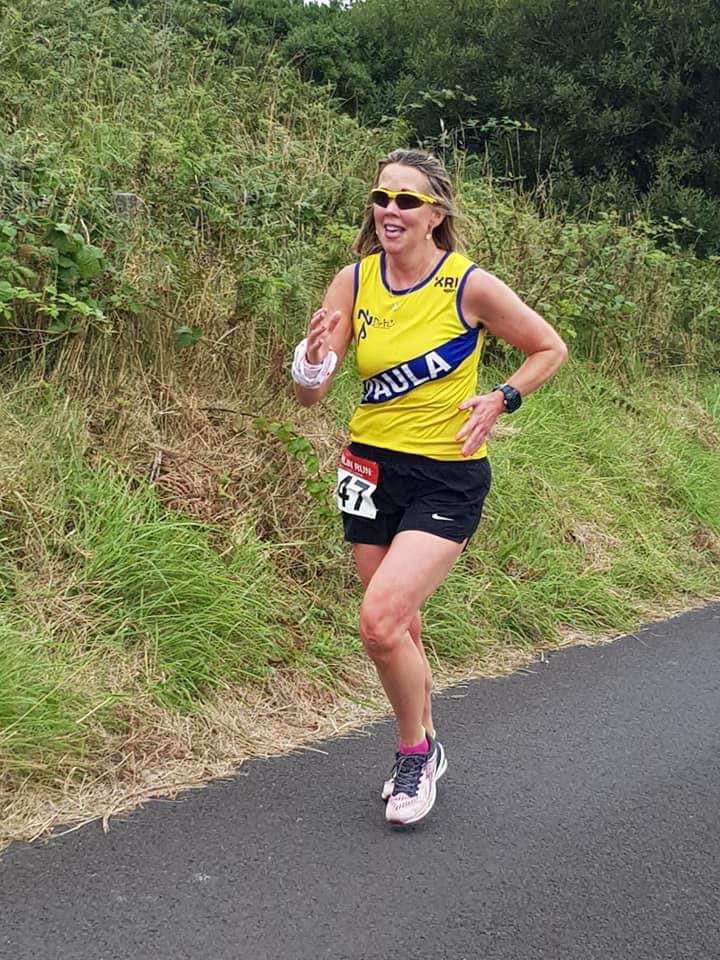 Last One Standing – Florence Court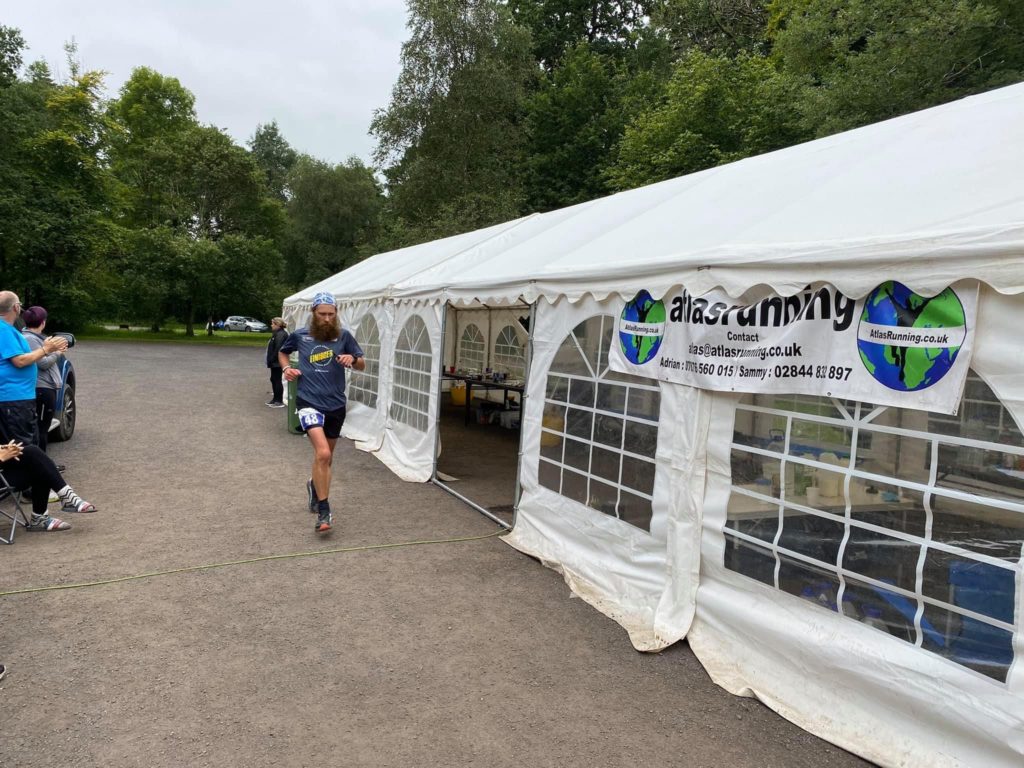 The good folk of Atlas Running were at it again over the weekend, serving up torture in laps of approximately 4.2 miles, one to be completed each hour, until only one person remained standing. Having been hosted most recently at Florida Manor, the LOS format returned to a former venue at Florence Court in Fermanagh, with North Down represented by Jill Connolly and Seán Nickell.
In generally pleasant conditions, both athletes accumulated mileage without much trouble, Connolly surpassing her total of 48 miles from the recent Montalto endurance race, and eventually closing her account after 13 loops and something on the region of 55 miles. As Saturday eased into Sunday, Nickel brought up his century amongst a group of 17 like minded individuals, and despite the pack being whittled down to the last three on Sunday evening, the logic of staging on a bank holiday weekend became apparent.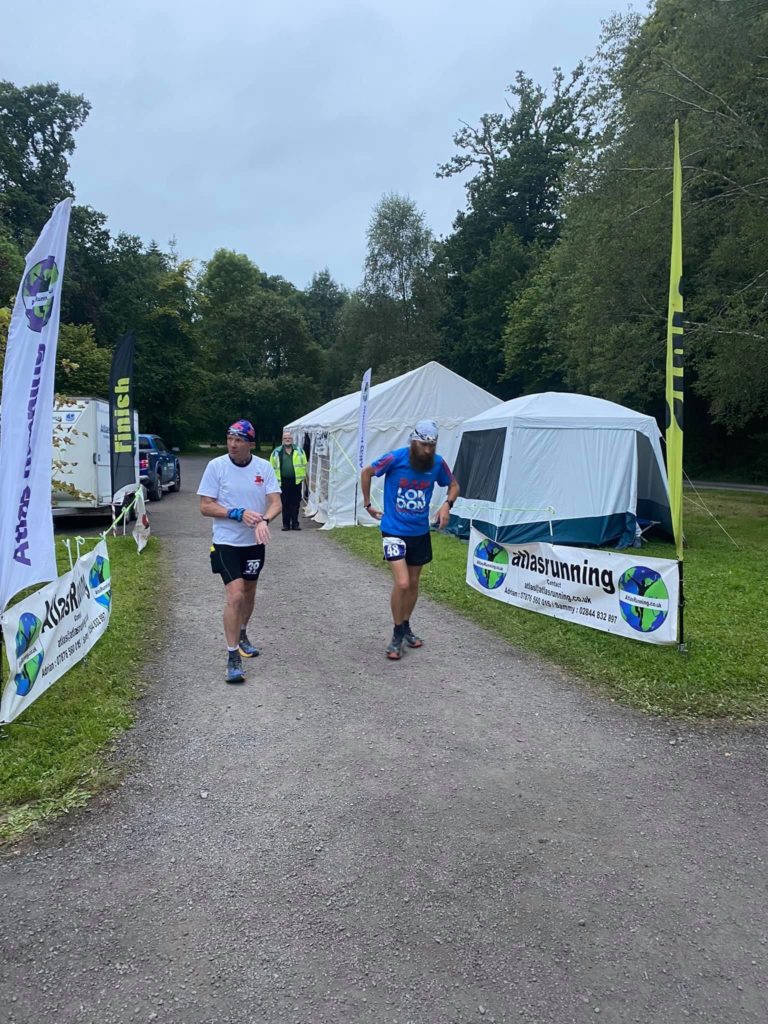 By sundown only two remained, North Down's Nickell and his friend Bobbie Irvine of Seapark AC. Just before midnight Seán completed his 36th lap, to take his monumental total on to 150 miles, Bobbie followed two minutes later, but by the top of the hour Seán indicated that he'd had enough, leaving his friend the dubious honour of one more lap, to confirm his status as the last one standing. Shortly before 1am it was all over, Bobbie confirmed as the winner, Seán the runner up on another memorable weekend for all the competitors.