Portrush 5 Mile Road Race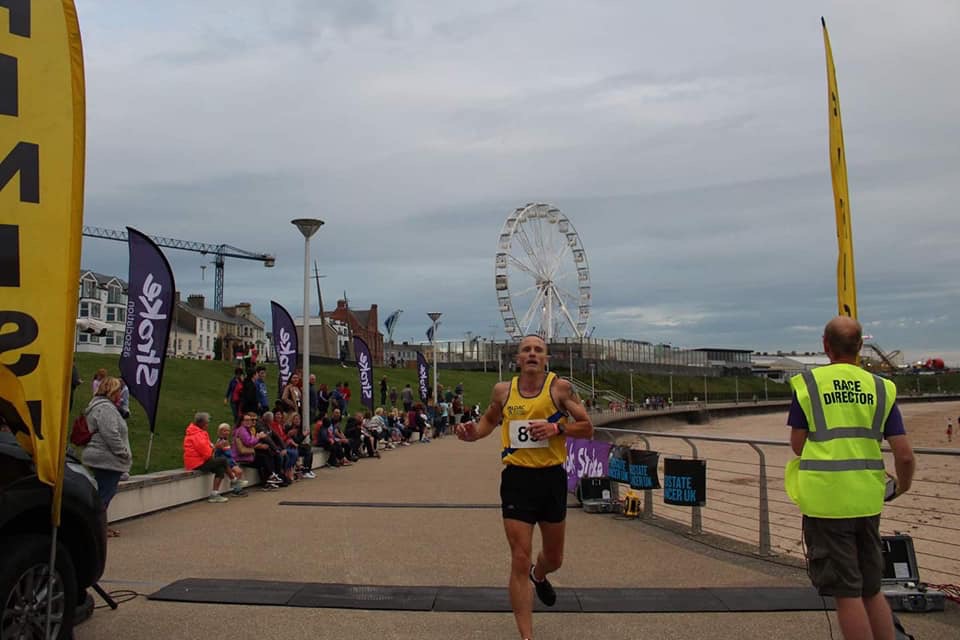 With a new route this year, the Portrush 5 miler followed a simplified out and back course from the West Strand towards Portstewart and returned via a welcome downhill finish onto the original promenade. In pleasant conditions, North Down had two vests amongst over 300 others, with Darren Hamilton taking a break from New York Marathon training to post 29:53 for 3rd in age category (12th overall) whilst Pat O'Driscoll was 4th in his category, clocking 48:05.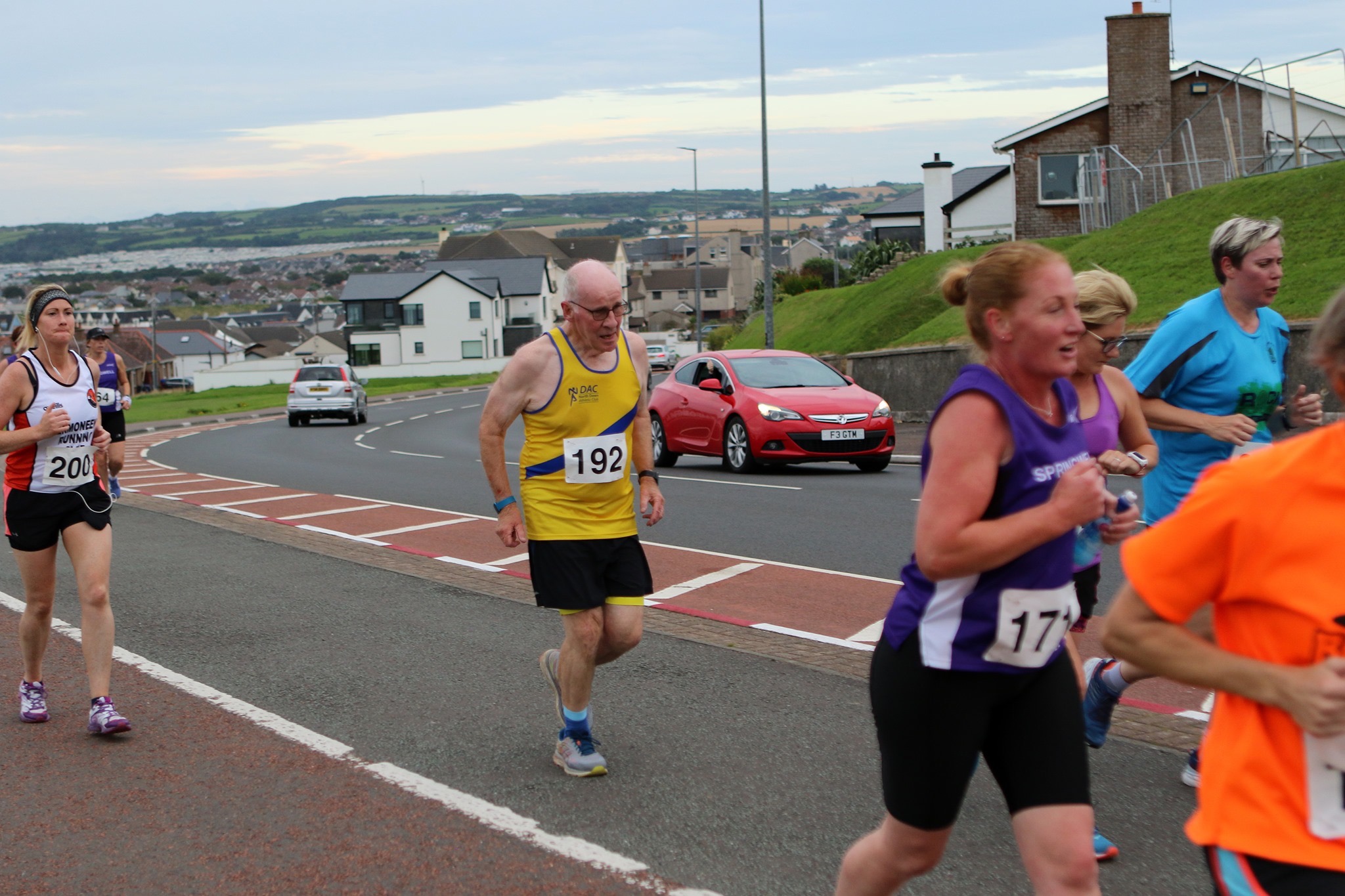 Strangford Festival
The nights may be closing in, but on another fine summer evening the Strangford 5 and 10k provided a stern test in humid conditions and testing trails around the Castle Ward estate. North Down had representation over both distances, with Steve Wise continuing his excellent recent form, claiming an age category win in the 10k with a time of 42:26 (23rd place). James Barr was next back to the finishing area at the Strangford Ferry car park, clocking 55:29 to claim 99th place, whilst Alison Wise completed the club trio in 1:02:39.
There was also success in the shorter race, with Roberta Dornan clocking 21:35 to claim first lady honours (6th overall) and Gerry Adair running 22:05 to finish 9th overall and 2nd in age category. Having opted for the shorter distance on Friday night, Roberta was able to toe the line again on Sunday, this time over ten miles at the Rock the Lakes and Lough event around the Oxford Island nature reserve in Craigavon, and again it was a successful outing, a time of 1:19:05 good enough for 5th lady and 27th overall.
The Warrior Run – Co Sligo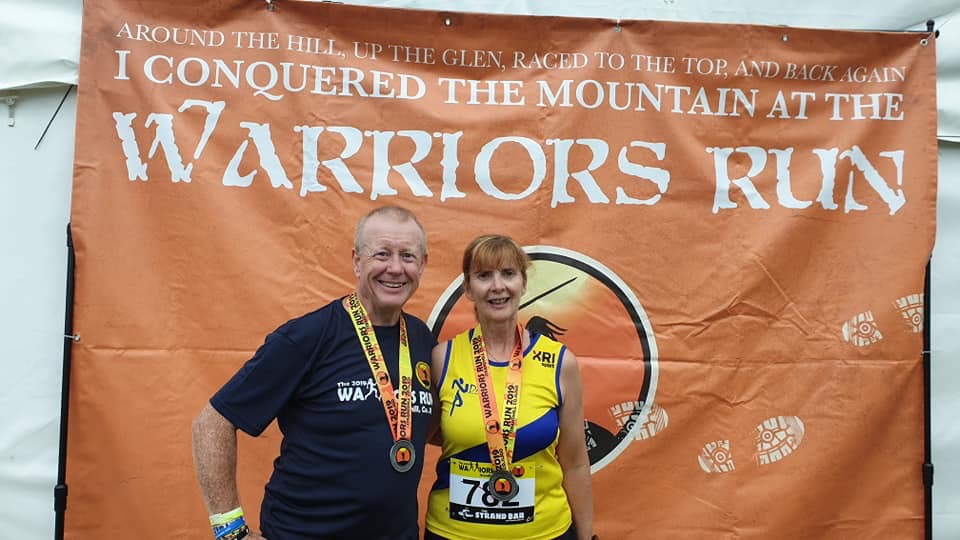 Commemorating Maeve, the fiery Queen of Connaught, the annual multi terrain mountain race of roughly 10 miles takes competitors from the Atlantic coast in Strandhill, 1000 feet up to the peak of Knocknarea (the Queen's purported burial site) and back to sea level via grass, gravel and rock. Having completed the race previously, Cliff McCausland was well aware of the dangers of a slippery course doused by early morning rain, and was able to use his experience to place 13th in age category (320th out of 1107) in 1:26:10, whilst for his wife Noreen it was the completion of a long held ambition, one she achieved in a fine debut time of 1:57:48 (12th in category).
Rathlin Run
In it's usual slot as a curtain raiser from the Ould Lammas Fair festivities, the Rathlin 10 mile race returned for it's 19th edition on a Saturday afternoon when rain was never too far away. Despite the initial inclement weather, 350 made the short hop from Ballycastle to ensure a capacity turnout in the main event and associated 5k, with two North Down representatives choosing to get their money's worth in the longer race. Over notoriously testing terrain Helen Byers placed 53rd (1st F40) in 1:20:45, whilst Peter McQuillan continues to build a fine portfolio of multi terrain races and was 124th in 1:38:18.
Storming the Castle 10k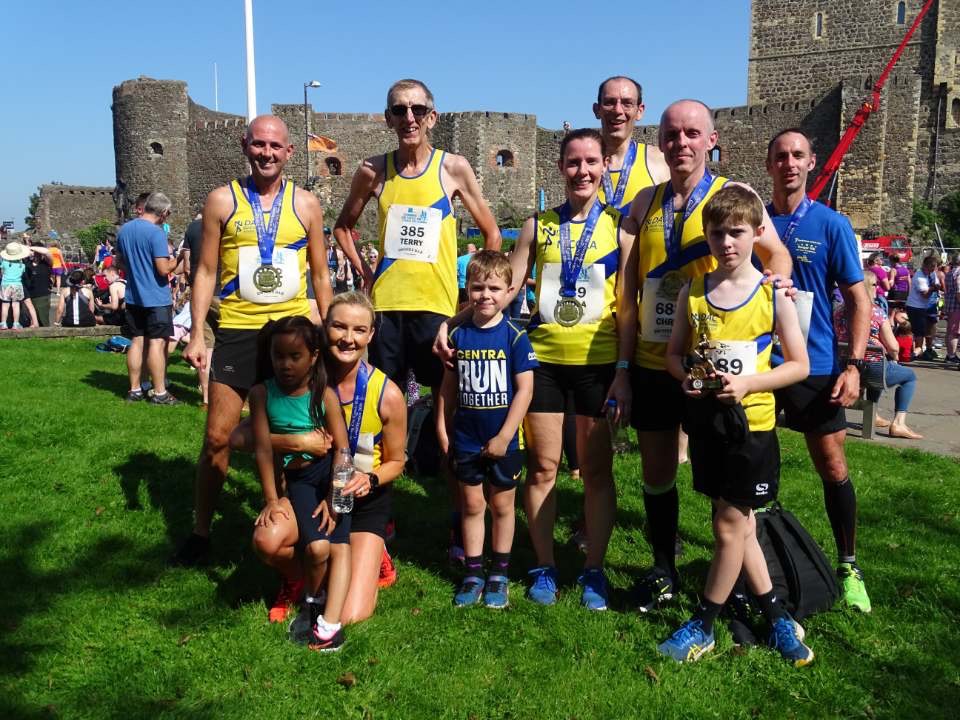 On a boiling hot afternoon more akin to Cairo than Carrickfergus, the 5th annual Storming the Castle race delivered on its promise of a great family day out, with something for everyone from 6 to 60. Credit must go to host club, Seapark Ac, for a well organised and supported event, and a wonderful spread afterwards in Shaftesbury Park, with a multitude of activities to keep the kids happy.
There was early North Down success in the warm up events, with Alex Downey breaking the tape in the under 14 race, after a hard fought battle over the 2k course, but before long it was the turn of the seniors, with nearly 900 runners setting off from the town's leisure centre to follow an out and back course along the marine highway, with a turning point at the Seapark roundabout.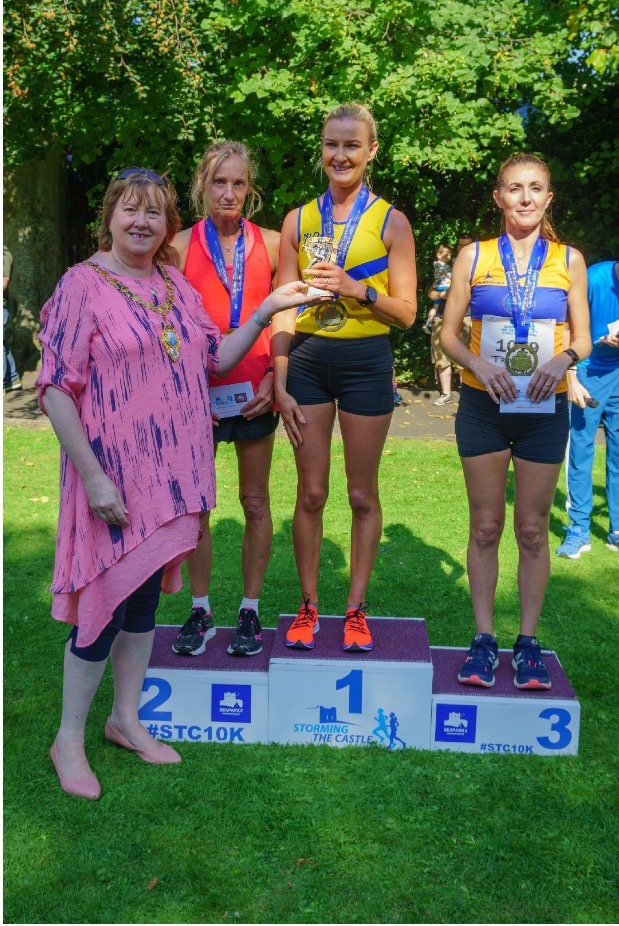 North Down was represented by nine athletes in all, with Chris Downey (39:47) first of the contingent across the line (24th overall). Fiona McQuillan (40:26/31st) just pipped David Massey (40:32/32nd) and in doing so claimed a tremendous win in the ladies race, whilst Philip Giles posted a hard earned 44:09 (68th) and Terry Eakin took the M65 honours in 44:17 (71st).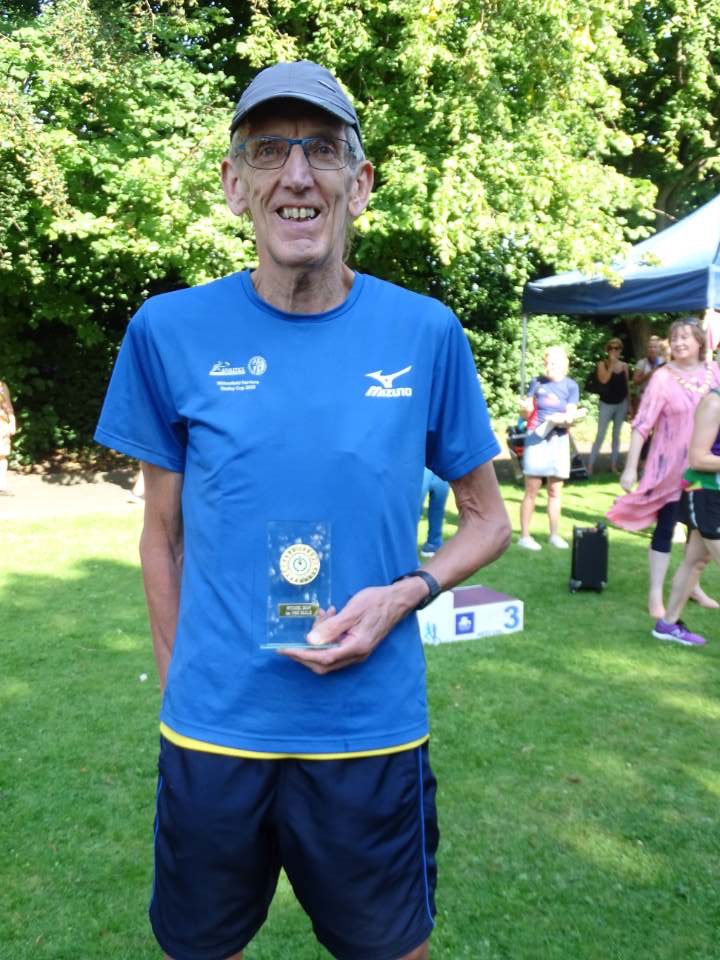 Alan Hughes saw the benefit of recent track training to tough it out in 48:42, as did Nicola Downey (51:36), Greg Eager recorded 52:30, and despite feeling a little under the weather, John Ferguson (58:30) still had enough in the tank to dip under the hour mark.
NI & Ulster Combined Events Championships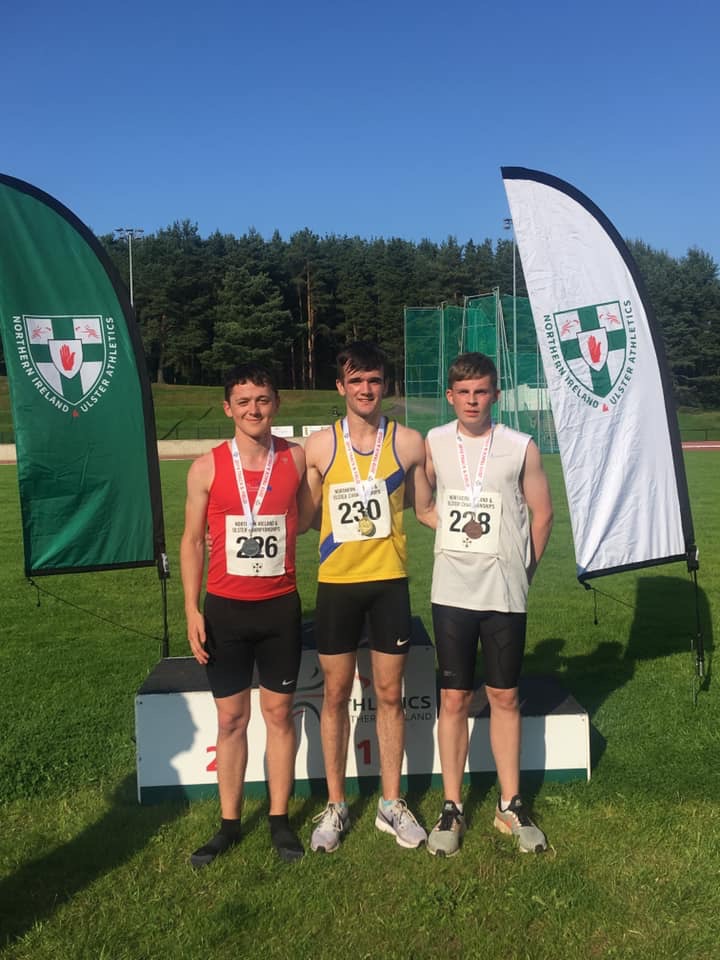 Over the course of two sun drenched days at the Mary Peters Track, Troy McConville grabbed the headlines in the combined events championships, with a dominant display in the junior men competition, and a 6788 points total that smashed the existing N.I. & Ulster U20 combined events record.
After an opening 11.49 for 2nd place in the 100m, the young North Down athlete recorded a best of 6.95m in the long jump, 11.45m in the shot putt and 1.94m in the high jump, all three performances not just good enough for first in the junior competition, but further and higher than any of the senior competitors. 51.07 for the 400m brought a winning end to day one, before continuing his dominance on day two with first place finishes across the board in the 110m hurdles (14.99), discus (32.72m), Pole Vault (4.00m), Javelin (39.46) and 1500m (4:33.26).
In the five event U13 boys competition Jayden Booth, JJ Holley and Seb Holley took 4th, 5th and 6th places respectively, the highlight for Jayden being a winning leap of 4.78m in the long jump, whilst for JJ it was an equal best of 1.40m in the high jump and for Seb a 2nd place in the shot putt with a fine throw of 7.54m. In the U13 girls, Anna Cousins placed 3rd overall after setting a consistently high standard across all five events, whilst Hollie McGuigan was 5th, Kate Fenlon 7th (including a winning shot putt best of 10.20m) and Hannah Lawden 9th.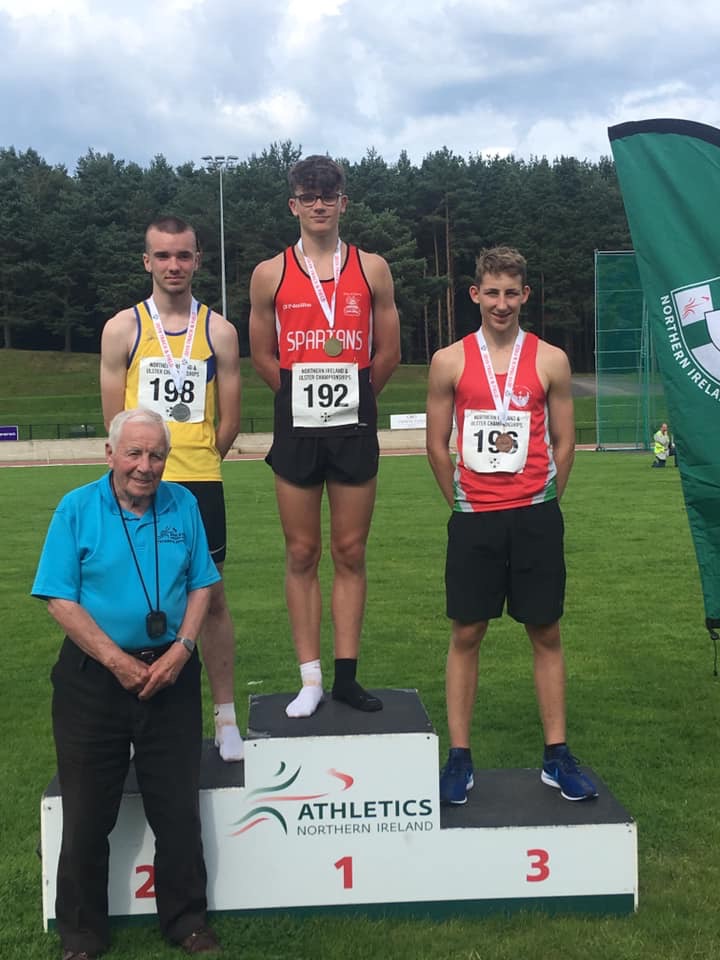 Lexx McConville took 2nd place overall in the U15 boys event, the highlights being wins in the 80m hurdles (12.10) and high Jump (1.80m), whilst in the U15 girls, Morgan Wilson was 16th after strong performances in both the shot putt and high jump.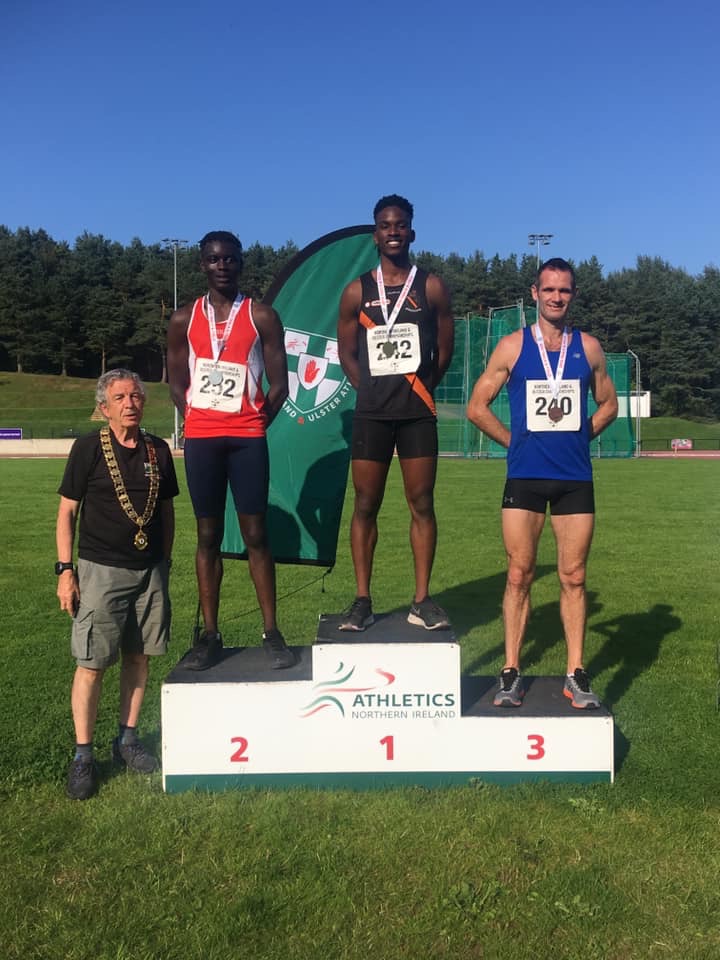 Despite an equipment malfunction in the pole vault, former Commonwealth Games athlete, Brendan McConville, was untouchable in the 1500m (4:47.64) and took 3rd place overall in the senior men's competition, with Andrew Barber consistent across the board and good enough for 5th position in the final standings.