Bangor 10k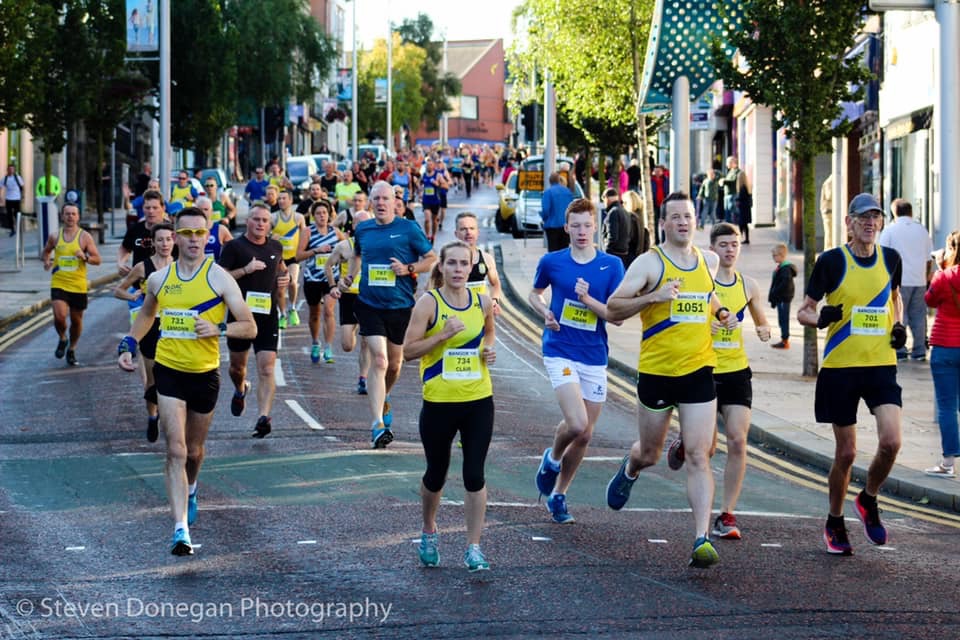 Declan Reed (City of Derry) and Emma Mitchell (Clonliffe Harriers) claimed the title of NI & Ulster 10k champion, whilst Gideon Kipsang took the race win, as the cream of local talent fought it out in pleasant Bangor conditions.
With a capacity field of 1000 runners, Bangor Main Street was bulging at the seams as the multi coloured masses streamed down from the traditional start in front of Bangor Castle, before hugging the coast to Ballyholme, looping around Groomsport and returning via one last challenge of the hill on Shandon Drive. Local clubs Ward Park Runners, Scrabo Striders and hosts, North Down were all out in force, but in the end it was the familiar visitor of Gideon Kipsang who took the victory in 30:15, his third in as many years at the event.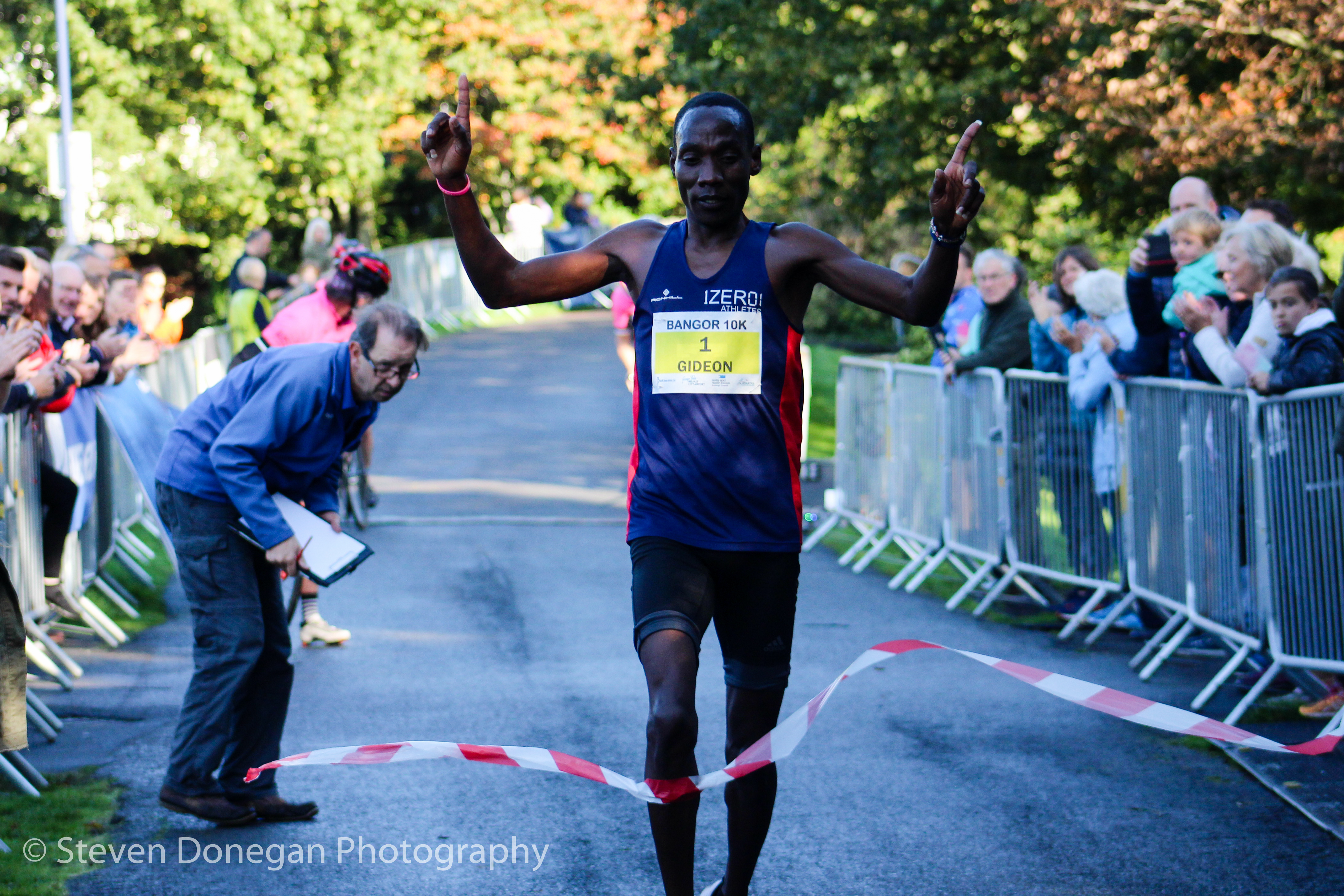 With Kipsang ineligible for national honours, the title went to second place finisher, Declan Reed (30:57), who fought off Conan McCaughey (30:58) and Finn McNally (30:58) to take the win. As expected, Emma Mitchell (Clonliffe) dominated the ladies race to take the victory in 34:44, whilst there was a tremendous scrap for the remaining podium spots with Gladys Ganiel (North Belfast Harriers (36:31) proving to be the best of the rest, and Lauren Wilson (Edinburgh AC) (37:09), just edging Sinead Sweeney (East Down) and Sarah Lavery (Beechmount) for third.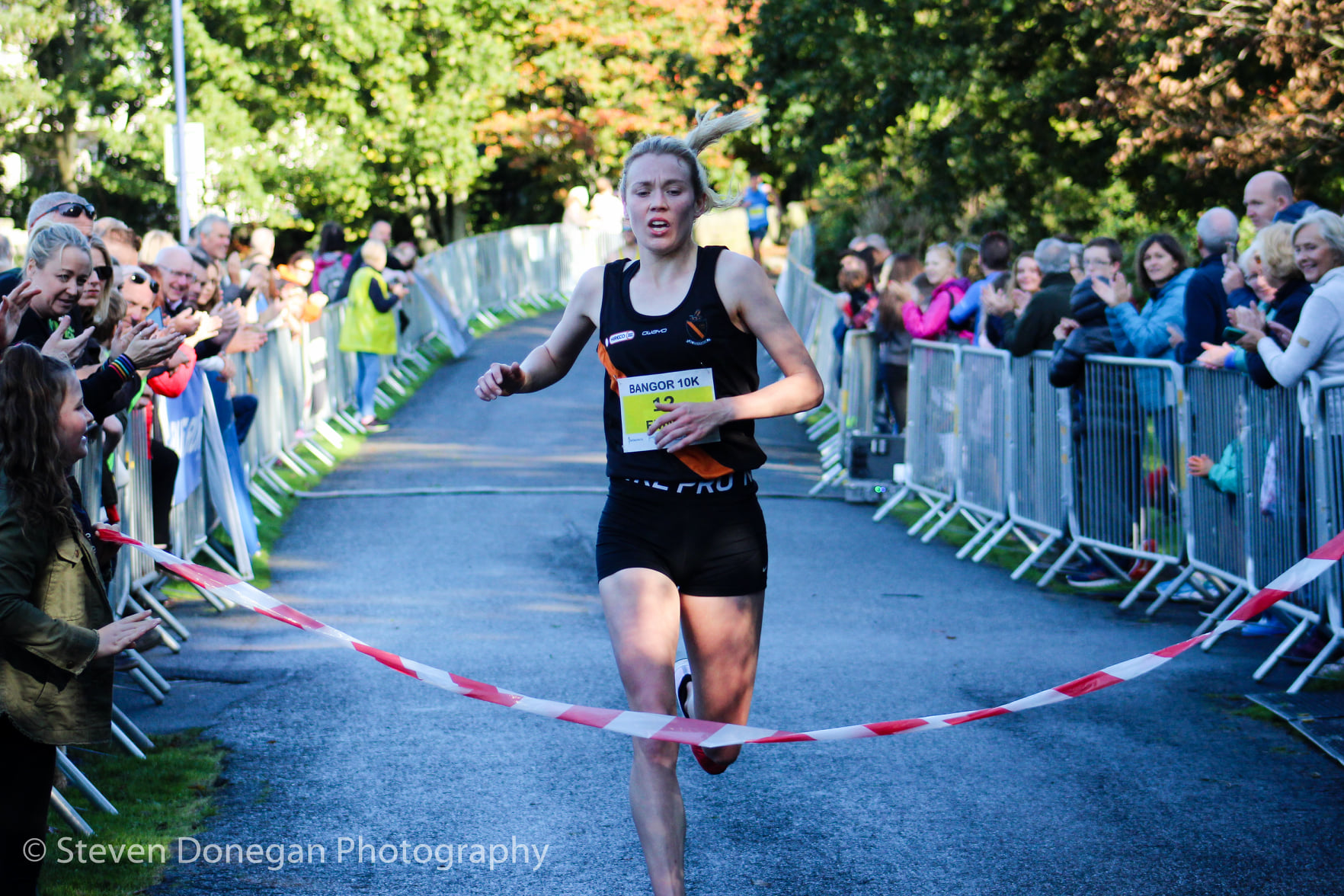 After missing out on the ladies podium, there was consolation for Beechmount Harriers with the news that their scoring quartet had secured the ladies prize, while North Belfast Harriers packed well to take the men's title, but on a day when the local running community put its best foot forward, for many it was about their own individual goals, whether that was Belinda Tunnah (Ward Park Runners) completing her 10th Bangor 10k in a row, or local physio Dave Reaney completing his first, accompanied by his better half, Jane.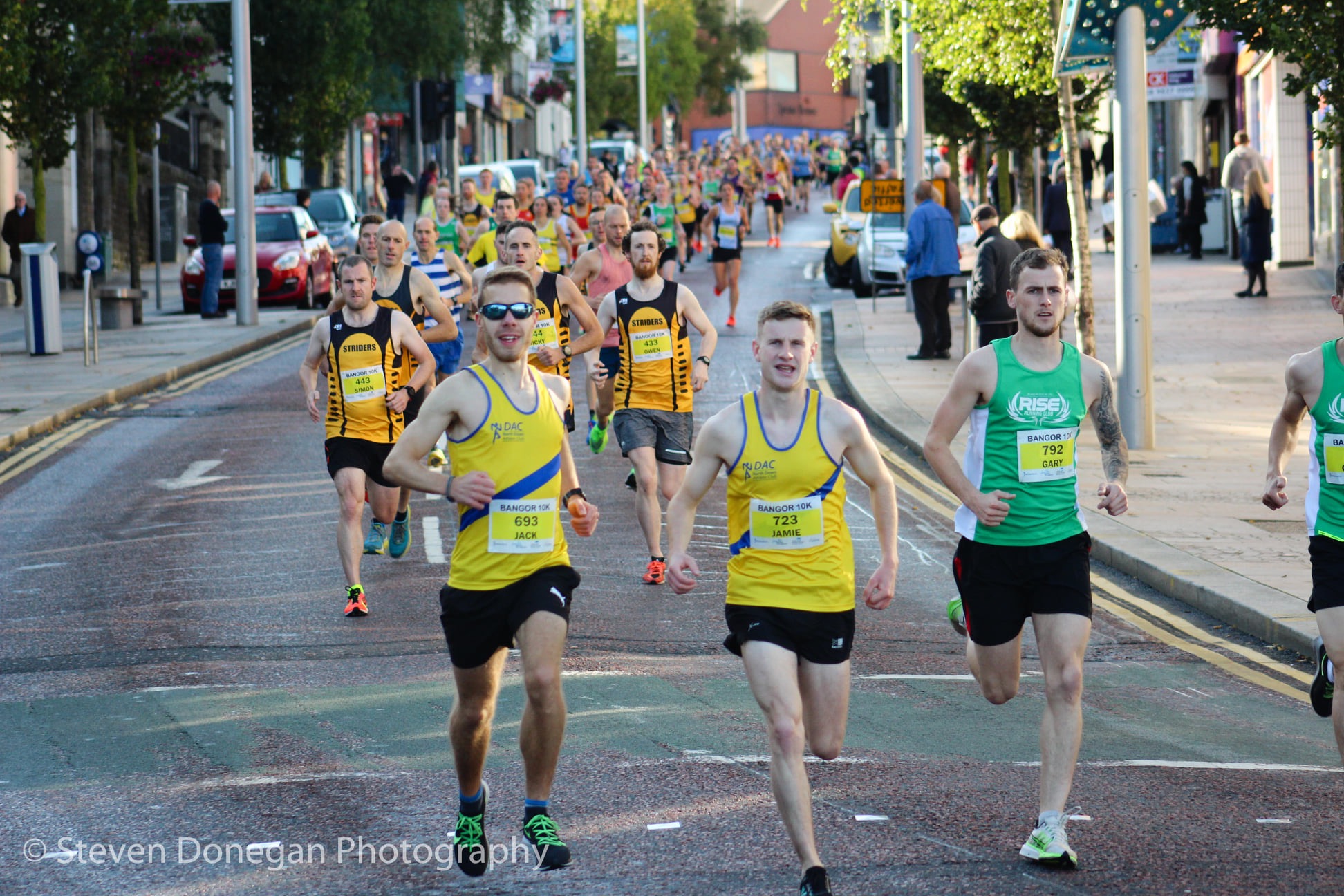 From a North Down point of view there was some disappointment, with both the men's and Ladies teams finishing in the dreaded 4th spot, just missing out on national team honours, but individually there was much to celebrate and many performances of note on a great day out for the club. Despite being affected by an allergic reaction earlier in the week, Craig McMeechan (33:30) was good enough for 16th place overall, Jack Bradshaw ran a season's best of 34:49 for 25th, and Jamie McMeechan was 32nd across the line in a rapid 35:49.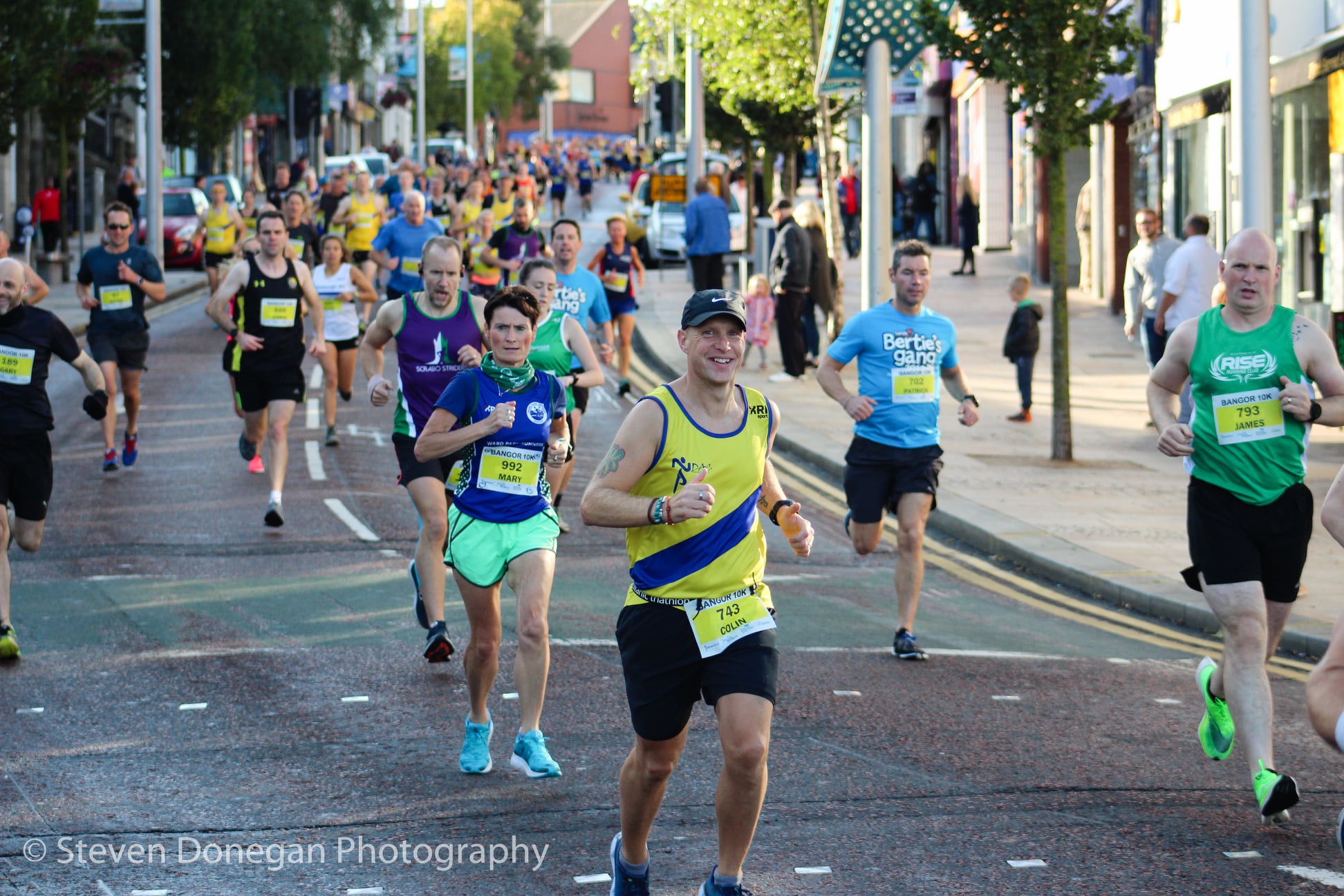 Jack Logan was first junior athlete in a new PB of 37:44 (59th), Mark Carberry was 63rd also in a PB of 38:12, with Chris Downey (38:37/68th), Eamonn O'Reilly (39:20/79th) and Alasdair Mair (39:35/84th) following in quick succession. Simon Boyle (40:06/92nd) just missed out on a sub 40, Kerry Speers clocked 40:45, while Patrick English recorded 40:55.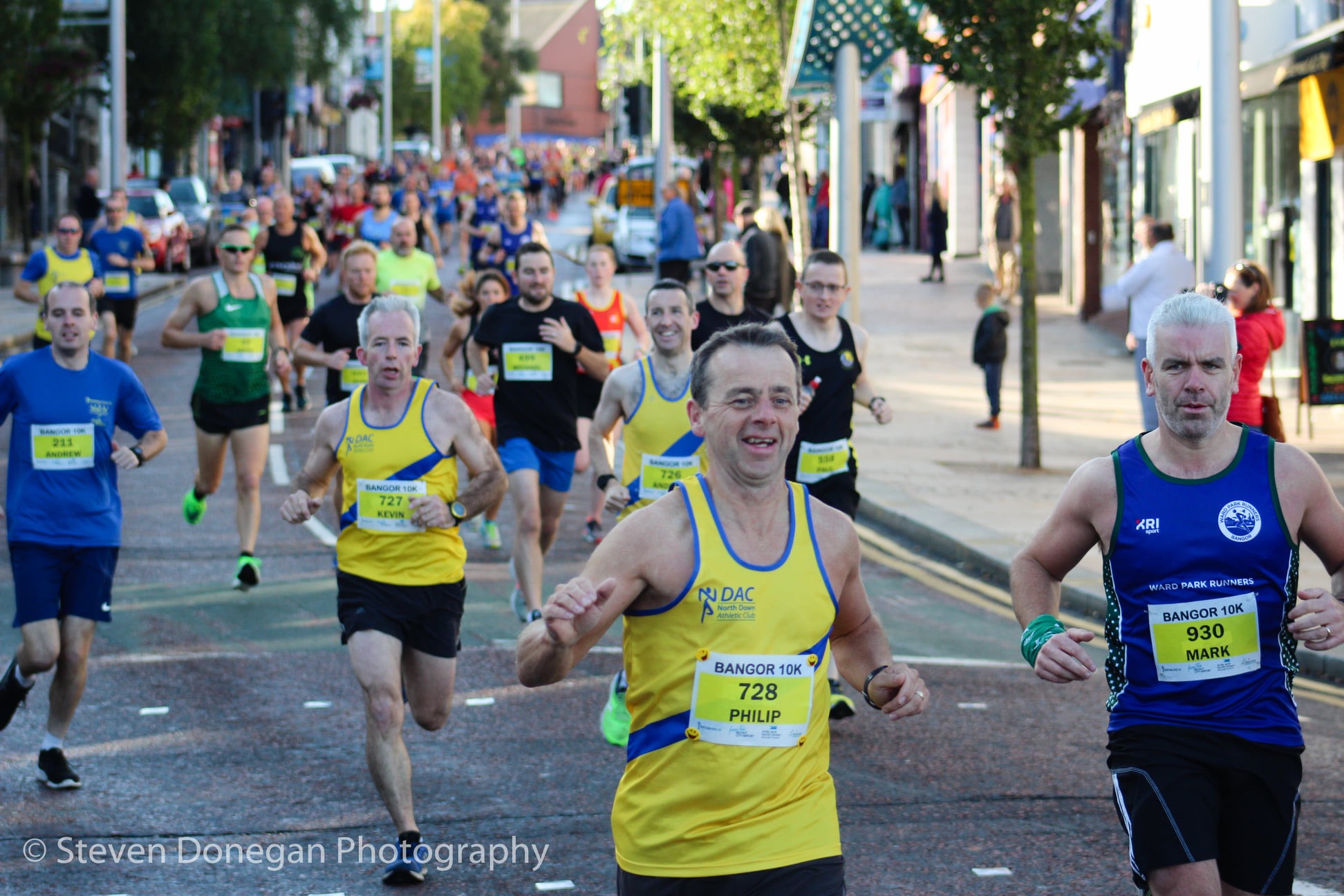 Philip Mulligan (41:22), pipped Colin Walker (41:33), despite the latter being first across the line, while John Harvey (41:39), Simeon Cathcart (41:44), Neil O'Driscoll (41:46) and Mitchell Brown (41:56) continued the steady stream of yellow and blue vests along the finishing straight. Ben Jenkins (42:15) claimed another PB for the juniors and finished with the same time as Aaron McAuley, while Clair Quigley posted 42:53 and Terry Eakin won the M65 age category in a time of 42:58.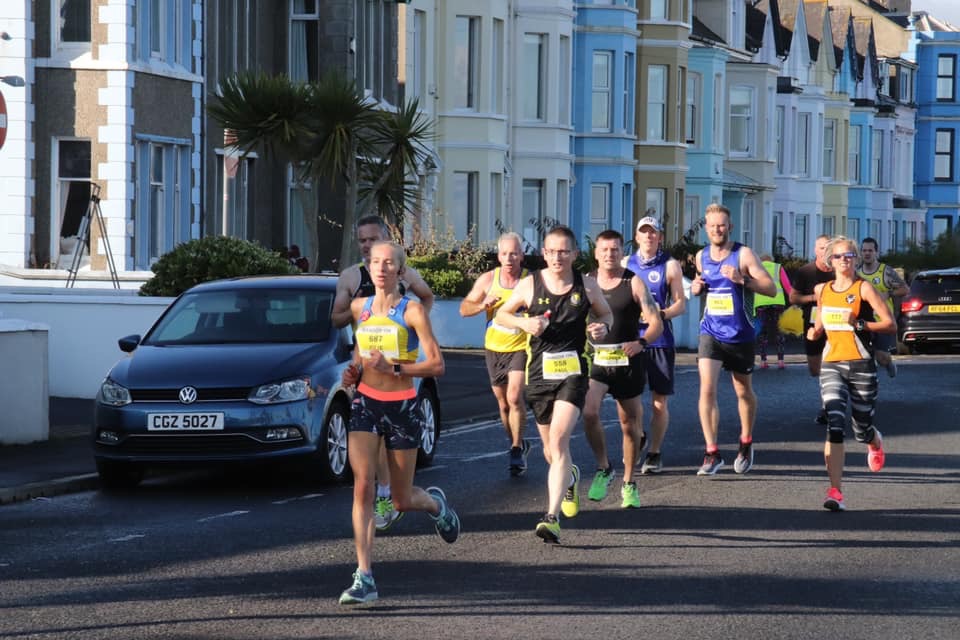 Adam Skelly claimed a new PB of 43:06, Philip Giles (43:18), Andrew Muir (43:22), Julie Balmer (43:36) and Shane Logan (43:37) crossed the finish line in close proximity, while Christopher Ballentine had a storming second half to post 43:45. Kevin Mulligan (44:32) ran fairly even splits, as did Laura Neely (45:25), Tom Agnew claimed 45:38, John Gracie, 46:27, while Cliff McCausland (47:17) had a particularly strong homeward 5k.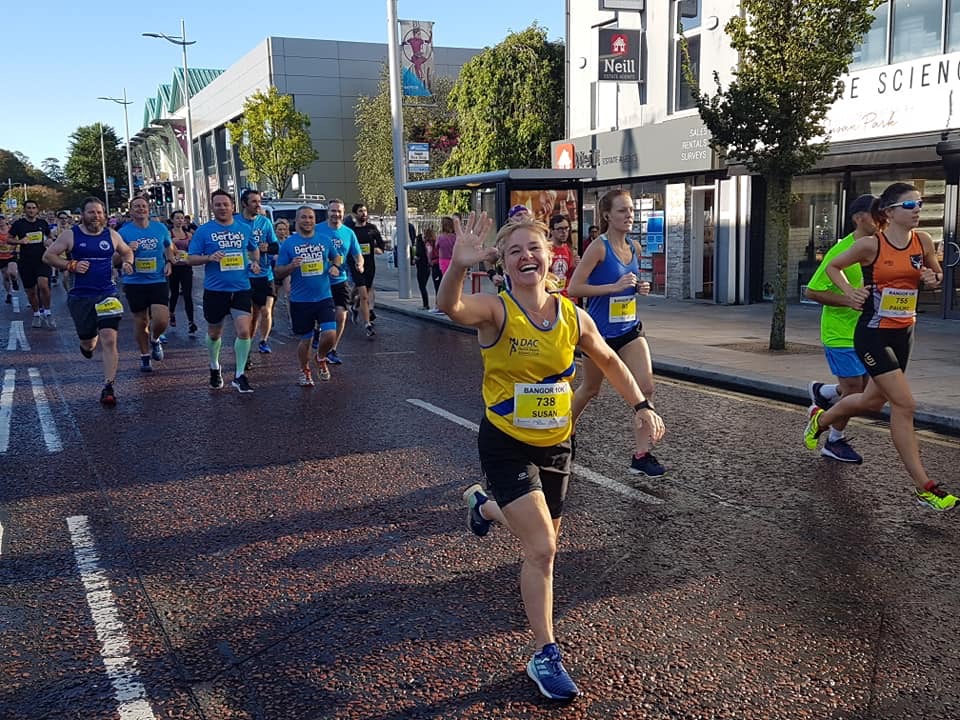 Susan Spence claimed 47:24. Roy Sittlington, 47:38 and Stephen Mulvenna (48:41) were all comfortably under the 50 minute mark, as were Julie Wilson (48:51), John Ferguson (48:32), Paul Lynas (49:21). Junior members Bryanna Catney (50:23) and Cameron Jenkins (50:27) were just the other side of 50 minutes, although the former had the consolation of a new personal best.
Remaining North Down athletes:-
Kieran McGuigan – 50:17
Jonathon McWhinney – 50:27
Mick Hall – 50:46
Nicola Downey – 51:42
Angela Fawthrop – 52:06
Gordon Matchett – 52:20
Liesel Parker – 52:49
Jacob Sullivan – 53:05
Katherine McGuigan – 53:07
Cara Jeffrey – 54:39
James Barr – 55:07
Declan McMullan – 56:07
Claire Logan – 56:31
Scott Symington – 57:40
David Balmer – 58:03
Sharon Cummings – 1:02:51
Noreen McCausland- 1:03:18
Nicole Bell – 1:05:24
Helen Beattie – 1:07:49
Valerie Sullivan – 1:09:32
Marie Wilson – 1:16:54
North Down AC would like to thank everyone who helped in the planning of the Bangor 10k, those who marshalled on the day, our friends in the local clubs for turning out in big numbers and especially the local residents along the course for their patience during the event.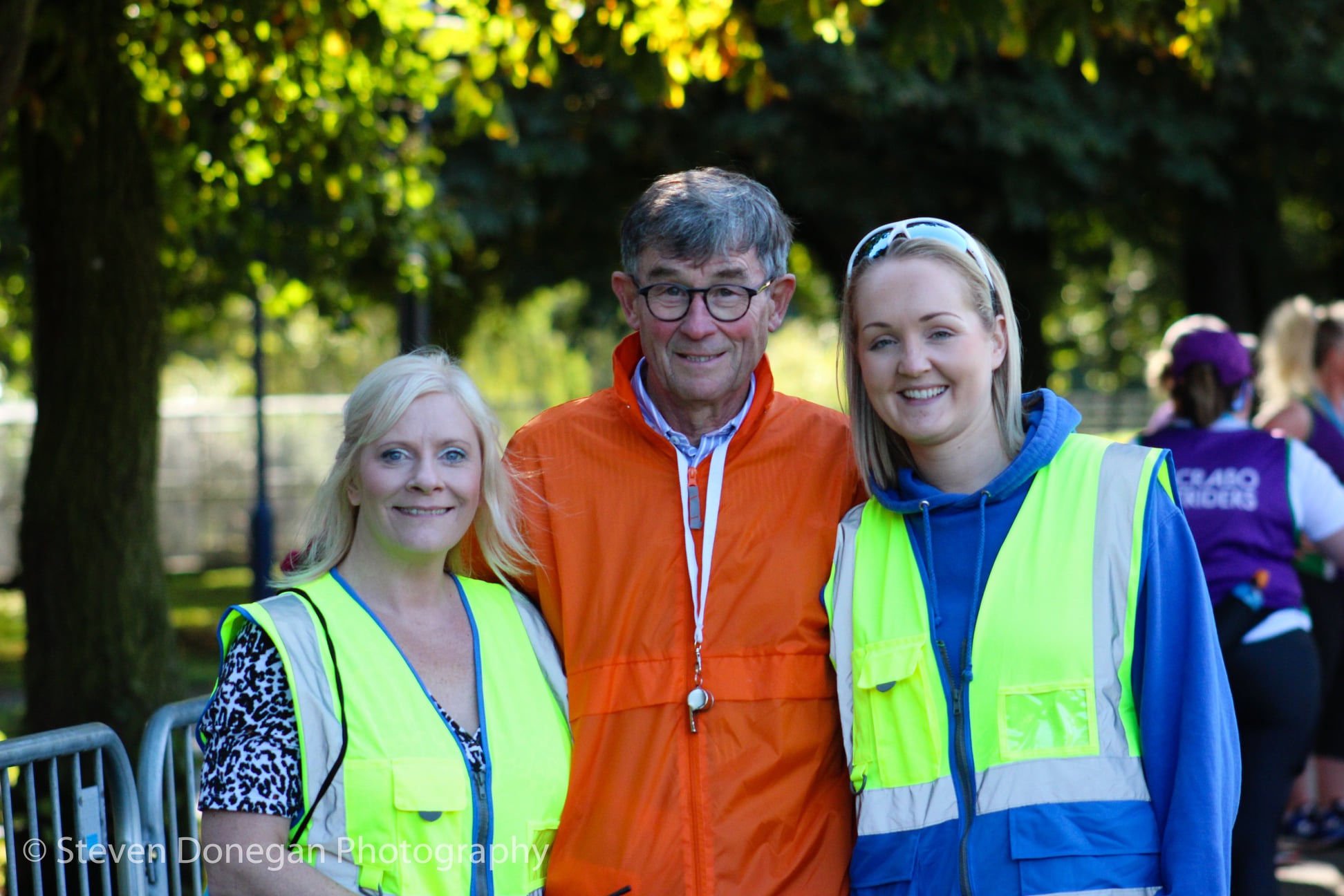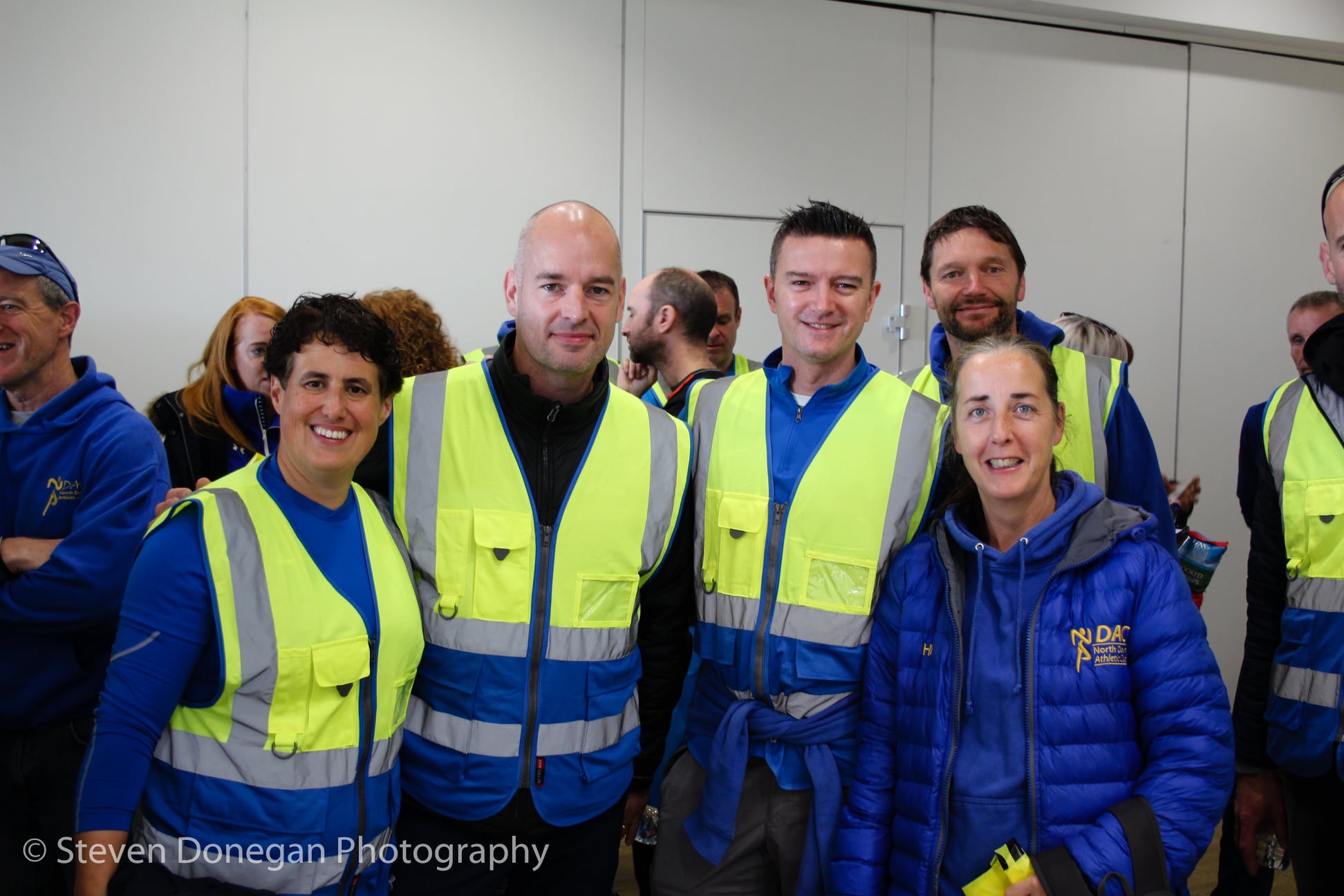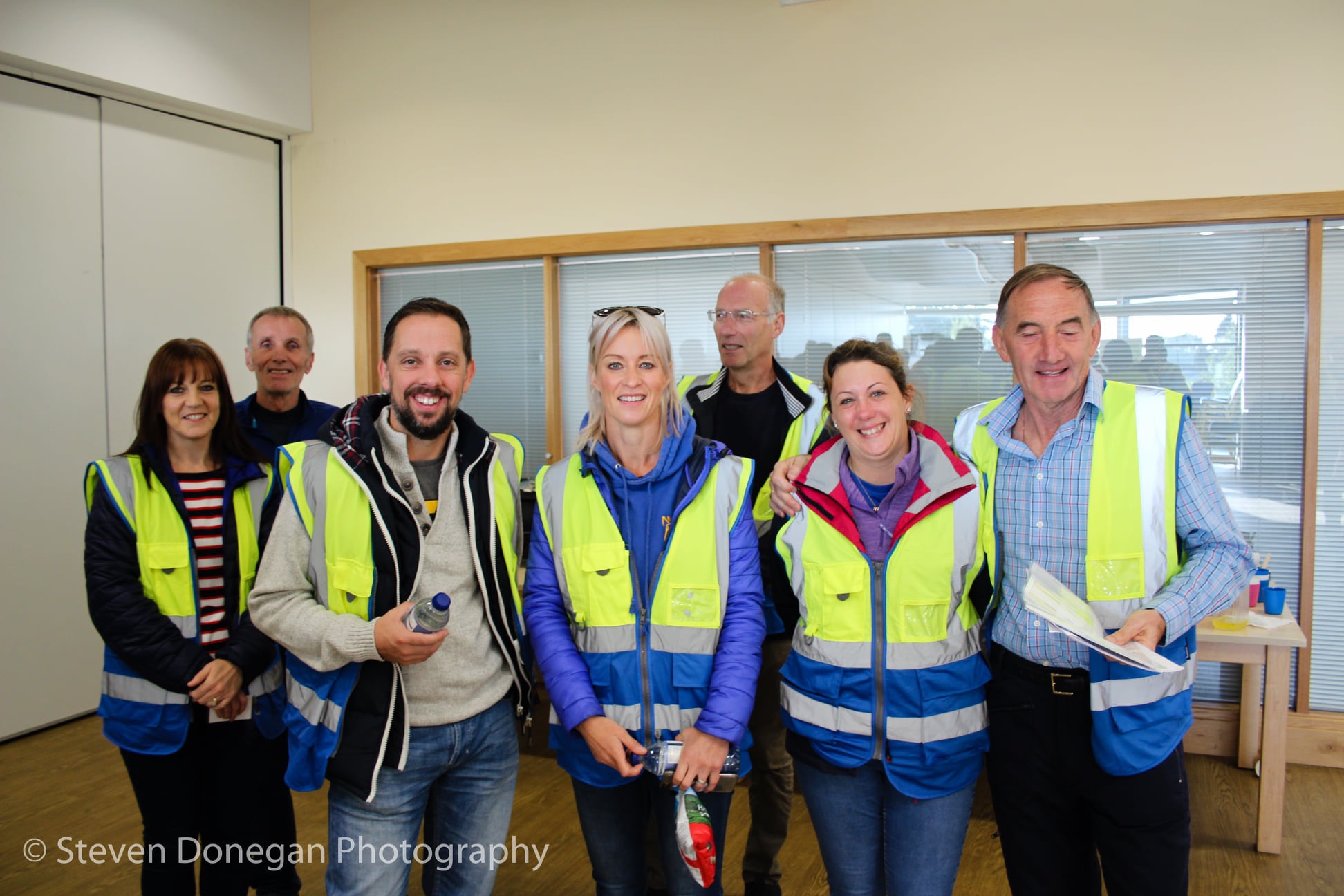 Causeway Coast Ultra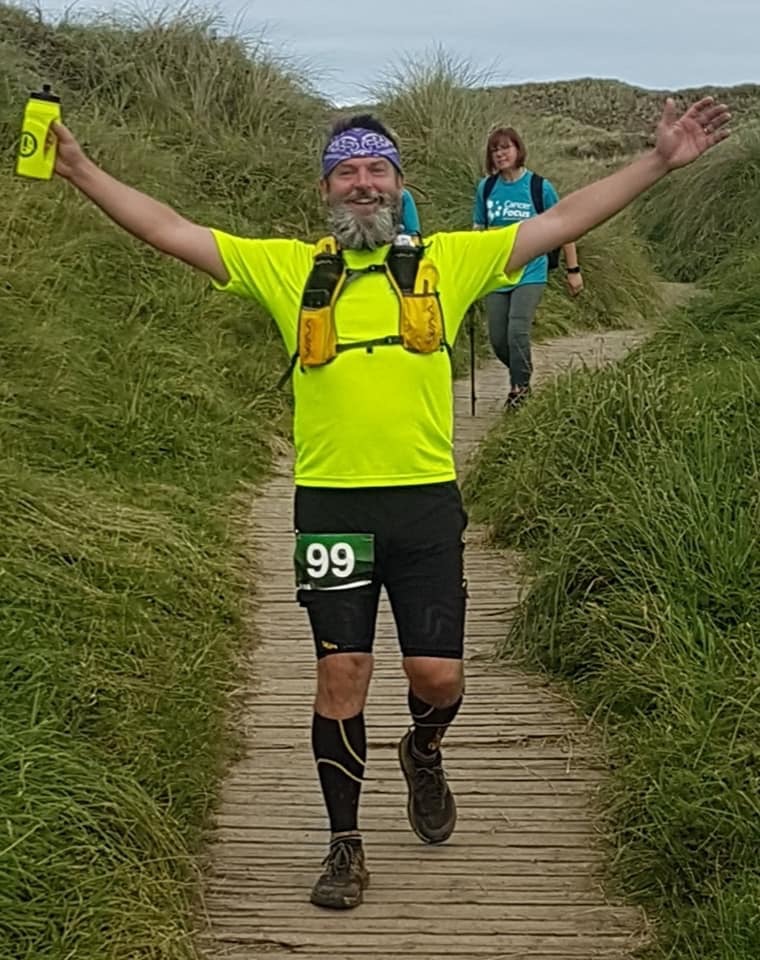 Donald Smith was in action on the north coast this past Saturday, as the 26 Extreme group served up their 10th annual causeway marathon on as pleasant a day for the event as they've probably had in the last decade.
Whilst there were options at 10k, Half and full marathon, Donald is always in it for the long haul, and as he set off from Portstewart Strand at 7am, he would have known that a long day on the muddy paths and sandy trails awaited.
With 40 miles in total, the ultra competitors made their way along a route from Portstewart to a turning point at Carrick-a-Rede, before retracing their steps to the finishing point in Portballintrae. In the end Donald was home in time for tea, with a finishing time of 9:42 and 99th place representing a fine days work for the flying Scotsman.
Causeway Coast Ultra Marathon – Results
Rathfarnham 5k Run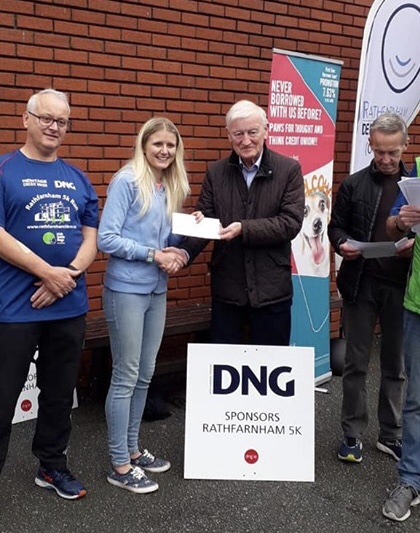 Famed for a flat and fast route in leafy South Dublin, the Rathfarnham 5k welcomed almost 1000 competitors on Sunday morning, in perfect running conditions for those seeking a time. Set over one and a half laps of the Templeogue Road and Rathdown Avenue in Terenure, the race certainly delivered a high calibre field with 13 men under 15 minutes and 30 under 16.
Rachel Gibson has broken all sorts of new ground this season, and for her it was an opportunity to dip under 17 minutes, a goal that she duly achieved with a finish time of 16:57, just one second off the ladies podium, in an outstanding 4th place. (62nd overall).
Berlin Marathon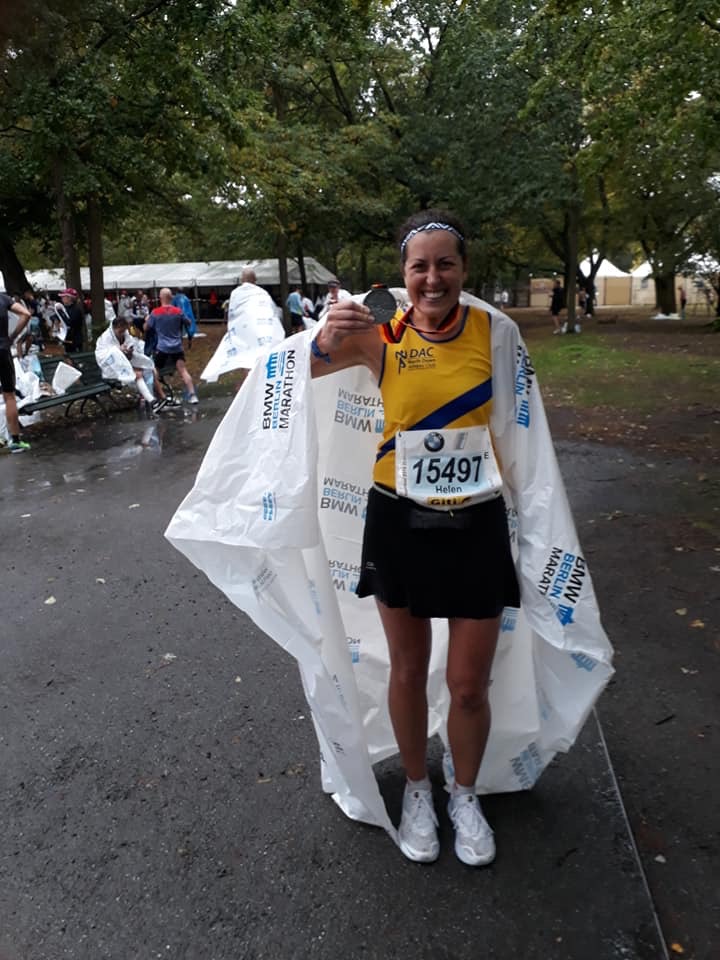 At the other end of the distance spectrum, but also on a course famed for it's PB potential, 45,000 runners took on a scenic 26.2 mile loop of the German capital on Sunday, a total of three intrepid North Down athletes amongst them.
With Eliud Kipchoge preparing for the Ineos 1:59 challenge in a few weeks time, it was left to Kenenisa Bekele to cash in on perfect running conditions on a flat track, the little Ethiopian coming within two seconds of Kipchoge's world record in recording 2:01:41, the second fastest marathon of all time.
Whilst the professionals were setting records, the amateurs weren't to be left behind, and for Helen Byers it was a first ever sub 3:30, with a beautifully evenly paced effort taking her through half way in 1:43:24, before maintaining her form for a finish time of 3:28:41 and a tremendous 138th in her age category. Helen Irvine was a creditable 691st in her category after converting a 1:56:54 Half into a PB finish time of 4:11:09, whilst Alex Irvine has been troubled by injury in the build up to Berlin, but still had the strength of character to ignore the pain and record a very respectable 5:34:34.
TJ McElmeel Cross Country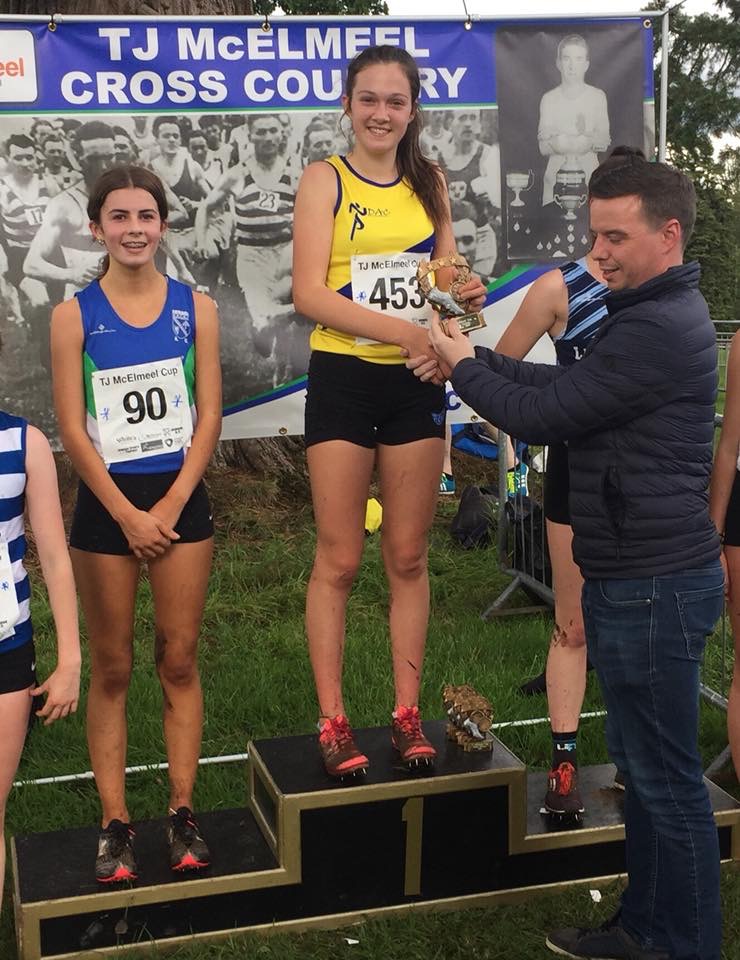 The NI Athletics Cross Country league kicked off in Armagh on Sunday, just 24 hours after the NI Athletics 10k championships in Bangor, the obvious outcome being a minimal turn out amongst North Down athletes. However, for those who got the mud running season off to a flying start in the Orchard County there was much to celebrate, with fine performances in both junior and senior races.
Tara McDonough commenced proceedings with an excellent win in the U18 girls race, whilst Ryan Lynas competed well in the boys 4K. Amelia Tyler ran in the 6k ladies event, placing a tremendous 9th overall, in 27:17, whilst the senior men's 8k race had three club representatives, Francis Marsh (35:10/8th), Dennis Scott (35:20/10th) and Mark Weir (36:12/16th) packing well, but left frustratingly short of a fourth team member to complete a scoring quartet.