The 41st Belfast Marathon took place on Sunday 30th April on the traditional May Day Bank Holiday weekend. North Down AC was well represented throughout the event. Several members volunteered at the Titanic Exhibition Centre on Friday and Saturday as marathon runners and relay teams collected their race numbers, and many more were part of the event organisation at the start and finish lines, as well as supporting and cheering on runners at all points between the start line at Stormont and the finish line in Ormeau Park. Some of the NDAC support team found shortcuts unknown to the marathon runners as they popped up offering encouragement all over east, west, north and south Belfast! Experienced marathoners Cliff and Noreen McCausland took a day off running to cheer on the runners and raised a laugh at mile 24 on the Ormeau Road as they borrowed the famous sign from the New York Marathon announcing the "last damn hill!" Runners enjoyed ideal marathon day conditions with calm, cool, drizzly, overcast conditions at the start quickly giving way to sunshine with the heaviest showers only beginning from @5hours. Supporters who stayed at home were even able to follow the action via BBC NI's live event broadcast.
The first North Down AC athlete to cross the line was David Massey, running the anchor leg of the NDAC 5 man relay team; Chris Downey, Chris Moran, Dean Valley and Jack Russell ran superbly, setting David up for a finish time of 2:39:38 and 4th place for the team. Several other NDAC athletes were involved in relay teams, including Jill Eager who ran her fastest last leg of the relay as part of a relay team raising funds and awareness for the National Autistic Society. Noel Eager also swapped his North Down vest for an NAC vest running for the same charity. Susan Black made a welcome return to running after a long injury as part of another relay team raising funds for the Air Ambulance, the marathon's official charity. Kevin Martin, Judith Gillespie, Helen Beattie, Terry Coyne, Alison Crozier, Claire Vincent, Rebecca Nicholson, Steph Gamble and Stephen & Deny Moore were among club mates running with Trinity GB's family and friends relay teams supporting for Hope 4 M.E. and Fibromyalgia NI. Nico Stevenson, Lee-Anne Young, Clair Whiteside and Emma Sturdy formed a Marie Curie relay team and Clair Quigley also swapped the trails to run a speedy relay leg.
In the marathon the first NDAC finisher was Mathew McParland in 26th place overall in 2:45:52. Jonathan Gibson's 42nd place in 2:51:03 represented an 8 minute PB. Declan Magee ran a superb 2:54:37. Jason McMinn 2:55:10 and Steven Donegan 2:56:08 both smashed their PBs to finish inside 3 hours. Michael Hennessy completed his first marathon in 3:06:03 while Andy Belshaw was within a minute of his PB in 3:09:48. Alasdair Mair was the next NDAC marathoner to finish in 3:10:32, an incredible 27 minute PB, while Sarah Gibson ran close to last week's London Marathon PB in 3:15:50 to finish second in her age group. Noel Eager's 3:21:45 was a Belfast PB while Lisa Tomalin ran hard throughout for a well deserved sub-3:30 PB of 3:29:13. Jonny Clarke was another first time marathoner running 3:32:56 followed by Dean Willis in 3:36:05. Andrew Nicholson came in 30 seconds later in 3:36:35. Glynis Boyle , running for Macmillan Cancer Support also finished second in her age group in 3:43:29, a PB on her second marathon, 22 years after her first! Next to finish was Adrian Finlay in 3:50:05 while Les Wilkinson battled cramp to complete the marathon in 3:50:31. Matthew Surgenor's 3:56:35 saw him comfortably break the 4 hour barrier. Donald Smith, one of the official 4:15 pacers, finished in 4:13:29 surrounded by runners who had achieved new PBs. It's been a while since a shoulder injury ruled Michael Stevenson out of competitive running, so club members were thrilled to see him back in the yellow and club vest and finishing in 4:32:40. Jamie Stevenson finished strongly in 4:40:49 and Peter McQuillan, more used to running ultra-marathons, ran his first official marathon, completing the field of North Down AC runners with a 4:45:11 finish.
[photo David Massey]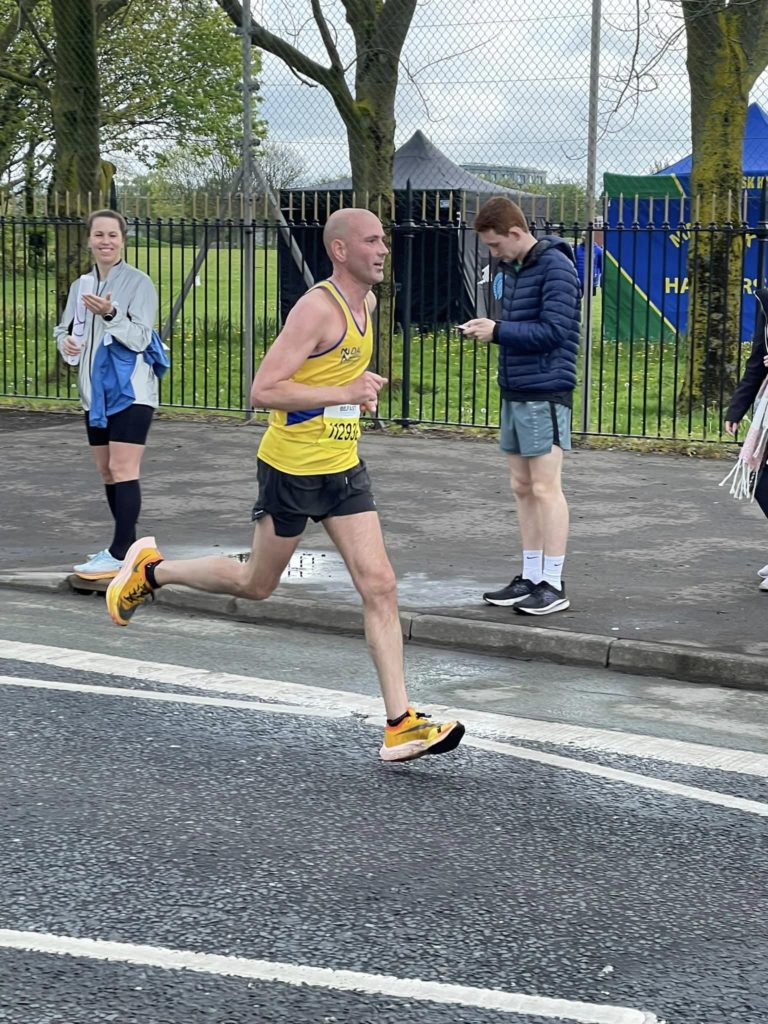 [photo: Chris Downey]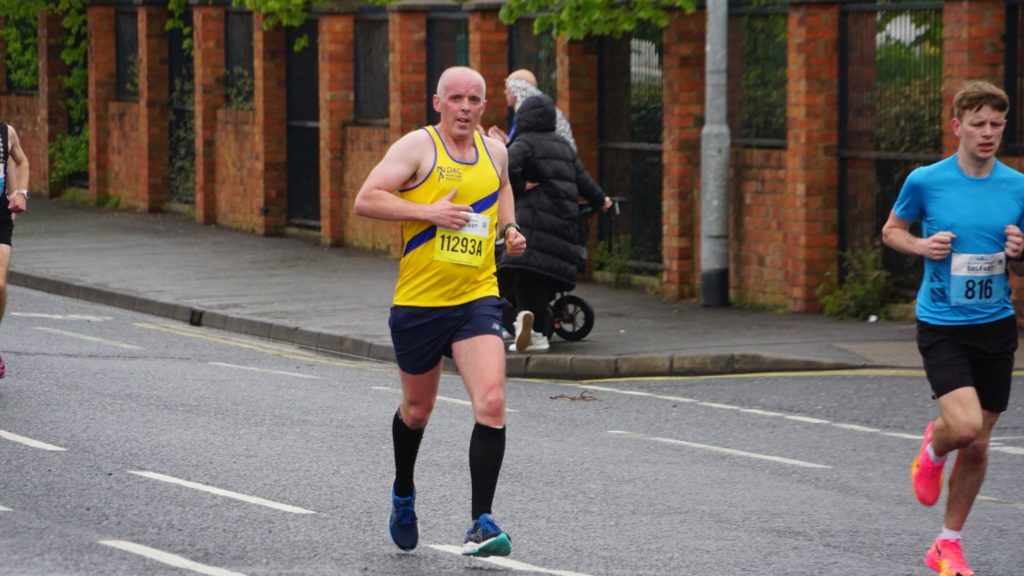 [photo: Glynis Boyle]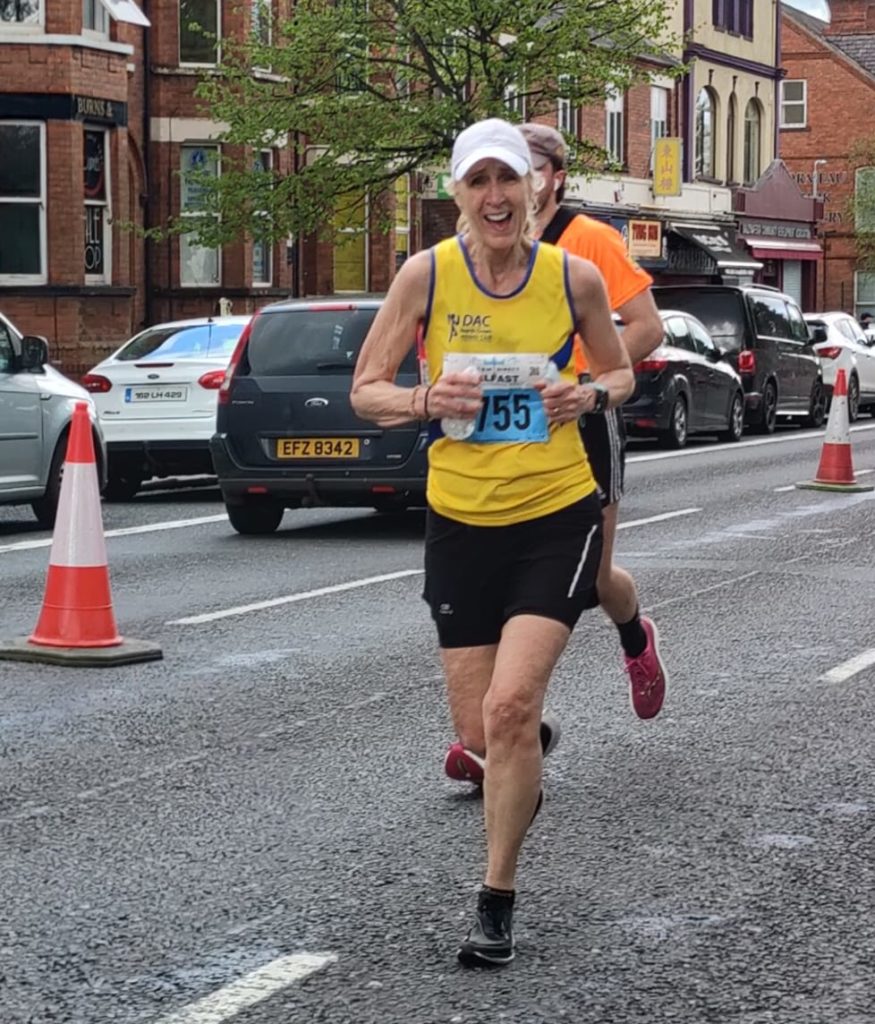 [photo: Andrew Nicholson]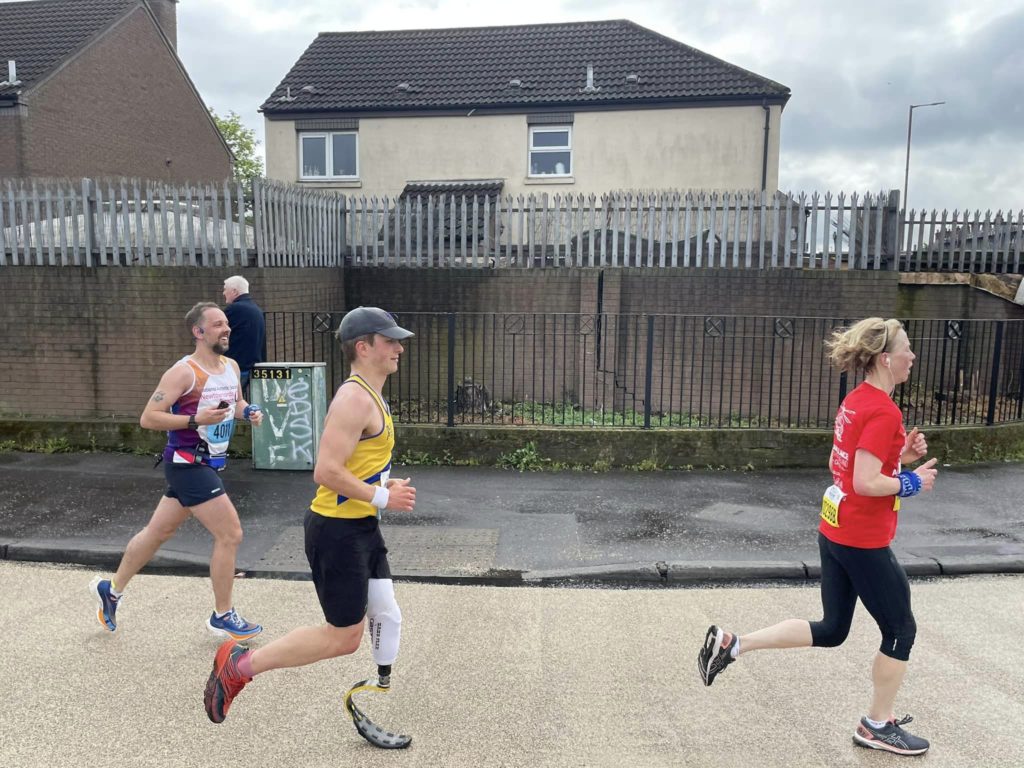 [photo: Steven Donegan & Jason McMinn]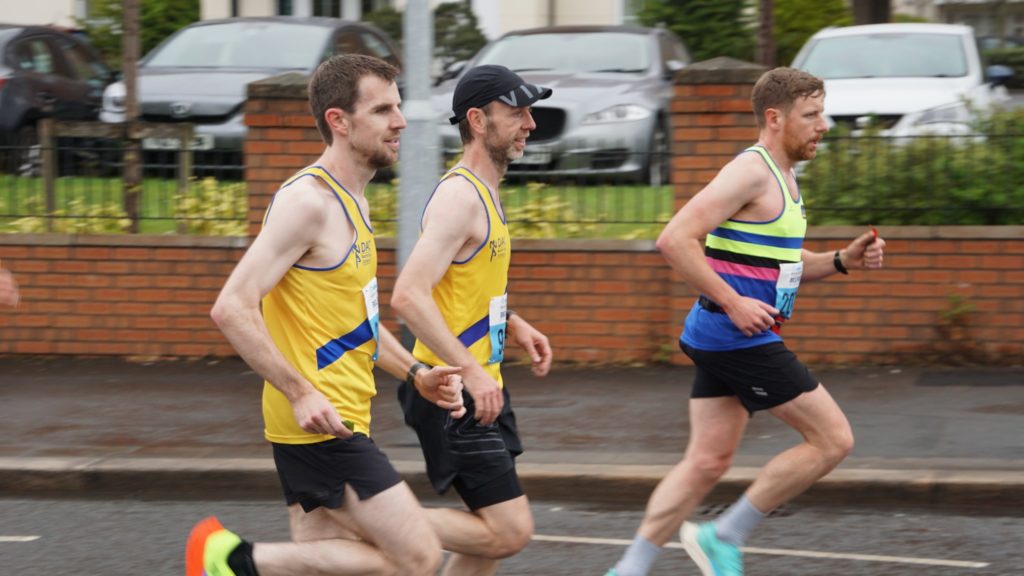 [photo: Jonathan Gibson]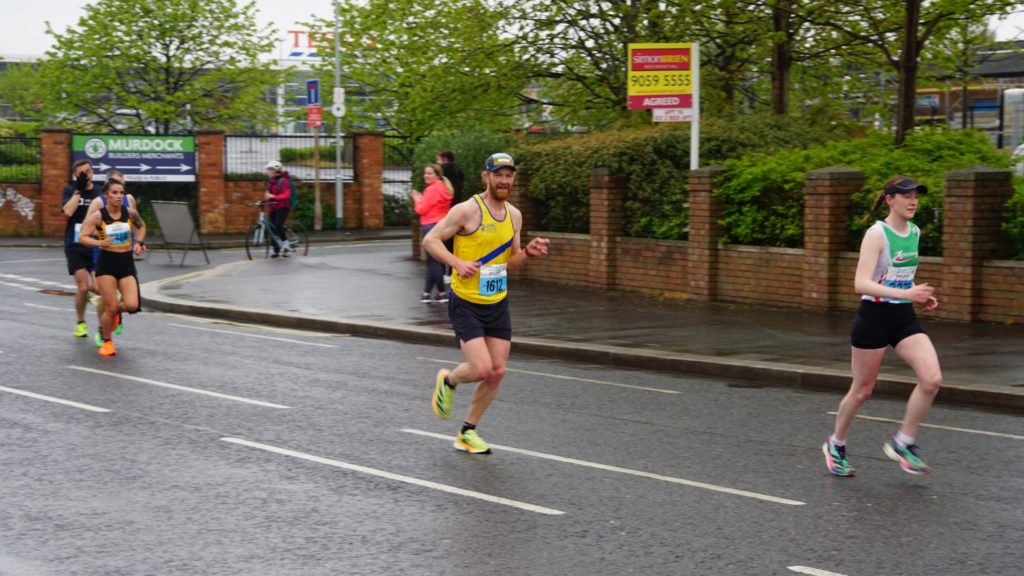 [photoL Michael Hennessy, Declan Magee, Matty McParland, Jonathan Gibson]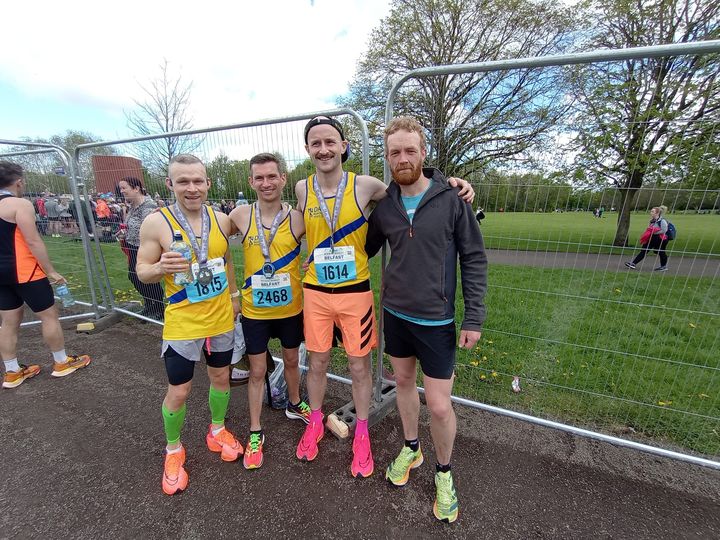 [photo: Tony Wall, Donald Smith, John McGarvey]