Once again the favourable weather conditions in Tullamore, Co. Offaly resulted in some stellar performances as most of the country's top young athletes gathered on Saturday 1st June to compete in the highlight of the schools' athletics calendar, the Irish Schools Championships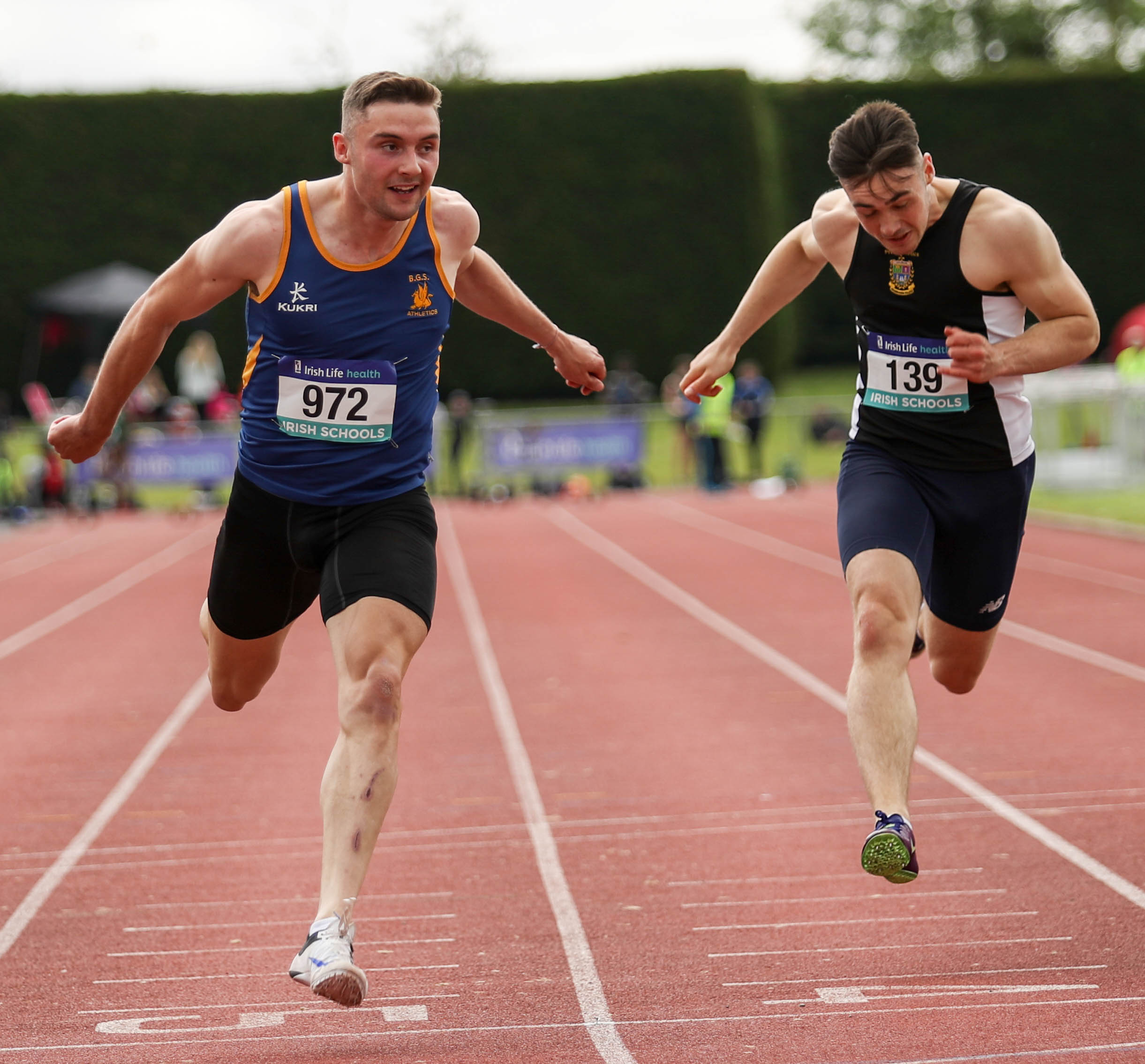 Seniors
Aaron Sexton (Bangor Grammar) signed off his last ever Irish Schools in style by completing a remarkable 6th consecutive sprint double. Although challenged over the first half of the 100m, he pulled away for a comfortable victory and improved his own record as he crossed the line in 10.43sec, a mere 0.05sec outside the Irish U20 record. It was a different story, however, over his preferred 200m where he powered into the lead round the bend and continued to pull away down the home straight before stopping the clock at an incredible 20.69sec This was not only a massive new lifetime best, but also a new schools' record, an Irish U20 record and moves him to the top of the European U20 rankings which makes him a contender for the 200m title at the European U20 Championships later in the summer. Isaac Hart (Sullivan) was 8th in the 200m but did manage to set a new pb and dip under 23sec for the first time with a time of 22.99sec. Once again, Rachel McCann (Sullivan) produced the goods as she took on the difficult 200m/400m double and despite trailing coming off the bend in the 200m, used her strength down the home straight to move up to second in a new pb of 24.93sec.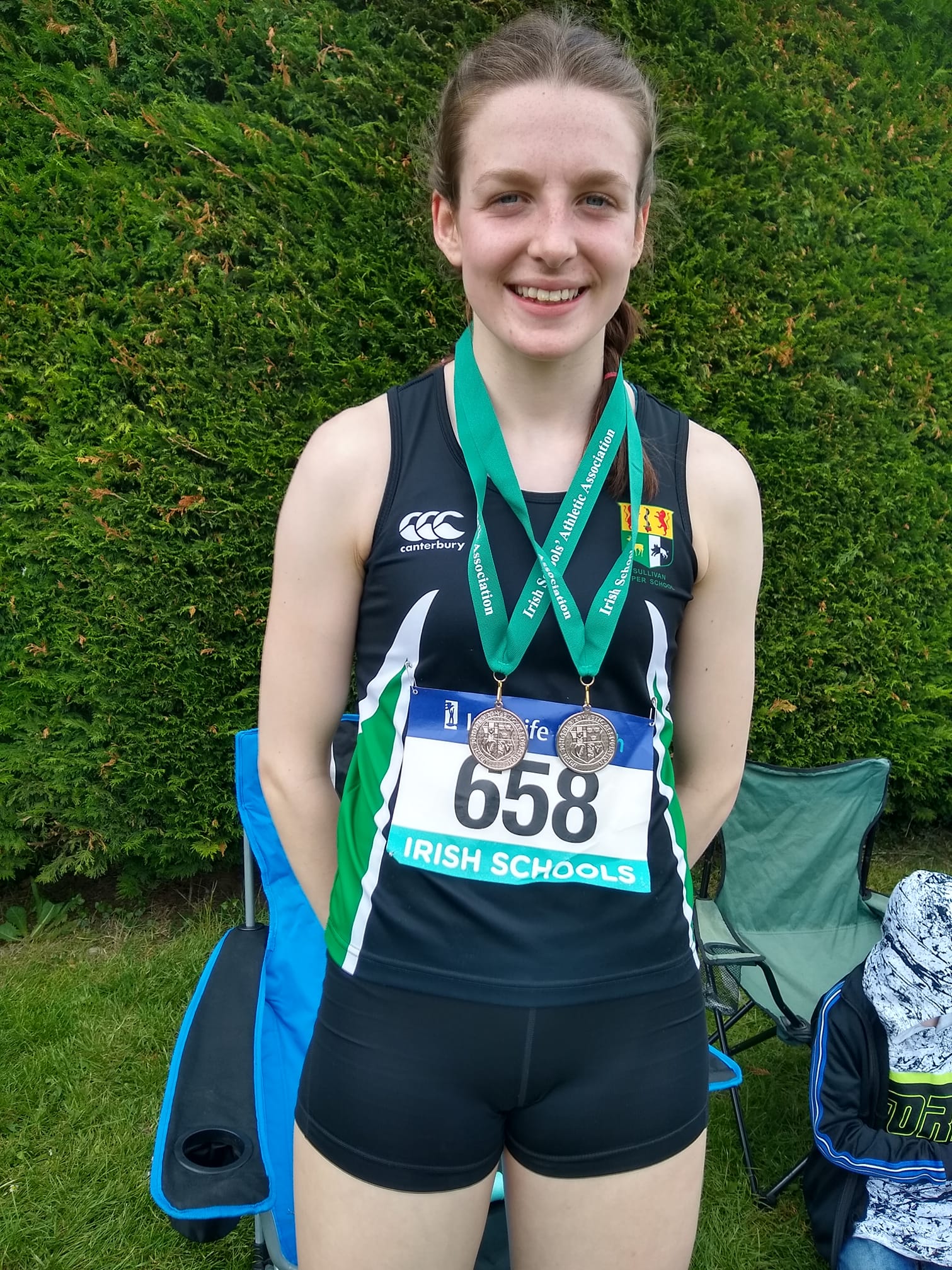 In the 400m, nobody could compete with World U20 semi-finalist, Davicia Patterson, however, Rachel was her closest contender as she claimed a second silver medal with a time of 56.73sec. Murphy Miller (Strathearn) wisely decide not to go with the fast early pace of the leaders in the Senior Girls 800m but despite battling down the home straight, was incredibly unlucky and slightly disappointed to miss out on the bronze medal by 0.02sec and was rewarded with another quick time of 2:14.96 to finish 4th. Troy McConville (SERC) cleared 4.00m to equal his pb in the pole vault and was tied second for height but unfortunately missed out on silver on countback and had to settle for bronze. Later he was fortunate not be taken out by an adjacent runner in a chaotic Senior Boys 110mH, only narrowly managing to avoid trouble and win silver in a time of 15.75sec. Amy Kimber (Sullivan) improved her pb by 2 metres in the Senior Girls discus (1kg) to finish 4th with a throw of 33.13m but was a slightly down on her best in the javelin (600g) where she recorded 22.02m for 7th.
Inters
Megan Drummond (Glenlola) struggled in the long jump, registering only two jumps from five attempts, the best of which was 4.96m for11th place. Rose McGreevy (Glenlola) improved her pb by 7cm to 1.55m in the Inter Girls high jump, and with 5 girls all tied in second place on 1.55m, it was Rose's first time clearances at previous heights that saw her take the bronze medal on countback. Tara McDonough (Sullivan) was unexpectedly promoted from the U16 mile to the Inter Girls 1500m where she ran 5:00.06 to finish a very creditable 8th. Patrick Mayne (Regent House) also finished 8th in the Inter Boys 3000m with a time of 9:29.60.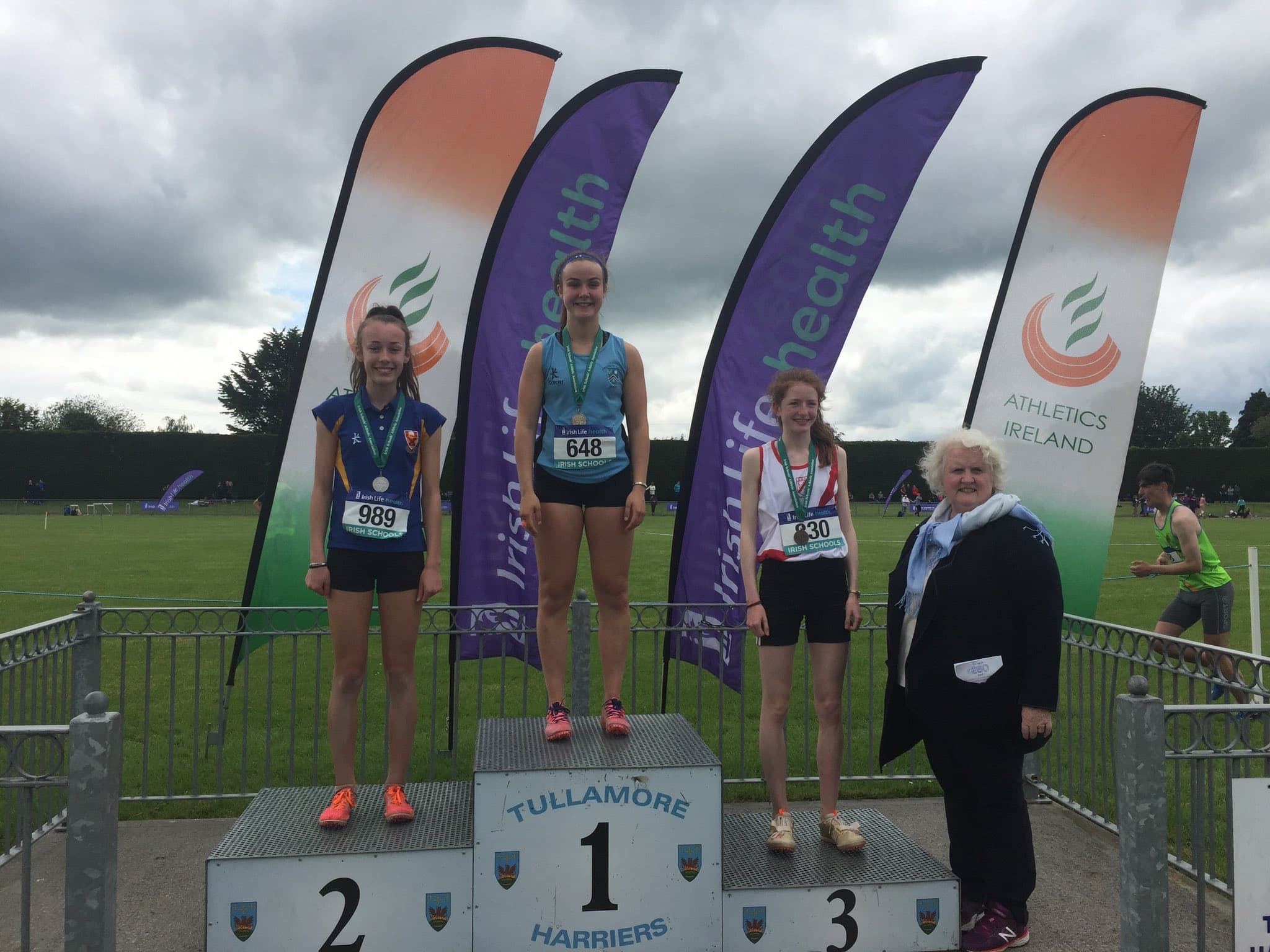 Juniors
Sophie Hoey (Strathearn) was the only athlete to go beyond 10m in the Junior Girls triple jump as she produced an incredibly consistent series of 10m jumps, twice jumping 10.36m to improve her pb and win the gold medal in emphatic style. Connie Hanna (Strathearn) cleared a new pb height of 1.50m to finish 6th in the Junior Girls high jump while Beth Hammond (Glenlola) took bronze in the Junior Girls shot (2.72kg) with every throw over 11m and well beyond her previous best which massively improved to 11.66m. FlynnLongstaff (Campbell College) set a new pb of 11.21m for 7th in the Junior Boys shot (4kg) and threw 32.55m to finish 5th in the javelin (600g).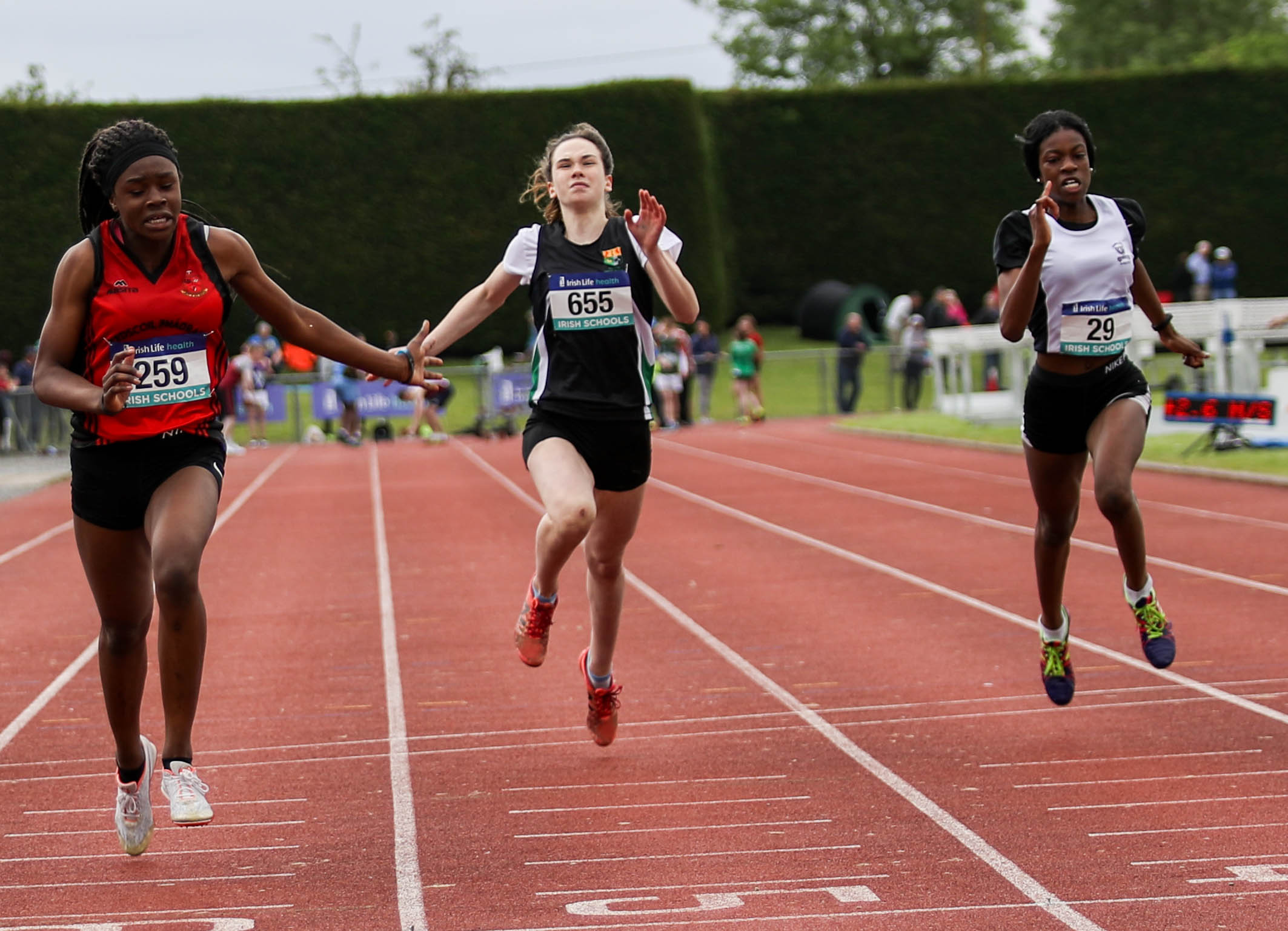 Minors
Despite competing in her first ever Irish Schools, Niamh Fenlon (Sullivan) once again improved her 100m pb and was desperately unlucky to miss out on silver by 0.02sec when she ran 12.79sec to take bronze, however, she was even more unfortunate in the long jump, having jumped 4.98m and tied for third, she missed out on the bronze medal on countback and finished 4th.
Relays
Molly Longstaff ran a strong lead-off leg to put the Strathearn Senior Girls' 4x100m relay into a great position while Aimee Stitt stormed down the home straight on the anchor leg to finish off the job by pulling the team up into silver medal position in a time of 51.00sec. Shortly afterwards, Aimee Stittwas joined by Murphy Miller as both ran outstanding legs for the Strathearn Senior Girls' 4x300m relay team that ran 2:54.66 to take a great bronze medal in an incredibly tight finish where there was less than a second between second and fourth.
Irish Schools Track Championships
* Photo credit – Keith McClure