The final Fab 5 meeting of 2023 took place on a warm but breezy Thursday evening and
there were some great performances by North Down Athletes. Thanks go to Lagan Valley AC
for putting on this series of meetings.
The sprinters had to contend with a headwind in the home straight, so it was a case of
competitive racing rather than personal bests (PBs). In race 1 of the under 13 girls' 100m,
Nyla Hughes was 4th in 15.97. Then in the u17 boys' 100m, Conor Adair was 1 st in the 2 nd race
(and rd overall) in 11.91. In race 2 he was followed home by Cameron McCracken in 12.03.
In race 3, Curtis Hughes was 3rd in 12.22. The races then switched to middle distance events.
In the u11 boys' 800m, Adam Downey was 10th in 3.03.38.
The 800m was followed by a series of mile races, with some very good results for club
members. In the u13 boys' mile Carter Rolston completed a great season leading gun to
tape in first place in 5.30.45. In 5th place was Seb Mair who finished in 5.51.60. In the u13
girls' mile, Coco Smith was 5th in 6.15.55 and Caitlyn Dickenson was 11th in 6.45.40. Next up
was the u15 boys' race, where Alex Downey finished strong for 5th in 5.13.42 (PB). This was
followed by the u17 boys' race, where Chris Belshaw stormed the last 150m to narrowly
miss sub-5 with 5th in 5.00.47. The senior and masters' races were next. In race 1, Josh
McDowell made a great track debut for North Down, moving through the field well to take
3rd in 4.51.27 (track debut). Dean Varley was another making his track debut for the club,
placing 7 th in a solid 5.01.36 ahead of Francis Marsh was 9 th in 5.06.62. In the faster race 2,
there was a very close race for 5 th to 7 th where Daniel Dines edged it in 5 th in 4.32.95 (23sec
PB!) and Ethan Isles (nursing a knee injury) still ran a useful time of 4.33.56 in 7th. Then in
the final race of the night, the senior and masters' women's mile, Rachel Gibson front ran
the whole race to win in 4.58.00, good preparation for what should be a much more
competitive mile race in the Monument Mile Classic meet at the Stirling University track on
26 th August.
There was only one field athlete, and that was Adam Downey, who along with his older
brother had completed in every one of the Fab 5 meetings. He took part in the u11 boys'
shot putt and came 6th with a throw of 3.93m.
Seb Mairs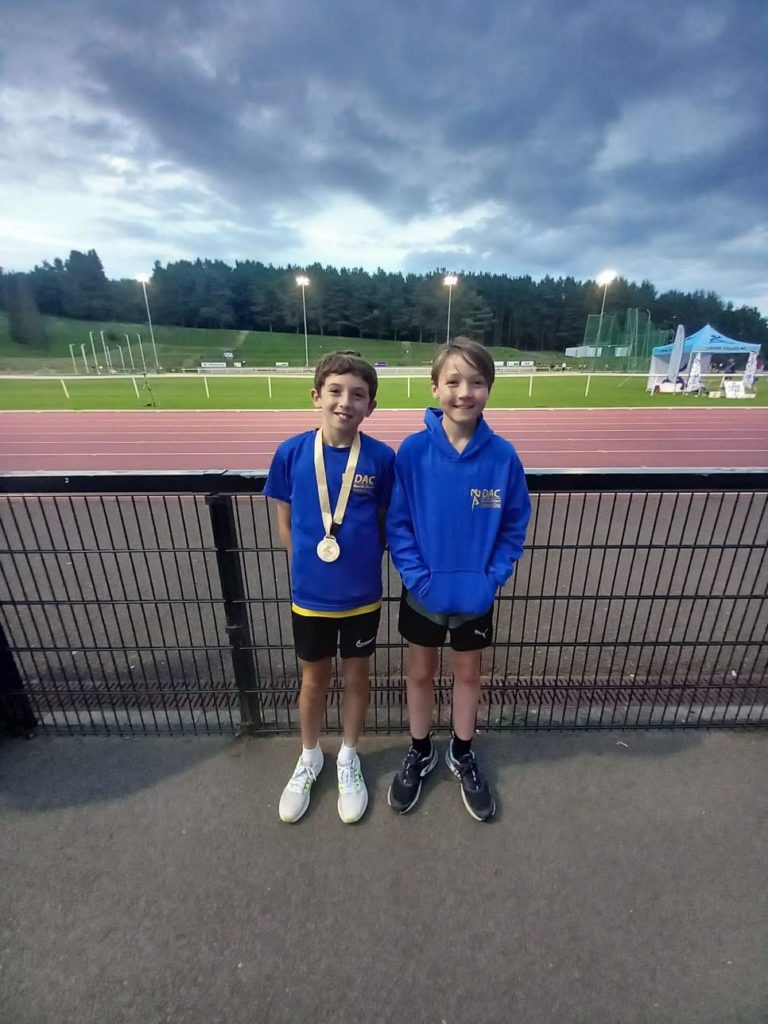 Carter Rolston