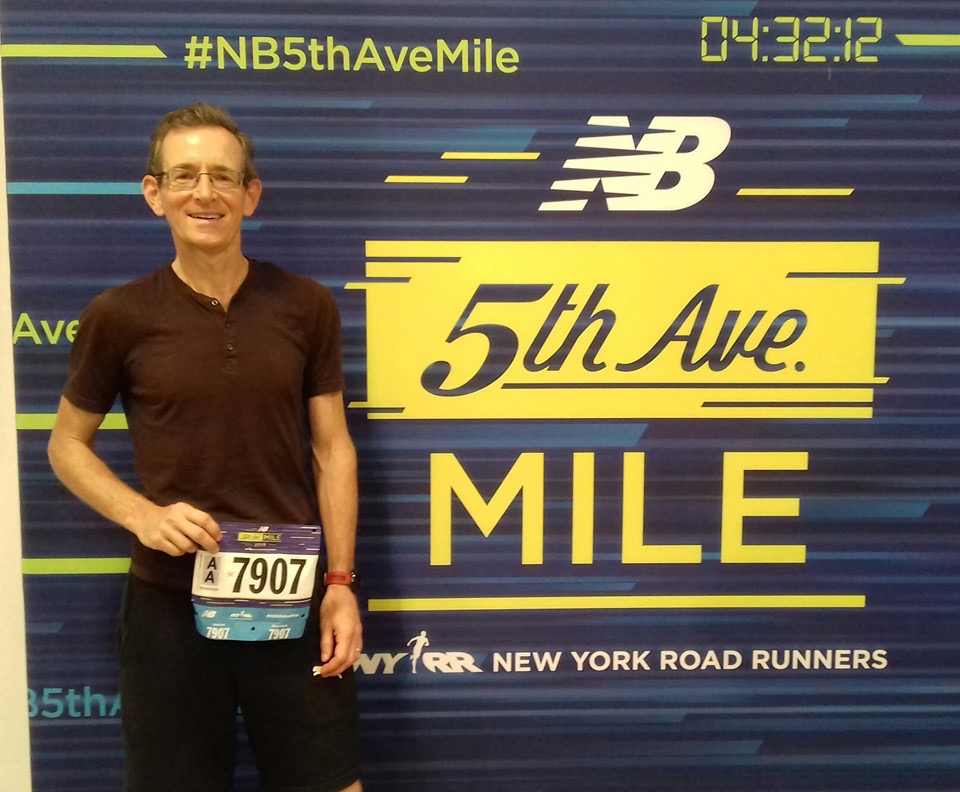 5th Avenue Mile, New York
Running North to South alongside the Eastern boundary of Central Park and covering twenty blocks of one of the most iconic streets in the world, the 5th Avenue mile comprised a series of age category races starting first thing on Sunday morning and culminating later that afternoon with the senior races, past winners of which include such notables as Peter Elliott and Paula Radcliffe. For the 2019 edition, North Down's Francis Marsh toed the line, a 7.30am start being offset by the effects of jet lag, but not appearing to cause too many problems, as the experienced athlete posted 4:56 for an outstanding 2nd place in the M50-54 heat.
Citi 5k
Attracting a bumper crowd of 578 athletes, the Citi Inspire 5k returned for it's 3rd annual outing, with a fast out and back course from Queens Road in the Titanic Quarter to Victoria Park. It certainly seemed to be to Jack Bradshaw's liking, the North Down athlete near his best, in a time of 16:50, for 6th place overall.
Larne 10k
It's that time of year, when the 10k road races come thick and fast, Carrick and Laganside offering a variety of challenges in recent weeks and on Saturday it was the turn of Larne, humid conditions and a coastal breeze failing to detract from a well organised event by host club East Coast. As a great supporter of the Novosco series, Cliff McCausland was never going to miss out, and completed his third event in as many weekends, posting 47:13 for 67th overall.
Run in the Park
After a successful debut in 2018, the Run in the Park 24hr relay returned again over the weekend to raise much needed funds for the NI Air Ambulance, with the stated aim of hitting £5,500 (the daily cost of keeping the service in the air).
Based around a team of club members from North Down and Ward Park Runners, the idea was to keep at least one of the core team on the Ward Park course at all times, and supplement them with as many additional runners as possible, what resulted was a heart warming display of humanity with friends and strangers travelling from far and wide to offer their support, donate some money and simply run a lap or two.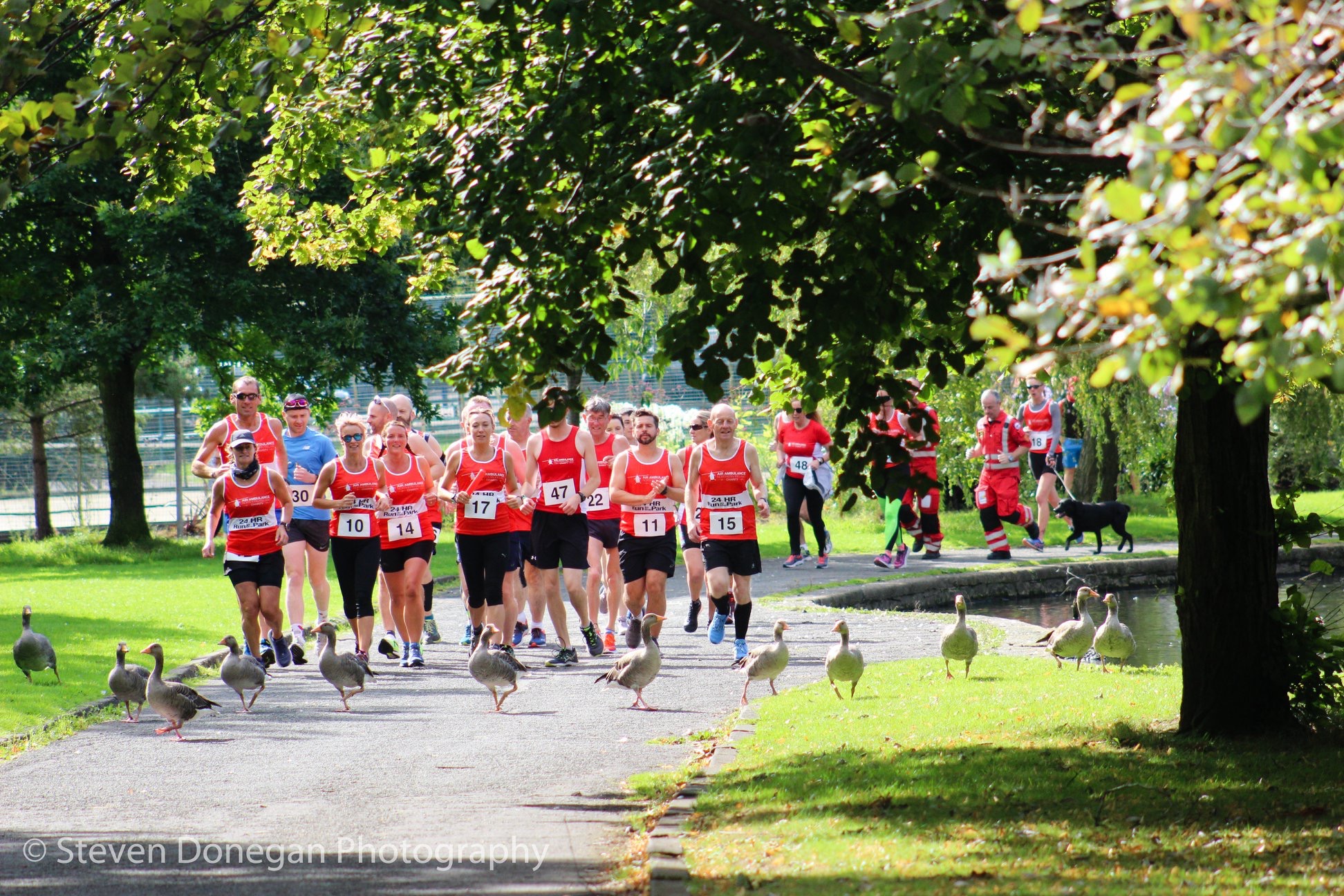 With a host of local businesses getting on board to deliver pizzas, coffee and ice cream, Colin Walker providing the tunes and club vests giving way to fancy dress after dark, the event was a credit to everyone involved in the planning and implementation, a point not lost on Mike Patton, paramedic with the NI Air Ambulance "The Run in the Park team should be very proud of the money they raised and the profile generated for Air Ambulance NI charity. This endurance event by the committed core team of runners, supported by the local running community is a brilliant concept, and enables us to sustain this life saving service for the people of Northern Ireland."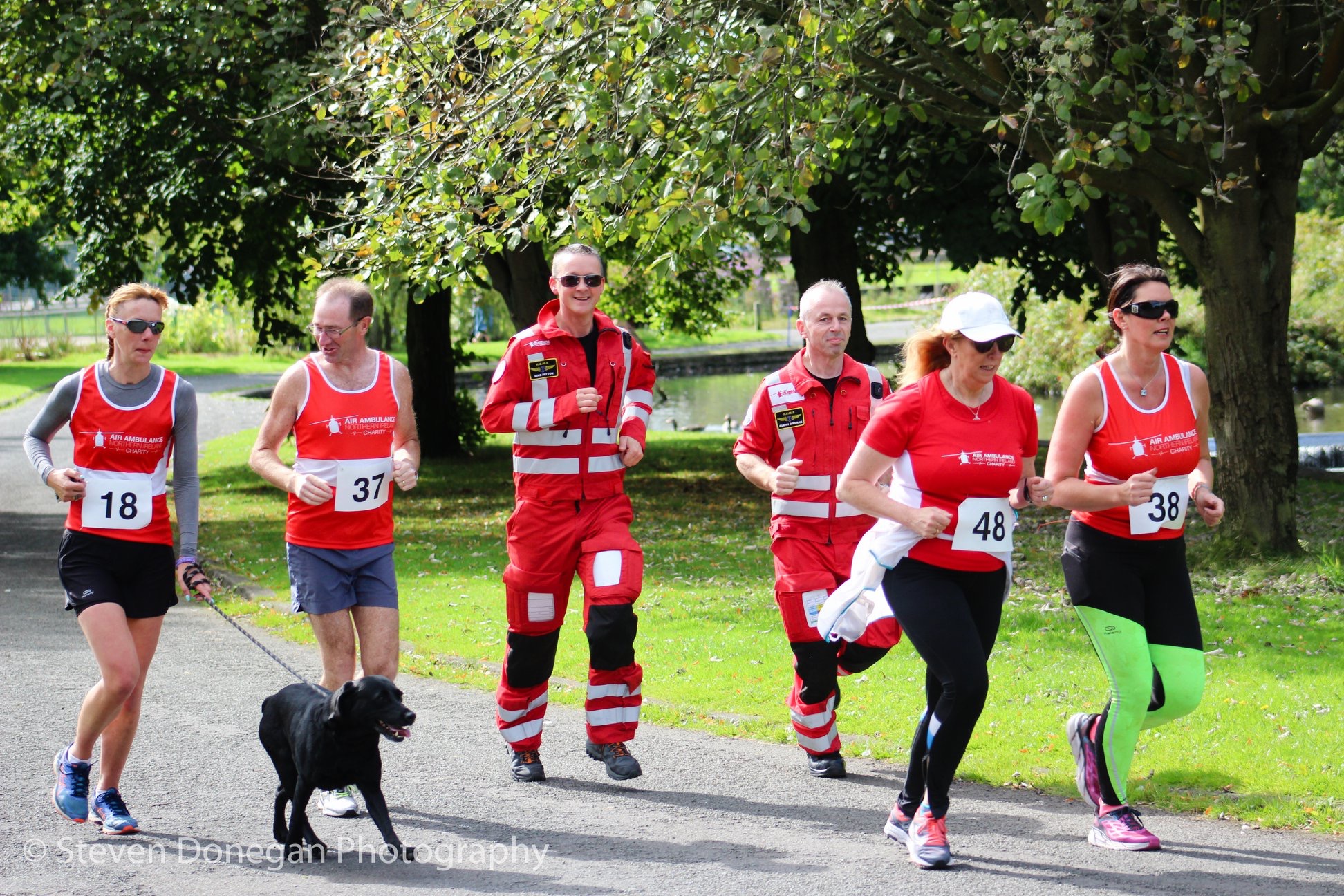 Over the course of 24 hours an impressive total of 6415km was clocked up by approximately 350 participants, with a fantastic £6000 raised so far. Although the event is now over, donations will still be gratefully accepted and can be made through the following link:- https://www.justgiving.com/fundraising/run-in-the-park
Donaghadee Triathlon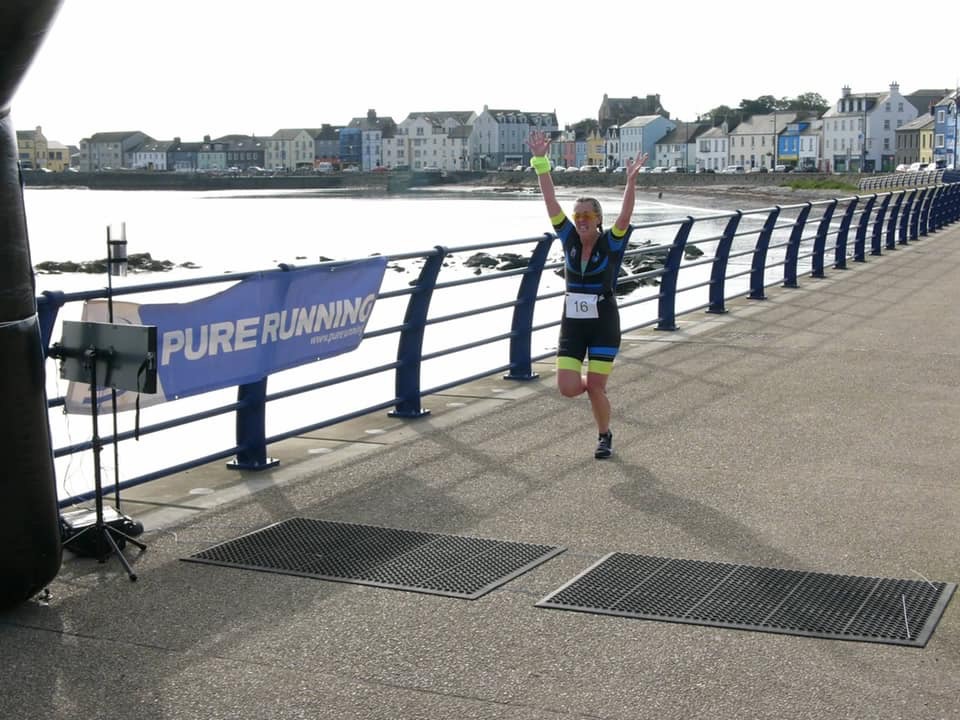 Perfect race conditions greeted triathletes new and old in Donaghadee on Sunday morning, with North Down having interest in both the individual event and team relay. Comprising of a 750m swim course around the harbour, 21k cycle around two loops of the coast road, Kylestone Road and Bangor High Road and finally a 5k run alongside the harbour and into The Commons, Penninsula Triathlon Club hosted upwards of 150 competitors with a slick operation of events.
Ben Caughers was first club member home, a swim time of 16.34 and cycle of 39.02 preceding a storming 18.14 in his most familiar discipline, for a total of 1:17:54 and an impressive 32nd overall. Underlining his status as a veteran triathlete, Donald Smith clocked 17:03 through the water, 39:36 on the bike and 22:52 for the run, to finish with a time of 1:22:05 and 56th place. By contrast, it was a first ever triathlon for Paula Simpson, completing the swim element in a respectable 21:14, bike in 50:56 before a big finish in the 5k, posting 26:39 to make up a number of places and finish on 1:42:35, for 118th and a fantastic 2nd in age category.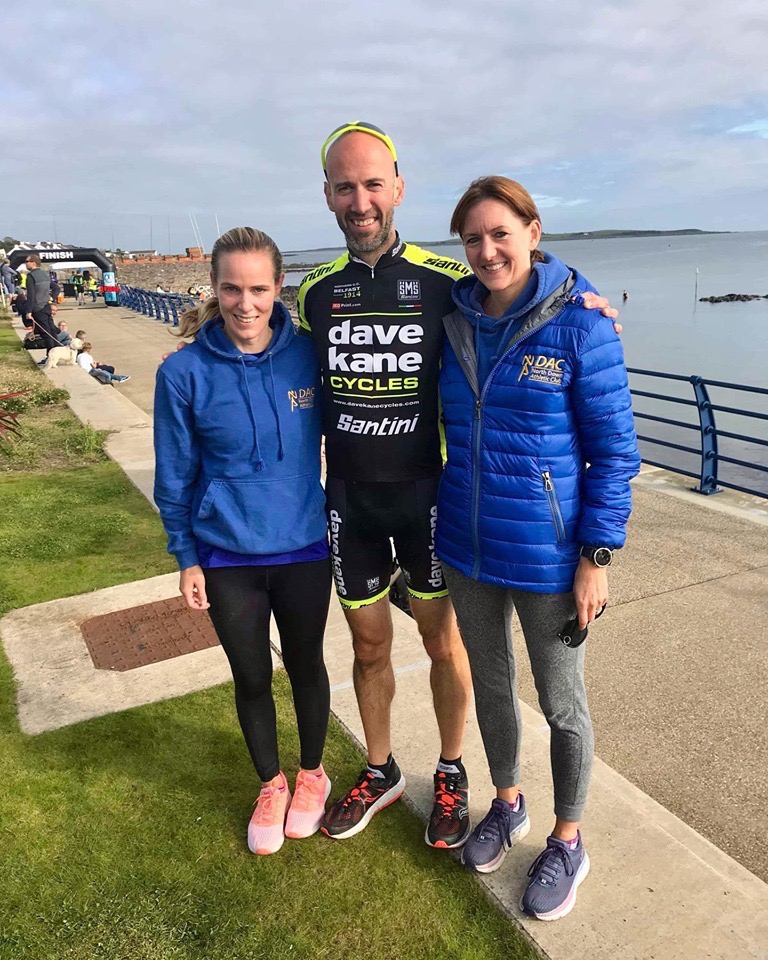 In the relay event, Jane Stevenson (21:16) got team 'Winging It' off to a good start through the water, Glenn Armstrong (38:39) kept the pace up on the bike, before a tremendous run of 20:21 by Clair Quigley secured 4th place for the talented trio.
Ironman 70.3 World Championships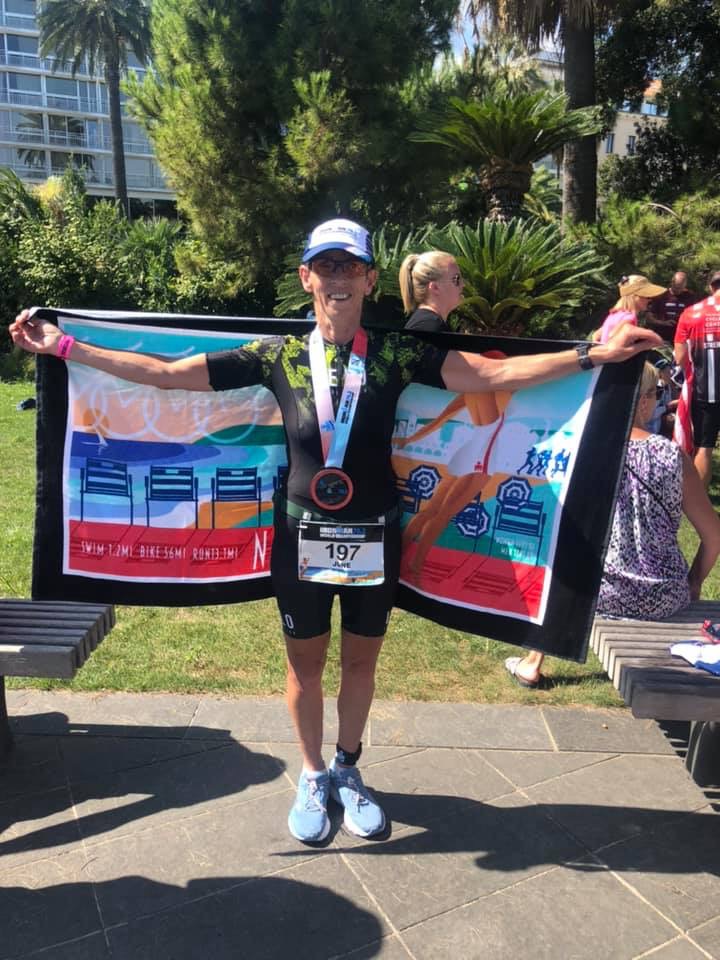 Congratulations to June McMinn for a superb performance in the South of France, where she placed 7th in the world, amongst 92 other age category competitors. In blisteringly hot conditions around the city of Nice, June completed a 1900m swim, a particularly technical 90km bike route, before finishing with a 13.1 mile run along the Promenade des Anglais. With a time of 1:53 for the half, June completed all disciplines in a total of 6hrs 9 mins, and will now focus her attention on the next world championship event in Kona, Hawaii in the middle of next month.
Great North Run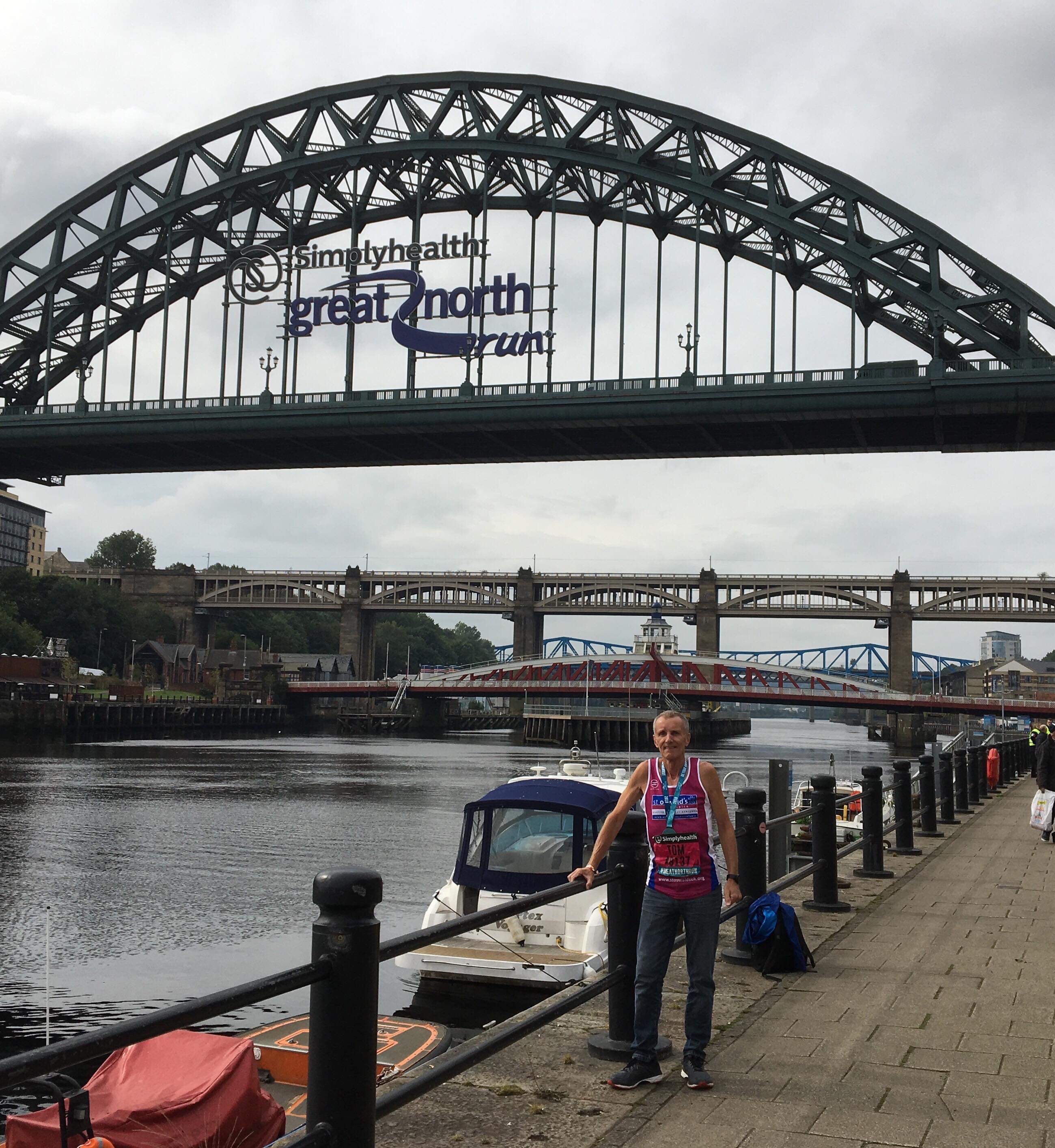 Frankie Rea was on his travels again, this time taking on the worlds biggest half marathon amongst 57,000 others In Newcastle upon Tyne on Sunday morning. Despite having to start near the back, and most likely covering a significantly additional distance due to the weaving in and out of crowds, the North Down veteran was still able to post a more than impressive of time of 1:40:37 and a top 5% finish of 2790th place overall.