Being the third weekend in May, hundreds of the province's top young athletes descended on the Antrim Forum for one of the annual highlights of the athletics calendar, the 2019 Ulster Schools Championships and almost 50 North Down AC's athletes contested many of the 172 events that took place on Friday 17th & Saturday 18th.
Sprints
There were a number of very impressive performances in the sprints, with an uncharacteristic tail wind resulting in some quick times and record breaking performances. Competing in his seventh and final Ulster Schools, Aaron Sexton(Bangor Grammar) signed off in style by taking the Senior Boys 100m & 200m titles to complete an unprecedented 6th sprint double and in so doing, his winning times of 10.49s & 21.20s not only beat the 35yr old records set in 1984, but were also A-Standard qualifying times for the European U20 Championships in July.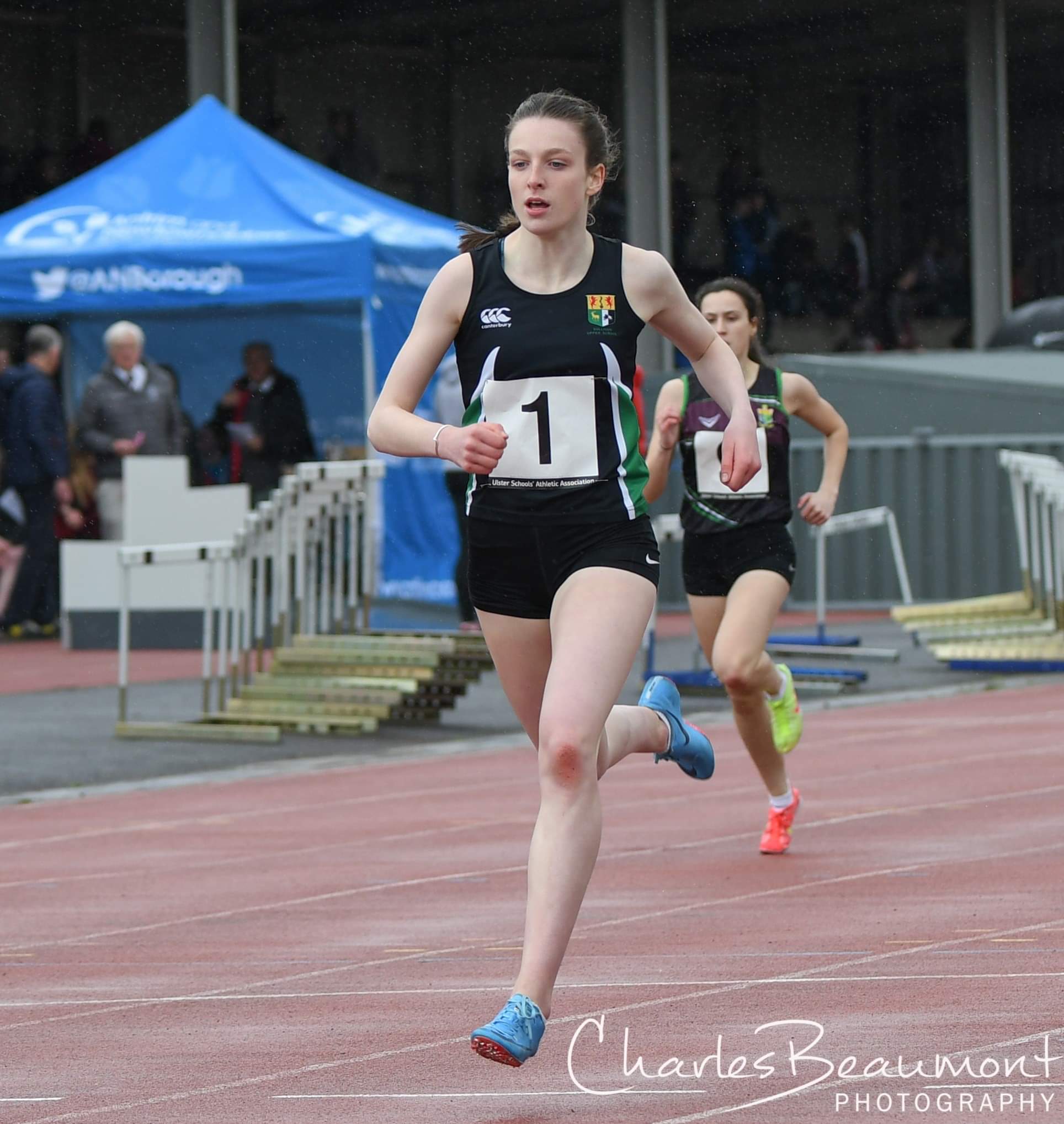 Rachel McCann (Sullivan) & Isaac Hart (Sullivan) both took on the incredibly difficult 200/400m double. While Rachel was an emphatic winner of the Senior Girls 200m in a quick 25.31s, she couldn't compete with the record breaking time of the winner in the 400m and had to settle for silver with a time of 58.14s. Isaac, meanwhile, set a pb of 23.10s in the Senior Boys 200m final to take silver behind Aaron but with only 30min break before his 400m final, had insufficient time to recover and ran 57.24s for 8th place. Louise Canning (Glenlola) was a little below par in the Senior Girls 100m, due to a recent injury, but did still win the bronze medal in 13.24s and In the Junior Girls sprints, Lucy Kerr (Bloomfield Collegiate) also took bronze in the 100m in a new pb of 13.00s but was slightly disappointed to finish 6th in the 200m in 28.60s.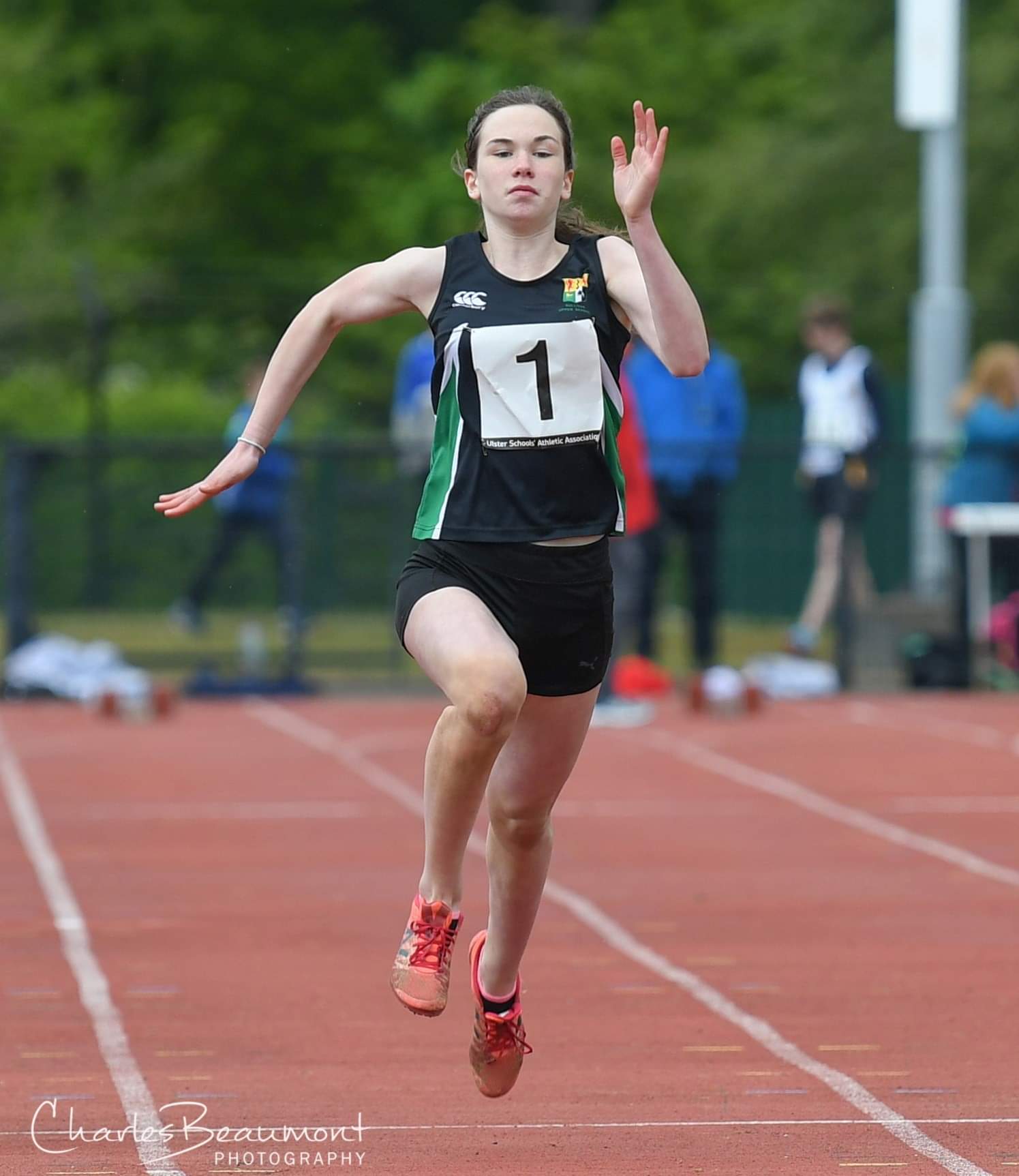 Niamh Fenlon (Sullivan) broke the Minor Girls 100m record on the way to winning her heat in 12.93s and went on to take gold in the final in a marginally slower 12.95s. Competing in their first Ulster Schools, Anna Cousins (Strathearn) & Jayden Booth (Regent House) both ran new lifetime bests in the 100m with Anna recording 13.39s on her way to a convincing win in the Mini Girls final while Jayden was just pipped in the Mini Boys final where he took silver in 12.55s.
Middle distance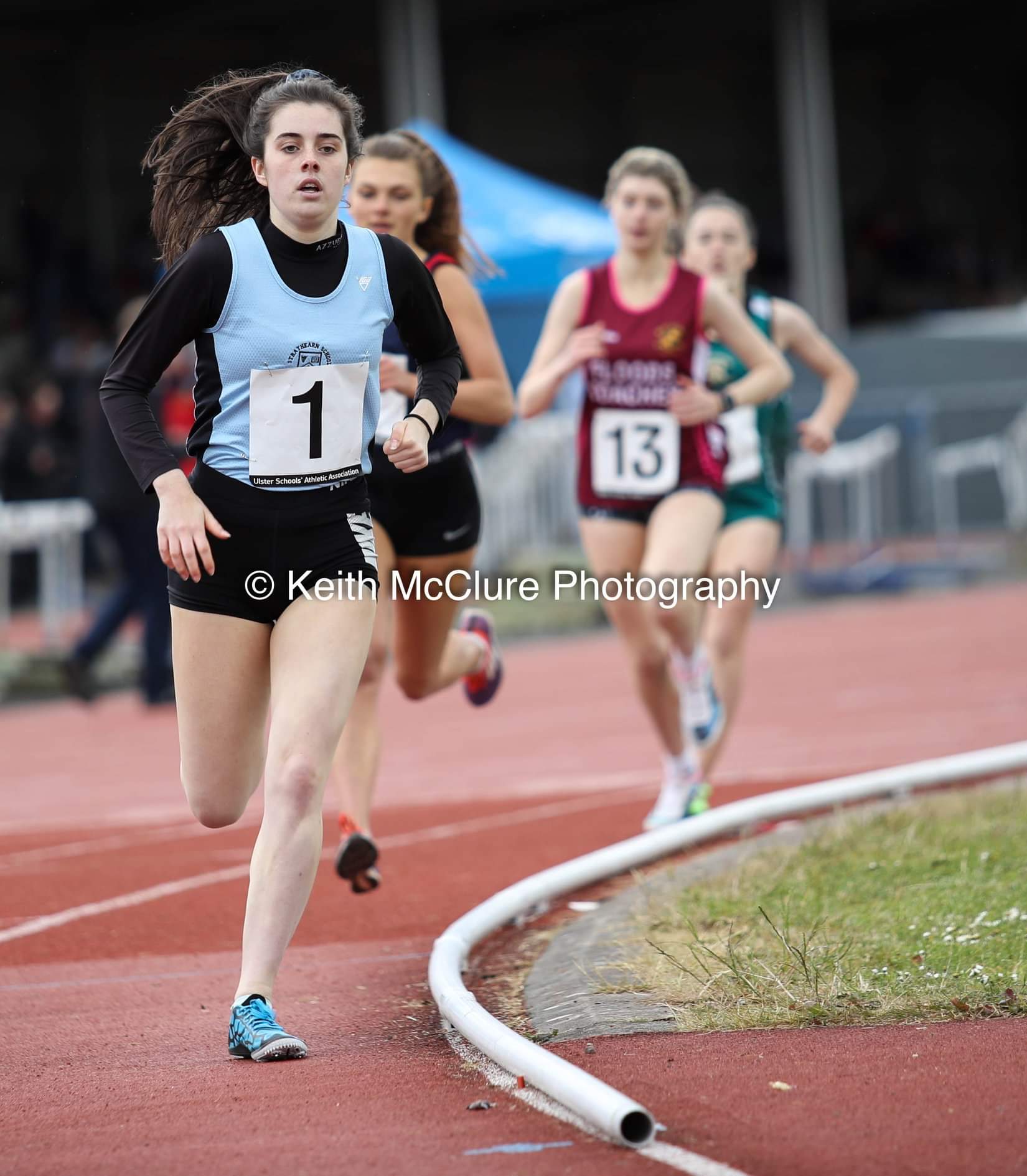 In the middle distance races, Murphy Miller (Strathearn) took on the early pace in the Senior Girls 800m and was never challenged as she once again lead from gun to tapeto emphatically win gold in 2:17.25 and Patrick Mayne (Regent House) took an excellent silver in the Senior Boys 3000m in a time of 9:19.83.
Hurdles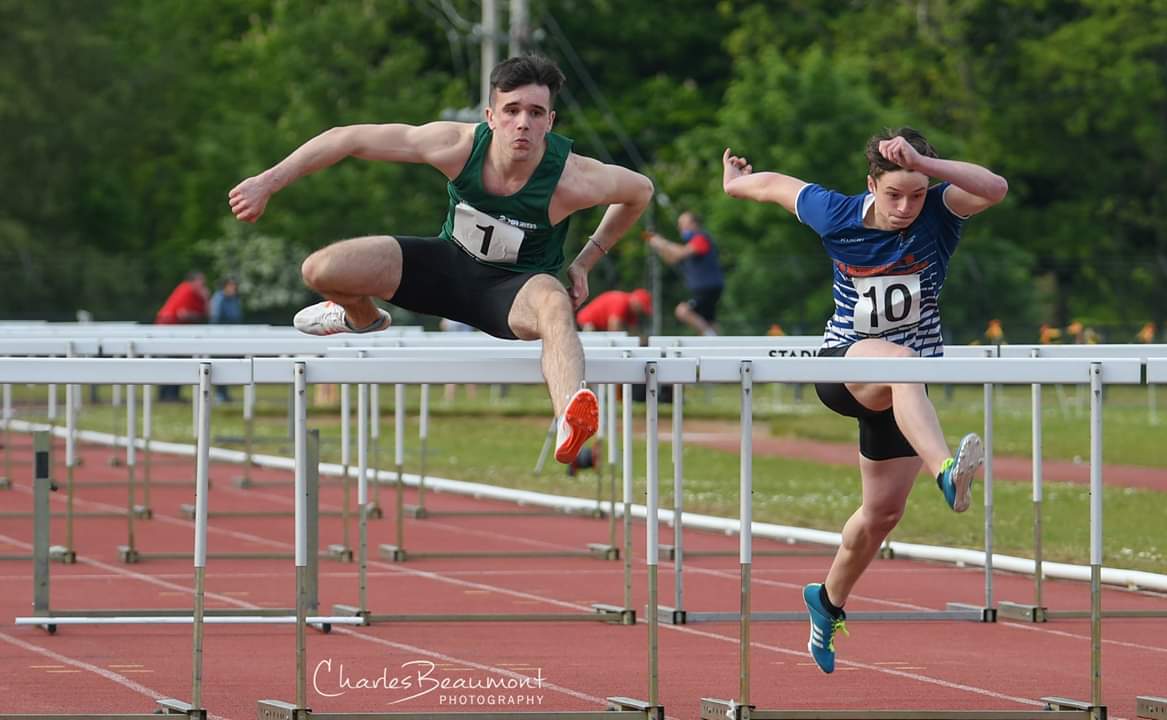 Troy McConville (SERC) lead the way in the hurdles events as he won gold in the Senior Boys 110mH in 15.60 while brother Lexx McConville (Lugan Junior HS) ran a pb in the Junior Boys 80mH to take bronze in a time of 12.26s. In the Inter Girls 80mH, the breezy conditions helped Rose McGreevy (Glenlola) achieve her goal of dipping under 12sec for the first time, as she ran a wind assisted 11.97s on her way to bronze while Sophie Hoey (Strathearn) didn't let a broken finger stop her fromrunning a pb of 12.18s to also win bronze in the Junior Girls 75mH.
Jumps
Talented multi-eventer, Troy McConville (SERC), was our only pole vaulter and although still relatively new to the event was able to comfortably take the Senior Boys title with a best clearance of 3.90m. Once again, Megan Drummond (Glenlola) was over 5m as she struck gold in the Inter Girls long jump with 5.02m while team mate Rose McGreevy took silver in the Inter Girls high jump with a new lifetime best clearance of 1.48m. Team mates Sophie Hoey & Connie Hanna (Strathearn) were gold medalists in the Junior Girls triple jump & high jump respectively with Sophie jumping 9.83m & Connie clearing a new pb of 1.48m. In the Junior Boys high jump, Lexx McConville (Lugan Junior HS) bettered his hurdles bronze with a 1.63m clearance to claim gold while Niamh Fenlon (Sullivan) followed her sprint victory with a second gold in the Minor Girls long jump with a leap of 5.01m. Team mates Anna Cousins & Emma Stranaghan (Strathearn) could not have been closer as the pair claimed gold & silver in the Mini Girls long jump with Anna jumping a pb of 4.43m for gold while Emma was just a single centimetre behind on 4.42m in silver. In the Mini Boys event, Jayden Booth (Regent House) followed sprint silver with long jump gold in 4.72m while Daniel Constable (Bangor Grammar) set a new pb to take silver in 4.40m.
Throws
Amy Kimber (Sullivan) was in great form in the Senior Girls throws, recording pb's in both discus (1kg) & javelin (600g) with throws of 31.30m for gold in the discus and 24.16m for silver in the javelin. In the Junior Girls throws, Beth Hammond (Glenlola) threw 10.73m for silver in the shot (2.72kg) and 28.61m for 6th place in the hammer (2.5kg). Flynn Longstaff (Campbell College) won silver in the Junior Boys shot (4kg) with a best effort of 10.83m and followed with a pb of 33.80m in the javelin (600g) for bronze. Not to be outdone by her older sister, Kate Fenlon (Sullivan) threw a magnificent pb of 10.25m to win gold and set a new record in the Mini Girls shot (2.72kg).
Other results:
Mini Girls
Hollie McGuigan (Regent House) 8th 100m 14.69s
Minor Girls
Amelia Hazle (Strathearn) 6th 75mH 12.98s (PB)
Junior Girls
Morgan Wilson (Strangford Int. Col.) 5th javelin (400g) 22.98m
Emma Wilson (Strathearn) 4th hammer (2.5kg) 30.79m
Junior Boys
Nathan Semple (Bangor Grammar) 6th 200m 25.28s (PB)
Benjamin Graham (Strangford Int. Col.) 7th 200m 25.60s (PB)
Charlie Lawden (Campbell College) 6th javelin (600g) 30.71m
Inter girls
Katie Kimber (Sullivan) 8th 100m & 200m 13.35s & 28.79s
Megan Briggs (St Columbanus) 5th 300m 44.93s
Tara McDonough (Sullivan) 4th 1500m 4:57.44
Amelia Tyler (Victoria Collegiate) 5th 3000m 10:55.95
Bryanna Catney (BRA) 7th 1500m s/chase 6:23.98
Erin Kennedy (Strathearn) 6th shot (3kg) 9.59m
Inter Boys
Jonny Moore (Sullivan) 4th long jump 5.79m (6.07m)
Senior Girls
Aimee Stitt (Strathearn) 4th 200m 27.00
Faye Nixon (Bloomfield Collegiate) 4th hammer (4kg) 23.52m
Senior Boys
Jack Logan (Campbell College) 7th 5000m 17:31.90 (PB)
* Photos courtesy of Charles Beaumont & Keith McClure.