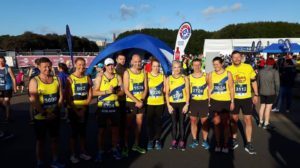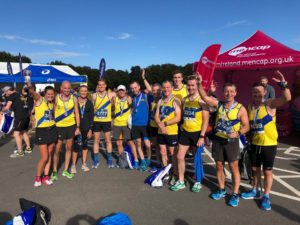 The popular annual half around the streets of Belfast early on a Sunday morning attracted nearly 4000 runners this year. A large North Down representation was evident in the race and on the sidelines marshalling with Davie Seaton, Tony Wall and John McGarvey assisting with the smooth running of the event.
Jack Bradshaw continued his great form with a time of 1:18:37 to lead the ND members home. Adam Ferguson and Eamonn O'Reilly are part of the Dream Dublin training group and this race was used as a performance indicator for next month's marathon. Both guys showed they are well on track for the sub 3 hour marathon as Adam clocked 1:18:50 to place 36th and Eamonn, 1:24:12 for 103rd. Sandwiched between our two hopefuls was Ben Caughers who recorded a two year best of 1:19:53 for 43rd. David Massey came in with 1:26:27 next was Douglas Gordon 1:27:20 and Andrew Muir bettered his last half marathon time by 8 mins as he finished with 1:28:13 before Steve Wise had a great run to time at 1:29:18. Fiona McQuillan was our first female as she recorded a welcomed sub 90 minute pb time of 1:29:56.
Christopher Ballentine was close to the sub 90 min mark with 1:30:17 and Steven Donegan will be happy with his pb 1:30:34 time which must surely reduce further next time out before Colin Walker recorded 1:32:04 and not far behind after a spell of warm weather training was Philip Mulligan in 1:32:53. Gerald Irvine recorded 1:33:40 alongside Scott Nelson who comfortably recorded a personal best as he finished with 1:33:41 and a couple of minutes later Helen Byers crossed the line with 1:35:42. Alan Massey clocked 1:38:36 and he, Clare Kennedy 1:38:50 and Neil O'Driscoll 1:38:57 must have been in the sights of Valerie McDonough as she finished with 1:39:04.
John Nolan – 1:45:27
Jamie Woods – 1:46:03
John Ferguson – 1:48:28
Mick Hall – 1:48:57
Nicola Ingram – 1:52:59
Wendy Murray – 1:53:43
Andy Belshaw – 1:54:59
James Barr – 1:55:46
Allen Cox – 1:55:50
Alex Irvine – 1:58:18
Philippa Watson – 1:59:12
Chris Harrison – 1:59:31
Glenn Frazer – 2:10:17
Sharron Sykes – 2:20:36
Pat O'Driscoll – 2:22:54