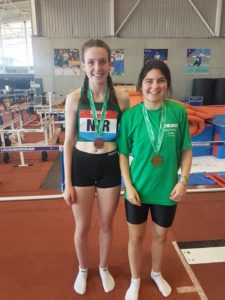 Once again, Loughborough University hosted the UK School Games multi-sport event and no less than 6 of our junior athletes made up the NI Schools athletics team that took on teams from England North, England Midlands, England South & Scotland.
The standard of competition was as tough as ever and medals for the NI team were few and far between, however, two of our girls made it on to the podium and earned 3 of the 5 medals won by Team NI.
Eve Dann put a difficult couple of weeks well and truly behind her with an emphatic win in the ambulant 100m and followed up with silver in the 200m with times of 14.54s (a new PB) & 30.98s respectively, making her the only NI athlete to win a gold or silver medal.
Rachel McCann ended a long, successful season with another strong run in her last ever 300m. Unlike some previous races, she went off hard over the first 100m and was rewarded with another sub-40sec clocking and a bronze medal in 39.98s.
Faye Nixon and Amy Kimber were both competing in their second games and both improved on previous distances. Faye produced her second longest ever throw of 11.90m to finish 4th in the girls shot putt while Amy produced her third longest ever throw of 30.66mm when finishing 5th in the girls discus.
Unfortunately, Troy McConville, who is still a novice and in his first season of pole vault, failed to clear his opening height but did go on to run a strong 400m lead-off leg in the mixed medley relay. Louise Canning was left too far adrift of the other teams to make any inroads over the 100m anchor leg and brought the team home in 5th.