This year's event was ran in glorious sunshine which made for a successful days racing for 36 North Down athletes.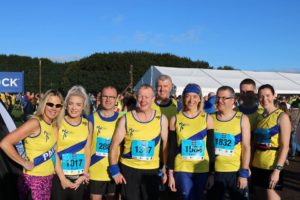 Our first 4 finishers completed within 18 seconds of each other, all below 75 minutes, in the form of Alex Donald 1:14:17, James Budde 1:14:30, Francis Marsh 1:14:31 (1st O50) and Dennis Scott 1:14:35. Breaking the 75 min barrier also attracts championship entry to next year's London marathon which all 4 guys are destined to compete in. Needless to say, with their oveall finishing positions of 8th, 10th, 11th and 13th the honour of winning the team prize was also theirs.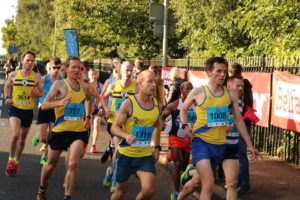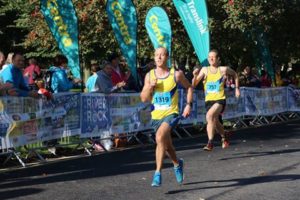 Nine minutes passed before the next ND runner returned and then 3 came along. Michael Boyd finished behind Adam Ferguson but had a better chip time, 1:22:40 and 1:23:07, and Ben Caughers 1:23:16. David Massey finished exactly one minute later on 1:24:16 in the company of Eamonn O'Reilly 1:24:08. Alan Massey continued his good form with a time of 1:27:05 and Chris Downey had a very respectable return of 1:28:35.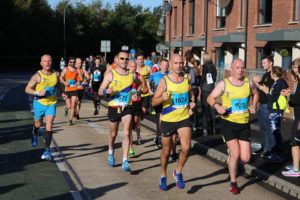 Our first female home was Fiona McQuillan, pb'ing in a time of 1:33:04. Roberta Dornan managed 1:36:59 before Jo Moran easily broke the 1:45 mark with 1:43:47.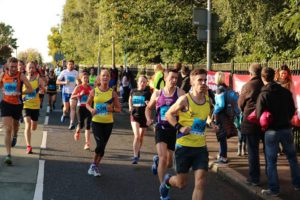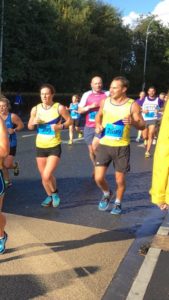 Kathryn Playfair enjoyed the experience with a commendable 1:50:20 and Phillipa Watson crossed the line in 1:53:16 followed by Lindsay Doulton, 1:55:24.