Having put all the hard work in, clocked up the miles to achieve a marathon pb and meticulously planned the travel to Chicago it must have felt like there were dark forces at play when the flight Helen Byers and Louise Watson were getting from Dublin was delayed 24 hours. And when the scheduled flight one day later was again delayed the girls could be forgiven for thinking that their training was in vain.
Roll the clock forward to 5:30am US time the next day and the North Down athletes were in Chicago marathon race pack collection area and were preparing to set off at 7:30am. A well earned pb time of 3:32:10 was the result for Helen which helped to relieve the stresses of the last 48 hours and Louise made it around the course in 4:47:04.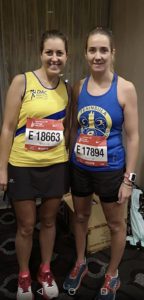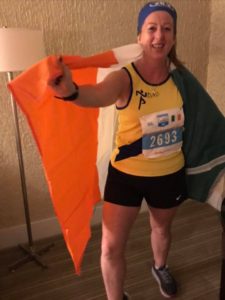 Sharron Sykes avoided any travel disruption by departing from Dublin 3 days earlier. This allowed her to not only settle into the surroundings but run the warm up Chicago International 5k race prior to the marathon and attend the Snow Patrol/Ed Sheeran concert. Despite carrying a shoulder injury Sharron negotiated the marathon route successfully and so ticked off another marathon in her WMM quest.