The latest episode in the Darren Hamilton and Paul Floyd marathon journey was played out in Chicago on Sunday morning.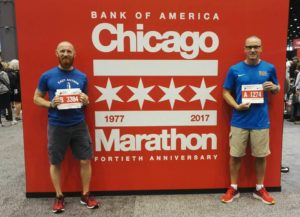 For Paul it was his 14th marathon this year and 74th in total so his biggest factor was dealing with heat and humidity. Steady enough running resulted in a time of 3:13:58 which was creditable enough given the conditions for the seasoned distance runner.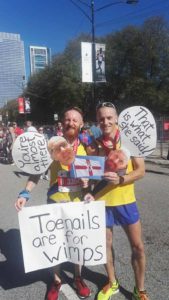 Things were going to plan for Darren with his 2:55 target time in sight until he hit the 16 mile mark. Nobody can doubt Darren's preparation for the race and what happened next exemplified that the best laid plans….
With his right hip flexor seizing Darren had no option but to jog/walk to the finish some 10 miles away. Well done to Darren on continuing and making it to the finish line in a time many would be very chuffed with, 3:28:45.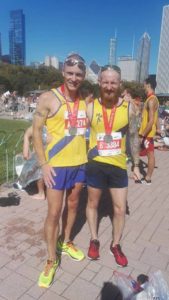 Chicago marathon result – Paul Floyd