The third staging of the St Patrick Day event took place on Friday around the streets of city centre Belfast. It was also the 2nd event in the Novosco series following Sunday's Downpatrick race.
In damp and blustery conditions Colin Walker was our first runner home in 39:52, placing him 58th. Next in and first female was Clair Quigley with a 2 minute pb of 40:58, 77th overall and 6th female overall. John Gracie followed in 88th clocking 42:11 and Andrew Muir prepared for his hectic St Patricks day with a steady 42:58 placing him 103rd.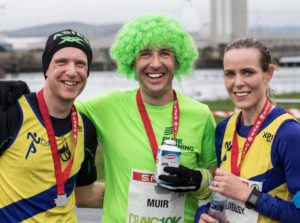 Philip Ballie made it across the line in 45:43, 155th and our second female, Joanne Cummings, finished in 51:37, 386th. Philip Waugh was 411th and actually recorded 51:20, but must have started farther back from start chip mat than Joanne.
Tracey Hodgson crossed the line 5 minutes later in 56:20 and Paula Simpson improved on her "Jimmy's" time with a 57:21 clocking, 10 seconds ahead of Andrea Green, 57:31. Clair Whiteside was comfortably inside the 1 hour mark hitting the tape in 58:09 followed by Christina Cunningham 62:18, Jacob Sullivan 61:22 and Kirsty and Michael Spencer 62:12 & 62:15. Coleen Waugh was next in 63:41 and Valerie Sullivan recorded 65:06.