The Children's Heartbeat Trust was the charity associated with the Cultra 5 and 10K races on Sunday. The worthwhile cause was supported by several North Down runners, one or two who had already competed on Saturday at the NI & Ulster relays.
Junior middle distance group runner Ryan Lynas was first home in the 5k race in 7th place, 22:48 followed by his father Paul in 14th, 23:55. Noel Eager made it home next in 16th with a time of 24:01 with another 3 of the junior group coming in close by as Freya Spencer 38th, 27:50 Naomi Dunne 39th, 27:51 and Ella Andrews 41st, 28:22 crossed the finish line. Clair Whiteside recorded 29:09 when she finished in 46th, Jill Eager finished on 31:23 in 70th and Terry Coyne 31:46, 75th. Leanne Young was 79th with a time of 32:18 and Nicole Stevenson followed her relay efforts on Saturday with 38:50 for 126th around the hills.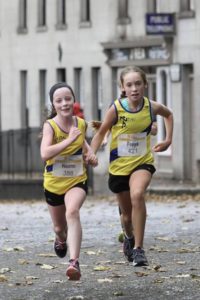 Christopher Ballentine was the first ND athlete to finish in the 10k race in 11th, timed at 41:53 with Clair Quigley feeling fresh from Saturday's Victoria Pk race recording 42:51 for 3rd female. Susan Spence was next in 70th timed at 49:50, James Barr made it round in 53:28 to finish in 112th and Nicola Newell covered the trip in 54:59 which was 129th. Clare Smith returned 55:34 and was followed in by Clare Ablett in 55:53 before Tracey Hodgson clocked 1:01:01 and Patricia Nickell finished with 1:05:36.