EAMS staged their customary New Year back to back marathons and associated half marathon and 10k on Saturday and Sunday. Sarah Benton ran Saturday's marathon clocking 3:33:06 claiming 2nd place in the process.
Michael Stevenson and Donald Smith completed both marathons with Donald adding in night shift before each. Saturday saw Michael finish in 4:17:19 which placed him 28th and Donald 4:27:05, 34th. On day 2 the occasion took over which led to spontaneous photograph stops, but despite this Donald recorded in the region of 4:47 while Michael finished in 4:54. As we enter the New Year Donald is introducing additional rest into his racing agenda which will include 5 hours sleep before this Sunday's marathon in Armagh.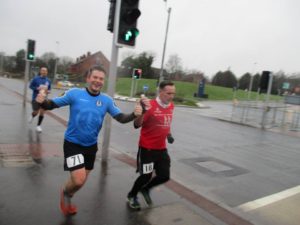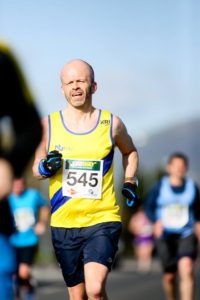 Double Christmas Cracker O120 champions Les Wilkinson and Frankie Rea kept the momentum going from their recent success at Castlewellan to run in the Race Over the Glens on New Years Day. Les won the O60 category when he finished in 41:07 over the tough course. Frankie crossed the line in 44:39 which placed him 3rd O60.