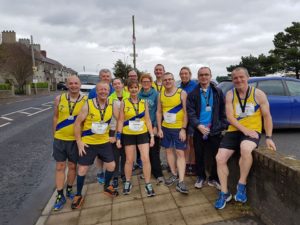 Nearly 1000 thousand athletes took on the scenic and testing 8 mile race organised by Murlough AC on Saturday. Of the 904 who finished the race, 21 were North Down runners, a very healthy return of athletes prepared to take on the trails, boards and sand of the course set in the foothills of the Mournes.
Steve Wise was first male home, demonstrating his current great form recording 57:22. He was followed by our first female, Catherine Roberts, a minute and a half later in 58:58 and Scott Nelson a little over the hour mark in 1:00:36. Frankie Rea is no stranger to the Dundrum set up and completed the circuit in 1:02:39 on this occasion, a short distance ahead of Michael Taylor, 1:02:51.
There was nearly two minutes before Cliff McCausland crossed the line in 1:04:46 just before our second female, Jane Stevenson, who had a very commendable return of 1:05:25. Mick Hall was next in clocking 1:06:50 and then Lindsay Doulton enjoyed role acting with the injured Melanie Patton's number to finish in 1:07:15. Cara Jeffrey crossed the line in 1:09:17 and Caroline Crothers and Joanne Kelly ran together to complete in 1:11:42 and 1:11:43.
Allen Cox enjoyed the experience to record 1:13:31 while James Barr ran the course in 1:14:24 and Ian McCreary 1:17:52. Andrea Green led a group of 3 North Down athletes when clocking 1:20:43, leaving Gavin McDonnell and Glenn Frazer in her wake, both finishing on 1:20:47 with Sandra Hall not far behind, 1:21:08.
Never one to shirk a challenge, Pat O'Driscoll circuited the slopes and trails to finish in 1:24:06 and Noreen McCausland hit the tape in 1:31:42.