The highlight of the school athletic calendar took place on Saturday 3rd June and, despite the changeable weather, there was the usual mix of thrills, spills, medals and records as many of North Down AC's juvenile athletes competed for their schools to battle it out for national titles at the Irish Schools' Championships in Tullamore.
Megan Drummond (Glastry College) was the golden girl in the Minor Girls age group where she was up against some strong opposition in the long jump but, rather than crack under the pressure of her first Irish Schools, she rose to the occasion by recording a new PB of 5.16m to secure the gold medal by a single centimetre.
The photo-finish was required to decide the medals in the Minor Girls 100m where the first three were separated by a mere four hundredths of a second. Despite trailing at 80m, Katie Kimber (Sullivan) maintained her composure to come through strongly over the last 20m and, thanks to a perfectly timed dip at the line, recorded her first sub-13sec run with 12.83s to earn a thoroughly deserved silver medal. Later in the afternoon she competed up an age group in the Junior Girls 200m where she ran well but found the opposition too strong and finished 7th in a creditable 26.96s. At the end of a busy day she anchored the Sullivan Minor Girls 4x100m relay to 6th place in 53.87s.
Rachel McCann (Sullivan) continued her recent excellent form and was rewarded with a bronze medal in the Inter Girls 300m where she broke her PB by almost half a second with an even, well-paced race in 40.71s.
Troy McConville (Craigavon Senior HS) was another who produced a PB on the big occasion as he managed to keep his composure in the Inter Boys 100mH and duck under 14 sec for the first time to take a silver medal in a time of 13.99s. Later in the day, Troy also competed in the high jump where he finished joint 6th with 1.80m.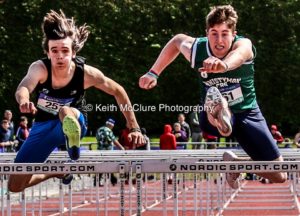 Also in the Inter Boys, Aaron Sexton (Bangor Grammar) was in blistering form as he powered his way to an emphatic sprint double, winning the 100m in 10.77s & 200m in 21.43s and setting new Irish schools' records in the process. The 100m time also bettered the 26yr old NI U18 Youth record while the 200m time not only bettered his own NI U18 Youth record but was also a new NI U20 Junior record and was a tantalising 0.01 outside the Irish Junior record. Later in the day Aaron & Will Simpson were part of the Bangor Grammar 4x100m relay team that finished 6th in 46.22s.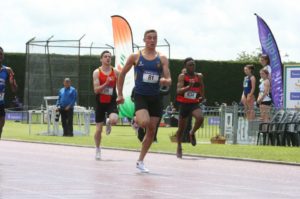 Other performances were:
Sophie Longstaff (Strathearn) – 7th Junior Girls 100m in 13.60s
Megan Briggs (St. Columbanus) – 7th Junior Girls 800m in 2:25.31
Murphy Miller (Strathearn) – 5th Inter Girls 1500m in 4:49.22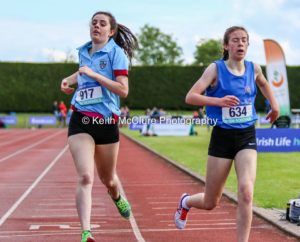 Amy Kimber (Sullivan) – 5th Inter Girls javelin (500g) in 28.08m
Leah McClements & Molly Longstaff (Strathearn) – 6th Inter Girls 4x100m relay 51.45s
Holly Brannigan (Grosvenor) – 4th Senior Girls 400m in 59.95s
Beth Crosbie (Strathearn) – 6th Senior Girls 400m in 62.40s, 6th hammer in 32.09m & 4th 4x300m relay in 3:15.36
Saskia Greer, Aimée Johnston & Olivia Cumming (Glenlola) – 4th Senior Girls 4x100m relay
Ollie Wakefield (Priory College) – 10th Senior Boys long jump in 6.18m
Craig McMeechan (Bangor Grammar) – 6th Senior Boys 5000m in 16:23.53. Craig and Reece Simpson also participated in the Senior Boys 4 x 400M relay finishing 6th. This was the final event for the two boys representing Bangor Grammar School after 7 years of success in the country and the track.