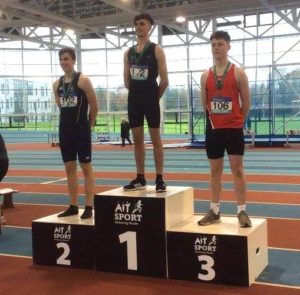 Several of our junior athletes made the long trip to the Athlone indoor arena on Saturday 28th October to compete at the Irish Schools combined events.
In the Inter Boys event, Troy McConville (Craigavon Senior HS) continued to cement his reputation as one of the provinces top multi-eventers by winning a close fought battle, where less than 50pts separated the medalists. Troy won the 60mH (8.44s), finished =2nd in the LJ (6.11m) and ran an impressive PB of 2:08.13 in the dreaded final 800m to post a total score of 3389pts and take a thoroughly deserved gold medal. Troy will now go on to compete for the Irish team at the Schools International Combined Events in Glasgow on 10th November. Isaac Hart (Sullivan Upper) finished 11th in the same event with a score of 2781pts.
Rachel McCann (Sullivan Upper) struggled with some of the technical events in the Inter Girls competition but produced an exceptional performance in the 800m where her time of 2:28.91 was the fastest female time of the day and pulled her up to 7th with a score of 2684pts.
In the Minor Girls event, Megan Drummond (Glenlola Collegiate) won the long jump with 4.91m on her way to scoring 2435pts & and Sophie Hoey (Strathearn) scored 2186pts to finish 11th & 14th respectively.