On Saturday 2nd June, around a thousand hopeful young athletes from all over the country made the trip to Tullamore in search of medals at the Irish Schools' Track & Field Championships and a few of our own juniors were among those to achieve podium positions and more.
Aaron Sexton (Bangor Grammar) faced some stiff opposition in the Senior boys' sprints but, once again, proved he is currently one of the best young sprinters in Ireland. In the 100m, he was put under immediate pressure by some fast starting opposition and trailed for most of the race, however with the finish fast approaching, he managed to draw level and was able to execute a perfectly timed dip at the line to take the gold medal by a matter of thousandths. Aaron's winning time of 10.52s was a massive new PB that not only broke the schools' record but was also a World Junior B-standard, a new Northern Ireland U20 record and places him 14th on the Irish Senior All-time list. The 200m involved most of the same athletes and was almost a carbon copy of the 100m. Aaron entered the home straight in second but rather than panic, he remained strong and overtook the leader with 20m to go before going on to take the clear win and complete another memorable sprint double. His time of 21.12s was yet another big PB that not only broke his own NI U20 record but also means he becomes the first ever Irish male sprinter to achieve a World Junior A-standard which should secure selection for the World Junior Championships taking place in Finland in July. As a result of these performances, Aaron was also named as the 'Male Athlete of the Meet'.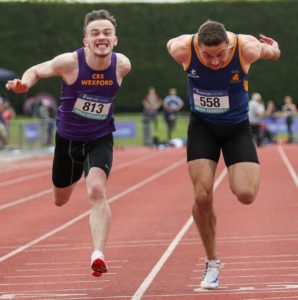 In the Inter girls' 300m, Rachel McCann (Sullivan Upper) perfectly demonstrated the old adage "run your own race" because, despite lying in second place after 200m, she didn't panic but gradually reeled in and overtook the leader down the home straight. She went on to cross the line with a look of disbelief on her face as she realised she had just won an Irish Schools' gold medal. Her time of 40.14s was not only a PB, but also places her 7th in the UK U17 rankings.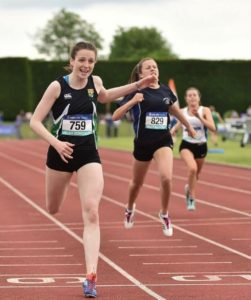 Our final medalist was Troy McConville (Craigavon Senior HS), who has been struggling with a recent foot injury and, therefore, did well to clear 1.88m in the Inter boys' high jump which was rewarded with a bronze medal.
Sophie Hoey (Strathearn) was understandably a little nervous on her Irish Schools' debut but still performed well, jumping 4.66m for 6th place in the Minor girls' long jump and running a clean race in the 75mH hurdles to finish 6th in 12.29s. Lexx McConville (Lurgan Junior HS) dipped under 12sec for the first time when setting a new PB of 11.97s to finish an excellent 4th in the Minor boys' 75mH, while Flynn Longstaff (Campbell College) was just below his best in the Minor boys' shot (3k), finishing 9th with a best effort of 10.94m.
Amy Kimber (Sullivan Upper) threw a new lifetime best of 30.16m in the Inter girls' discus (1k) to take an excellent 4th place but could only manage 26.13m for 10th in the javelin (500g). Louise Canning (Glenlola) was a late call up for the Inter girls' 100m and did manage to set a new PB of 12.79s, however, due to the quality of the field, this was only good enough for 7th place. Jakob Swann (Bangor Grammar) was also a late replacement in the Inter boys' 800m but couldn't reproduce the form that recently saw him dip below the 2min barrier, however, he still finished a creditable 7th in 2:02.02. Faye Nixon (Bloomfield Collegiate) was some way below her best in the Inter girls' shot (3k) and could only manage 10.40m to take 8th place.
Rio Catney (BRA) was our only individual senior girl and only distance representative. Having qualified for both 1500m & 3000m, she opted for the 3000m and ran well in the muggy, humid conditions to place 5th in 10:54.72, just 3sec off her PB.
Rose McGreevy was a member of the Glenlola Junior 4x100m relay that finished 3rd while Megan Drummond, Louise Canning & Rebecca Webb formed 3/4 of the Glenlola Inter 4x100m relay that finished 4th. Leah McClements & Sophie Longstaff ran in the re-organised Strathearn Inter 4x100m relay that finished 6th, while Molly Longstaff ran the anchor leg for the Strathearn Senior 4x100m relay that finished 7th. Aaron Sexton ran the lead leg for the Bangor Grammar Senior 4x100m relay that finished 7th, while Holly Brannigan ran second leg for the Grosvenor Senior 4x100m relay that finished 4th. Finally, Beth Crosbie ran the anchor leg for the Strathearn Senior 4x300m relay that finished 5th.