With this annual event booked out by January it was always going to be a well attended race with plenty of quality. In the end over 1700 athletes finished the race and the winning time of 1:11 set the standard for our runners.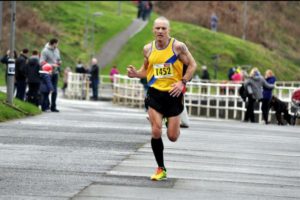 Darren Hamilton knocked another 40 seconds off his pb when finishing in 1:20:23 and 33rd position having made the wise decision to hold back into the wind on the outward stretch before benefitting from it on the way home. Eamonn O'Reilly made it home in 1:27:48 and shortly afterwards Colin Walker ducked the 1:30 barrier with 1:29:15 as did Andrew Muir recording 1:29:51. Leslie Wilkinson made it home in 1:31:34 and was 2nd O60 with it, followed by Steve Wise with a good 1:33:09.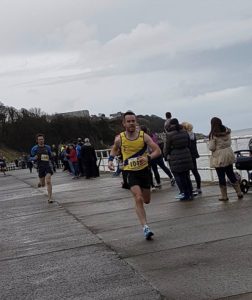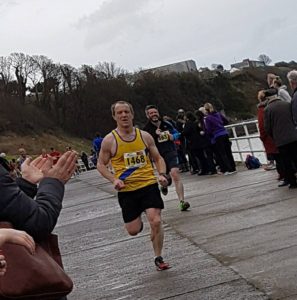 Fiona McQuillan was our first female finisher next, crossing the line in 1:33:32 and Frankie Rea, nursing a foot injury, arrived 5 seconds later in 1:33:37. Alan Massey was next in 1:34:17 and was followed by our next female finisher, Catherine Roberts 1:34:29.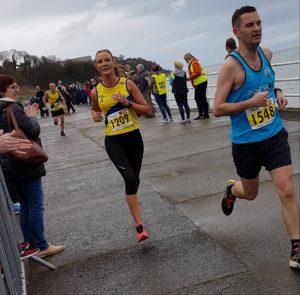 Keith Gilmore 1:36:00
Steven Donegan 1:37:23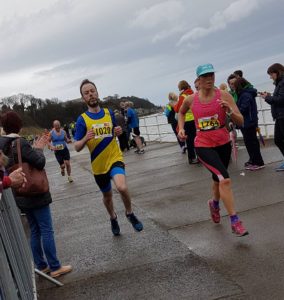 Philip Mulligan 1:37:44
Sarah Benton 1:38:46
John Ferguson 1:39:07
Helen Byers 1:41:37
Michael Stevenson 1:42:15
Louise Watson 1:43:06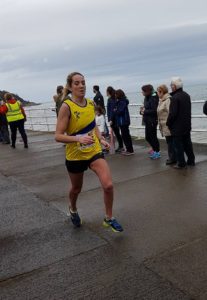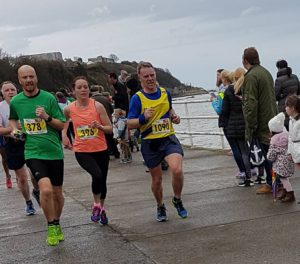 Simon Sexton 1:43:30
Mitchell Brown 1:45:44
David McClements 1:48:08
Trevor Patterson 1:54:23
Claire Garrad 1:54:07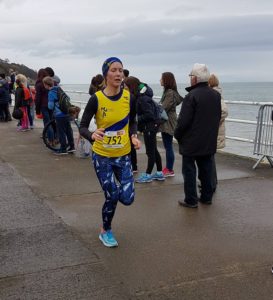 Paul Galloway 1:55:28
Elaine McDonnell 1:55:12
Alison Wise 1:57:21
Gavin McDonnell 1:58:09
Ian McCreary 2:00:37
Gayathri Ramasubramanian 2:06:39
Caroline Crothers 2:09:42
Wendy Murray 2:12:25
Glenn Frazer 2:20:37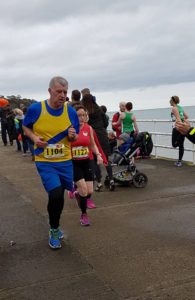 Patricia Nickell 2:25:45
Bath Half Marathon
Last Sunday, 12th March Chris and Nicola Downey ran the Bath Half Marathon. A route known for it's fast times allowed the North Down pair to achieve pb's and illustrate the quality of their recent training.
Nicola had a new best time of 1:53:25, 4 minutes quicker than her previous and Chris took 3 minutes off his former best time for the trip when he stopped the clock on 1:25:31.