While North Down do not have a team entered this season in the national league a few of our runners took advantage of the proximity of Saturday's racing and ran as guests.
The Mary Peters Track was bathed in sunshine one minute and then subject to thunder storms the next, which didn't deter those involved in the quality competition. Francis Marsh was first out in the 1500M and recorded 4:22:64, Katie Moore and Rio Catney were in the same 3000M race which produced 10:46:60 for Katie and a strong 11:03:65 for Rio.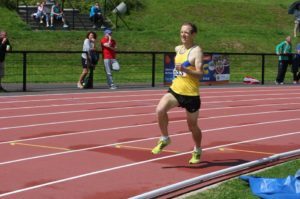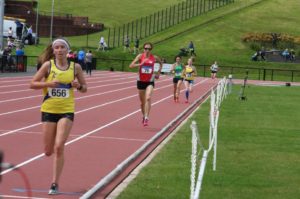 Rachel Gibson led her 800M race from start to finish, by some distance, which didn't do anything to help Rachel achieve her target time as she finished in 2:14:16. Craig McMeechan rounded off a successful track season when he dipped under 2 mins for his 800M, 1:59:75. This after going through the bell in a fraction over 60 secs, Craig timed his run well when he passed the leader with a little over 100M to go resulting in a pb and a win. Nick Irvine was in the same race and after leaving himself isolated, he still managed a credible 2:10:62.