It wasn't just the sun that shone at the Mary Peters track on Saturday (17 June) but also the performances from some of the NDAC juvenile athletes who were competing in the NI & Ulster U14-U17 Age Group Championships. Many athletes were competing in two or three events, however, two athletes, in particular, stood out among the many good performers.
Troy McConville began the day with a smooth run to take gold in the U16 80m hurdles finishing over half a second clear in a time of 14.07s. He followed this with gold in the long jump, setting a new outdoor PB of 6.15m in the process. His best performance, however, was arguably the high jump which he totally dominated, winning by a massive 20cm with a clearance 1.90m which was not only another PB but also places him 15th in the UK U17 rankings.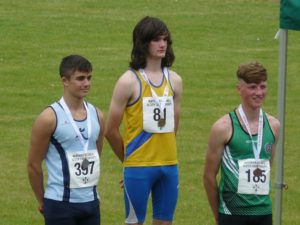 Rachel McCann also produced dominant performances in both her races when she completed an U17 200/400m sprint double. Despite a headwind, she managed to slice almost a second off her previous 200m PB and cruise to victory in 25.86 (-2.4w), however, her 400m was even better. Going out hard from the gun, she was always in command of the race and victory was never in doubt, however her last 100m was particularly impressive as she powered her way home to cross the line in a remarkable 58.01s. Not only was this a huge PB but it was also a new club U17, U20 & Senior record and places her 8th in the UK U17 rankings.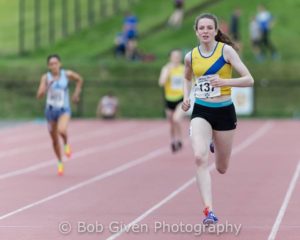 Other multiple medal winners:
Zac Moraghan was a convincing winner in both the U15 80mH & 250mH with times of 12.24s & 35.48s respectively and added a silver in the javelin (500g) with a best of 40.40m.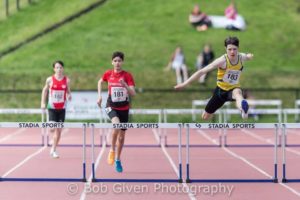 Katie Kimber came from behind to take gold in the U15 100m with 13.00s, was a convincing winner in the 200m with 26.96s and threw a PB in the javelin (400g) to take bronze with 21.47m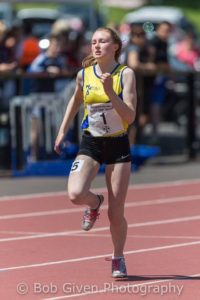 Lexx McConville equalled his PB to take gold in the U14 high jump with 1.50m and earned a bronze in the 75mH with a wind assisted 12.77 (+3.0w).
Megan Drummond took gold in the U15 long jump with a leap of 4.98m & bronze in the 100m with 13.34s
Murphy Miller completed the middle distance double by running a new PB of 2:18.40 to take gold in the U16 800m and add to the 1500m gold she won last week
Other medalists:
Eva Morrow won the U14 long jump by half a metre with a new PB of 4.67m & was 4th in the high jump with 1.25m
Erin Kennedy edged bronze in a close finish to the U14 80m with 11.00s & was 4th in the shot (2kg) with 9.42m
Faye Nixon set a new outdoor PB of 10.26m to take gold by well over a metre in the U16 shot (3kg)
Jessica Scott won bronze in the U17 3000m but was some way outside her best due to the exceptionally warm conditions with 11:58.56
Other competitors were:
Sophie Hoey – 4th in the U14 75mH with 13.44s, 4th in the long jump with 4.35m & 8th in the 80m final with 11.55s
Megan Briggs – 5th in the U15 800m time trial in 2:27.25
Amelia Tyler – 8th in the U15 800m time trial in 2:31.68
Jonny Moore – 9th in the U16 long jump with a best of 4.74m
Scott Henry – 6th in his heat of U17 100m in 12.73s & 4th in his heat of the 200m with a PB of 25.84s