A little bit of history was made at the weekend when, for the first time ever, the NI & Ulster Indoor Age Group Championships were not held in NI or Ulster, but instead took place at the magnificent AIT Indoor arena in Athlone, Co. Westmeath. In general, overall numbers seem to have been largely unaffected by the change of venue, although there was the usual drop off in numbers in some of the older age groups. The additional travel distance certainly did not deter NDAC's juvenile athletes as the large contingent that made the trip were rewarded with a variety of medals, PBs & national titles.
Megan Briggs & Murphy Miller took a break from the mud of the cross-country season and were both convincing winners of their respective time trials to claim national titles. Megan won the U16 800m in a time of 2:26.66 while Murphy won the U17 800m in a club record time 2:16.51.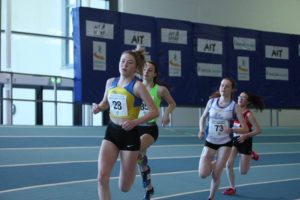 Rachel McCann continued last season's dominance as she completed a tough 200m/400m double, winning the U18 200m in 26.64 & 400m in 60.66. One of club's newest members, Niall Blair won gold was in his first ever Age Groups as took the U19 60m title in 7.33s and was followed by training partner, Luke Adair, who took silver in 7.55s.
Kate Fenlon & Charlie Lawden both took shot putt silver. Kate took gold in the U12 shot (2kg) with a best throw of 8.23m while Charlie won silver in the U14 shot (2.72kg)with a throw of 7.83m. In the sprints, Stephanie Bell earned a sliver medal in the U13 60m with a time of 8.74s while Katie Kimber claimed double silver in the U16 60m & 200m with PBs of 8.27s & 27.83s.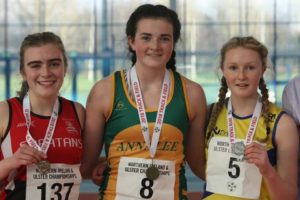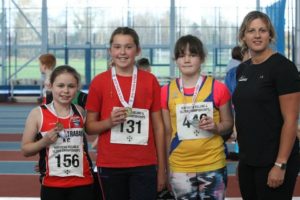 There were also a number of bronze medals that included:
Hannah Lawden in the U13 shot (2kg) with 5.99m
Andrew Brown in the U14 shot (2.72kg) with 6.36m
Niamh Fenlon in the U14 long jump with 4.18m
U14 Girls 4x200m Relay in 2:00.93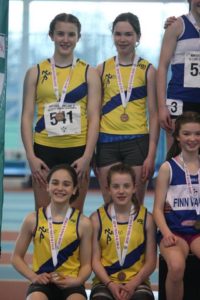 Erin Kennedy in the U15 shot (2.72kg) with 8.75m
Sophie Hoey in the U15 long jump & high jump with 4.23m & 1.40m
U15 Girls 4x200m Relay in 2:02.85
Bryanna Catney in the U17 1500 in 5:35.78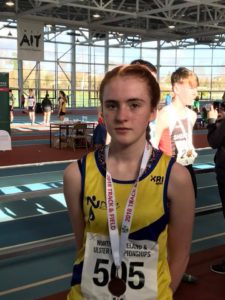 Other results included:
U13 Girls
Stephanie Bell: LJ 6th with 3.69m & 600m time trial 8th in 1:58.17
Hannah Lawden: LJ 9th with 3.32m
U14 Girls
Niamh Fenlon: 800m time trial 4th in 2:43.47 & 60mH 5th in 10.97s
Poppy Dann: 60m 6th in 8.72s, LJ 6th with 4.13m & shot (2kg) 8th with 7.00m
Beth Hammond: 60mH 7th in 11.15s & 60m heat 3rd in 8.95s
Morgan Wilson: HJ 4th with 1.10m, 60m heats 6th in 9.74s & LJ 12th with 3.45m
U14 Boys
Andrew Brown: 60m heats 6th in 9.58s & LJ 9th with 3.82m
Charlie Lawden: LJ 5th with 4.14m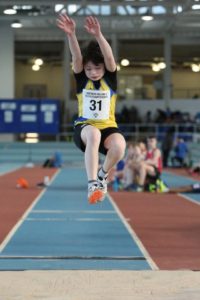 U15 Girls
Sophie Hoey: 60mH 5th in 10.11s
Erin Kennedy: 60m 6th in 8.74s
Caitlin Owens: 60mH 7th in 12.08s & 60m heats 6th in 9.17s
AAI Indoor Games
Rachel Gibson had a 1500M runout at the Irish indoors clocking 4:36:66 for 7th place.
FPSG Scottish Athletics National Indoor Combined Events Championships.
Also indoors and at the Emirates arena in Glasgow Sarah Connolly won the senior ladies pentathlon and in the process pb'd in the Shot, Long Jump and 800M.