The NI & Ulster Senior T&F Championships (inc. U18-20 Age Groups) took place amid some glorious sunshine at the Mary Peters track on Saturday 9th June, resulting in some glorious performances and a number of medals for NDAC athletes. In order to provide a higher overall standard of competition, many of the track events were run as combined races, meaning U18-20 athletes were also eligible for senior medals in many events.
The men's 100m turned out to be the predicted showdown between Irish Schools' Champion and U20 record holder, Aaron Sexton, and Paralympic gold medalist and NI record holder, Jason Smyth, with Sexton just coming out on top when he came from behind for the second consecutive weekend to produce another well timed dip finish. Both men men were given 10.69s, but it was Aaron who was awarded his first Senior title (along with the U19 title) by a matter of thousandths.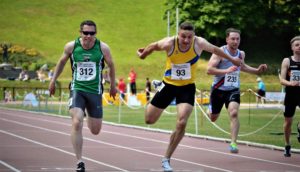 Rachel McCann had an exhausting day as she was doubling up over 200m/400m and proved once again she is a genuine talent and potential future star. The 400m turned out to be a straight final and although still only 16yrs old, Rachel ran a very controlled and measured race to comfortably claim the gold medal and national title (along with the U18 title). Her time of 57.43s was not only a new lifetime best, but also ranks her 4th in UK for U17. The 200m final followed soon after and Rachel finished a creditable 4th in a time of 26.02s.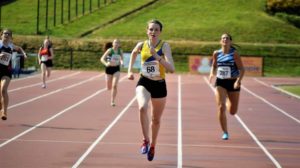 In the women's 5000m, Jessica Craig and former Belfast Marathon winner, Laura Graham, were easily the class of the field and the pair quickly opened up a healthy lead over the rest of the field. Jessica sat behind Laura for most of the race but when she kicked past with 500m to go, Laura had no answer as Jessica's superior pace saw pull away to take the title in 17:12.84.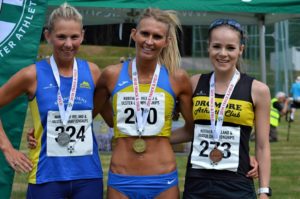 Multi-eventer, Sarah Connolly, returned home from England for a flying visit and took gold in the high jump with 1.65m and silver in the 100mH in 14.94s.
Despite four faulty starts and a rain shower, Commonwealth Games athlete, Ben Reynolds, easily retained his 110mH title yet again, but was less than impressed by his time of 14.19s.
Nobody could compete with the pace of Commonwealth Games athlete, Emma Mitchell, in the women's 1500m, however Rachel Gibson, ran a mostly solo race behind her and finished well clear of third, taking the silver medal in 4:28.03.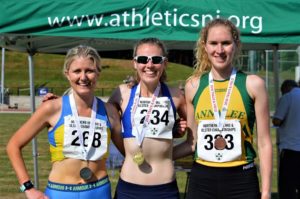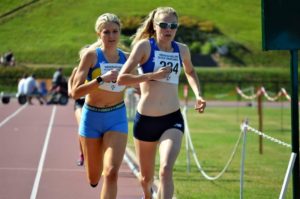 Amy Kimber was probably the busiest athlete of the day as she competed in the discus, javelin & hammer. In the discus (1k) she comfortably won the U18s and took an excellent silver in the seniors with a new lifetime best throw of 31.02m. She was also a clear winner in the U19 javelin (500g) with 26.91m & was runner-up in the U19 hammer (3k) with a best effort of 22.55m.
In her first competitive outing of the season, Laura Saulters took silver in the triple jump with a best effort of 10.93m while Rio Catney finished 1st U20 & 3rd overall in a disappointingly small combined 3000m race with a time of 11:16.95.
Other notable performance were Craig McMeechan, who gave up his chance of a certain medal in the U20s by opting to run in the faster Senior 800m race, however, his decision was rewarded when he recorded a new PB of 1:58.10 when finishing in 4th place and John Ewingwho took a large chunk off his PB when he ran 4:27.00 for 4th in the U19 1500m. Meanwhile, disability athlete Eve Dann (T36), set a new lifetime best and possibly a UK T36 record (yet to be confirmed) of 14.72s in the 100m heats to take bronze in the U18s and, despite not hearing the electronic gun in the 200m heats, was a fraction outside her PB in 31.79s.
The unluckiest athlete of the day was Troy McConville, who sat around for most of the day waiting for his pole vault competition to start, only to arrive on the runway and be told that it had been cancelled due to unsafe conditions following a sudden downpour.
Other results were:
Sarah Lindsay ran 19:17.30 to finish 6th in the 5000m
Callum Hunter ran 11.59s to finish 8th in the 100m
Nick Irvine ran 2:06.0 to finish 8th in the 800m
Megan Briggs ran 5:12.91 to finish 8th in the U16 800m
Bryanna Catney ran 5:37.79 to finish 8th in the U17 1500
Dennis Scott ran 16:25.09 to finish 11th in the mens 5000m
Reece Simpson ran 53.46s for 7th in his 400m heat
Luke Adair ran 12.14s for 5th in his 100m heat