The annual club track and field awards presentations were held at the Aurora on Friday evening. Club president, Brian Smith and secretary, Clare Russell made the presentations to the following athletes who had excellent performances this season.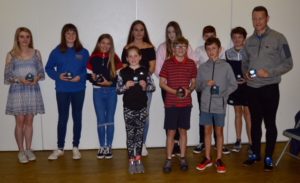 AGE GROUP
AWARD
2018 Recipient
Notes
Female
Fundamentals
Shield
Daisy McGuigan
2nd in the 80m race at club's first Primary Schools meeting.

Invited to take part in Primary Schools 60m race at the Belfast International Athletics Meet at the Mary Peter's track, coming 5th in her heat. Also formed part of an under 13 4 x 100 relay team at the NI & Ulster championships.

Primary Girls
Trophy
Kate Fenlon
Had a very successful first full season with the club, excelling at all the throws.
In the NI and Ulster Indoor championships in February she was 2nd in the u12 shot.At the Irish Indoor championships she won the u12 All-Ireland shot putt silver.
In the NI and Ulster outdoor championships she took third place in both shot and turbo javelin.
In the YDL she took maximum points for the club in every throws event she contested across the various rounds and final.She also featured frequently on the podium at the Lagan Valley / Firmus Energy meets throughout the season.
Kate finished the season ranked no 2 at U13 level in N. Ireland in shot, discus and javelin, still with another year at this level.
U13 Girls
Trophy
Niamh Fenlon
At the NI indoor championships she took Bronze in the u14 long jump and also qualified for the Irish indoors in the 800m. She then ran in both the NDAC u14 and u15 teams which both took bronze in the indoor 4x200m relay championships.

She finished the season ranked no 1 u13 in N. Ireland in 100m, 70m hurdles, shot and discus.

She won schools district titles in shot and long jump before going on to win the Ulster Schools Shot Putt title.

In club colours she showed her versatility by winner silver medals in the NI u14 championships in June in both discus and 75m hurdles. Niamh was also part of a very strong ND u13 YDL team who dominated their category in 2018, winning each round and the final convincingly. They also smashed the NIYDL 4x100m relay record, where Niamh ran the 2nd leg.

With her versatility Niamh was the top-points scorer at u13 level in the YDL this year, also appearing regularly on the podium at the Firmus / Lagan Valley meets, where she is in line to win Athlete of the Series for 2018.

U15 Girls
O'Boyle Accounting Cup
Sophie Hoey
At the NI and Ulster Indoor championships she placed 3rd in both u15 long jump and high jump to qualify for the Irish Indoor championships while also running the anchor leg for the ND u15 4x200m relay team which was placed 3rd. She went on to place 8th in the Irish Indoors long jump.

She had a great schools' season, winning district titles in long jump and 75m hurdles before going on to win the Ulster Schools long jump and place 2nd in hurdles. At the Irish Schools she finished a creditable 6th in both events.

At the NI age-group champs in June she placed 2nd in long jump in a 4.83m PB.

Throughout the YDL season Sophie has been a key member of the ND u15 girls YDL squad who won theircategory at the YDL final earlier this month.

Throughout each of the qualifying rounds and final Sophie took maximum points for the club in many hurdles races and long jumps competitions, as well as running many good relay legs.

At the NI multi event championships last weekend Sophie placed 4th overall out of 16 athletes, with PBs in 3 of the 5 events, setting her up well for the Schools multi event championships in September.

U17 Girls
Daphne Hamill Shield
Rachel McCann
Ulster & Irish Schools champ, Interpro winner, NI Age Group winner at 300m

NI Senior champion at 400m (57.43)

Represented Ireland at European U18 championships in Hungary as part of medley relay team

Selected for NI Team at Manchester International (4 x 100 & 4 x 400) & UK School Games (finished 3rd in latter at 300m and was also team captain)

Has the 6thfastest 400m time in the UK this year and the 5th fastest 300m time (in her age group).

U20 Ladies
Trophy
Rio Catney
2nd in 3000m & 3rd in 1500m at Ulster Schools, 5th in 3000m at Irish Schools and won the NI U20 3000m title
Open Ladies
O'Neill Cup
Sarah Connolly
Won the Irish & Scottish Indoor pentathlon titles, finished 2nd in the South of England AA heptathlon & set PBs in 5 of the 7 heptathlon events. Competed in the Manchester International.
Outstanding Female
N D AC Shield
Rachel McCann
(As above)
Veteran Ladies
Roy & Lynn Kerr Cup
Marie Devine
British Transplant Games – 1st in 3000m and 1500m, 2nd in 400m
Male
Fundamentals
Shield
Jude Jenkins
At the primary Schools competition in June (not our competition), Jude won both sprint events and came second in the long jump.
Primary Boys
Trophy
JJ Holley
He competed in the club's primary school competition coming 2ndtwice in the 600m as well as competing in the long jump (1st in round 1) and 80m (2nd in round 1), in the YDL, 2nd in the 1500A and 1stin the discus B in round 2 as well as competing in the relay, 3rd in the 1500A, 200A and long jump A in the final, and at the club's final open meeting. He also competed in the District Primary School's Athletics Finals: getting a Gold (200m), Gold (4x100m), Silver (Long Jump), Bronze (Cricket Ball Throw) & Captained Ballyholme PS Team to win overall team Gold. Finally he took part in the Primary School 1000m at the Belfast International Meet: Gold

Came 4th in the multi-events last weekend.

U13 Boys
Trophy
Andrew Brown
Has competed for the club this season in both the club's open meetings and the YDL. In the latter he competed in the 100m, 200m (3rd B round 3) long jump (2nd B round 3), javelin (2nd A round 3) discus (3rd A round 2), shot put and relay. Northern Ireland and Ulster Junior Championships – 3rd in U13 shot then went to National Irish Junior Championships but was 11

Took part in the Northern and Ulster Jumps and Throws Open in long jump and shot. Firmus 1st meet U13 long jump 3rd. Bangor Grammar sports day 2nd in long jump year 8..

U15 Boys
Cup
Lexx McConville
Ulster Schools : 1st 80mh (Ulster schools record), high jump 3rd

NI age group U15 : 1st high jump, 2nd 80mh

Competed in 3 rounds of the YDL and the club's open competitions.

U17 Boys
Brannigan Cup
Troy McConville
Ulster Schools : 3rd high jump, 3rd 100mh

Irish Schools : 3rd high jump

Schools inter pro's : 1st pole vault, 2nd high jump

Represented Ireland at Schools international : high jump & pole vault

NI age group U17 : 1st high jump

UK rank : 3rd U18 Decathlon

U20 Men
Trophy
Aaron Sexton
Won Ulster & Irish Schools 100/200m double for 4th consecutive year (set a new 100m record at Irish)

Beat Jason Smyth to win the NI Senior 100m title.

Finished 4th in the 200m at the Belfast International

Won the 200m at the Irish U20s

Competed for Ireland at World U20s in Finland where he set a new PB & NI U20 record of 21.06sec to finish 4th in his heat & qualify for the semi-finals where he finished 5th.

Broke Jason Smyth's NI U20 100m record and improved his own U20 200m record

Ranked 4th in Ireland for 100m & 200m in 2018 & 14th/13th on the Irish All-time list.

Open Men
Hamill Cup
Ben Reynolds
Won the NI senior title again and competed at another European Championships for Ireland. 110mh
Veteran Men
Challenge Trophy
Francis Marsh
Irish masters M50 silvers at 800 & 1500m
Outstanding Male
Weir Trophy
Aaron Sexton
(As above)
Miscellaneous
Throwing
Moffitt Cup
Amy Kimber
1st U18 and 2nd senior Ulster & NI Champs, 4th Irish schools (was third until last round), 4th at Interpros (was 2nd till last round), 3rd in Irish Age Groups and throughout these competitions Amy was either breaking her PB or getting very close. (All Discus)
Jumps
Claire Scarth Trophy
Sarah Connolly
(As above)
Weglarz Trophies
Daniel Constable

Morgan Wilson

Lucy Stevenson

Charlie Lawden

Philip Baillie (senior)

Daniel – Has competed over the summer in the club's primary school competition, open competition and YDL. Good, reliable all-rounder, able to run middle distance races, sprints (2nd 200B YDL final)and hurdles (3rdYDL final A race)and also compete in the long jump (3rdPS2, 1st PS3, 3rd YDLA round 3, 2nd YDLB final)), high jump, discus (3rd PS2), javelin (1st PS1) and shot. Came 5th in the multi-events last weekend.

Morgan – started training with the club as a middle distance runner, but soon discovered that her strengths lay in the field events, particularly high jump and javelin. She managed to make the Irish age group finals in the javelin over the summer. However, still willing to turn out for middle distance races in the club's open meetings and YDL (2nd1200 YDL final). Also in the YDL 3rd in the javelin A (round 1), 1st in the javelin B (round 2). 1stHJB (round 3 and final). Plus also forms part of a 4 x 100 relay team when needed. Came 11h in the multi-events last weekend.

Lucy – like Morgan this athlete also started training with NDAC as a middle distance runner before turning to throws. This year she has performed consistently well at the YDL in the discus, hammer and javelin, often winning or coming 2nd in the A or B event. Hammer throwers are always difficult to find, so this athlete earned the club valuable points whenever this event ran in the YDL.

Charlie – Indoors Ulster championship

– 2nd shot

– 5th long jump missed qualification to all Ireland by 9cm

Indoor all Ireland

– shot 10th

Ulster championship

– 1st and Ulster champion Javelin

– 3rd Discus

– 5th long jump again just missing out on qualification to all Ireland championship

All Ireland championship (after holiday and 3 week break)

– 12th Javelin

– 6th Discus

Charlie saved his best long jump for Campbell sports day winning Gold and told he would have also won year 9, 10 11 12 Long jump Golds

Represented Campbell at year 8 Ulster schools championship, long jump, helping Campbell win the silver medal, boys year 8

Charlie also represented North Down at U15 YDL getting 2 golds in the final

Phillip – is a regular at the club's open meetings , running in both the 600m (2nd) & 3000m in the first meeting, 800m (3rd in his heat) and 400m in the 3rdmeeting and the 3000m in the 4thmeeting .He has also competed for the club in the Team Trophy where in round 1 he competed in the 1500m and was part of the club's relay team that came 3rd in the 4 x 400 relay. This season he achieved PBs in every distance from 600m to 3000m, including the 800m and 1500m.

Presidents Trophy
Aaron Sexton
(As above)
Outstanding achievement on the international stage
Eve Dann
Set T36 records for 100m & 200m this year and was selected to represent GB at the European Para Championships in Berlin last week. Here, she was reclassified as a T38 athlete, which put her at a bit of a disadvantage, but she still managed to come 7th in the 200m. As there were already 3 other GB girls in the T38 100m, she was not allowed to take part in that.

Came 1st in 100m at UK School Games.