A return to the Billy Neill sports arena near Comber was the venue for this year's Intermediate, the same venue as the Comber Cup earlier in the season. This time, it was widely agreed, the muck was relentless and unforgiving which did little to dampen the quality of the ND athletes who took to the course.
The Intermediate women packed out the front of their race to maximise the points tally, which was 30 points clear of their closest rivals, and secure the team title. Rio Catney led the team home in 4th followed a short time later with Caitlyn Turner in 5th, Jessica Scott 9th and Erin McConnell 10th. Alisha Turner 14th, Ella Andrews 17th and Bryanna Catney 19th made up the successful North Down team. A great result from the girls who are all aged between 15 and 18, the future looks promising.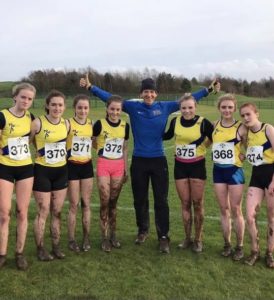 The ladies masters team were also on the podium with 2nd place. Last years' Intermediate winner, Jodi Smith had a strong run to finish in 5th ahead of Roberta Dornan in 24th and Helen Byers, 34th. Abby Andrews enjoyed the runout to finish in 46th before Lisa McMeechan managed 62nd and Paula Simpson, 69th. Also in the ladies race were the Mens O65's where we had Terry Eakin winning his category and newly appointed club vice president Pat O'Driscoll coming in 4th in his.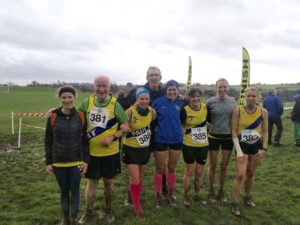 In the mens Intermediate race the club was again represented by the younger members of the club. Craig McMeechan was considered a contender pre race alongside a strong Foyle Valley and Newcastle representation. Nobody foresaw, with the exception of Craig perhaps, how the race would unfold. Running in the lead pack for the first of 4 laps Craig made a break for it on the hills on the 2nd lap. By the time lap 2 was complete he had a 100M gap. If anything this gap increased by the time the finish line arrived and Craig had secured the Intermediate title for the 3rd time in North Down history after Francis Marsh and Niall Robinson. Chris Speers returned in a very good 27th while Jamie McMeechan had a fine return to cross country running in 31st and Mark Weir 32nd. Nick Irvine had a credible run with a 39th place finish as Cameron Jenkins recorded 45th, Jack Bradshaw, 49th and Adam Crothers 54th.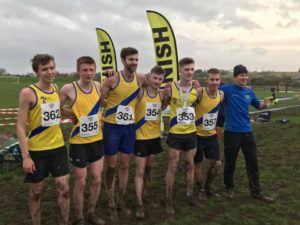 The mens masters race featured the Masseys, David and Alan. Over 4 laps of the energy sapping muck David made it home in 64th while Alan was 84th.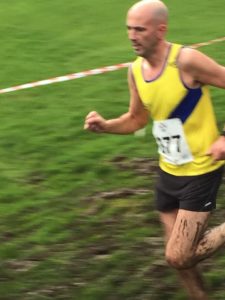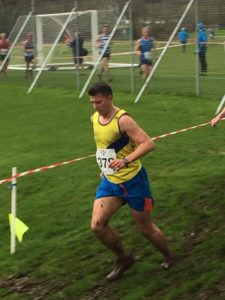 Drum Manor 10K
Sperrin Harriers latest trail race was the Drum Manor 10k and Frankie Rea had a great run to yet again take the age group win and 22nd overall. The final race in the trail series is the Parkanaur 10 miler on the 10th February.