On Sunday afternoon over one thousand athletes took part in the annual 10K race around the Titanic Quarter in Belfast. 38 of the entrants were from North Down with a large section of the finishers claiming personal best times, which was excellent considering the windy conditions.
Craig McMeechan led the ND team home with an 11th place, 1st male junior finish (33:03) having run large parts of the race isolated. He was followed home by James Budde 14th, and Dennis Scott 15th who worked well together throughout the race and then exhibited ruthless track speed to contest a sprint finish, James taking the honours (both 34:01).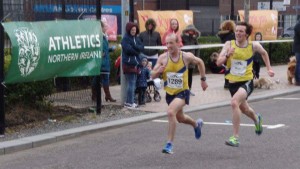 Francis Marsh wasn't far behind in 17th, 1st M50 (34:12) and Ben Caughers ran a pb time of 34:50 to claim 23rd place. Mark Weir completed the course in 35:45 and with it, 6th ND runner meaning the mens' team all finished within the top 35 which must surely merit the team prize.
Gareth Watton succeeded in running a 70 second pb finishing in 36:51 followed shortly afterwards by Darren Hamilton also running a pb in 37:09. Marc Jeffrey was next in 37:39 and 2nd Junior.
Nick Irvine was assisted in his efforts by our first female runner, Jodi Smith who also claimed a pb of around 80 secs to finish in 38:07. Nick finished marginally ahead of Jodi in 38:02. Eamonn O'Reilly was next in having run a pb time of 38:35, hard work paying off.
Katie Moore was our second female runner home on a return from university completing in a credible 39:09. David Massey proudly wearing North Down colours finished under the 40 min barrier in 39:52 with Colin Walker, Alan Massey, Terry Eakin, and Frank Rea all following within a minute.
Nia McNally competing in her first 10k was first female junior in a time of 43:33.
The remaining runners and known pb's:
David McMeechan 41:06         Keith Gilmore 41:58 pb
Andrew Muir 42:03                 Fiona McQuillan 42:23 pb
Joanne Moran 46:25 pb         Paul Galloway 47:35
Gary Swenarton 48:09           Roy Sittlington 48:11 pb
Helen Irvine 48:12 pb             Gayle Wilson 48:00 pb
Heidi Rodgers 48:40 pb         Lisa McMeechan 49:12pb
Claire Garrad 51:41                 Gordon Matchett 52:23
Gemma McAnirn 53:58         Marie Devine 53:58
Clare Russell 54:18                 Gavin McDonnell 56:19
Tracey Hodgson 56:38
http://www.athleticsni.org/download/files/Results2016-TQ10K.xls